Around 7 million bulbs. 79 acres of flowers. Yes, I'm talking about the Keukenhof Flower Gardens. One of the most visited attractions in the Netherlands.
In my very first year living in the Netherlands, I went on a day trip from Amsterdam to the Keukenhof Gardens. This place is an explosion of colors and beautiful sights.
You'll discover tulip in the most diverse colors and see flowers you didn't know before — one more jaw-dropping than the other.
Although the Keukenhof Gardens are very beautiful, next to them you'll find tulip fields.
Tulips in Holland
I've gathered some practical tips so you can fully enjoy your day in this park, including the best time to visit the gardens and how to get there, of course.
So, want to know more about the Keukenhof Gardens? Read on!
Keukenhof Gardens 2024: The park is open from Thursday, 21 March 2024 and will be open until Sunday12 May.
Don't miss out! Book your skip-the-line tickets + transfer here
---
In today's post we'll talk about:
Keukenhof Flower Gardens
I was very impressed with the number of flowers I saw there. Really! They're perfectly planted sometimes to give an impression of a pathway, others to make a mosaic on the ground.
What about their colors?! I didn't know tulips existed in so many colors until I saw them with my own eyes. Neither did my husband, who went there with me.
Like a very traditional Dutch park, Keukenhof is jam-packed with gorgeous tulips and a cute windmill as well.
Also, the park has live music, theater presentations, and different sorts of gardens. Each year they choose an interesting theme to decorate these gardens.
The Keukenhof 2024's theme is not defined yet, but once the park administration makes up its mind, I'll share it with you.
Anyway, to fall in love with the Keukenhof, as we did. Check out the photos below!
---
Hey, looking for more tips for your next trip to the Netherlands? Check out some of our other posts below, or click here to find all of our Netherlands posts.
Keukenhof's history
Many friends who come to the Netherlands ask me what Keukenhof means.
Well, it means Kitchen's garden in Dutch, and the park has this name because, back in the Golden Age, this was a source of herbs for Jacqueline's kitchen, Countess of Hainaut.
She used to live in the Hainaut castle, which is known today as the Keukenhof castle.
A different ticket is required to visit the castle, which is right next to the park, but we didn't go there because the park itself is enormous, and I wanted to see the flowers only, which I did. A lot of them, by the way.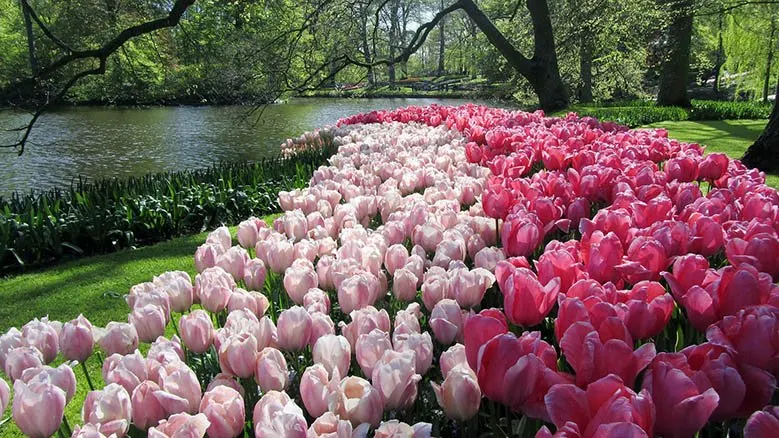 Keukenhof Gardens: 10 Practical Tips for the Tulip Fields
1. Get there early
The Keukenhof Gardens open only in the spring because the flowers need to bloom. So keep in mind that the park opens from mid-March until mid-May.
And here is my best tip for you: avoid the last week and the weekends at all costs. Why?
Tourists from all continents come to the Netherlands to visit the Keukenhof, and many people procrastinate until the very last moment.
Also, given the fact that the country is small, several people from neighboring states just come here by car, which means even more visitors.
The best time to visit the park, and avoid crowds, is during the week and in the early morning.
I hate to get up early, but if that means taking stunning pictures…early birds, the sacrifice is worth it! And trust me when I say you will want to take a bunch of pictures there!
Read next: What to do in Amsterdam in 3 days
2. Don't forget to grab your Keukenhof Map
The park is indeed vast, and you don't want to miss some ridiculously pretty tulips because you didn't know they were there in the first place, right? No, I thought so.
Oh and know that you can either grab your map at the park's entrance (for free) or opt for an environment-friendly map. You just have to download it here. Who is your favorite travel blogger again?
As I said, the Keukenhof is immense, and even though they have WiFi, you can easily get lost in the park or miss a specific garden.
Read next: Most Beautiful European Gardens
3. Picnic at the Keukenhof Gardens
Flower bulbs everywhere, beautiful colors, hopefully, the sun is shining, and people are photographing every inch of it. It sounds like the perfect place to…picnic!
So grab delicious snacks in the supermarket or bring your lunch and enjoy it in the designated area.
I know that you know this, but I'll repeat it because it is essential. Leave nothing behind and throw your waste in the trash bin.
If all tourists leave a little thing behind, there will be no tourist attraction in a few years. Some places are indefinitely closed due to… tourists.
Let's help the planet slow down all the damage we cause. ♥
Anyway, there is a restaurant on-site, but the waiting time can be disappointing given the number of visitors.
That's why I recommend you take your food with you. Oh and don't forget to bring refreshments.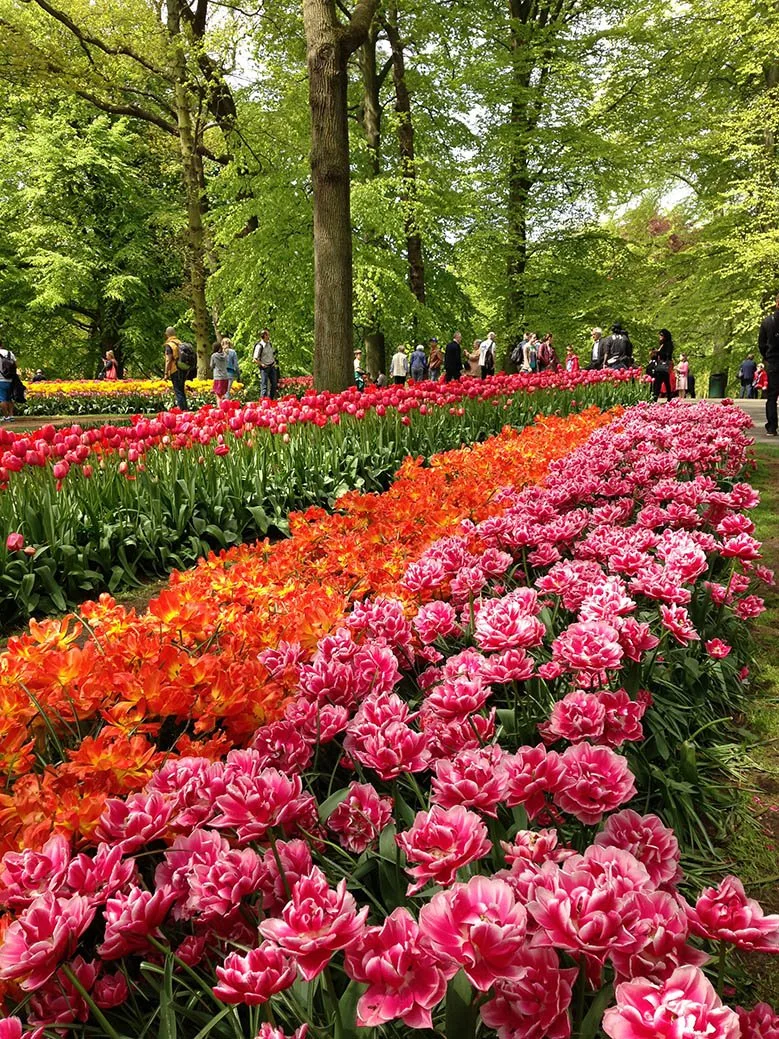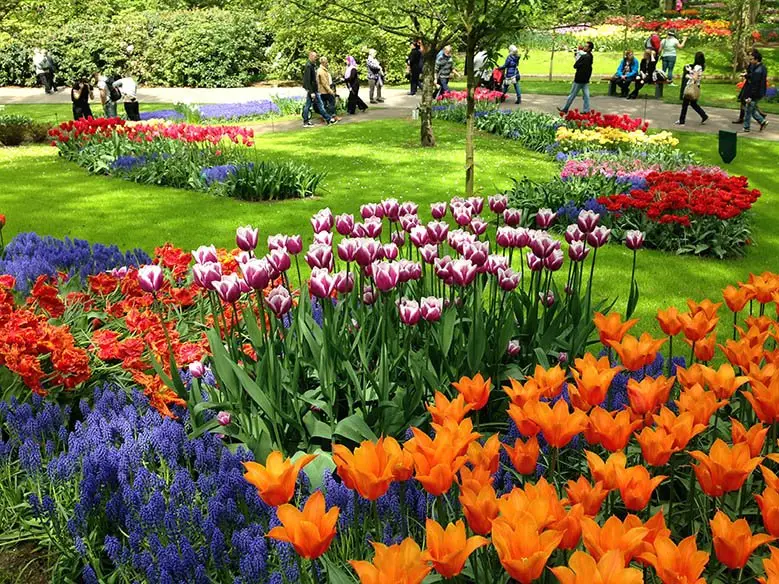 4. Bike around the surrounding Tulip Fields
Keukenhof Gardens is located in Lisse, a small city in North Holland known for its fairytale tulip fields. So, how do you get to see the tulip fields around the Keukenhof?
First, rent a bike in front of the park (around €10/ day). Second, explore this stunning area! Finally, take loads of photos 'cause I bet you've never seen so many flowers in your life as you'll see here.
Believe me, you won't regret it!
Pssst: Don't pick flowers or walk on them. That's someone else's property, so respect it.
5. Take your DSLR camera with you
Don't be naive like me. Ok, I didn't have a travel blog back then, but still. All my camera equipment was an old-fashioned iPhone and, as a result, my photos aren't as pretty as they could be.
Keukenhof is an explosion of colors and flowers, so you need a good camera to do justice to its beauty. On top of that, the park is perfect for couple travelers.
So if you're traveling together, you can both just stroll among thousands of colorful flowers in a romantic walk (and ask him/ her to take your photos ;).
Needless to say, that many couples go there to take those couple photo shootings.
6. Wear comfortable clothes and walking shoes
I know this is the perfect Instagram location, but make yourself a favor and wear comfortable clothes, and mainly, walking shoes.
The tulips are gorgeous, and you will want to explore every corner of this park, so fall into the trap of wanting to look fashionable.
Not that you have to look slob, but you know what I mean. Mainly because you'll ride a bike in the surrounding tulip fields. If you aren't used to riding a bike wearing high heels, you might want to choose other shoes.
7. How to get from Amsterdam to Keukenhof Gardens
There are a few different ways to get from Amsterdam to Keukenhof, and I'll describe them all for you.
Driving: The Keukenhof Gardens is 25 mi / 40 km from Amsterdam city center. Just type in this address and follow Google instructions: Stationsweg 166A, 2161 AM Lisse.
By public transport: At the Amsterdam Central Station take the 20-minute train to Schiphol Airport (round trip costs 9 euros), and from there follow the boards to the Keukenhof Express Bus line 858 (next to Arrivals 4).
There might have a queue. The bus ride takes around 30 minutes, and a round trip costs 10 euros.
Shuttle bus: The best option. And I'm not saying it because it is an affiliate link. I really mean it. Keukenhof's ticket alone costs 18 euros for an adult (up to 3yo is free and up to 17 costs 8 euros).
To get there by public transport would cost you 19 euros. I'm not a math master, but I can pay 1 euro more for not having the hassle of going by public transport.
An easy 55-minute ride from the meeting point, Amsterdam city center, and you still have a skip-the-line ticket. Not bad.

Click here to book your skip-the-line tickets + transfer.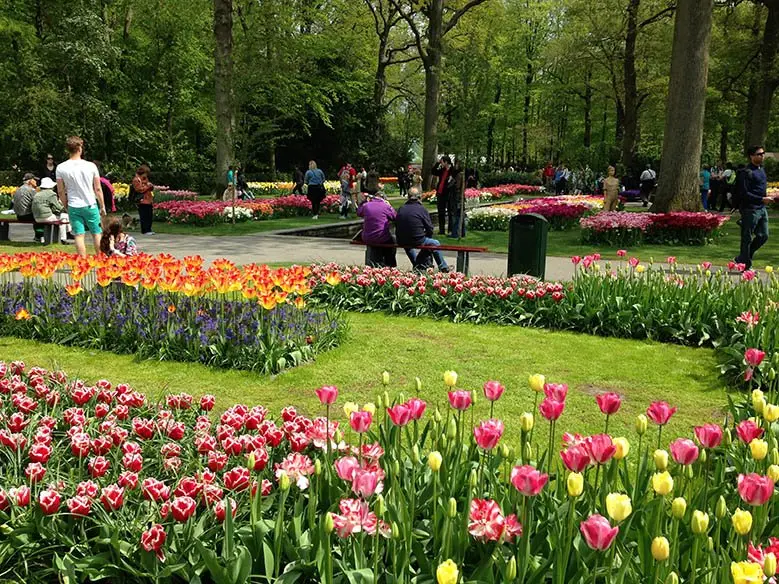 Read next: Best things to do in Giethoorn Village
8. Buy a ticket with transfer from Amsterdam
It might not seem very important at first, but the amount of people who visit this park is colossal! Like I mentioned above, it's possible to get to the Keukenhof Gardens from Schiphol Airport, it takes a little over one hour to reach the park.
Alternatively, you can purchase a skip-the-line ticket to Keukenhof with a transfer departing from Amsterdam city center.
Seriously, doing this prevents so much hassle than having to worry about busses and train timetables. Our day was much easier this way.
Besides, we also saw crowds waiting to buy the ticket at the park, thus take a look at the ticket in the link above and enjoy your day at most, instead of waiting in line for everything.
Even if you're going by car, I highly recommend you buy your tickets in advance to Keukenhof. After all, this is one of the world's largest tulip gardens, so expect to see a lot of tourists.
Pssst: you don't pay more for that.
9. Best Time to Visit Keukenhof Gardens
The weather in the Netherlands is very unpredictable, so it's a bit difficult to advise on the exact week you should visit the park. But it's important to know how the flowers bloom so that you can have an idea yourself.
The flowers bloom faster when it is warmer, this means they are usually fresh and beautiful in the first month of the season. However, the opposite is also true. If the winter was severe, they might bloom later in Spring.
So, be sure to keep track of the weather in the Netherlands, especially if it is too warm or cold for the time of the year.
BUT if I had to give you a straight answer, that would be the last two weeks of April. Those weeks are usually the best time to see them.
Fun fact: The world's largest flower garden is the Dubai Miracle Garden.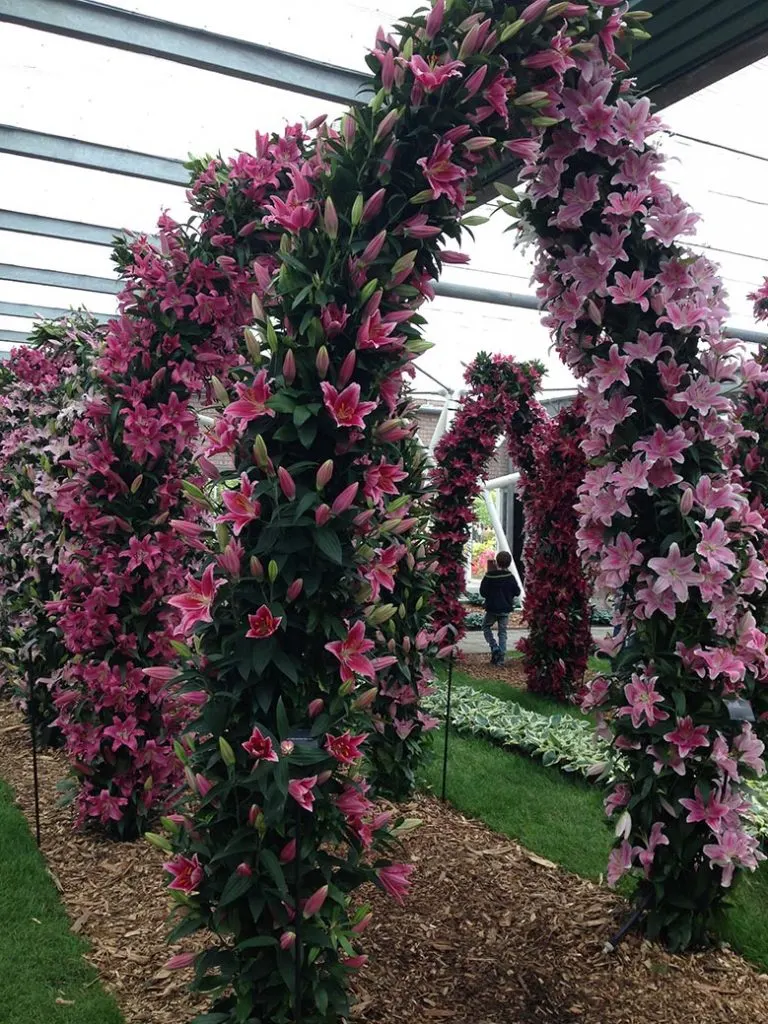 10. Be a responsible tourist
As a travel blogger, I often face the problem of doubting whether or not I should recommend a place to my readers because many of them are being destroyed by tourists.
It hurts my heart every time I read about it, so I decided to keep my recommendations, but adding an extra tip: be a responsible tourist.
Even though traveling is a privilege, the number of people traveling now increased exponentially in the last years. This means the damage we may cause elsewhere is also growing.
Let's do our part of the deal and not pick flowers because it's beautiful or throw plastic on the ground because we're lazy. A little effort from everyone and the world is a better place.
Read next: Romantic things to do in Amsterdam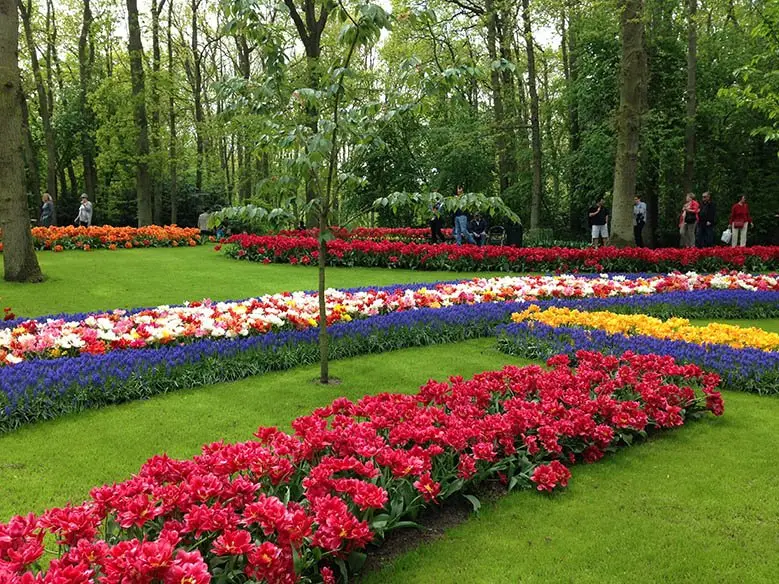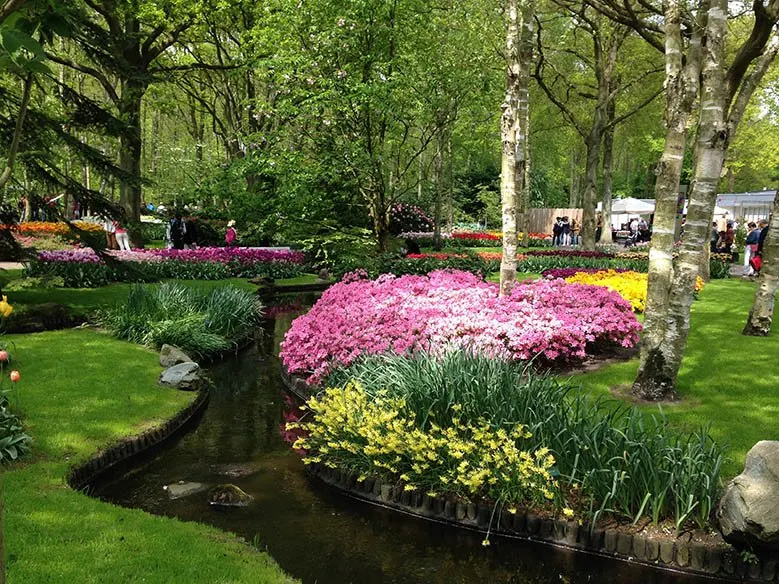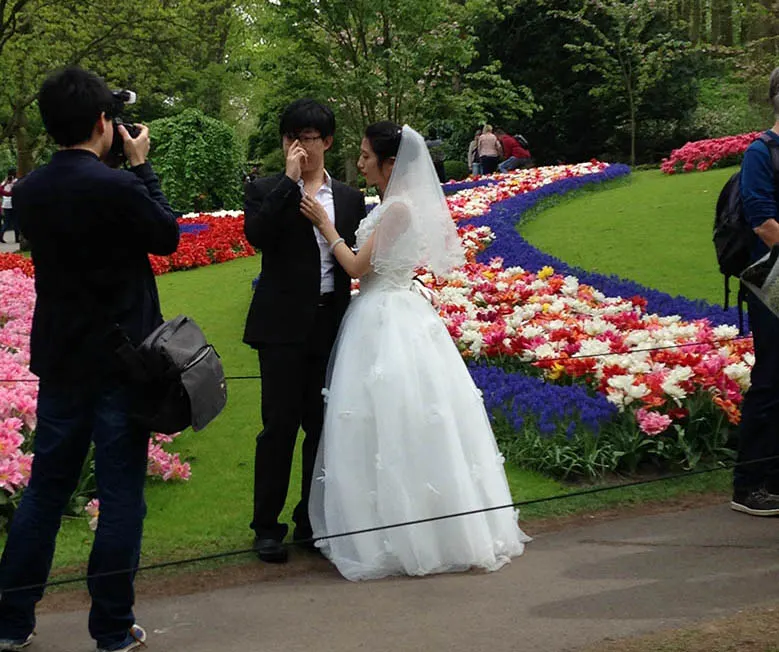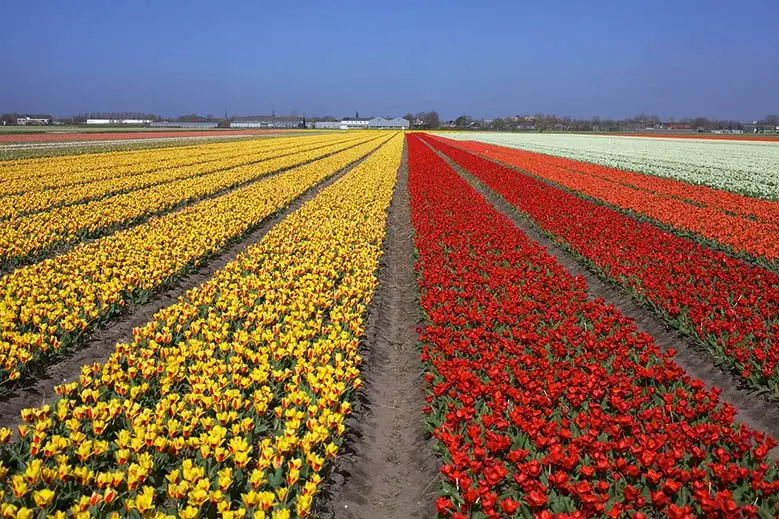 The Takeaway
Arrive early and go preferably during the week;
Don't forget to get the park's map;
Bring your snacks and water with you (don't forget to throw the garbage away);
Bring your camera to take many photos;
Wear comfortable shoes and clothes to walk;
Consider renting a bike to cycle around the tulip fields;
Consider buying your skip-the-line tickets in advance;
Consider purchasing the transfer from Amsterdam;
The best time to visit the Keukenhof is usually around the last two weeks of April, but you should check the weather to make sure;
Be a responsible tourist.
I hope these tips can help you during your visit to the Keukenhof Gardens. After you have been there, come back to this post and tell me your thoughts about the park! I'm curious to know how you have experienced it.
Or have you already visited this colorful place? Then share your experience below! I'd love to hear from you!
Ps: Hey, if you're in Washington State you can also visit a Tulip Festival there, the Skagit Valley!
---
Hey, looking for more tips for your next trip to the Netherlands? Check out some of our other posts below, or click here to find all of our Netherlands posts.
---
Did you like this post? Then help me spread the word and pin it to your Pinterest travel board!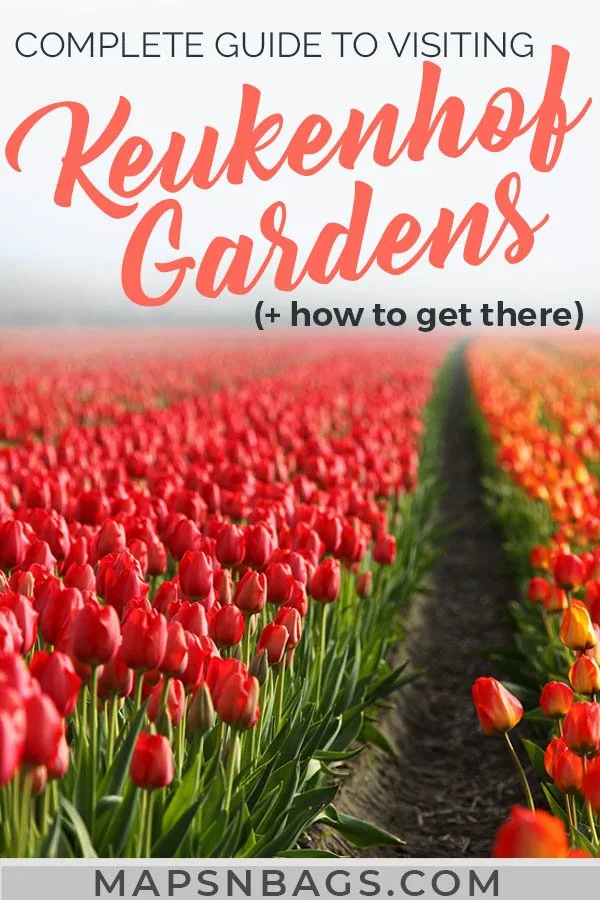 Our best travel tips & resources:
Here're our all-time favorite travel tips & resources so that you can save money and plan your travel logistics hassle-free! For more travel resources, check out our
travel tips.
Saving money: Fly on offseason, winter (not Xmas or NYE), Tuesday, or Wednesday! According to experts, these are the cheapest days to fly.
Travel insurance: Before you leave for your trip, make sure you have a valid travel insurance policy because accidents happen on the road. We have been paying for Safety Wing travel insurance for a little over a year now, and we happily recommend them to our family and friends.
Accommodation: We usually stay in mid-range comfy hotels or private rooms in hostels. These are the sites we use to book accommodation: Booking.com for hotels (excellent flexible cancellation policy) and Hostelworld for hostels (low deposit and easy cancellation).
Tours:We absolutely love booking guided tours with locals to get a history lesson while sight-seeing, especially food tours and walking tours! We book all of our tours using Viator and GetYourGuide.
Transportation: We use Google Maps to figure out how to get around a place using public transport. When we book a rental car, we always use Discover Cars to find the best deal.