The Keukenhof Tulip Garden is one of the most visited attractions in the Netherlands and this is a perfect day trip from Amsterdam due to its short distance from the city. Here you will find valuable information about the park but please remember to reserve a whole day for it.
Why? Because Keukenhof is a huge flower garden located in the city of Lisse. It has 79 acres of flowers, which means something around 7 million bulbs. In this article, you can read when is the best time to visit and how to get the most out of your day trip to the tulip garden. In fact, this is the world's largest flower garden and a checked item on my bucket list! Yaaay!
I was very impressed with the amount of flowers I saw there. Really! They're perfectly planted to sometimes give an impression of a pathway, others to make a mosaic on the ground. What about their colors?! I didn't know tulips existed in so many colors! Neither did my fiancé, who went there with me. To fall in love with this park, check out the photos below.
Hey, looking for more tips for your next trip in the Netherlands? Check out some of our other posts below, or click here to find all of our Netherlands posts.
Keukenhof's history
Many friends who come to the Netherlands ask me what Keukenhof means. Well, it means Kitchen's garden in Dutch, and the park has this name because this was a source of herbs in the 15th-century to Jacqueline's kitchen, Countess of Hainaut. She used to live in the Hainaut castle, today known as the Keukenhof castle.
The Keukenhof castle is located next to the park and a different ticket is required to visit it. I didn't go there because the park itself is enormous, and I wanted to see the flowers only. Which I did. A lot of them, by the way.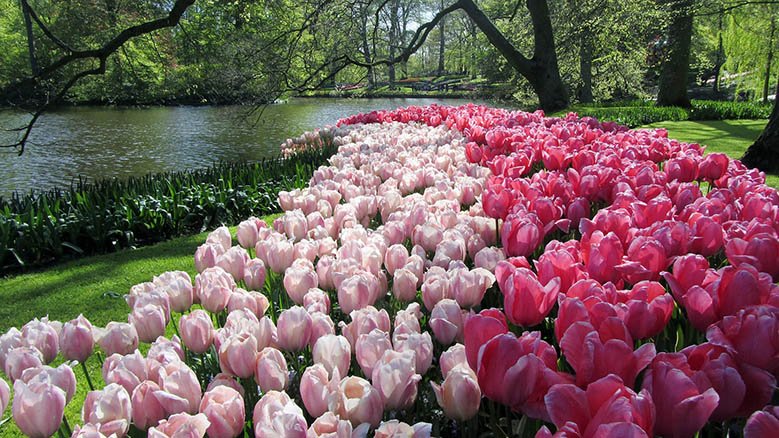 Best Time to Visit the Keukenhof
Keukenhof Gardens is open from 22 March until 13 May 2018.
The weather in the Netherlands is very unpredictable, thus it's a bit difficult to give an advice on the exact week you should visit the park. But it's important to know how the flowers bloom, so you can have an idea yourself.
The flowers bloom faster when it is warmer, this means they are fresh and beautiful in the first weeks of the season. However, the opposite is also true. You might want to keep track of the weather in the Netherlands to make sure if it is too warm or cold for the time of the year.
BUT if I had to give you a straight answer, that would be the last two weeks of April. Those weeks are usually the best time to see them.
[irp posts="1065″ name="Top 13 Things to Do in Amsterdam"]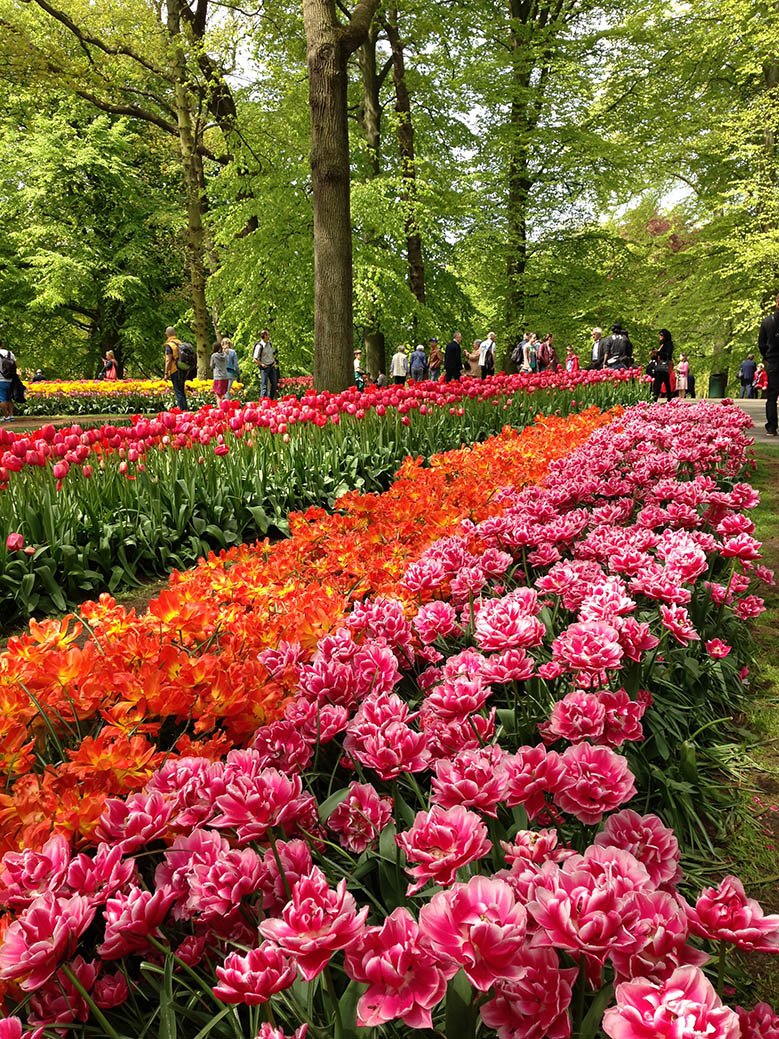 Get There Early
The Keukenhof Gardens open only in the spring because the flowers need to bloom. Therefore, the park is open from mid-March until mid-May. And here is my best tip for you: avoid the last week and the weekends at all costs. Why?
Because tourists from all continents go to the Netherlands to visit this park. Also, given the fact that the country is small, several people from neighboring countries just go there by car. Which means more visitors.
The best time to visit the park, and avoid crowds, is during the week and in the early morning.
I hate to get up early, but if that means taking stunning pictures…early birds, the sacrifice is worth it! And trust me when I say you will want to make several pictures there!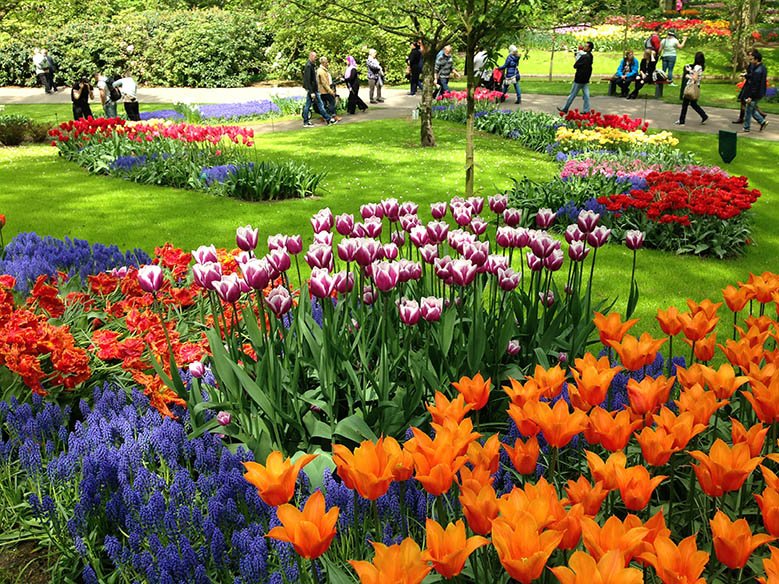 Buy a Ticket with Transfer from Amsterdam
It might not seem very important at first, but the amount of people who visit this park is colossal! It's possible to go to the Keukenhof Gardens from Schiphol Airport, it takes around one hour to reach the park. Alternatively, you can purchase a skip-the-line ticket to Keukenhof with the transfer from Amsterdam. Seriously, it prevents so much hassle and our day was much easier this way. Besides, we also saw crowds waiting to buy the ticket at the park, thus take a look at the ticket in the link above and enjoy your day at most, instead of waiting in line for everything.
Even if you're going by car, I highly recommend you buy your tickets in advance to Keukenhof (You don't pay more for that than a regular ticket!). After all, this is the world's largest tulip garden, so expect to see a lot of tourists.
[irp posts="1854″ name="8 Cool and Inexpensive Things to Do in Rotterdam"]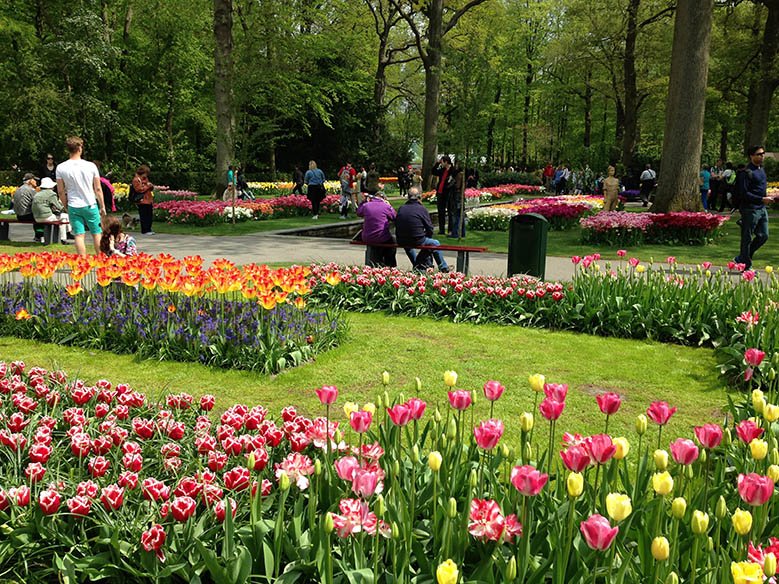 Keukenhof Tickets and Map
Don't forget to grab the free park's map at the entrance or print this one! Like I said, the Keukenhof is enormous and even though they have WIFI, you can easily get lost in the park or even miss a specific garden. As you can see in the map above, they have different gardens throughout the park.
Each year they choose a theme to decorate the Keukenhof and the 2018's theme is Romance in Flowers.
And like a very traditional Dutch park, Keukenhof has a windmill as well! Ah, don't miss the indoor displays, like this one from the picture below.
Ps: Hey, if you're in Washington State you can also visit a Tulip Festival there, the Skagit Valley!


Entertainment for All Sorts of Travelers
Keukenhof is so stunning that you might consider bringing your picnic and to enjoy the place a little more. There is a restaurant, but the waiting time can be long given the number of customers.
It doesn't matter if you're traveling solo or with your family. The park is gorgeous, and it has enough to entertain everybody.
The park is certainly a blast for children because there is more than sufficient place to run around. It even has a little playground and a "hunt the treasury" activity.
The theme from the year we were there was Van Gogh, so they spread many of his "symbols" across the park, such as a replica of Van Gogh's "Almond Blossom" and an actual almond tree right next to it. Just so you know, I'm totally crazy about this painting, so seeing that was fantastic for me.
By the way, if you're planning to visit the Van Gogh's Museum or any other attractions in the Netherlands, you might want to consider a Holland Pass. This pass gives you free entrance up to 6 attractions (it depends which pass you choose), and discount on others.
Romantic Spot
Don't think this is only a girl's thing. Girls and women like flowers, that is true. But even my fiancé, who wasn't so enthusiastic about going there, was surprised by this place's beauty! It is a totally valid experience and you'll certainly have many gorgeous photos!
But on top of that, the Keukenhof is perfect for couple travelers. You can both just stroll along thousands of colorful flowers in a romantic walk. Needless to say, that many couples go there to take those couple photo shootings.
When we were there, for example, we saw a couple taking wedding photos next to a colorful field. I can only think how perfect those photos were. Too bad I didn't have my DSLR back then. Sniff…sniff…
[irp posts="1704″ name="Things to do in Giethoorn – Practical Guide"]
Bike in the Surrounding Tulip fields
Keukenhof is located in Lisse, a small city known for its gorgeous flower fields. Rent a bike in front of the park (around €10/ day) and go explore this stunning area! I bet you've never seen so many flowers in your life! Believe me, you won't regret it!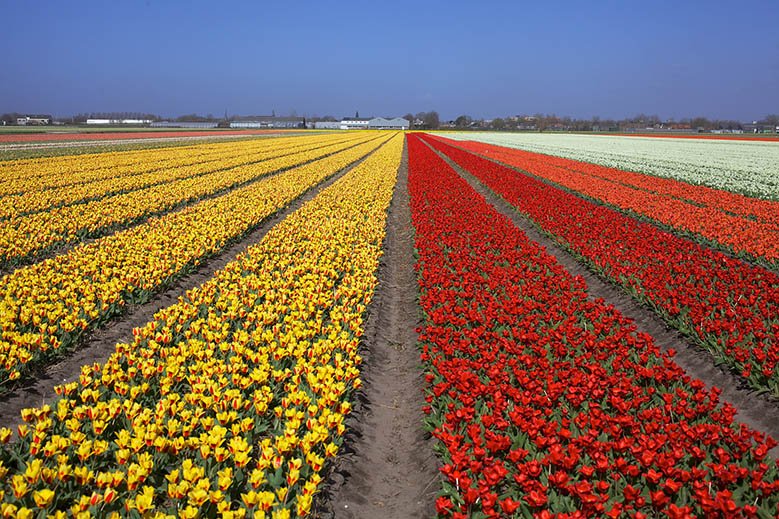 Hey, looking for more tips for your next trip in the Netherlands? Check out some of our other posts below, or click here to find all of our Netherlands posts.
I hope these tips can help you during your visit to the Keukenhof. After you have been there, come back to this post and tell me your thoughts about the park! I'm curious to know how you have experienced it.
Or have you already visited this gorgeous and colorful place?
Inspired? Pin this post so you can find it easily later!


Disclaimer: Please note that some of the links above are affiliate links. If you make a purchase I'll receive a small commission for it, at no extra cost to you. If you have any questions about the companies or my status as an affiliate, please don't hesitate to contact me via e-mail.