Ready to visit Dracula's city? Bucharest is famous for once being home to this brutal man, but there is way more to find out about Romania in this interesting city. I've put together a list of top things to do in Bucharest, so you can have an awesome time in the Romanian capital!
Hardly ever travelers choose Bucharest as their first destination when they come to Europe and this is so unfair because the city has plenty of beautiful sights and interesting places. One could even say that Bucharest is an off-the-beaten-path destination due to its low position in the most visited cities in Europe.
Don't think for a second that the low tourism, in relative terms, is a consequence of unsafety or whatever. Oh, no! I didn't feel unsafe at any time! I honestly think that the media is the one to blame in this case. Anyways, if you have doubts about whether you should go to Bucharest, my advice to you is go and enjoy! To help you with that, I've listed the best attractions in the city!

Top things to do in Bucharest
Union Square
Kick off your day at one of the largest squares in the city. The Union Square itself isn't super beautiful because the surrounding buildings are those gray soviet blocks. On the other hand, you have a perfect view of the Union Boulevard and the famous parliament building.
Nicolae Ceausescu, the general secretary of the Romanian Communist Party, was a megalomaniac and wanted the biggest building and boulevard in the world. So, in response to the creation of a very famous boulevard in Paris, he ordered the construction of a longer avenue, of course. This Parisian boulevard starts with Champs and ends with Elysees, maybe you have heard about it already. It's 1.91km long, while the Union Boulevard is 3.5km.
Anyway, stroll along while you appreciate a little part of this so special boulevard. Now you've reached the colossal parliament of Bucharest! This is the largest parliament building in the world and the world's second-largest construction.
Bucharest Parliament Building
Do you want a precious tip? Don't go for a walk around the building like I did. A bit too naïve, I know. This little walk is almost as long as the Union Boulevard… So, if you want to take a tour in the parliament building, considering that you're at the Constitution Square right in front of it, walk towards your right side, you'll find the entrance there.
Parliament building measures:
84m high (276 ft)
92m underground (301 feet)
270m wide (886 feet)
240m long (787 feet)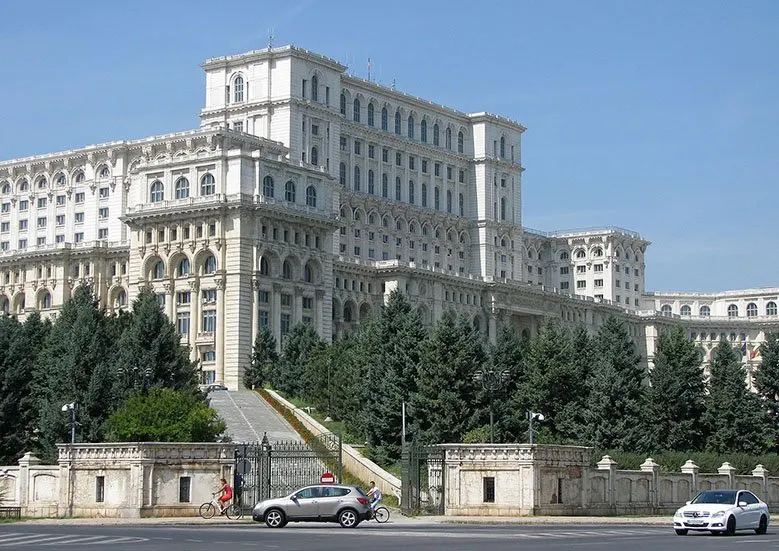 Moving churches of Bucharest
Back to the communist era in Romania, the general secretary Ceausescu wanted to make Bucharest an elegant city. Hard to imagine what he meant by "elegant", because those Soviet-style buildings aren't elegant at all. But to build the new, he ordered the destruction of the old. And by old, I mean churches, monasteries, some residential buildings, etc.
Plenty of those constructions were part of the Romanian culture and life, but this detail didn't matter so much to him. However, many of those buildings escaped their tragic fate due to a creative solution designed by Eugen Iordachescu. He managed to hide 2 flats and 8 churches by moving them with a sort of train rails.
Yep, just like that. The structures were elevated, set on the rails, and moved a few meters so that they could be hidden behind the characteristic communist buildings, where the general secretary Ceausescu couldn't see them. And it worked! The most fantastic part of it is that he actually managed to save those churches and buildings! If you want to check out those places, I've put them on this map below.
On the way to Saint Anthony Church, we stopped by The Urbanist to have some local beer, Ursus and Zaganu to be more exact. These aren't the best beers I have ever tasted, but I love to try local food and beverages. And to check in new beers I find in the Untappd app.
Anyway, this is a café with an enjoyable hipster atmosphere. I adored the plants and little lamps all around the place because they give a cozy feeling to it. Oh, I forgot to mention, this café is also a clothes' store, where you can also buy canned air. Yes, apparently people buy air in cans from other cities out there… I feel outdated when I see things like this.
So, at the end of this street is the Saint Anthony Church. This orthodox religious building, that served as a chapel for the Royal Court, has a golden and interesting decoration. The church is super small, so in a couple of minutes, you'll be ready to go further with your exploration.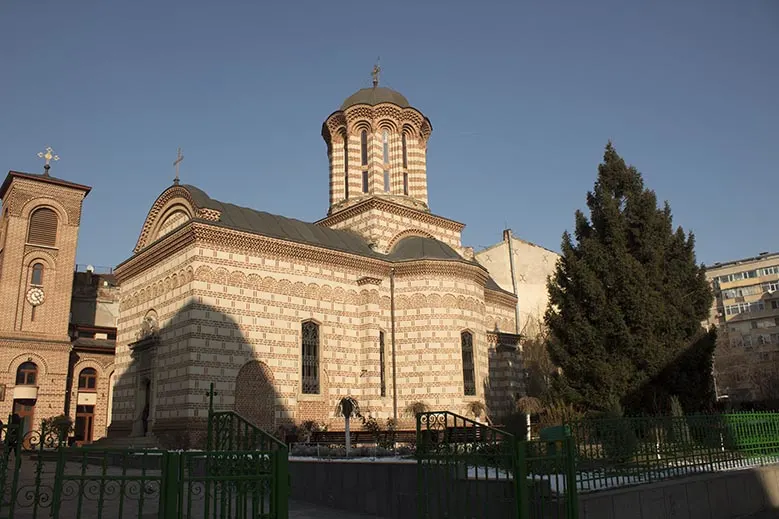 Manuc's Inn
Back to the street, head to the left and you'll see the Manuc's Inn. This hotel was built where the Royal Palace used to be centuries ago. The Manuc's Inn is also the oldest operating hotel in Bucharest! Today, it houses a very traditional restaurant and a gorgeous courtyard. Even if you're not planning to eat at the restaurant, take a look at the yard, it's beautiful. If you're hungry, you can eat in the restaurant upstairs, the Hanu' lui Manuc. We had a full-course lunch for 23.5 lei only (around $6.21). Inexpensive, right? For $6.21 you can have a Big Mac in Western Europe!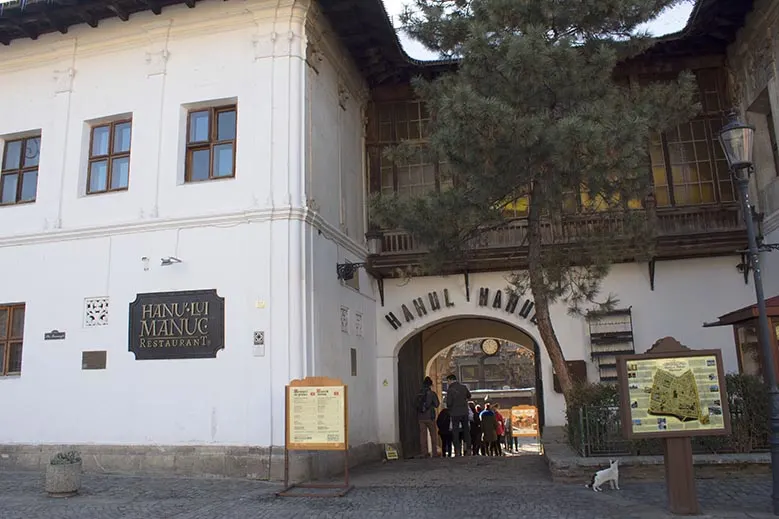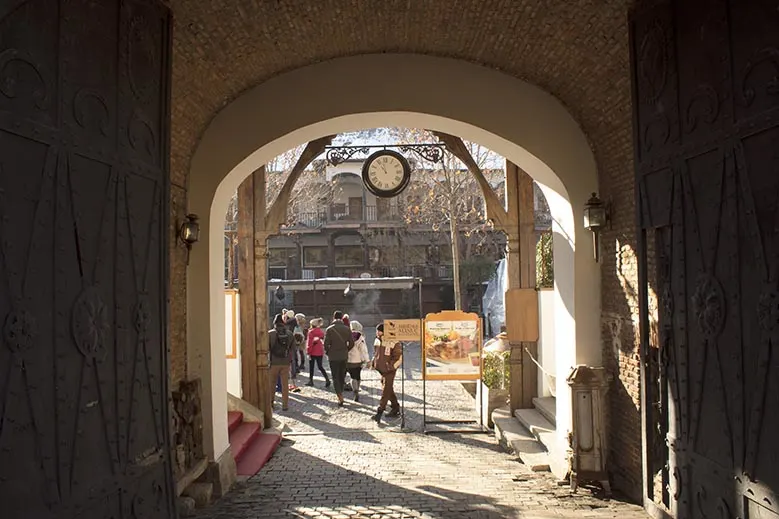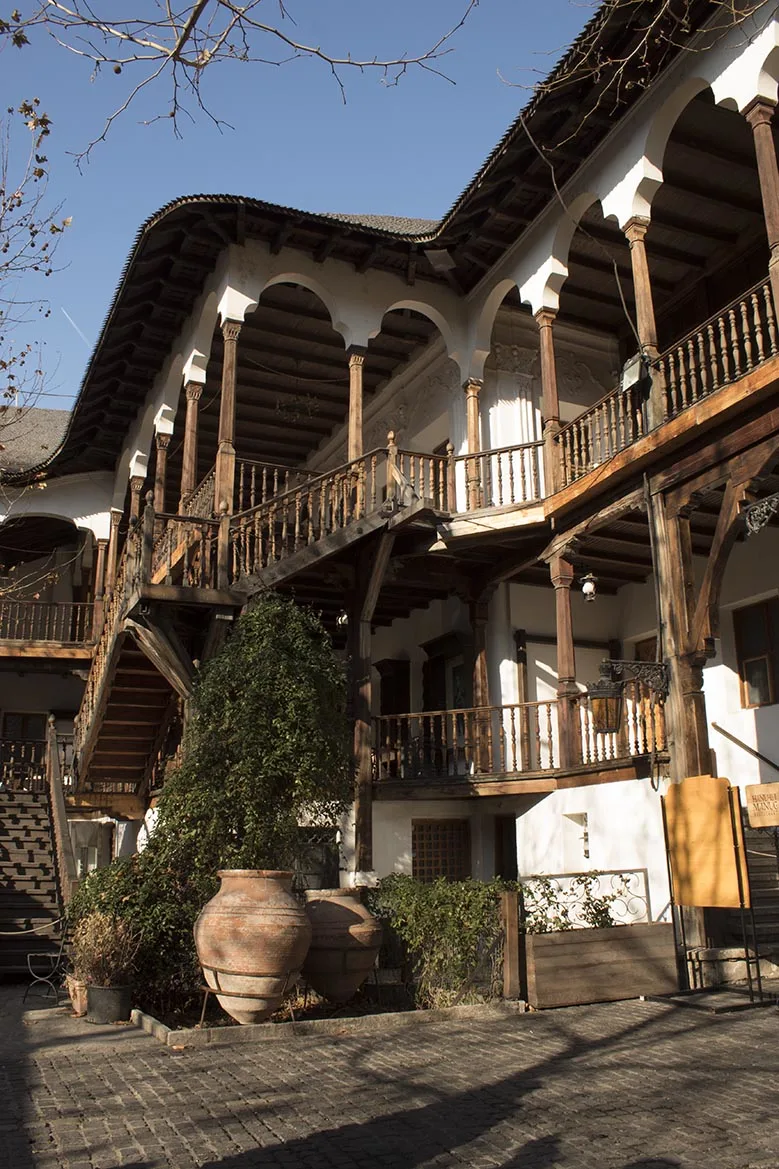 I didn't eat everything I ordered, though. Not because it wasn't of good quality or whatsoever, but because I didn't like the taste. The Romanian cuisine makes full use of meat, cabbage, and polenta. It's also very oily, but since the country can get to extremely low temperatures in the winter, it makes sense that they developed their cuisine to keep their bodies warm.
Typical Romanian Dishes
There are many dishes to try in Romania, but I'll list the main ones here. I had a delicious meat roll, called Mici. It's basically made of different sorts of meat, black pepper, garlic, coriander, and thyme. Mici is often served with mustard, French fries, and Romanian pickles.
A very tasty dish is the Sarmale, these are cabbage rolls stuffed with minced meat. Sarmale is usually served with polenta, a porridge made of cornmeal. Together with the Brasov pancakes, this was my favorite dish. Talking about Brasov pancakes, these are meat pancakes with tomato sauce and sour cream. But this dish is only to be found in Brasov, of course. If you take a tour of Bran's castle (Dracula's castle), which I highly recommend, you'll stop by this city.
I like cabbage and polenta, so no problem until here. But what I didn't like was the most traditional dish of Romania, oops! It's the Ciorba de Burta, in other words, tripe soup. Locals love this dish, tourists not so much. I didn't. But it's up to you if you want to try it, of course.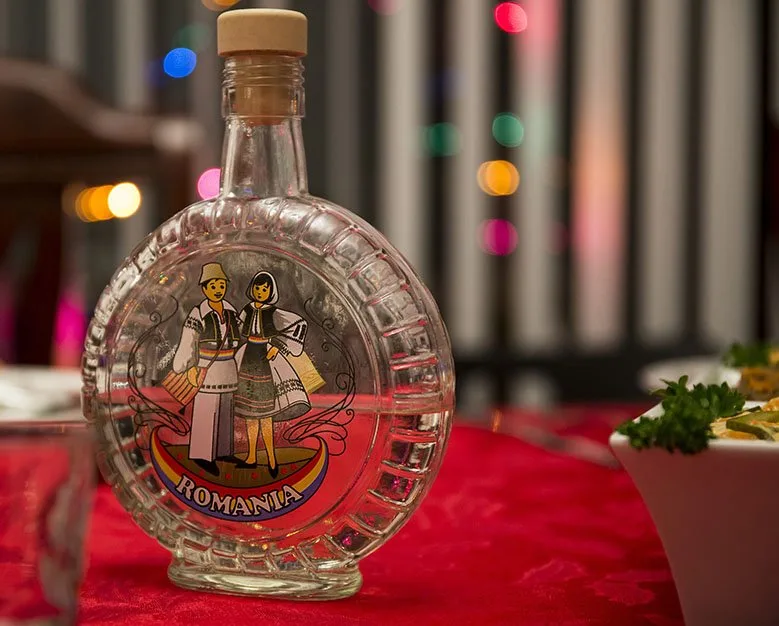 To warm up, I had a shot of Tuica, a Romanian beverage that can contain between 24% and 65% of alcohol! I didn't ask what the alcohol percentage of that shot was, but I can assure you it was pretty high. Tuica is not tasty but it was freezing outside, so this was a good idea after all.
Dracula, the legend
Go back to the Franceza street, the one from the Saint Anthony Church, and walk along it. You'll see some ruins and a statue behind a fence. This is Dracula, my beloved readers. His palace used to be in those ruins, and for that reason, they placed his statue there. Unfortunately, the place is in bad conditions, so we can't walk inside of it.
I said Dracula because this is his most famous name, but, in Romania, his name is Vlad, the Impaler. This man used to impale his enemies, especially the Ottomans and was broadly feared in the country. I learned about his story, and many others, during my fantastic day trip from Bucharest to Bran Castle in Transylvania.
Bucharest Old Town
Head to the small, but sweet Stavropoleos Monastery Church. Right in the heart of Bucharest Old Town is located this 18th-century church. You won't need more than a couple of minutes to admire it and its courtyard, but it's still worth the visit.
In the next block, you'll find the National Museum of Romanian History. This inexpensive museum showcases Romanian artifacts from prehistoric up to modern times. Also, a part of their exhibition is a replica of the Trajan's column as well as the Royal jewelry and an exhibition with the consequences of the ww1 in Romania. The building itself is gorgeous together with the CEC Palace, right across the street.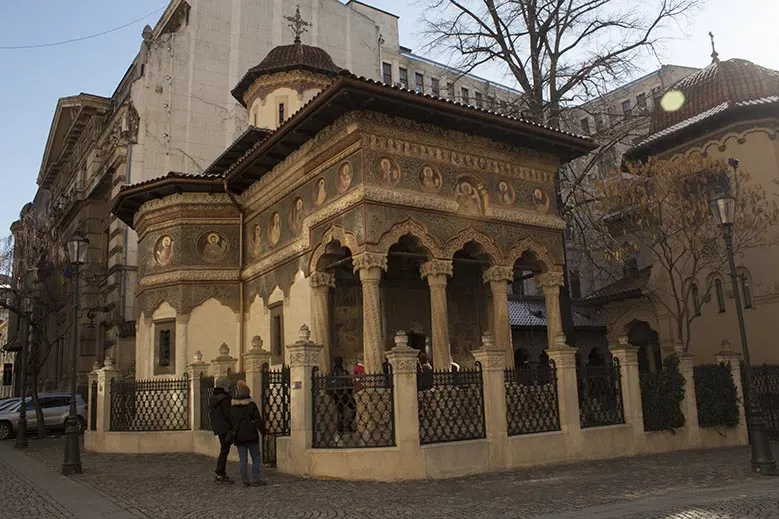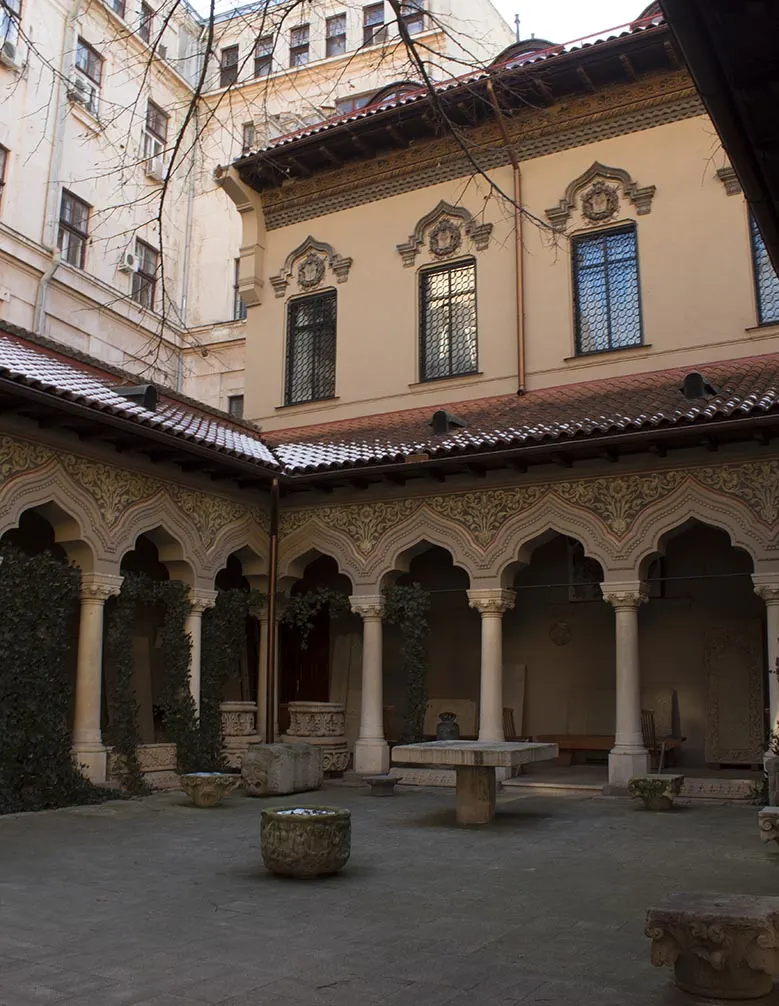 Carturesti Carusel Bookstore
Not far from the museum is the fantastic Carturesti Carusel bookstore which has a splendid architecture, a very light and welcoming environment and, of course, it has a huge collection of good books. For book lovers, this place is like heaven! And yeah, this is a must-see in Bucharest! I know, it's only a bookstore, but take a look at those photos.
On top of that, they also sell a whole variety of agendas, mugs, tea, magnets, and Romanian handcraft. So, if you're looking for gifts, you've found the perfect place to buy them.
Ah, almost forgot! There are a nice coffee shop and restaurant on the 3rd floor.
University Square
After you have taken many photos in this stunning bookstore, head to the University Square. This is one of the most important squares in the country as it's where thousands of people come when they want to protest, usually against the corrupt government.
This square houses the Museum of Bucharest, where you can learn more about the Romanian capital, the 1989 Revolution Memorial, a cement cross placed on the island in front of the theatre in memory of those who lost their lives fighting against the communism, and the National Theatre with its interesting statues.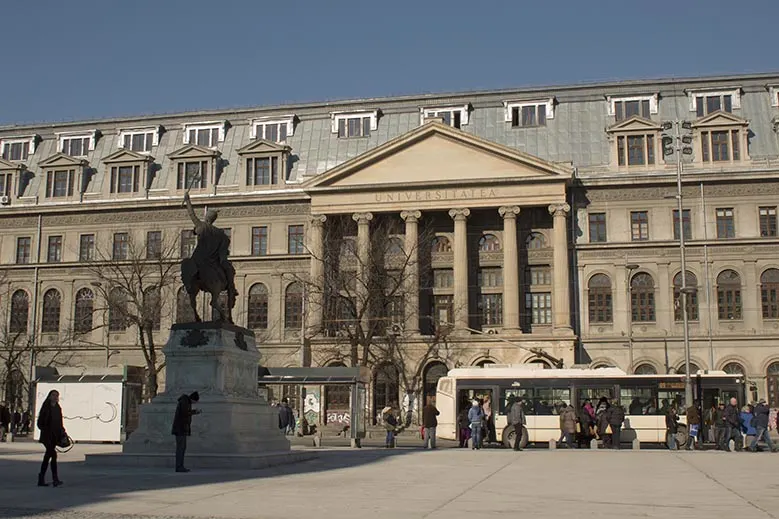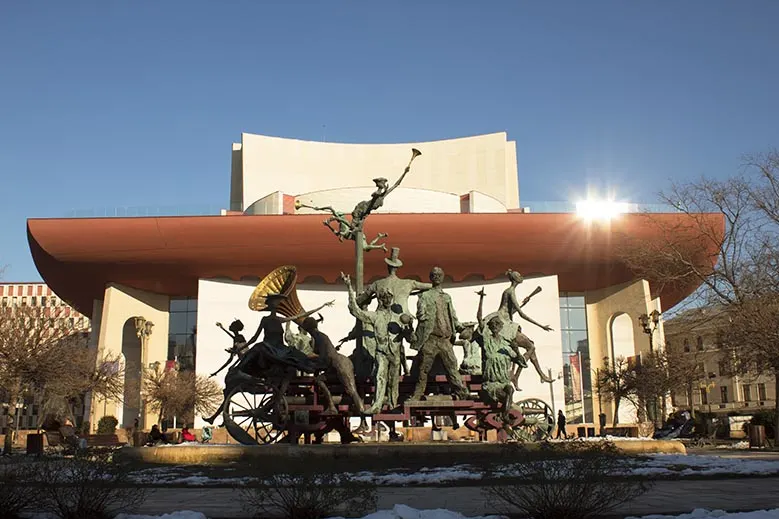 These statues were built because Bucharest was the European capital with the least number of statues, so the architect, whose statue is sitting on a chair right next to this big one, created it to the image of the Romanian people. He created the workers of society.
Victoria Passage
Stroll a few blocks behind the university, and you will find a place that brings a little color to your day. The Victoria Passage is an alley covered with colorful umbrellas and it's possibly one the best places to take some good shots. Use your creativity!
As you might have noticed, Bucharest had a lot of French influence in its architecture, but at the same time, it has some underground places, hipster bars, and quite some street art. I love this contrast but I'm not the only one who has noticed it. For that reason, Bucharest is often called the little Paris and the new Berlin.
I haven't decided yet which one of those names I prefer, but I'm curious about your opinion on that.
And just so you can understand and see these characteristics more clearly, read this post about the main spots of the little Paris and new Berlin, including many photos.
The Memorial Rebirth
Some people call this memorial "a potato in the toothpick", others call it "an impaled potato", greetings from Vlad. The Romanian people aren't really proud about this controversial monument, as you noticed, but it symbolizes the rebirth of the country after the communism.
It's located in the Revolution Square, a place where important events in the Romanian history happened. The former Central Committee of the Communist Party used to be in this square, until Ceausescu, the general secretary of the Romanian Communist Party, was captured and killed.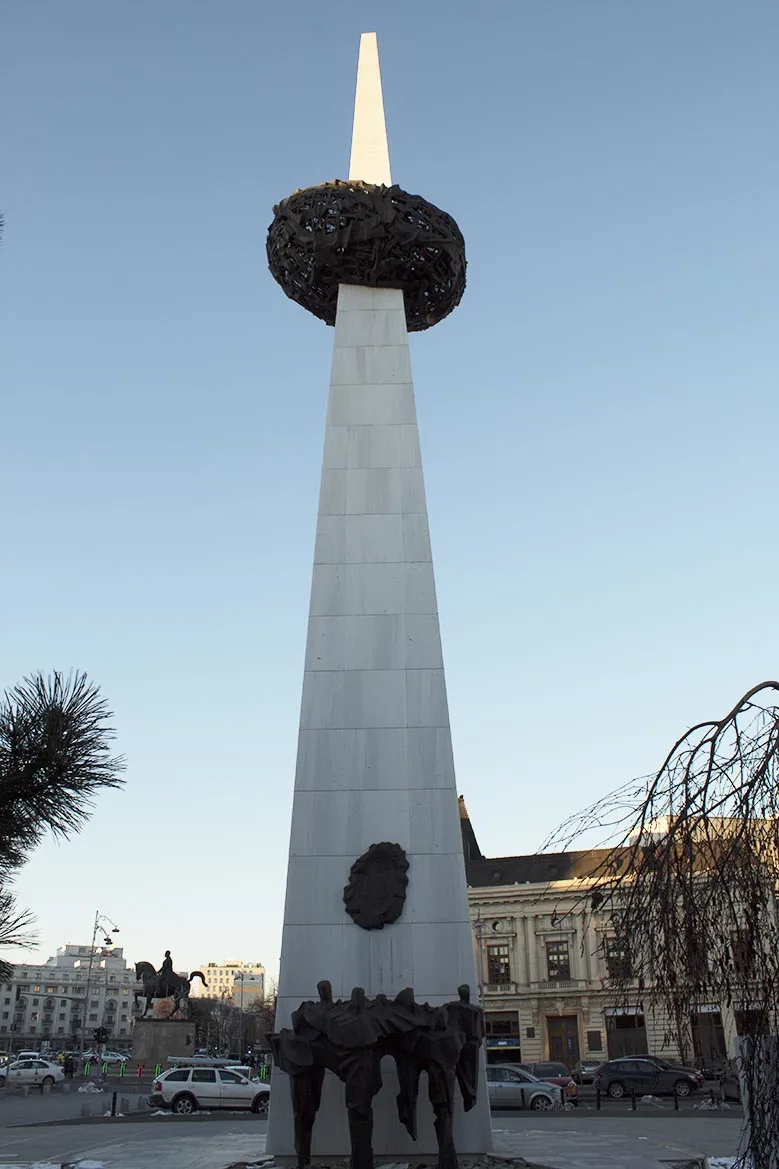 Arc the triumph
Bucharest also has its own triumphal arch. Okay, I know it looks like the one in Paris, like many constructions in the city, but it's still a gorgeous view. The Romanian Triumphal Arch, which is 27m (89 feet) high, was inaugurated in 1936 and celebrates Romania's victories in World War I.
How to get there? Take the subway M2 to Aviatorilor station.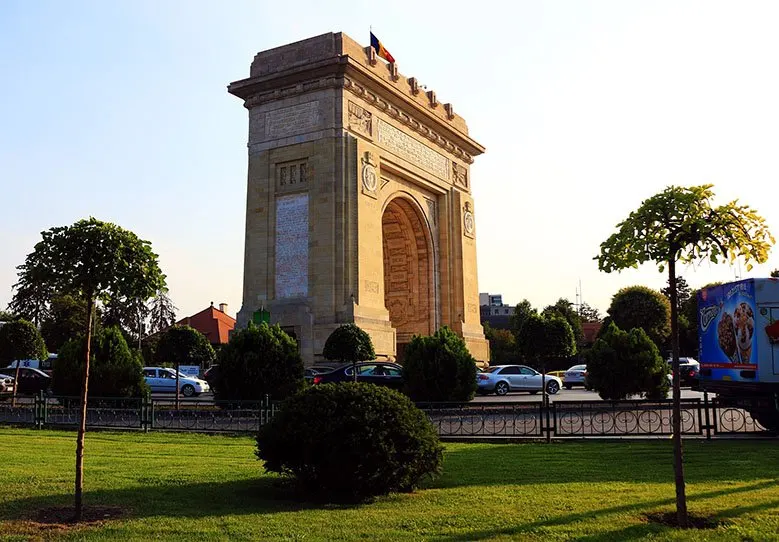 The Village Museum of Bucharest (Dimitri Gusti National Village Museum)
This open-air ethnographic museum is located at the Herastrau Park. If you still have some time left in the city, check this place out! I'm sure you have never been to such a museum before. This place not only takes you to a visit to the Romanian past, but it lets you interact with it. The fact that you can wander around the buildings so freely, and even go upstairs in some of the houses, makes it feel really immersive. If you want to see everything at a calm pace, reserve half a day for it.
I had no idea what to expect from Bucharest, but the city made a very positive impression on me. Actually, all the cities in Romania that I have been to were fantastic and I'd love to go back. This time in the summer. 😊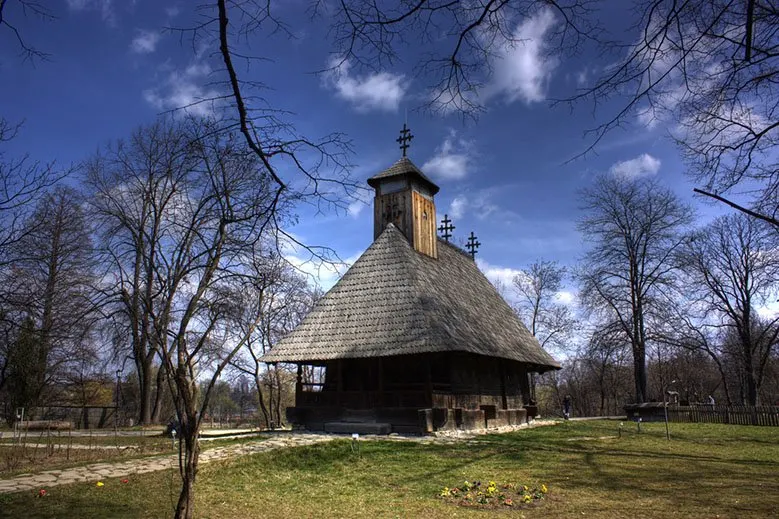 Where to stay in Bucharest?
We stayed at the K+K Elisabeta Hotel next to University Square. The location couldn't have been better because there is a metro station in this square and it is at a walking distance from the Old Town, which I was really glad about because the nights were freezing. So, after a few drinks in the center, you can just walk back to the hotel instead of calling a taxi.
About the hotel
The staff was very friendly, and the hotel is small but nice. The room was clean and equipped with a safe, minibar, hairdryer, air conditioning, heating, tv, good wifi, and a nice bathroom. Breakfast was also good; the tables were kept clean and organized.
Here is a small selection of really nice tours that will show you more about Bucharest:
Love road trips? Then check out this itinerary to make an awesome road trip in Romania.
Bucharest is a lovely place, don't you think? What places are you planning to visit in the city? And… the last question… I want to see who knows the answer! The parliament of Bucharest is the 2nd largest building in the world, so what is the largest one? Drop your answer in the comments!
Inspired today? Pin this post so you can find it easily later.
Our best travel tips & resources:
Here're our all-time favorite travel tips & resources so that you can save money and plan your travel logistics hassle-free! For more travel resources, check out our
travel tips.
Saving money: Fly on offseason, winter (not Xmas or NYE), Tuesday, or Wednesday! According to experts, these are the cheapest days to fly.
Travel insurance: Before you leave for your trip, make sure you have a valid travel insurance policy because accidents happen on the road. We have been paying for Safety Wing travel insurance for a little over a year now, and we happily recommend them to our family and friends.
Accommodation: We usually stay in mid-range comfy hotels or private rooms in hostels. These are the sites we use to book accommodation: Booking.com for hotels (excellent flexible cancellation policy) and Hostelworld for hostels (low deposit and easy cancellation).
Tours:We absolutely love booking guided tours with locals to get a history lesson while sight-seeing, especially food tours and walking tours! We book all of our tours using Viator and GetYourGuide.
Transportation: We use Google Maps to figure out how to get around a place using public transport. When we book a rental car, we always use Discover Cars to find the best deal.