Ready to step into a fairytale book? All the way in the south of the Netherlands, you'll find Maastricht, one of the most beautiful cities in the country. If I were to describe this place in a few words, I'd say that this is a sweet medieval city full of history and cozy cafes. Many people spend a weekend in Maastricht as the city isn't big and most of the main attractions are in the Old Town. However, if you don't have much time, you'll be able to see a lot in one day in Maastricht already.
The city has the second highest number of national heritage buildings in the Netherlands, just behind Amsterdam, and it is a thriving cultural center in the country. Maastricht is also famous for its good shops and recreational activities all year long, which attracts thousands of national as well as international tourists given its distance to both the Belgian and German border.
Maastricht is also one of the most international cities in the country because of its university, which is one of the best in the world. So, a lot of students from many countries come to the city to study for a couple of semesters at least. Needless to say, that it is a traveler-friendly city, right?
Hey, looking for more tips for your next trip in the Netherlands? Check out some of our other posts below, or click here to find all of our Netherlands posts.
A Weekend in Maastricht
Maastricht Central Station
Recently renovated, the Maastricht central station has direct trains to Amsterdam and many other cities like Eindhoven and Utrecht. It also has a bus station next to it, with buses going to nearby towns, like Aachen in Germany.
The city center is at a walking distance from here. You'll only have to walk straight ahead and cross the river that gave the name to the city, the Maas River. This river runs from France, through Belgium and Maastricht, all the way north until the port in Rotterdam.
Ps: This is a perfect day trip from Amsterdam! You can buy the train tickets at the train stations or in the Dutch railways' website.
Basilica of Our Lady (Basiliek van Onze Lieve Vrouw)
This Romanesque church was built around the 11th and 12th-century, although this is probably not the first religious building constructed on this site. Yet, there aren't any archeological studies to confirm it. Today, the Basilica of Our Lady is a National Heritage building and possesses an important historical church treasury. It used to have a much bigger treasury, though.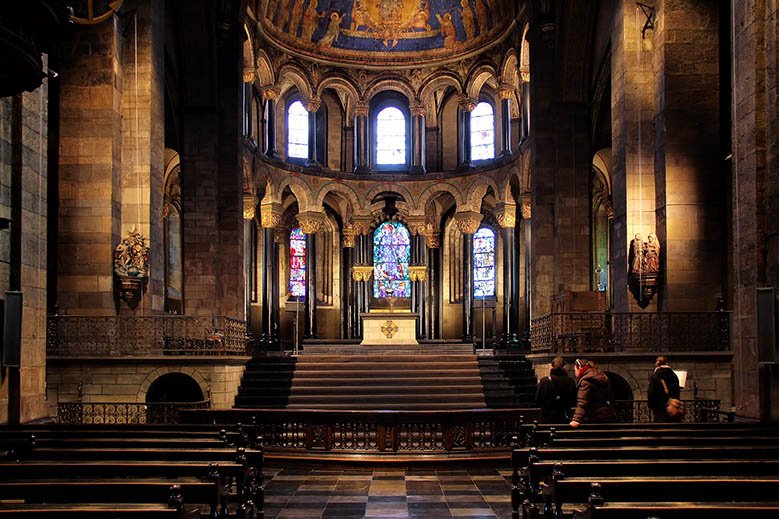 Photo credits: Header by Jeroen MoesCC BY-SA 2.0 Above by Franganillo CC BY 2.0
Gate to Hell (Helpoort)
Back in the 13th-century, Maastricht used to have a medieval wall to protect the city against enemies and part of this former wall can still be seen. Walk along the wall and you'll see stairs to climb it. But watch out in the winter because it can be slippery.
Fun fact: The oldest gate in the Netherlands is in Maastricht's wall. The Gate to Hell, or Helpoort, has this name because they used to keep prisoners in its towers. This is a top instagrammable spot, by the way!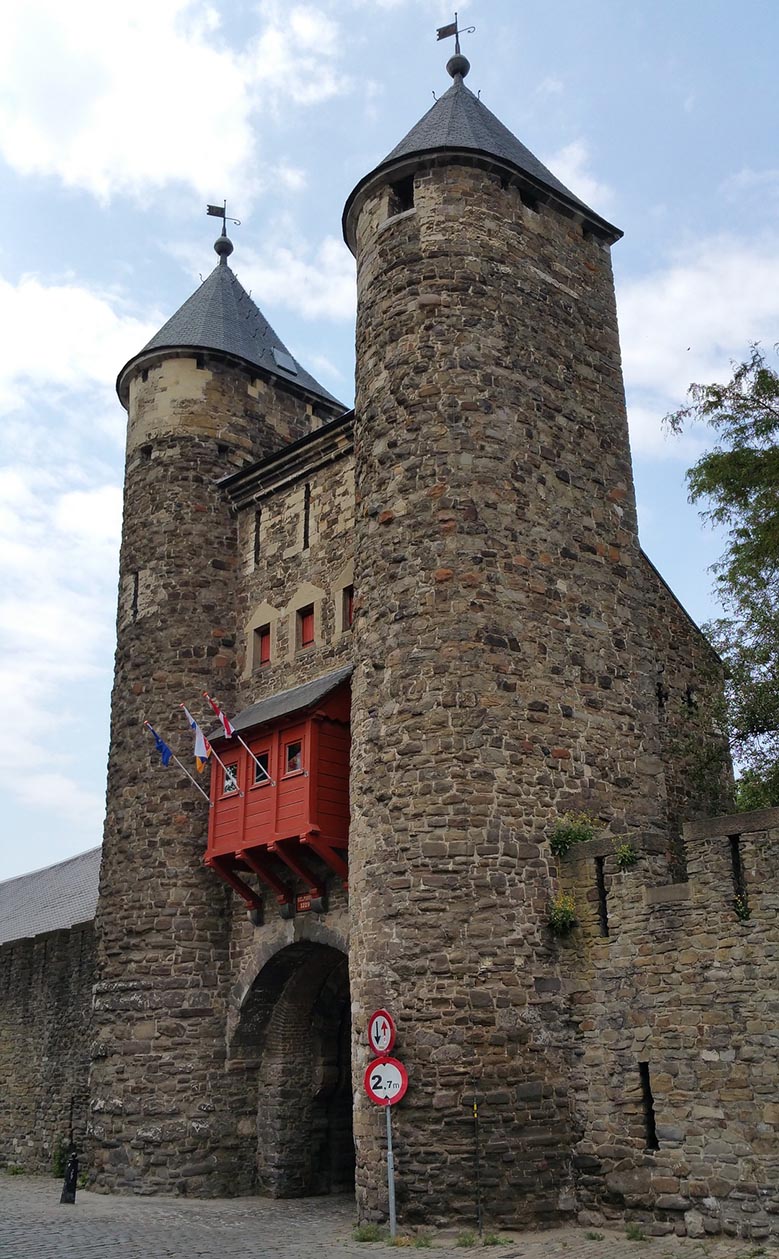 [irp posts="2446″ name="Keukenhof Gardens: Best Time to Visit and More"]
Vrijthof
Head north to the main square, the Vrijthof. A lovely square with cozy bars, restaurants, and the Gothic church Sint-Janskerk. Also, in this square is one of the oldest churches in the Netherlands, the Basilica of Saint Servatius. There is a little entrance fee which gives you access to the treasury as well. The only downside is that they only had information in Dutch, at least when I was there.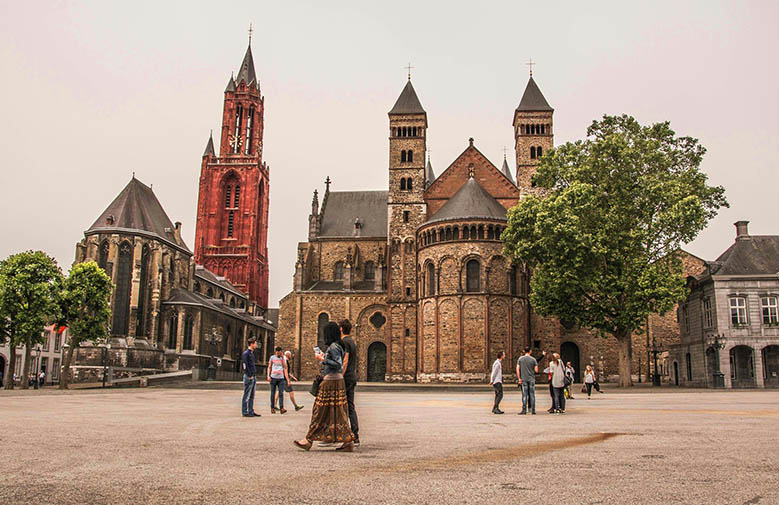 Shopping
Maastricht is very famous among Dutch people for having good stores, so many people from nearby cities come here to shop or to enjoy one of its comfy cafes. Including me. So, if you're up for some shopping you can literally get lost walking around the shopping malls and streets in the city center. There are stores of all sorts, for everything you imagine!
[irp posts="1704″ name="Things to do in Giethoorn – Practical Guide"]
Selexyz Dominicanen Church
Book lovers, this is for you! What if you could read a book in a former 13th-century Dominican church? That's right! This gorgeous bookstore can be found right in the center of Maastricht.
I'm not a religious person, but I love to visit the European churches and cathedrals because the architecture is breathtaking most of the time! The architects Merkx and Girod chose to maintain most of the original decoration which gives customers an authentic feeling. It goes without saying that the architecture here is extraordinary and you might find yourself appreciating the paintings on the ceiling instead of the books.
The ground floor has plenty of aisles, but most of the books are on the shelves of a colossal three-store black steel construction. At the altar, you will find a coffee shop, which is claimed to have the best coffee in town, and a cross-shaped table. Appropriate, huh?
Hot tip: Go upstairs and appreciate the astonishing view of the church, it is almost sacred.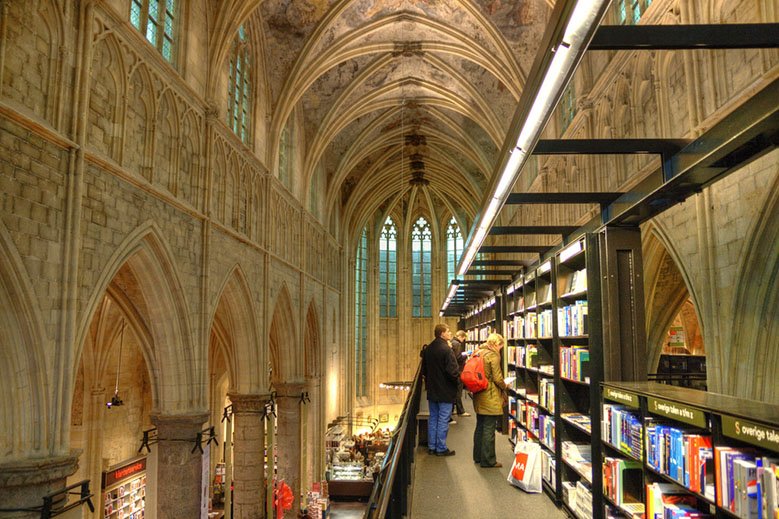 Photo credits: Bert Kaufmann CC BY 2.0
Waldeck Casemates
Between the 16th and 19th-century around 14km (8.6mi) of underground corridors were excavated in Maastricht to be used against enemies. Later on, during the ww2 this place was meant to be used as an air raid shelter, but luckily it was never necessary.
Today, it's possible to take a tour in the casemates and this is definitely an interesting attraction where you can learn much more about the story of Maastricht.
The casemates are at a walking distance from the city center (around 1,2km), just follow the "Bastion Waldeck" signs and you'll be fine.
Saint Peter's Fortress
This 18th-century fortress was built to protect Maastricht against the French. It was successful for quite a long time, but they eventually had to surrender. Today, the fortress is broadly intact, and it offers the possibility to be explored in a guided tour. The fortress is a little bit further than the casemates, but also a walking distance. Around 1,8km from the city center.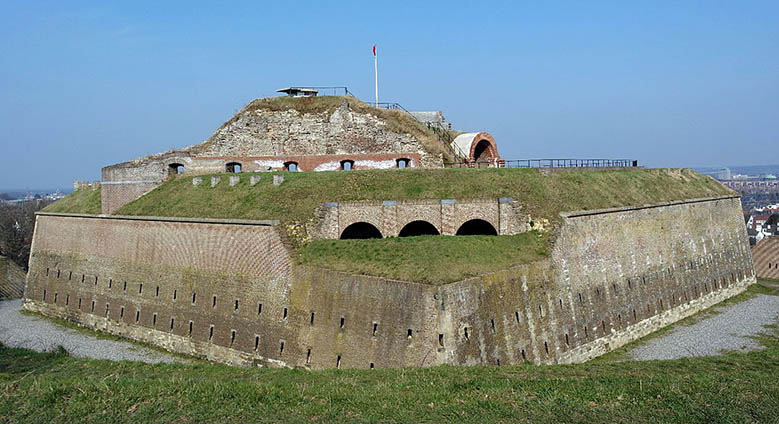 Photo credits: Kleon3
St Pietersberg Caves
Old tunnels decorated with generations of paintings on the walls. These caves were also meant to be used as an air raid shelter for the population during the ww2, but like I said above, it was never necessary.
Today, there are around 80 km (49mi) of cave system, way less than the original length. And given the caves extent, it is impossible to cover the whole place in a guided tour, of course. There are two caves you can explore, North and South. The North caves are located together with the Saint Peter's Fortress. The South (Zonneberg) caves are 3km south of the city center, so you decide if you want to reach it on foot or not. If you don't want to walk, you can get there by boat as well. The boat (+- €16) departs from 58 Maaspromenade street at the city center and drops you off at the foot of Sint Pietersberg Hill.
Note that the ground level in the caves is irregular and it can be a climb at some times, so if you have some physical deficiency it might be difficult to follow the tour.
Hot tip: the temperature in the caves is around 12 Celsius (53 F), so bring a jacket with you.
[irp posts="1877″ name="10 Amazing Things to Do in The Hague"]
American Cemetery Margraten
This ww2 American Cemetery and Memorial lie in Margraten, around 10km (6mi) East from Maastricht. On the left side of the entrance, writings on the wall describe the achievements of the American Army Forces during the war. As you walk through the entrance, both walls are covered with the names of the soldier who lost their lives fighting for freedom, although they rest in unknown graves.
Walk further to see the grave of the soldiers who rest in this moving and peaceful place. There are around 8,300 American soldiers here, you can read their names, city, battalion, and death date on the crosses. In the photo below, you can see the sea of crosses, a sea of brave men. It was supposed to be beautiful, but it's sad.
How to get there? Take the bus 350 at Maastricht Central Station, direction Aachen Centrum. Get off at "Amerikaanse Begraafplaats".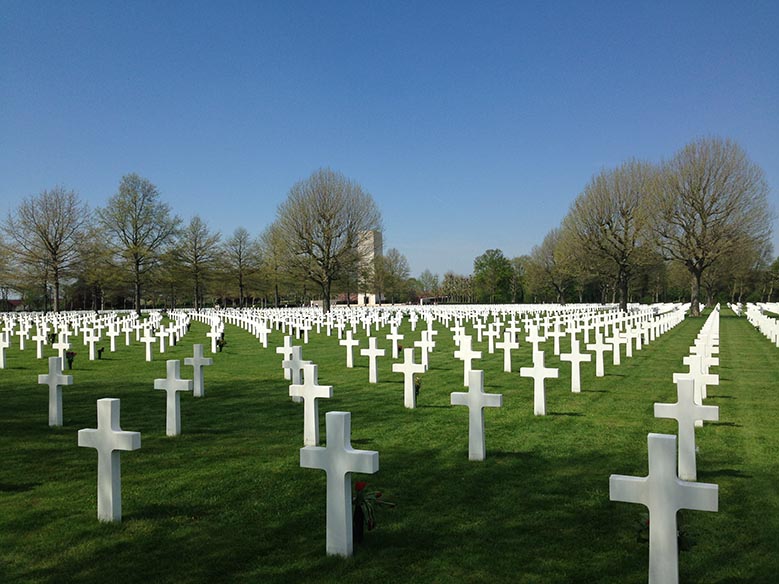 Seasonal Maastricht
Carnival
The provinces of Noord Brabant and Limburg celebrate carnival because these were predominantly Catholic provinces. The tradition goes forward at full power and Maastricht has one of the best carnivals in the country. Dress up, grab a beer, and enjoy the parades with Dutch people of all ages. It's a really fun event and even though the songs are in a dialect from the South of the Netherlands, you can have a good time because the ambiance is great!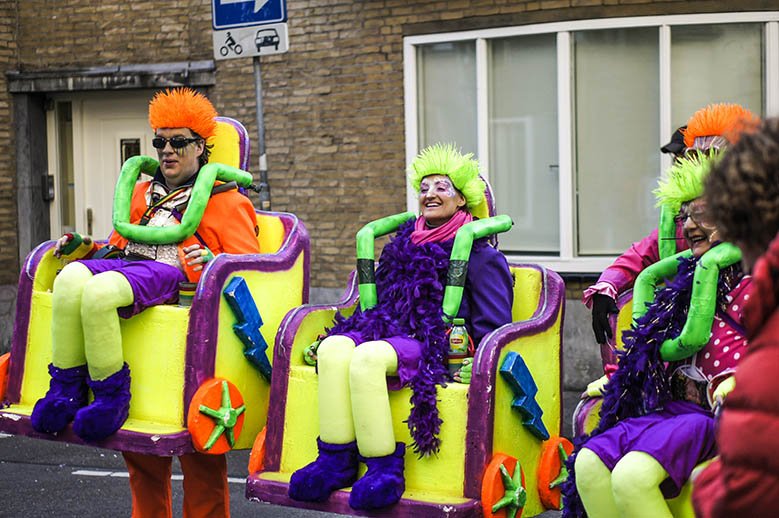 Photo credits: Filip Mishevski CC BY 2.0
Magical Maastricht
Heading to Maastricht in December? Perfect! At this time of the year, the city is completely gorgeous! Yep, even more stunning.
But what is the Magical Maastricht? It's a winter event with a lot of attractions for people of all ages, such as a delicious Christmas market, the Santa Claus (yes, he comes all the way from Finland just to be here), a gorgeous Xmas tree, a Ferris wheel, ice-skating arena, and a market with crafts and regional products. Perfect, right? Magical Maastricht takes place in the Vrijthof square, right in the heart of the city.
Food and Beer Festivals
These itinerant festivals go from city to city in the Netherlands, but the Maastricht editions are my favorite ones, maybe because they take place in a medieval city with a great atmosphere. People here in the south of the country spend more time appreciating good food and beverages than people from Amsterdam, for example. So, the city has a huge concentration of cozy cafes, especially of wine and special beer cafes.
The festivals take place around May and June.
[irp posts="1029″ name="12 Typical Dutch Foods You Must Try in Amsterdam"]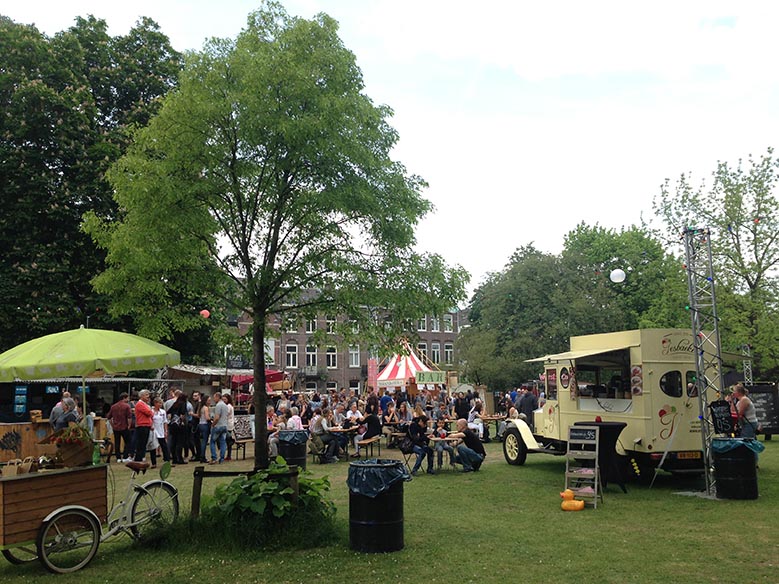 Perfect Day Trips from Maastricht
If you're spending a weekend in Maastricht and want to make a day trip to one of the surrounding cities, I'll give you some national and international amazing ideas.
Valkenburg (Netherlands) – A pretty little medieval city 10 minutes by train from Maastricht. It has plenty of intimate cafes, a castle ruin, and a cave just waiting to be explored.
Drielandenpunt – Have you ever been in 3 countries at the same time? The "Three-country point" is the place where Belgium, Germany, and the Netherlands meet. There is a labyrinth in that place, a restaurant, and a 34m high tower with a glass floor for the brave ones (I couldn't walk on there, my legs were shaking so much!). This is the highest point of the Netherlands.
Aachen (Germany) – Visit Germany's first UNESCO Heritage site, the iconic Aachen cathedral. This church was founded around 800 AD, just so you can have an idea of how old it is. Also, have some beers in the Marktplatz am Rathaus, in front of the 14th-century city hall. It's a very pleasant square.
Liège (Belgium) – Its Old Town dates to the medieval era, for that reason, the city is home to many traditional museums, churches, and historic buildings. Burn some calories on the 374 steps of the Mountain of Bueren and appreciate the view when you reach the top.
Hasselt (Belgium) – Another medieval city where you can perfectly spend a day. It has a Gin Museum (up for some drinks?), an open-air museum that takes you back to the Flemish old times, a charming Japanese garden, and much more!
[irp posts="1065″ name="Top 13 Things to Do in Amsterdam"]
Where to eat and drink in Maastricht?
Like I said above, food is an important matter in Maastricht so there are countless good places to eat and have some drinks in the city. But I'll talk about only a couple of them for now.
Petit Café Moriaan
It's said to be the tiniest café in the Netherlands, but if you're in Maastricht during summer you don't have to worry as they open the terrace for customers. This homey café is a perfect place to have brunch and a good glass of wine.
De Gouverneur
A self-called retro Belgian specialty beer-café with a respectable list of beers (more than 250 different kinds) and tasty food. There is a terrace in front of it with electrical heaters, so even in the winter, you'll be just fine in this café. I saw many more locals than tourists there, so it's also a good place to have that local feeling.
Oude Vogelstruys
There used to be another café in this place that was built in the 14th-century, but it was later transformed into the Oude Vogelstruys, being the oldest café in town. This traditional place offers a perfect view of the Vrijthof while you taste some delicious food such as salads, hamburgers, soups, sandwiches, and brunches.
Café De Zwaan
They have over 200 sorts of beer, including Dutch ones. If you don't know which one you should order, their friendly staff is more than happy to help you. But don't think it's all about beer. They also have a good selection of wines and Dutch snacks and food.
Livin' Room
Looking for some healthy bites? Then head to the Livin' Room. This cozy and friendly café is perfect for vegetarians.
Bisschopsmolen
A historic building with a working mill on the water, this 14th-century bakery sells delicious "Limburgse vlaai", the local pie and it's said to have the best bread in town.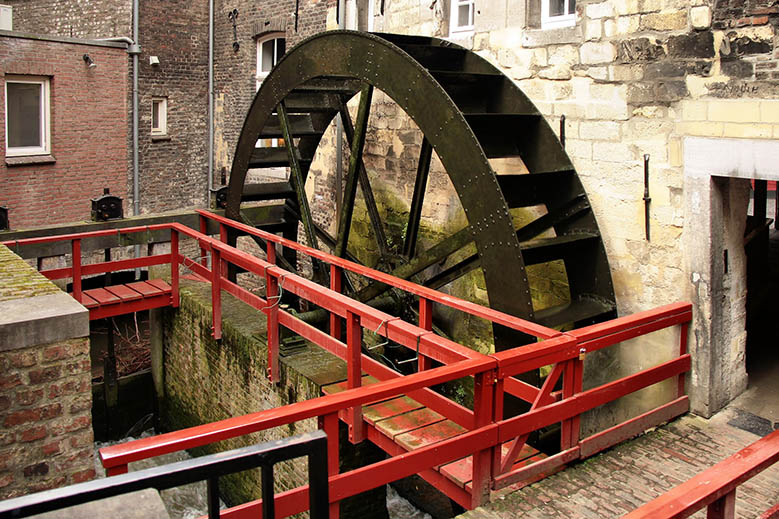 Photo credits: Franganillo CC BY 2.0
Where to stay in Maastricht?
Boutique Hotel Sint Jacob has the best combination of location, price, and quality I could find. This comfy hotel is ideal for either solo travelers and families, including your pet. It has a traditional Dutch decoration, simple but classy.
The rooms are spacious and quiet, even though it's located right in the center. They are equipped with tv, minibar, hairdryer, safe, etc, and some of them have a beautiful view of the city.
If you're planning to spend a night having some drinks in Maastricht, you might consider this place as it's close to most of the bars in the center.
Hey, looking for more tips for your next trip in the Netherlands? Check out some of our other posts below, or click here to find all of our Netherlands posts.
So, you have seen that Maastricht is a lovely city, did I convince you to go there? What attractions are you planning to visit?
Feeling inspired today? Pin this post to find it easily later!


Disclaimer: Please note that some of the links above are affiliate links. If you make a purchase I'll receive a small commission for it, at no extra cost to you. If you have any questions about the companies or my status as an affiliate, please don't hesitate to contact me via e-mail.