The land of Messi, tango, and Quilmes: Buenos Aires is the "Paris of South America"
On 2014 I ventured on my number one (of many) backpacking trips. Buenos Aires was my very first solo trip abroad. This is one of the world's most interesting cities! It has a cosmopolitan atmosphere and neo-classical/ neo-gothic architecture like Paris. But it also has a trendy feeling.
Oh, no. Don't think for a second that they try to copy the French culture. Here you can live and experience the Argentinean lifestyle to its fullest. Buenos Aires carries the tango's charm and it's possible to find a couple dancing in many places on the streets.
This is usually the first international destination to a lot of Brazilians, because of its proximity and sophisticated aura, so you'll probably meet a lot of them there. Buenos Aires is also the second largest metropolitan area in South America, just behind Sao Paulo, and the largest in Argentina. But don't worry, because even being the largest city in the country, the main attractions are fairly close to each other.
In addition, if you have a spare day, you might want to consider a day trip to Uruguay (it's a lovely place too).
Three days in Buenos Aires
Day 1
My itinerary started at the Obelisk because I was hosted at Hostel Suites Obelisco at Avenida Corrientes. I really hate complaining about places, but I just didn't have a good experience there.
There was no warm water in the bathroom and I woke up a lot of people because the hostel staff didn't know in which rooms there were available beds. I arrived there around 12 am. A bit chaotic, but I'm sure this was s beginner's luck case.
So, the obelisk is located on Plaza de la República and it's a historic national monument of Buenos Aires. It was built in 1936 to celebrate the city's 400th anniversary. Oh, we learn so much about history while traveling…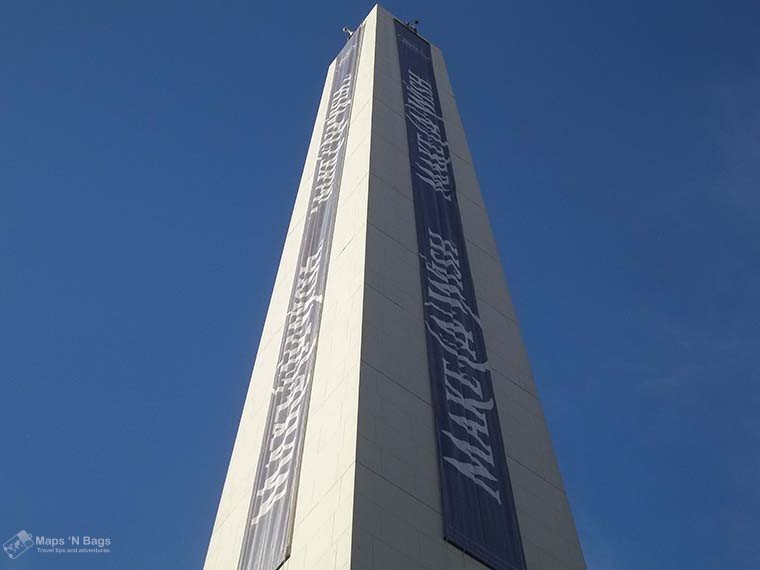 Two blocks away you can find the Cólon Theatre, one of the world's most important theatres, among others, by its architecture and magnitude! It's possible to make a free guided visit here, for more information access the theatre's Cólon website.
After exploring the theater surroundings I headed over to the Palace of the Argentine National Congress, which is a very impressive building and it's worth the walk. The palace is seat to the legislative power. Across the palace, you can see a replica of The Thinker, a famous sculpture by Auguste Rodin. You can also make a free guided tour of the palace, for more information access the Palace's website.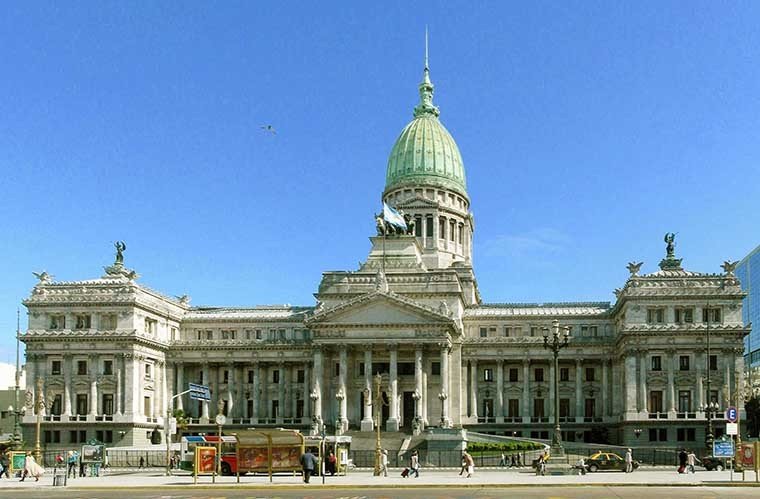 Ps: My photos are horrible in this post, I know. I didn't have a good phone or camera back then. 
Plaza de Mayo
Well, it was about time, but I finally made to the remarkable Plaza de Mayo, named after the May revolution, when Argentina became independent from Spain (I told you we learn more traveling than in books, right?).
I did this path on foot so I could see the city, the people, lose myself for a while. If you're not really into walking you can take the subway. I wrote an article about the public transport in the city.
On this square are the Casa Rosada and the Metropolitan Cathedral of Buenos Aires.
Casa Rosada
La Casa Rosada is the executive mansion and the office of the president of Argentina. It's one of the most symbolic buildings in the city and it houses a museum about the history of all presidents of Messi's land. You can make free guided tours in La Casa, for more information access the Casa Rosada's website.
The museum is open from Wednesday to Sunday (from 10 am until 6 pm, entrance is allowed until 5:30 pm) and one hour is enough to see everything. The problem here is that if you don't speak Spanish it might be a little difficult to understand the exposition because there are no videos or exhibitions available in another language.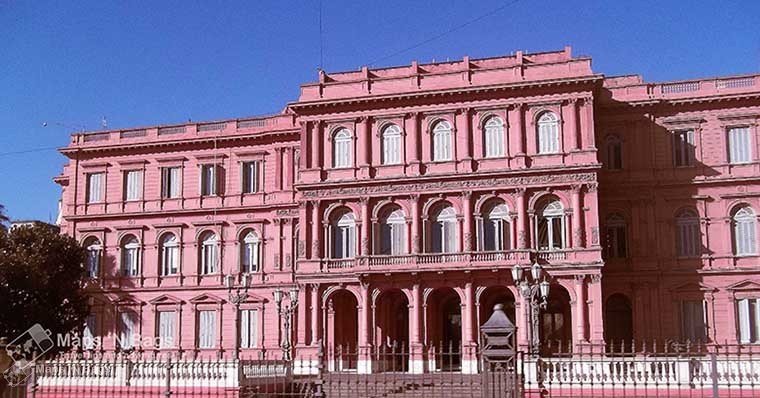 The Metropolitan Cathedral of Buenos Aires has a gorgeous architecture, which mixes the neoclassical, neo-renaissance and neo-baroque styles. Even being crowded with tourists it's worth a visit. It opens from Monday to Friday (7:30 am until 6:30 pm) and on the weekends from 9 am until 6:45 pm. The entrance is free.
P.S.: The Pope Francis was a cardinal here.
Puerto Madero
Then head over to Puerto Madero, the most contemporary neighborhood in the city. Yep, I walked a lot, I know. Actually around 5km until here! Who said that backpackers aren't fit?
Ok, back to the itinerary…Puerto Madero has excellent restaurants (some of them are really expensive), luxurious hotels and a casino boat. Take your time to appreciate the modern architecture and stylish buildings.
You can finish your first day drinking Quilmes (Argentinian beer) in some bar or an Argentinian wine to enjoy your night.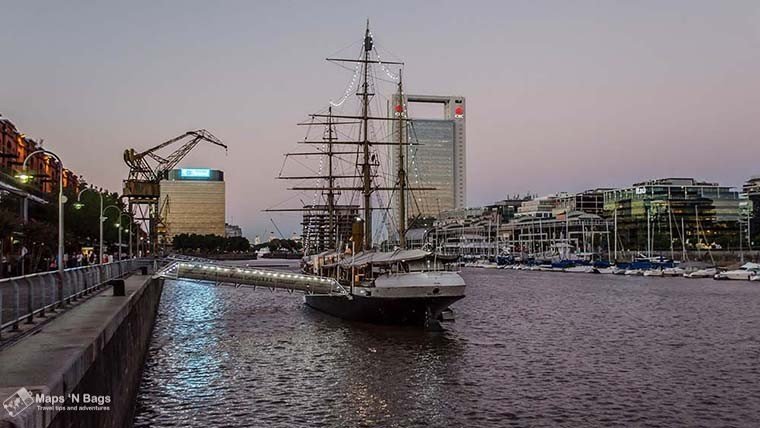 Day 2
I began my second day in La Boca neighborhood. Highly touristic and colorful! The first place I visited was the Boca Juniors' stadium, La Bombonera. You can take a tour in the stadium and in its museum, for more information access the Boca Junior's website. The tour takes around one hour.
Everything there is about Maradona! Statues, shirts, paintings in the streets, you name it! I remember I was amazed by the yellow leaves on the streets, I'd never seen a real autumn in my life. So naive, so naive… How can you get there? These bus lines can take you there: 22, 33B/F e 70.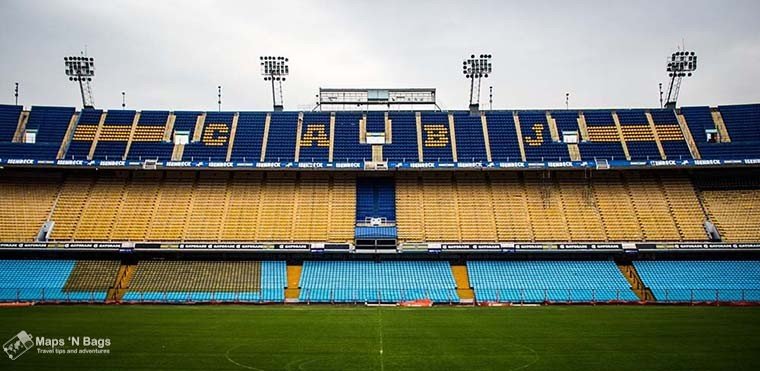 Caminito
The stadium is two blocks away from Calle (street) Caminito, the most famous street in the neighborhood. Which draws attention for its colorful houses, handicrafts, and paintings people are selling in the street. Here you can find all sort of things, from clothes to souvenirs and mugs.
P.S.: It's a very touristic neighborhood, but also the poorest one. It's not advisable to visit the area at night.

San Telmo
Then I headed over to the Plaza Dorrego, in San Telmo by bus (line 29A/B or C, or 86). This is the oldest and traditional district in the city, according to its residents. This is showed by the colonial-style houses and the cobbled streets.
Check out the San Telmo Fair, the most famous of Buenos Aires! It's really nice because it's huge and you literally find everything there. It has a lot of quirky stuff and many people playing things (like crystal glasses as instruments), so it's totally worth the visit!
It begins next to the Plaza de Mayo, on Calle Defensa, it continues until Plaza Dorrego and Calle Humberto I. The fair is open on Sundays from 10 am until 5 pm. There you can also find the San Telmo Market, which sells fruits, condiments, exotic coffee, etc.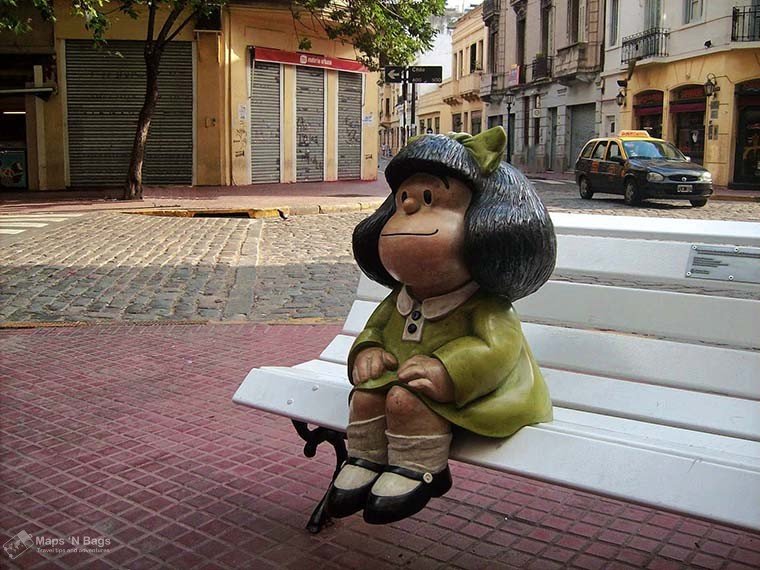 P.S.1: On the corner of Calle Defensa and Calle Chile there is a little Mafalda Statue, a legitimate tribute paid to its creator, Quino.
P.S.2: Where there're tourists, there're pickpockets. Be aware!
Tango
You can finish your second day watching a tango show! Well, yeah, you know…Buenos Aires is the tango capital! Even if you're not really into dancing, it's definitely worth to check out this sensual dance, a symbol of the Argentinian culture.
There are a lot of restaurants where you can watch a tango show, in many price ranges. The most famous place is Señor Tango, but it's also the most expensive one. I selected a few cheaper tickets below to watch this spectacular show. It will be an experience you'll never forget!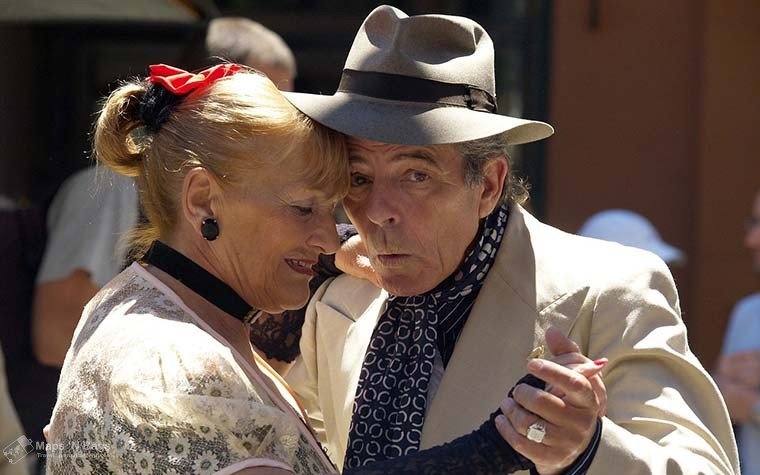 Day 3
After a breakfast of so many carbs, I decided to head over to see the Palermo district. I saw a lot of photos before I went there, of course, but wow…the architecture there reminds me so much of Paris! There are some nice parks where you can enjoy the good weather if that's the case. Like the Palermo Woods, the Rosendal park or the Japanese Garden.
The latter was built in 1967 when Japan's prince (he's an emperor today) went to Argentina. The Japanese Garden opens daily from 10 am until 6 pm and the entrance costs 95 Argentinean pesos.
Next stop: Malba, Latin American Art Museum of Buenos Aires
It's a great and modern museum with interesting interactive artworks. Which makes it even nicer. It has famous paintings of Latin-American's art in its permanent collection, such as Frida Kahlo, Portinari and the acclaimed "Abaporu" from Tarcila do Amaral, a Brazilian painter. There are also exciting temporary exhibitions.


When I was there I was able to see the peculiar exposition from the Peruvian photographer Mario Testino, "In your face". Ah, you can take pictures, but without flash. I highly recommend this museum, it's totally worth the visit and you can get to know a little bit more about the Latin-American culture! The museum does not open on Tuesdays. For more information about the opening times and prices check the Malba museum's website.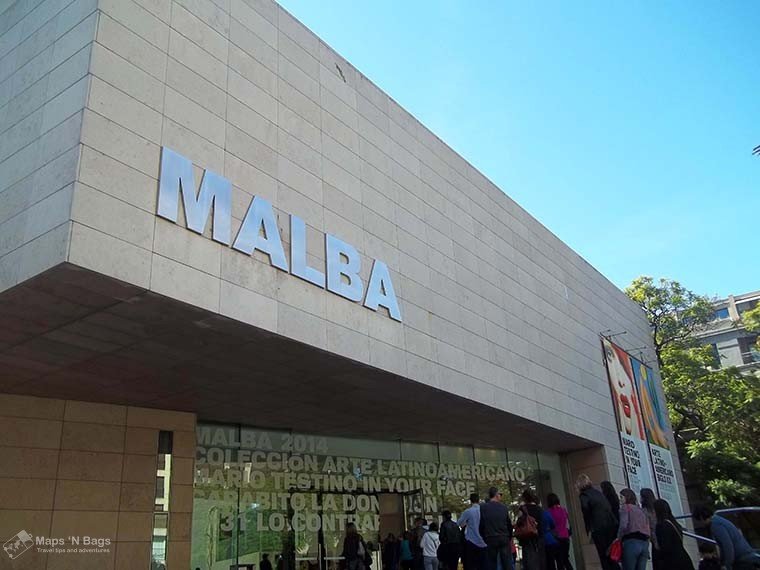 Floralis Genérica
Make your way to the Plaza de Las Naciones Unidas so you can see the Floralis Genérica. This is a really interesting sculpture, different from anything you've seen before! Ok, it's not like it's going to make incredible things, but I like its meaning. It's a 23-meter high flower designed to move. It closes its petals at night hours, emitting a red light, and it opens again in the next morning, "re-borning", just like people's hope. Own, c'mon, it's cute!
Then head over to La Recoleta Cemetery. Yep, the cemetery is a touristic place in the city. I know it might give you an apprehensive feeling, but this is the city's oldest cemetery. It's also the graveyard of the country's most distinguished people. There are free guided tours available in English (Tuesday and Thursday at 11 am) and Spanish (Tuesday until Sunday at 09:30 am, 11 am, 2 pm and 4 pm). Groups meet up at the entrance!
Some tombs to visit: Evita Perón, most cherished and controversial first lady. Isabel Walewski Colonna, Napoleón Bonaparte's illegitimate grandchild. Rufina Cambaceres, a young lady who was probably in a coma, but declared dead, she was buried alive. Luis Ángel Firpo, Argentinian boxer. Liliana Crociati de Szaszak has a life-size green statue with her dog. General Tomás Guido, helped to negotiate independence from Spain, his son built his vault with his own hands.
Bike Tour
If you still have some time or just skipped one of these attractions, you can make a bike tour through the city! I'm suspicious to talk about it, because I love biking, but this is really nice and a great way to see Buenos Aires!
There is also an option to use a free city's bike, but then you're on your own, not on a tour. I explain this a little better in another post about the transport in Buenos Aires. So there are different companies that offer the bike tours at different price ranges. I selected one of the bike tours and it takes half a day, but trust me, it's worth it!
Where not to go?
Is there a place in Buenos Aires that I really don't recommend a visit? YES!
The Zoo Lujan.
This zoo is known by allowing people to get really really close to the animals, like touching and taking photos with them. Employees claim they do not dope the animals, but they domesticate them like dogs, for example. That's why people can walk freely around the animals and take pictures next to huge lions and tigers. That seems like a beautiful story, but I don't buy it. These are wild animals, it's not from their nature to interact in that way with humans.
Also, many people who have been there said they were way too calm…
This is not nice at all.
I haven't been there because I'm not going to give a cent to such a thing, but you can read other people's experience online. Google is your friend.
When to go to Buenos Aires?
The city has a temperate climate. Good to visit the whole year, but the best time would be during fall, from April – June or during spring, from September – December.
If you don't know what "temperate climate" is, well I didn't, it means the seasons are more defined: cold in the winter, warm in the summer and the temperature changes gradually in the mid-season. Ta-daaa. I told you we learn more traveling than reading, right?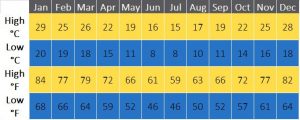 So, have you been to Buenos Aires already and have some tips to share? I wanna hear your stories! Write them in the comments below! 🙂
Did you like this post? Do you have plans to go to Buenos Aires? So pin this post to find it easily later!


*The prices mentioned here might have changed when you read this.
Disclaimer: Please note that some of the links above are affiliate links. If you make a purchase I'll receive a small commission for it, at no extra cost to you. If you have any questions about the companies or my status as an affiliate, please don't hesitate to contact me via e-mail. Thanks for buying from our links!