Years ago, I spent 3 days in Buenos Aires in my very first solo trip.
Argentina's capital is quite vast and its streets are filled with neo-gothic/neo-classical architecture. It's beautiful!
Obviously, three days in Buenos Aires are not enough to see the real soul of this appealing city.
Like Paris, Buenos Aires has a cosmopolitan atmosphere. Still, don't think for a second that they try to copy the French culture.
Here you can live and experience the Argentinian lifestyle to its fullest. The city brags the tango's charm, and it's possible to find couples dancing in the streets.
Buenos Aires is also the second-largest metropolitan area in South America, just behind Sao Paulo, and the largest in Argentina.
But don't worry, in this Buenos Aires itinerary I'll talk about attractions that are relatively close to each other.
Also, if you have a spare day, you might want to consider a day trip to Uruguay (it's a lovely place too).
Buenos Aires 3 day Itinerary
"How many days in Buenos Aires?," is a question that I hear quite often. Most tourists, like me, spend 3 days there, but if all you have are 2 days in Buenos Aires you can just adjust this itinerary to your needs.
In case you have more days in the area, scroll down to the end of the article where I tell you which attractions/places I wish I had visited. Maybe you'll get some helpful ideas out of it.
Travel tips for Buenos Aires
Buenos Aires is a quite safe city, but pickpockets are a real problem here
Avoid La Boca neighborhood at night
Taxi scams are common in the town, so read up on some common travel scams in the city
Always purchase travel insurance. This is the most essential item you should "pack" for your trip!
Where to stay in Buenos Aires
If you're on a budget, take a look at the Hotel Mayflower. The simple rooms have all the basic stuff, including free WiFi, and the location is excellent: near the Colon Theatre.
Looking for a mid-range hotel with some more comfort? Then the Duomi Plaza Hotel might be a better option for you.
Rooms are on the bigger side, have cable channels, bathtub, all the essential amenities, and a city view from the balcony. Also, the location is excellent too.
If you want to splurge (why not, right?), check out the Hotel Reconquista Garden. The rooms are very organized and neat, and most of them have a bathtub and a shower.
Tv is also available, and the rooms are soundproof (I hate to hear other guests in the middle of the night).
Anyway, wondering what to see in Buenos Aires in 3 days? Read on!
3 Days in Buenos Aires Itinerary – Day 1
My trip started at the 1936 Obelisk, a national monument that celebrates the foundation of the city.
This middle east looking obelisk is a historic national monument, and it is considered a symbol of the town. It marks the Buenos Aires' 400th anniversary.
Two blocks away you can find the Cólon Theater, Buenos Aires Opera House, one of the world's most important theaters, among others, by its architecture and magnitude.
The actual building is over 100 years old and has around 2,500 seats, just so you can have an idea of how big it is.
The theater's design has some European influence, just like most buildings in the city. Well, since the theater's architect was Italian, it makes total sense, right?
Anyway, the interior is decorated in red and gold, typical decoration of the first half of the 20th-century.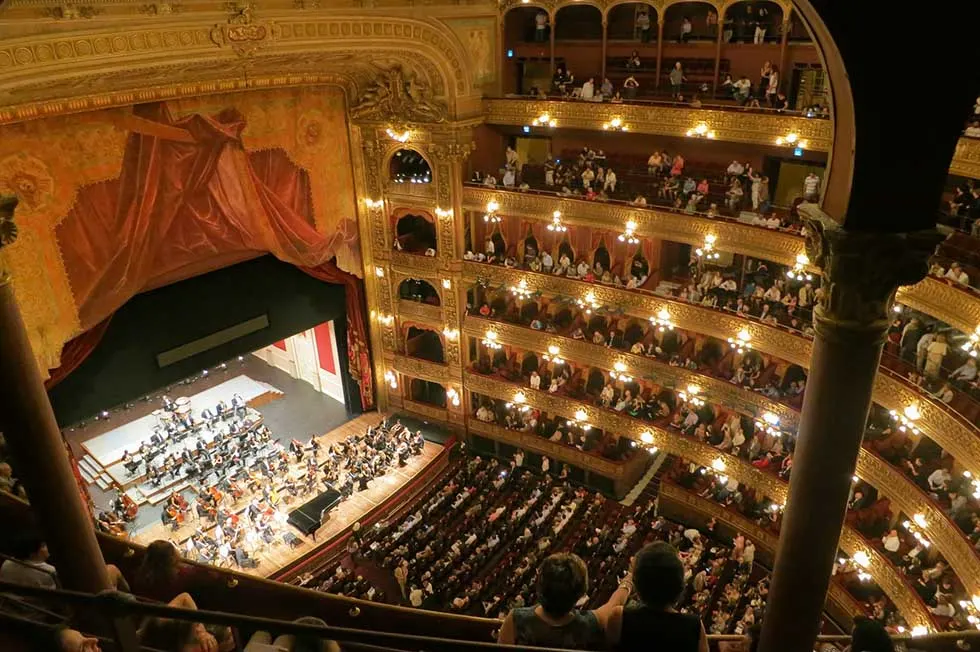 El Ateneo Bookstore
After exploring the theater surroundings head over to El Ateneo, a bookstore in a former theatre and cinema. Just like Cólon Theater, European influence is evident here.
Again, this is a former cinema, so everything is restored: The ceiling's paintings, the balconies' lamps, everything.
Now, all floors are filled with bookshelves and the stage houses a cafe ideal for some coffee or even brunch.
It's a bit walk from the Theatre Colon, but it's worth the walk!
Fun fact: Buenos Aires has the world's highest bookstores per capita.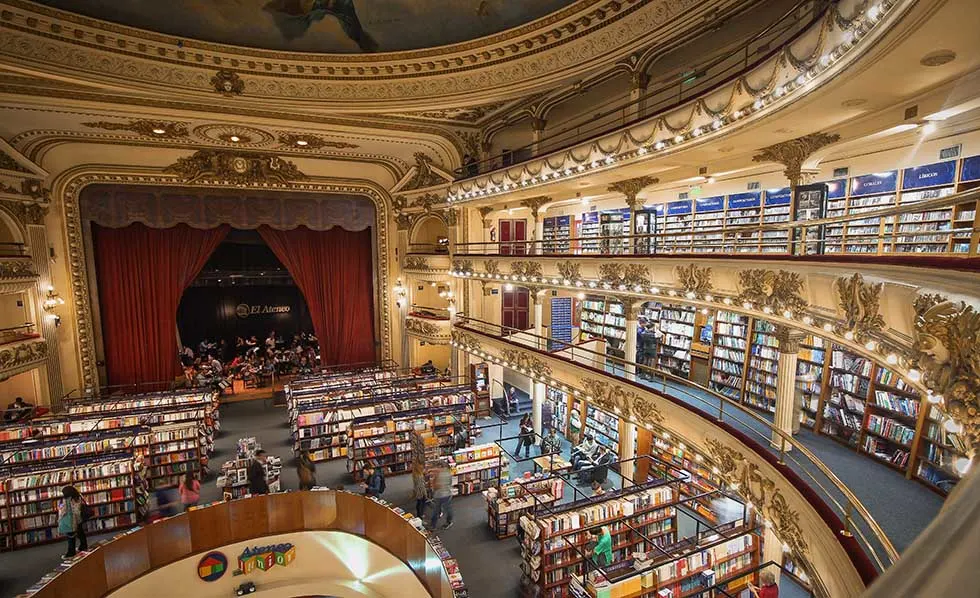 Read next: 45 Unique travel destinations
La Recoleta Cemetery
Then head over to La Recoleta Cemetery. Yup, the cemetery is a tourist attraction in the city.
It sounds bizarre and wrong because this is a dark tourist spot, but as long as you respect what this place represents it should be fine.
Anyway, La Recoleta is the city's oldest cemetery. It's also the graveyard of the country's most distinguished people.
You can get a map at the entrance and walk the labyrinth of death on your own.
Some tombs to visit:
Evita Perón, most cherished and controversial first lady.
Isabel Walewski Colonna, Napoleón Bonaparte's illegitimate grandchild.
Rufina Cambaceres, a young lady who was declared dead, but was probably in a coma because she was buried alive.
Luis Ángel Firpo, Argentinian boxer.
Liliana Crociati de Szaszak has a life-size green statue with her dog.
General Tomás Guido, helped to negotiate independence from Spain, his son built his vault with his own hands.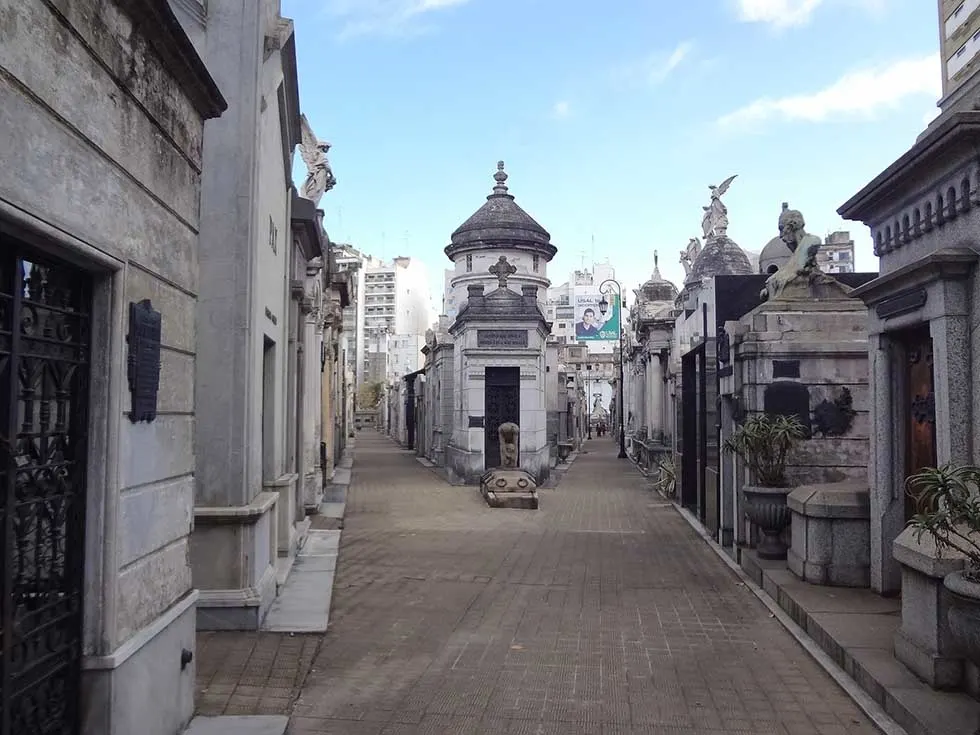 Floralis Genérica
Before you go to the Floralis Generica, stop by the La Biela Cafe, if you can use some coffee with cake, of course. The cafe has this old-looking Argentinian decoration and nice tables to sit and watch local life.
After that, make your way to the Plaza de Las Naciones Unidas so you can see the Floralis Genérica.
This is a fascinating sculpture, different from anything you've seen before.
The Floralis Generica is a 75.5-feet (23-meter) high flower designed to close its petals and emit red light at night hours, and to open them again in the next morning, "re-borning," just like people's hope.
It's beautiful, right?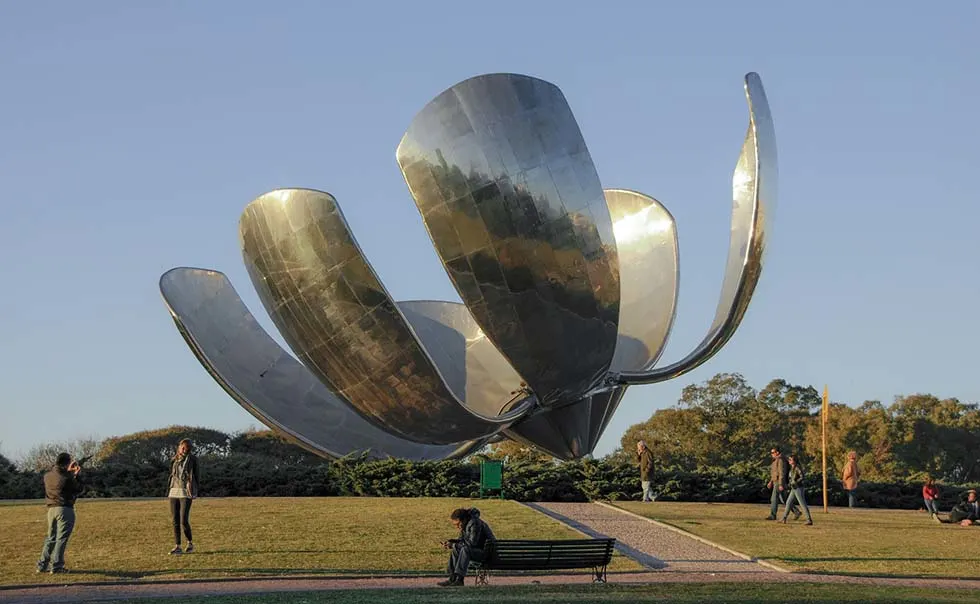 Read next: 3 Days in El Calafate, Argentina
Malba, Latin American Art Museum of Buenos Aires
Half a mile away (1km), you will find the Malba, a Latin American art museum showcasing artworks from the early 20th-century to present.
It has famous paintings of Frida Kahlo, Portinari, and Tarcila do Amaral in its permanent collection. In other words, it's a must-visit in Buenos Aires!
Since South American art history isn't extensively taught abroad, if taught at all, take the change to learn about local culture at Malba. Reserve 1-2 hours for the visit.
There are also exciting temporary exhibitions quite often. When I was there, for example, I was able to see the beautiful exposition from the Peruvian photographer Mario Testino, "In your face."
The museum doesn't open on Tuesdays. For more information about the opening times and prices check the Malba museum's website.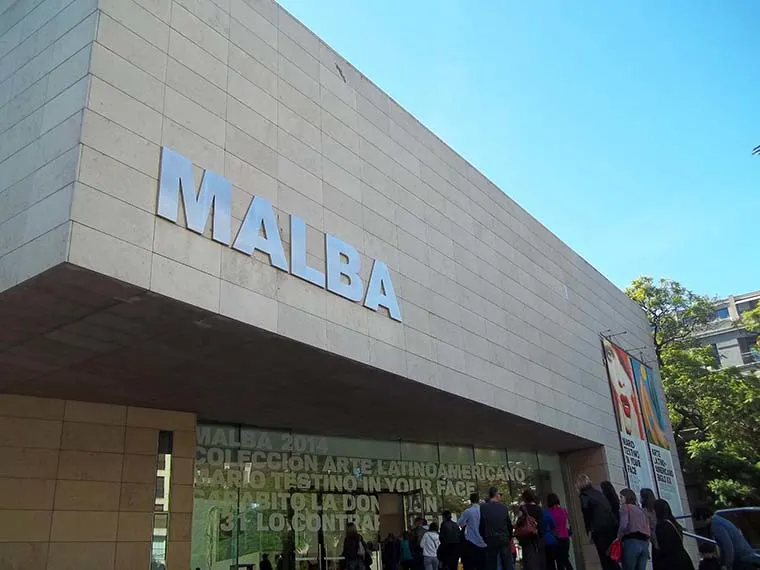 After your visit to Malba, go back to your hotel to freshen up and rest a little because you'll have a typical Argentinian dinner.
Dinner at Palermo Soho
South American Paris is all over the Palermo Soho neighborhood. This vibrant area is jam-packed with cozy cafes, bars, restaurants, hip shops, and art galleries.
That's the area where you're having dinner tonight. I'll give you two options because one of them is pricey (but worth it!).
Don Julio is a typical Argentinian steakhouse with a great selection of wines. The restaurant is always fully booked, so reserve ahead of time. It's pricey, but the steak is divine!
The bread served was still warm, and the waiters are very attentive. They usually serve a glass of champagne for those waiting in line.
Calden del Soho is another steakhouse where you can taste the typical Argentinian steak experience.
They have significant portions and reasonable prices compared to other restaurants in the area. Vegetarian? Their ravioli is great!
3 Days in Buenos Aires Itinerary – Day 2
Kick-off your 2nd day in Buenos Aires in Puerto Madero.
This is the most modern area of the city and where the urban hub is. Puerto Madero lies by the Rio de la Plata riverbank, on the eastern side of the city.
Wander through Puerto Madero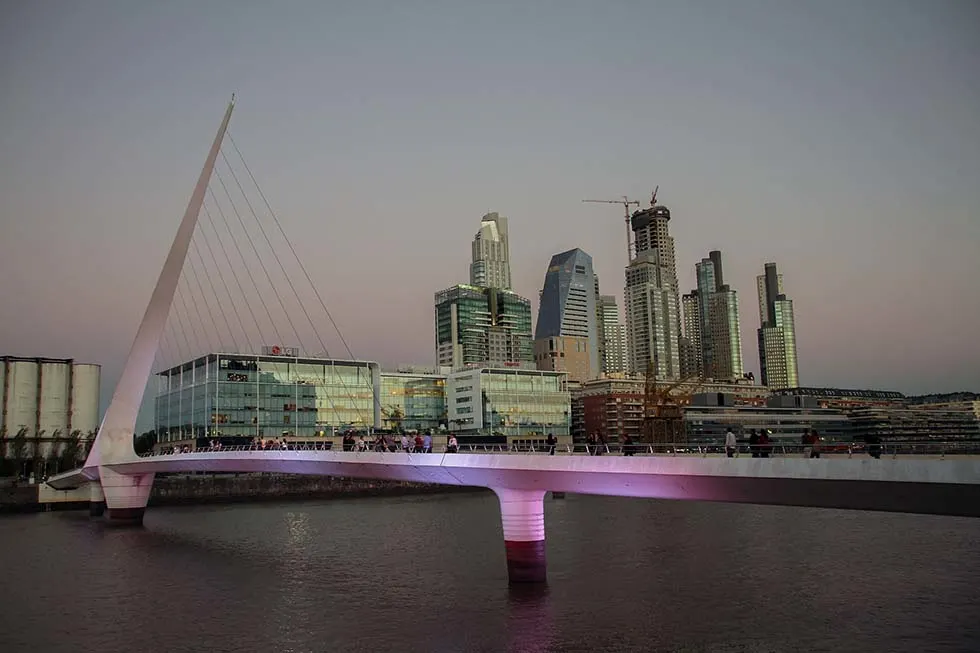 Take a relaxing morning walk in this neighborhood to see a new side of Buenos Aires. Puerto Madero is very different from all the places you've seen so far in the city.
Personally, I think that the Palermo Soho and Palermo Hollywood are much more charming and beautiful, but you only have 3 days in Buenos Aires, so it's important to visit other areas too.
Cross the Puente de la Mujer (Woman's Bridge) which connects Eastern and Western Docks. There are many restaurants, cafes, and delis in this region, such as Dandy Deli by the waterfront.
Fun fact: All streets in Puerto Madero have women names.
Now head to the Plaza de Mayo, a square named after the May revolution when Argentina became independent from Spain in 1810.
Here you will find the Casa Rosada and the Metropolitan Cathedral of Buenos Aires.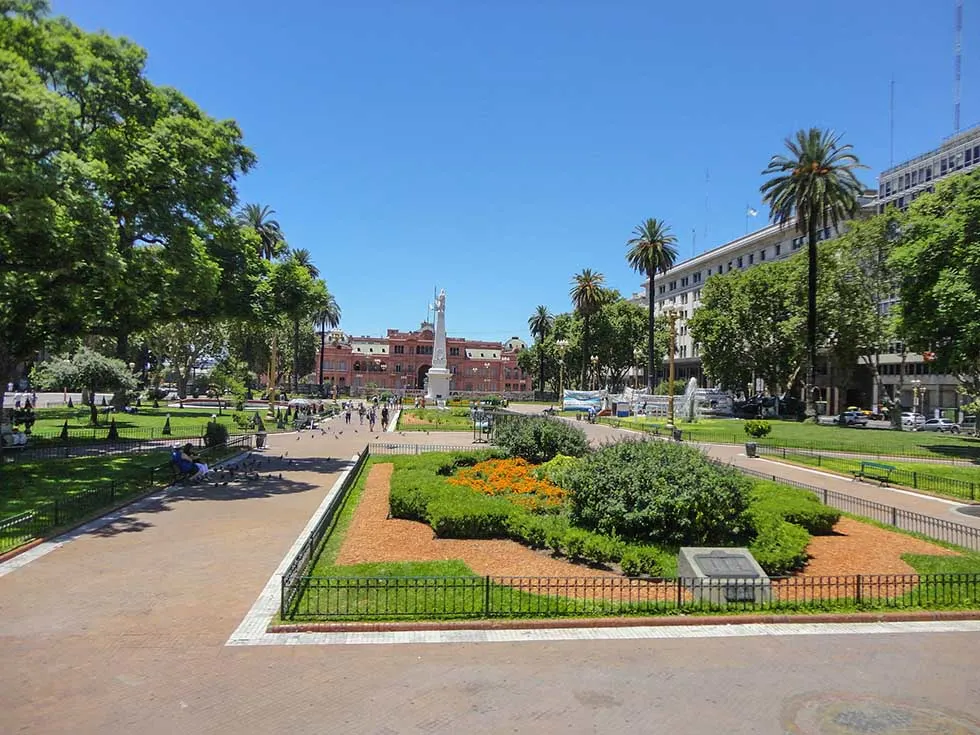 The Pink House – La Casa Rosada
The Argentinian president's mansion and office aren't white, but pink. La Casa Rosada is one of the most symbolic buildings in the city, and it houses a museum about the history of all Argentinian presidents.
This tour is excellent to learn more about local history, and the guide was very knowledgeable. Don't forget to make your reservation online, print the confirmation, and take it with you along with your passport.
The Museum of Casa Rosada is just two minutes walk on the back of Casa Rosada. The museum has free entrance, and it is open from Wednesday to Sunday (10 AM-6 PM, admission is allowed until 5.30 PM) and one hour is enough to see everything.
The museum showcases the main steps of the history of Buenos Aires, the original beautiful Presidential car used in the movie Evita, and more. If you want to know more about this beautiful city, I suggest you visit both of them.
The only problem here is that if you don't speak Spanish, it might be a little difficult to understand the exposition because most of the displays are in Spanish.
There were several English speaking hosts to answer questions, though. Reserve one hour to see everything.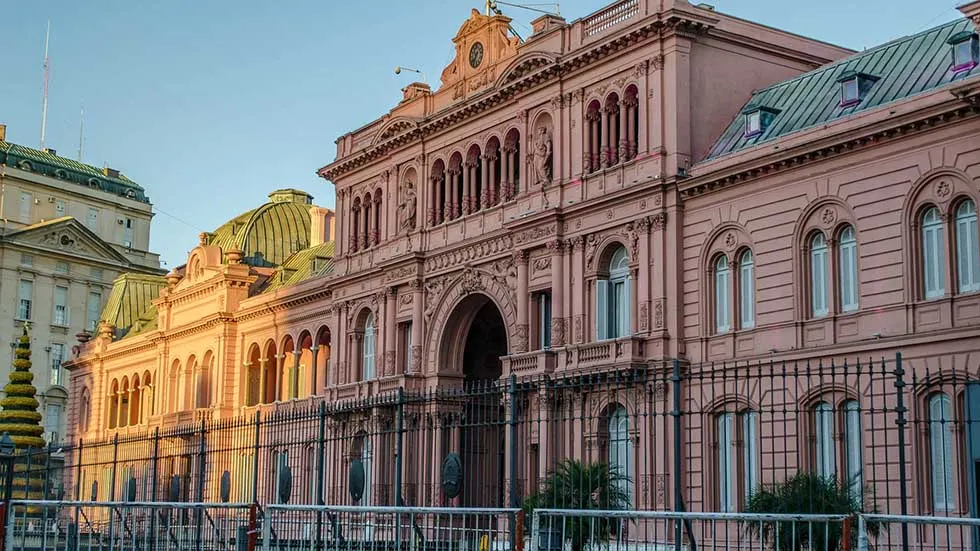 Read next: Using public transport in Buenos Aires
Buenos Aires Metropolitan Cathedral
The first building of the Metropolitan Cathedral of Buenos Aires happened in the 16th-century, but the church had to be reconstructed a couple of times due to the risk of collapse.
The neoclassical facade doesn't look much like a cathedral due to its 12 columns and the absence of towers. Still, the interior is impressive, but also jam-packed with tourists. A visit is nevertheless well worth it.
It opens from Monday to Friday (7.30 AM-6.30 PM) and on the weekends (9 AM-6.45 PM). The entrance is free.
Fun fact: Pope Francis was an Archbishop here.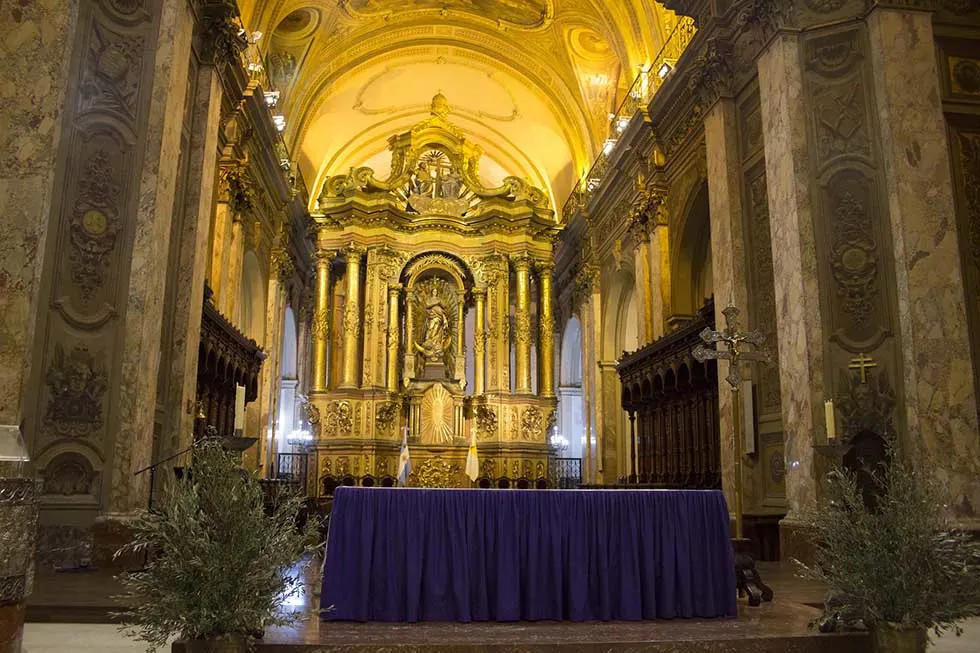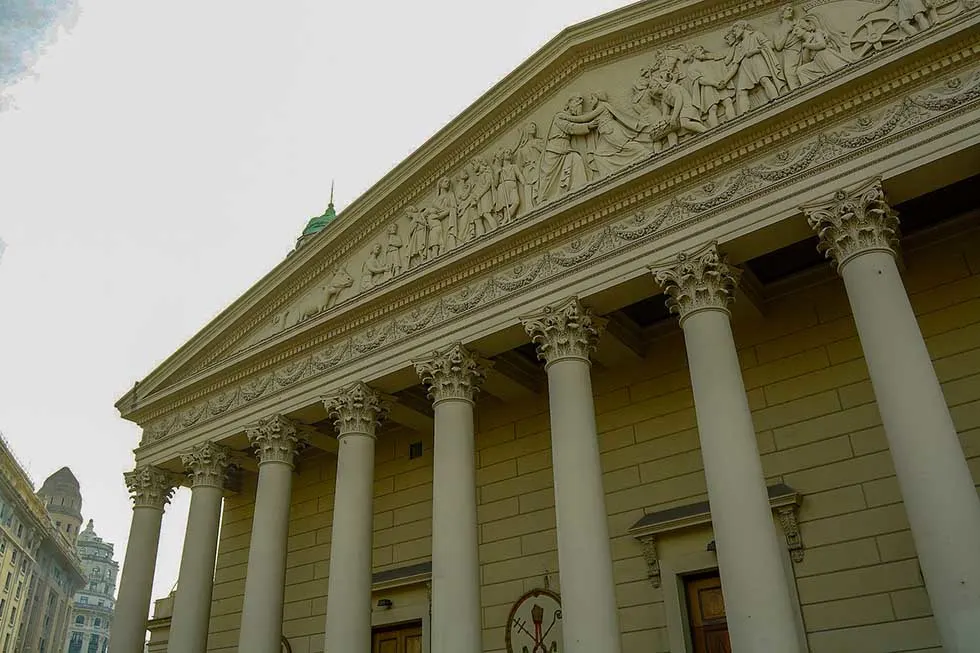 Lunchtime
Stop by the Cafe Tortoni near the metro station Piedras.
A French immigrant opened this cafe in the 19th-century and named it after a cafe at the Boulevard des Italiens in Paris.
The decoration remained in antique style, and it is beautiful! I know they have tango shows in the evenings, but I didn't watch it, so I don't know if it's good enough.
Palacio Barolo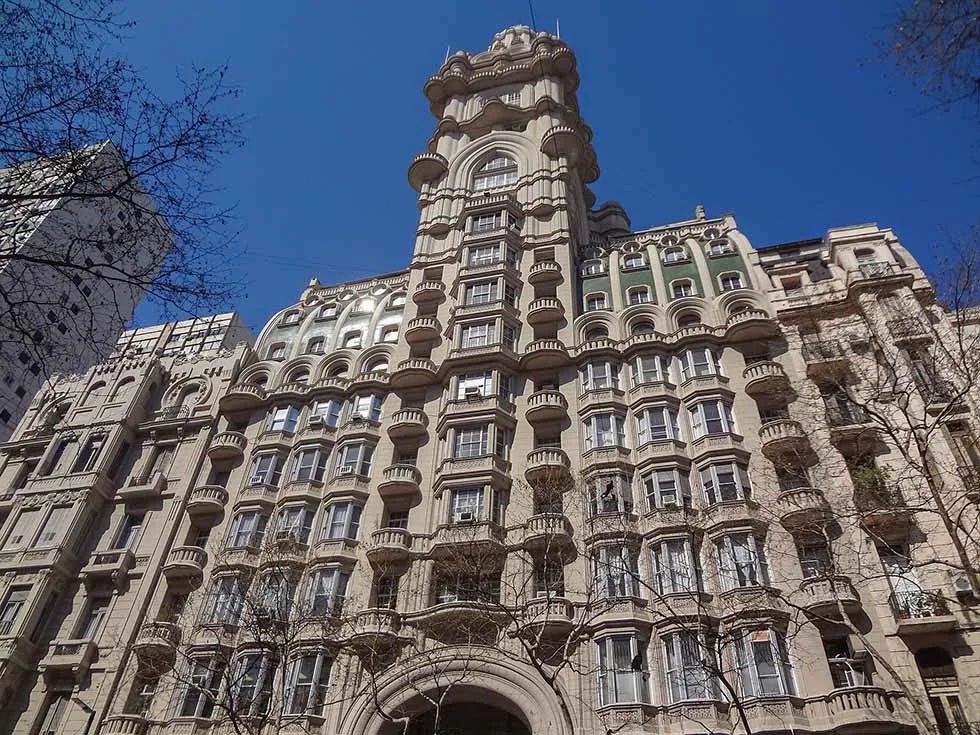 Stroll your way to Palacio Barolo, a building designed after Dante's Divine Comedy.
The construction has three sections: the basement and ground floors represent the hell, the 1st through the 14th floors represent the purgatory, and the 15th through the 22nd floors represent heaven.
Interesting to say the least.
Every detail of the building represents something related to Dante's work, even the height.
The building is 330 feet (100 meters) high, which is almost 4x higher than the maximum height allowed at that time so that each meter could symbolize a song of the Divine Comedy (there are 100 songs in total).
If you want, you can go inside and learn more about this exciting place, take a guided tour of the building and its architecture.
Fun fact: Palacio Barolo was once the tallest building in South America, and it has a taller twin brother (or sister?) in Montevideo, Uruguay.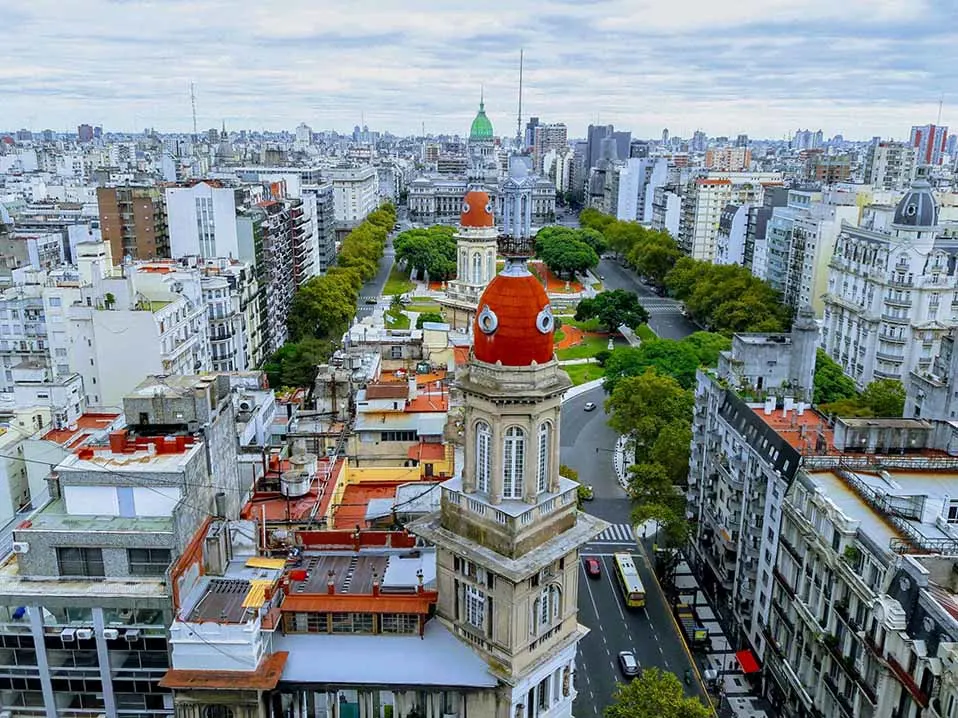 Boca Juniors Stadium
Maradona is worldwide famous, and in La Boca neighborhood, you can see he is the pride of Argentinians. There are statues, graffitis with his name, t-shirts with his picture, everything.
Furthermore, do pay a visit to the Boca Juniors' stadium, La Bombonera. This is the local soccer team, and their fans are famous for being fanatic.
This stadium is an intrinsic part of the Argentinian culture, and you can take a tour of the stadium and its museum, for more information access the Boca Junior's website. The tour takes around one hour.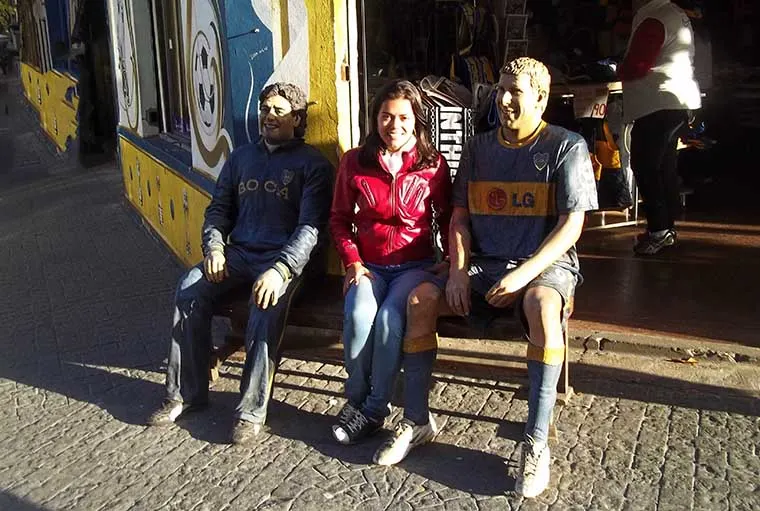 Caminito
The stadium is two blocks away from Calle (street) Caminito, the most famous street in the neighborhood, which draws attention for its colorful houses, paintings, and handicrafts people are selling in the road.
Here you can find all sorts of things, from clothes to souvenirs and mugs.
It's a very touristic neighborhood, but also the poorest one. It's not advisable to visit the area at night, but during the day it's just ok.
Wander through the area, take some pictures of the colorful houses, and maybe buy your souvenir here? Also, you can take a walking tour and learn about the neighborhood's story from a local.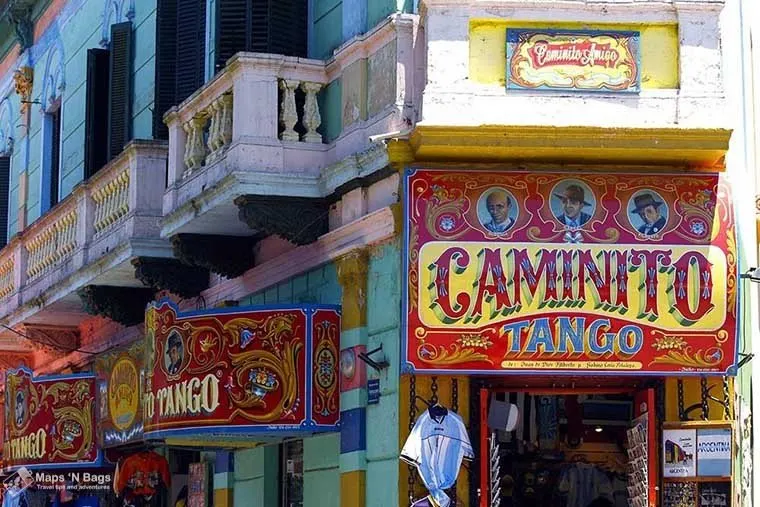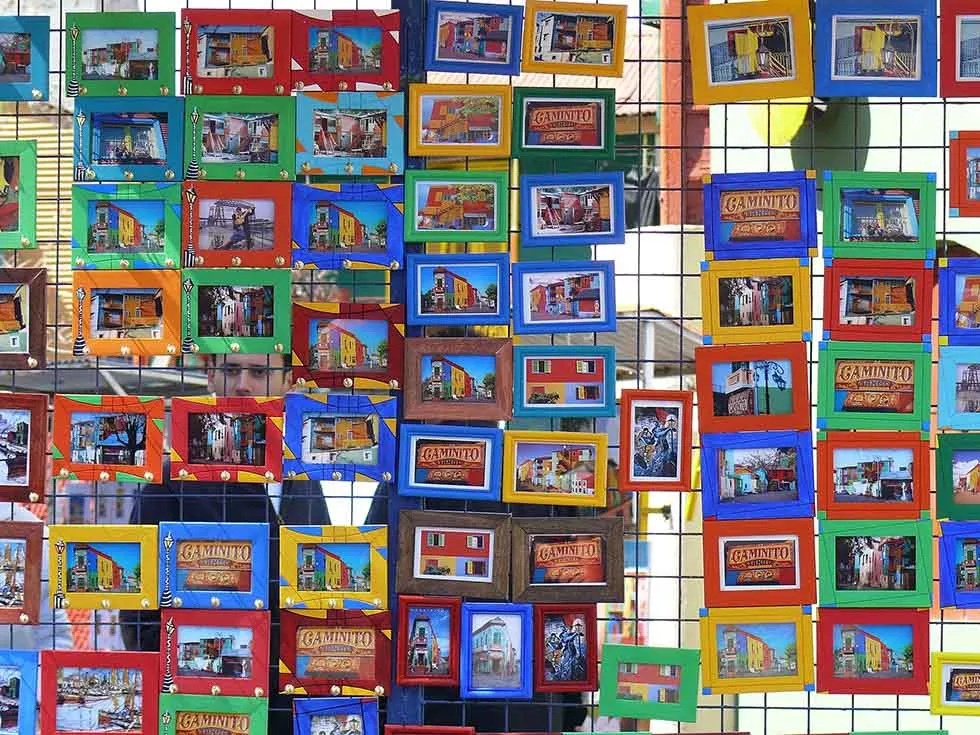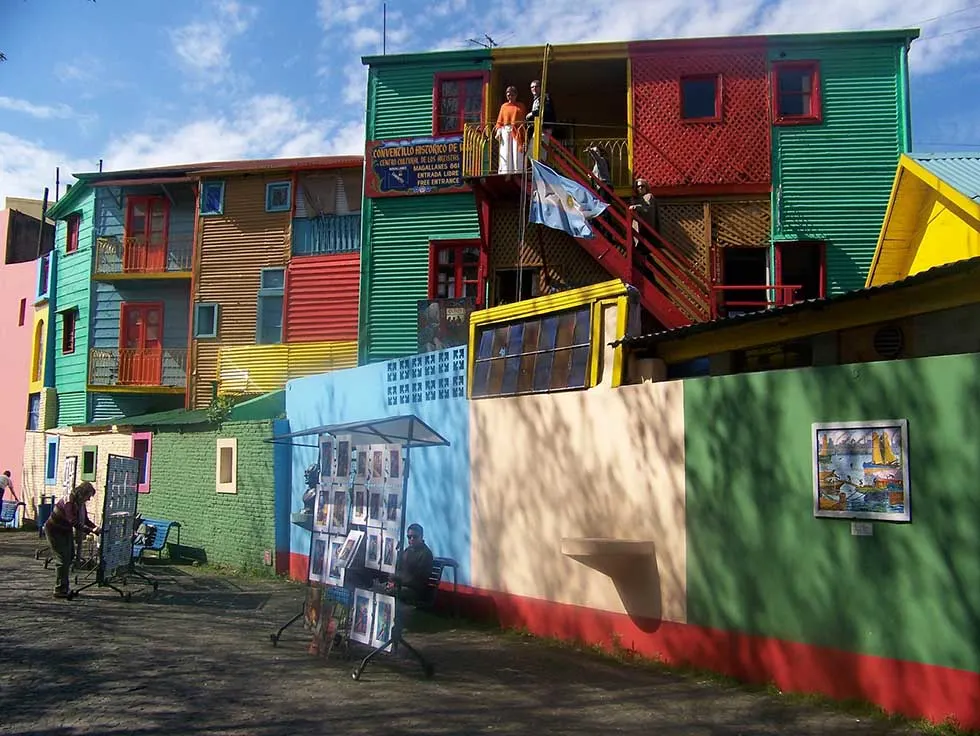 After you've visited the stadium & La Boca neighborhood, go back to your hotel to freshen up before you go to a tango show.
Tango show
Start your evening with tango lessons around 7.30 PM. After that, have an excellent Argentinian dinner, and around 10 PM watch the traditional show.
Even if you're not really into dancing, it's definitely worth to check out the Tango Porteno (you can skip the lessons if you want).
Tango is a symbol of the Argentinian culture and if you do have such a thing as a "bucket list," watching a tango show in Buenos Aires should be on it.
3 Days in Buenos Aires Itinerary – Day 3
San Telmo Flea Market
Kick-off your last day in Buenos Aires in the oldest neighborhood, San Telmo. If this day is a Sunday, you can visit the San Telmo flea market, which I highly recommend.
You can find anything in this market. People are selling quirky stuff but also a few artists playing more than instruments, such as crystal glasses.
Also, I bought a box of dulce de leche and alfajores here. It's undoubtedly worth the visit.
This street market begins next to the Plaza de Mayo, at the Calle Defensa, and it goes until Plaza Dorrego. The market happens every Sunday, 10 AM-5 PM.
In that area, you can also find the San Telmo Market (indoor), which sells fruits, condiments, exotic coffee, etc.
Pssst: On the corner of Calle Defensa and Calle Chile, there is a little Mafalda Statue, a legitimate tribute paid to its creator, Quino.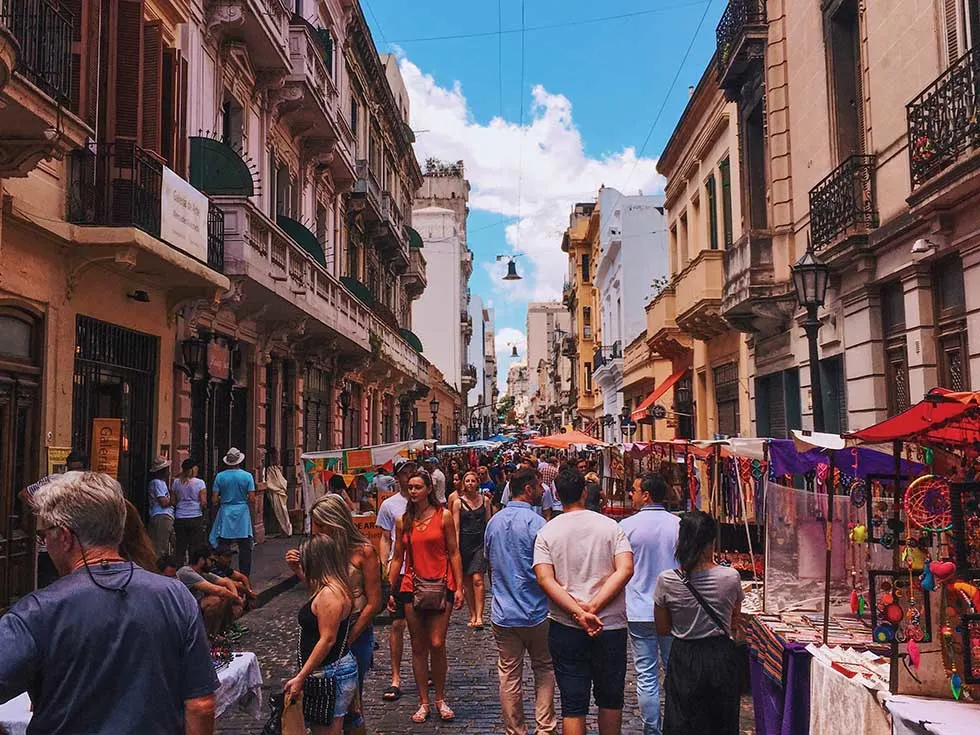 La Casa Minima
While in San Telmo, stop by La Casa Minima to see Buenos Aires' narrowest house.
Legend has it that this house was a gift for freed slaves in the 19th-century.
If that's true, no one can confirm, but if you're in the area, why not stop to check it out? On this tour, you can learn more about this historical place.
Japanese Gardens or El Rosedal de Palermo
As mentioned before, it's impossible to see everything in Buenos Aires in 3 days only. Still, take some time to discover one of the city's parks or gardens.
For instance, the Japanese Gardens and El Rosedal de Palermo are both stunning and relatively close to each other.
The Japanese Gardens has 4.9 acres (2 hectares) of well-cared gardens, and it was built in 1967 when Japan's prince (he's an emperor today) went to Argentina.
The Japanese Garden opens daily, 10 AM-6 PM, and there is a small entrance fee.
On the other hand, El Rosedal de Palermo has over 18,000 roses spread across 8.4 acres (3.4 hectares), but remember: there might not be so many flowers blooming during winter months (June through August) as during the summer. The entrance is free of charge.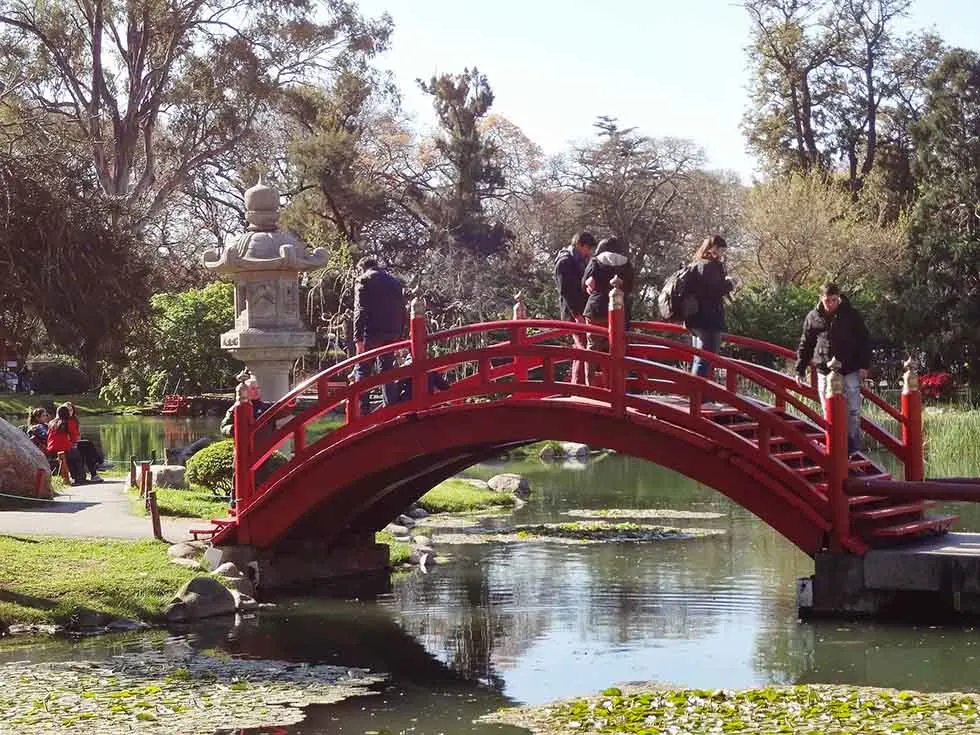 Include a bike tour in your Buenos Aires itinerary
If you still have some time or just skipped one of these attractions, you can go on a bike tour through the city. Personally, I love biking so for me this is a great way to see Buenos Aires.
There is also an option to use a free city bike, but then you're on your own, not on tour.
I explain this a little better in another post about transport in Buenos Aires. So, different companies offer bike tours at different price ranges. Here's one of the bike tours, and it takes half a day.
Exciting things I wish I had done:
Go on a street art tour, especially in La Boca neighborhood. You can also "go" on an interactive street art tour in Buenos Aires from your computer. Click on this website, use the arrows on each side of the screen, and turn on the audio
Go on a tour at the Tigre Delta, the Argentinian countryside
Watch a show in the Colon Theater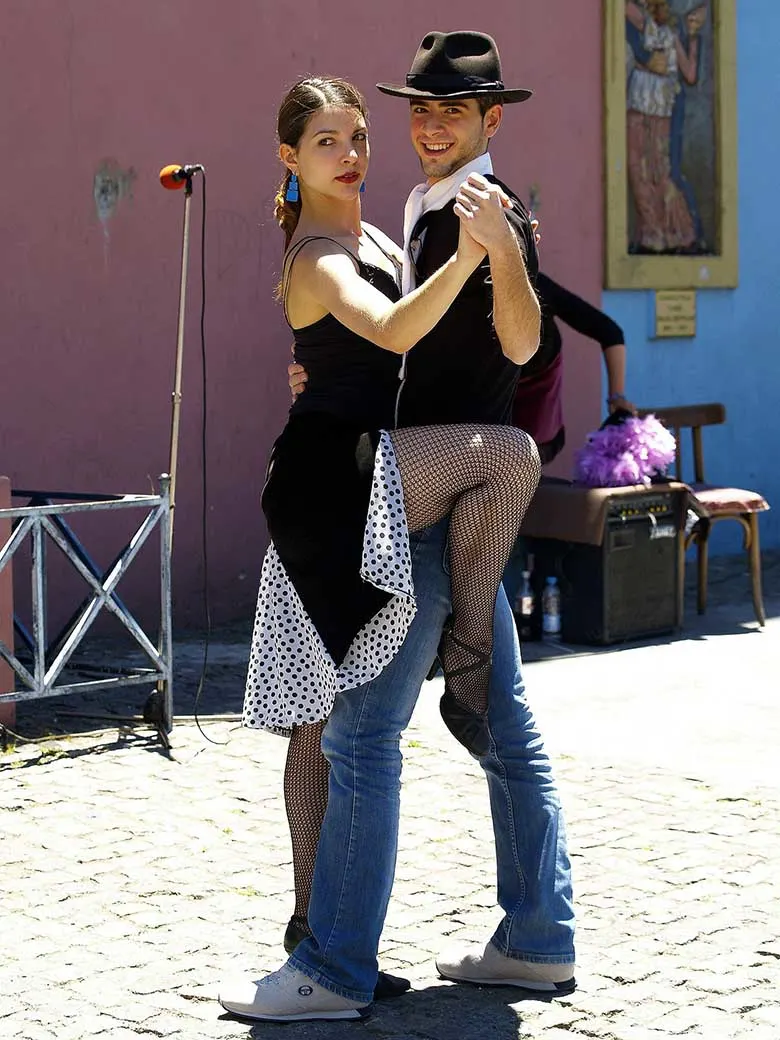 Where not to go in Buenos Aires
Is there a place in Buenos Aires that I don't recommend a visit? YES! The Zoo Lujan.
This zoo is known for allowing people to get close to wild animals, like touching them and taking photos with lions and tigers.
Employees claim they do not dope the animals, but they domesticate them like dogs, for example. BS.
That seems like a beautiful story, but I don't buy it and neither should you. These are wild animals; it's not from their nature to interact in that way with humans.
Also, many people who have been there said they were way too calm… This is not nice at all.
I haven't been there because I'm not going to give a cent to such an organization, but you can read other people's experiences online. Google is your friend.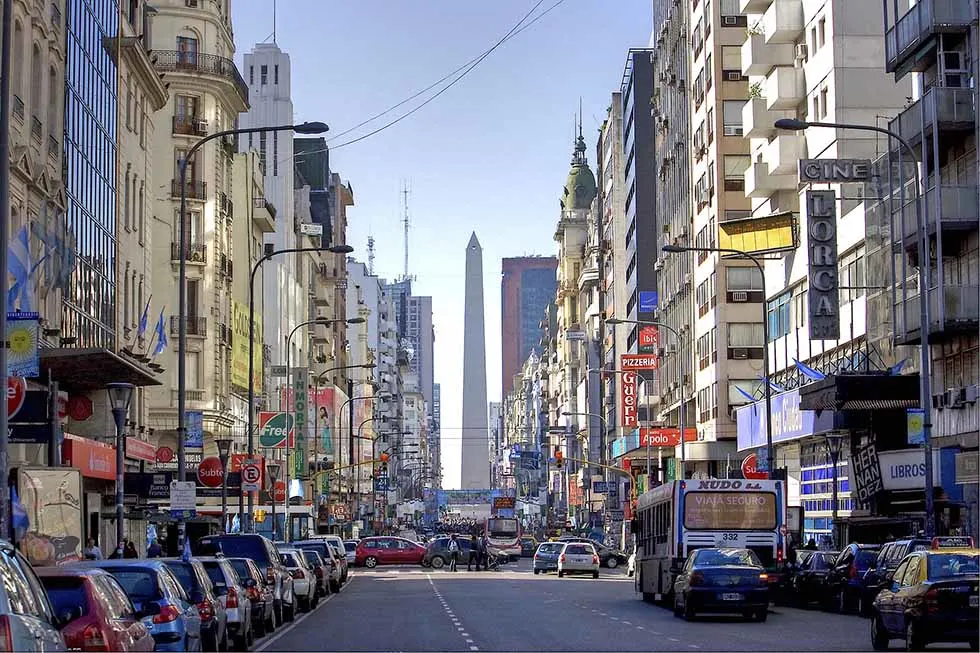 Buenos Aires Public Transport – How to get from the airports to the city center
Buenos Aires has three airports: Ezeiza International Airport, Jorge Newbery Airport (Aeroparque), and El Palomar (low-budget domestic airport).
From all of these airports, you can take a cab to the city center, just remember to take a registered taxi and to agree/ ask the price of the ride in advance. Taxi scams are common in Buenos Aires.
If you arrive at Aeroparque Airport, you can take a bus to the center because it's pretty close to the city. For that you need a SUBE card, I explain it more in this article.
To know which bus you should take, ask at the Tourist Assistance Center at the airport.
In case you arrive at the Ezeiza (like I did), you can take a private transfer to the city center. They're not expensive.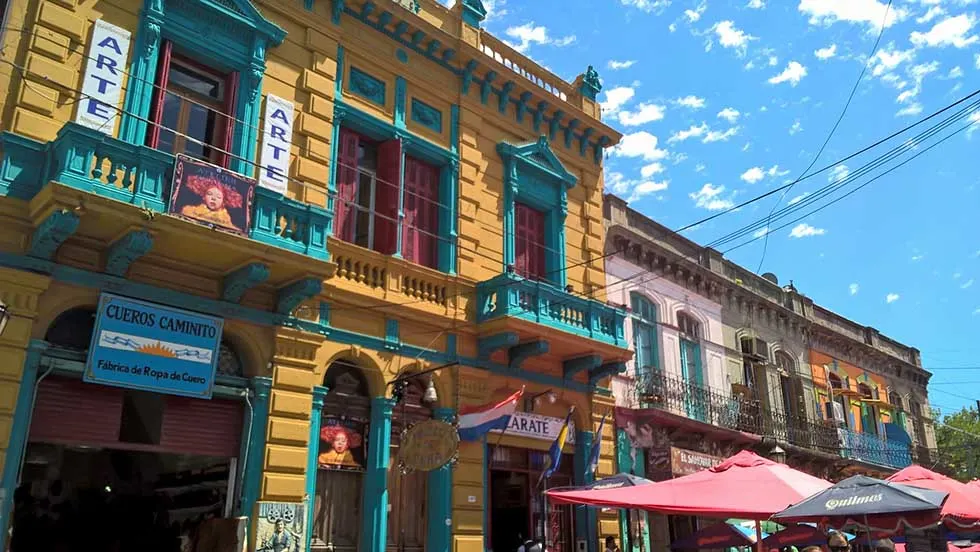 Currency in Argentina
Argentina uses the Argentine Peso, which is very depreciated in comparison with the dollar and euro, given the local political situation.
That's not ideal for locals, of course, but it is for you, dear tourist. For the most up to date exchange rates click here.
When to go to Buenos Aires
The city has a temperate climate. Good to visit the whole year, but the best time would be during fall, from April through June or during spring, from September through December.
Avoid summer as it can be too crowded with tourists from all over the world.
Buenos Aires Map
You can download this interactive map of 3 days in Buenos Aires here. To create your own maps, check out our Google My Maps tutorial.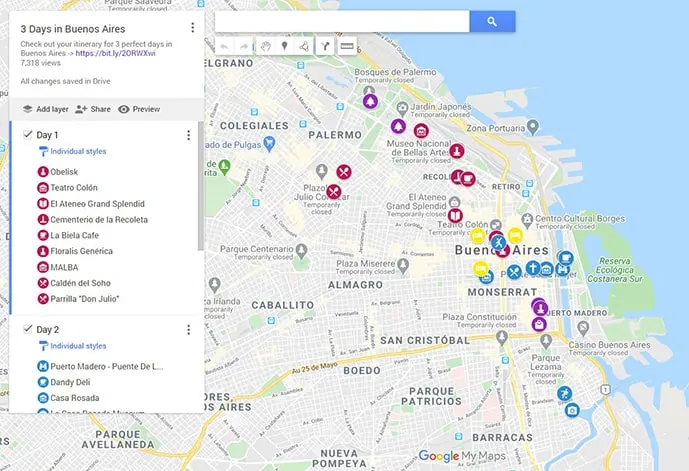 ---
Did you like this post about three days in Buenos Aires? Then pin it to your Pinterest travel board!
Our best travel tips & resources:
Here're our all-time favorite travel tips & resources so that you can save money and plan your travel logistics hassle-free! For more travel resources, check out our
travel tips.
Saving money: Fly on offseason, winter (not Xmas or NYE), Tuesday, or Wednesday! According to experts, these are the cheapest days to fly.
Travel insurance: Before you leave for your trip, make sure you have a valid travel insurance policy because accidents happen on the road. We have been paying for Safety Wing travel insurance for a little over a year now, and we happily recommend them to our family and friends.
Accommodation: We usually stay in mid-range comfy hotels or private rooms in hostels. These are the sites we use to book accommodation: Booking.com for hotels (excellent flexible cancellation policy) and Hostelworld for hostels (low deposit and easy cancellation).
Tours:We absolutely love booking guided tours with locals to get a history lesson while sight-seeing, especially food tours and walking tours! We book all of our tours using Viator and GetYourGuide.
Transportation: We use Google Maps to figure out how to get around a place using public transport. When we book a rental car, we always use Discover Cars to find the best deal.