Infinite salt flats, incredible wildlife, and cute little towns, Bolivia has landscapes for all tastes.
That's why it was challenging to choose only 10 places to visit in Bolivia, but we think we did a pretty decent job here.
It's not a surprise that the country has a rich history, from the Incas to the Spanish and modern society. Bolivia breathes its roots.
Unfortunately, it's a somewhat underrated country not only in global terms but also among its neighbors in South America.
Some of these spots are famous places in Bolivia, others not so much. Either way, we hope to inspire you to travel around Bolivia and let yourself get lost in the little streets of this country.
This country will certainly make your time in the continent worth every second.
In today's post we'll talk about:
Where's Bolivia
Bolivia is a South American country bordering Argentina, Brazil, Chile, Paraguay, and Peru. Together with Paraguay, Bolivia is the only landlocked country in South America.
Its landscapes are as diverse as the population of Brazil: it has a little of everything. From salt flats to the Amazon Basin to the Atacama Desert and the Andes. Bolivia has it all.
Far from boring, Bolivia is also one of the world's highest country, reaching its peak in the snow-capped Nevado Sajama. The summit reaches 21k ft (6.5k m).
While Nevado Sajama is "only" a peak, the legislative capital, La Paz, sits at a very high elevation—about 11,975 ft (3.650 m) above sea level—making it the highest capital in the world.
Read next: 10 Reasons to visit Bolivia right now
How to Deal with Altitude Sickness in Bolivia
Much of the country's highlands are situated more than 10,000 ft (3.000 m) above sea level. This means if you fly in from lower altitudes, you can experience symptoms similar to a bad hangover.
As a result, your first few days in Bolivia would be a complete washout.
For that reason, you must acclimatize your body before traveling around Bolivia.
If possible, start at a lower altitude and work your way up slowly. Then plan a few days to rest and let your body get used to the altitude.
Also, stay properly hydrated and listen to your body as altitude sickness can be dangerous.
If you do get altitude sickness, you have to:
Descend to a lower elevation.
Drink a lot of water.
Rest.
Increase oxygen intake with oxygen bottles.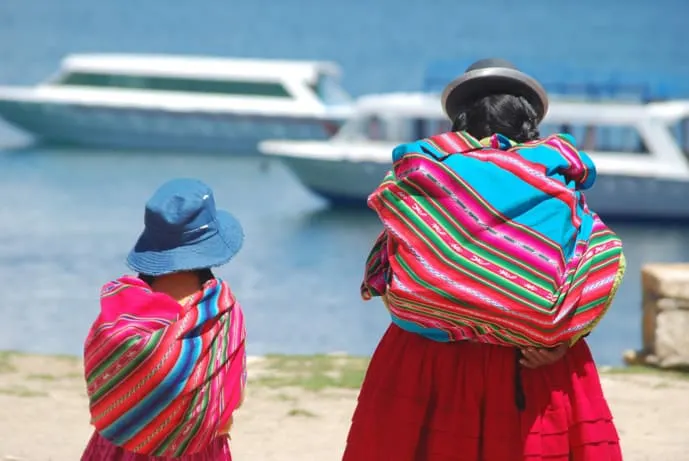 Is Bolivia Safe for Tourists
The short answer is yes. If you take a few precautions, as you would take in any other country, probably nothing will happen.
Remember: no country is as violent as the 8 PM news tells you. They only show you different versions of the same single-story, not the whole context.
Anyway, as we said, Bolivia is safe for tourists, but we suggest you follow some advice:
Avoid traveling at night, especially if you're alone.
Buy any tours you're taking in advance to avoid scams.
Learn a bit of Spanish.
Don't withdraw money in isolated places or at night.
Take only taxis from reputable cab companies to avoid scams. (Ask your hotel/restaurant).
Without further ado, let's get to it. Looking for the best places to visit in Bolivia? Read on!
The Best Places to Visit in Bolivia
Before you get to it, know that there are lots and lots of beautiful places in Bolivia, and if you don't have much time in the country, the destinations below should be at the top of your list.
Naturally, we wanna help you choose where to go in Bolivia so that your vacation will be unique.
Honestly, we think you'll love the Bolivian attractions and tourist spots we mention below. Enjoy it!
Salar de Uyuni, most famous place to visit in Bolivia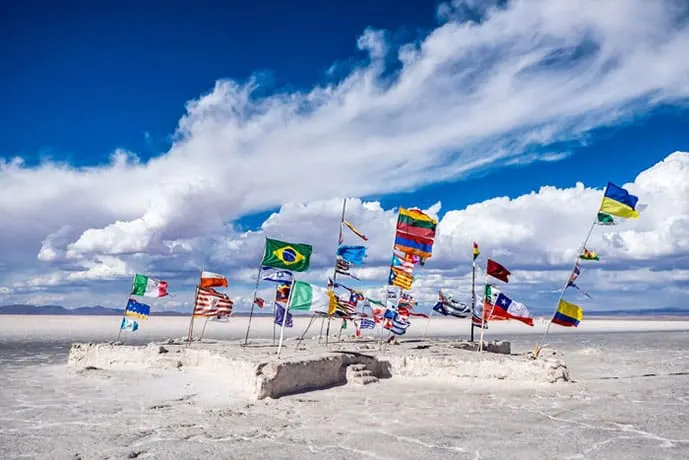 The world's most extensive salt flats are a unique place to visit in Bolivia.
As the legacy of a prehistoric lake that went dry, the Bolivian Salt Flats is a region as fascinating as nature could allow.
One of the most famous places to visit in Bolivia, Salar de Uyuni, has infinite white fields in the dry season, which make you feel as if you were on a moon valley.
Read next: How to choose your Bolivian Salt Flats tour
On the other hand, the rainy season allows for landscapes where you don't know where the earth ends or where the sky begins.
And although the wildlife is rare in the Salar de Uyuni, a flamboyance of flamingos find a home at the foot of the Tunupa volcano because of the abundant supply of plankton.
Click here to find the best accommodation deals at Uyuni
Sucre, a city filled with incredible Bolivia attractions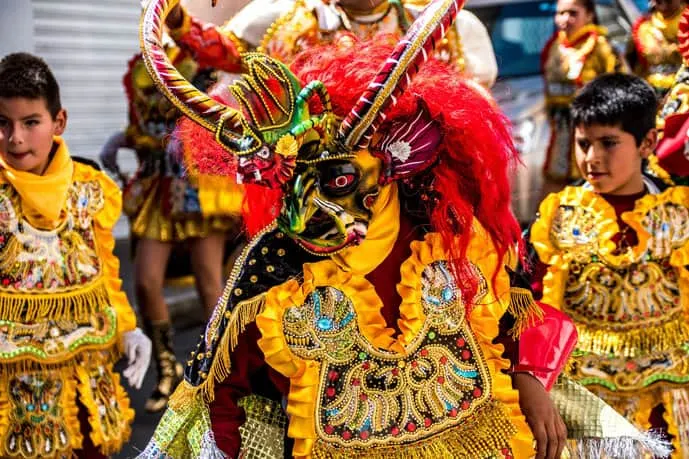 The city where the Bolivian independence was signed is filled with whitewashed houses and is considered a UNESCO World Heritage Site.
And rightly so because both the buzzing central market and the countryside-colonial-like streets are unique.
We mean it.
From the San Felipe Neri Temple to the ornate Catedral Metropolitana, you can tell religion is obviously essential in the local community.
Go on a walking tour or after visiting the religious sites, head over to the Plaza 25 de Mayo and find a cozy cafe to sip your favorite beverage while people watching.
Alternatively, you could stroll around Bolivar Park to photograph the Eiffel Tower. We mean its replica, of course.
Also, watch an evening show with lights and water in a sizable fountain. It's a lovely town.
Click here to find the best accommodation deals at Sucre
Potosi, Bolivia tourist destination with the darkest past
A small and isolated city in the southwest of Bolivia, Potosi was once the wealthiest town in the world due to the silver exploration in Cerro Rico Mountain.
Some people say that Cerro Rico ate slaves and vomited silver. This statement might sound harsh, but it's true.
During the Spanish rule, about 6 million slaves died in the mines, indigenous and African slaves.
Besides letting yourself be humbled by a visit to this place where miners still work, learn more about the history of Potosi at Casa de la Moeda, where silver was turned into coins.
And last but not least, stroll around in the streets of Potosi, which is a UNESCO World Heritage Site, to experience the simple yet beautiful architecture and colorful houses.
Click here to find the best accommodation deals at Potosi
Copacabana, one of the most beautiful places in Bolivia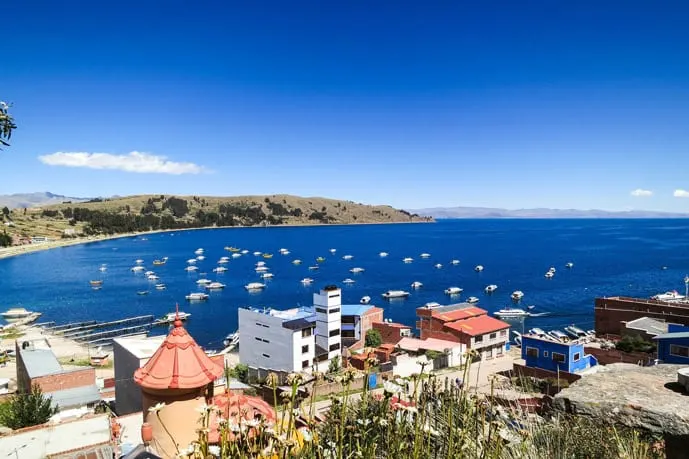 At the southern shore of Lake Titicaca, Copacabana Town is famous for its religious festivals and red-roofed houses.
If you want, go on a boat tour from La Paz to Copacabana and enjoy a pleasant day cruising in Bolivia.
While the whitewashed cathedral is spectacular, hike up the surrounding hills and take in the view of the town and Lake Titicaca. This area is said to be the birthplace of the Incas.
That's the reason why this area has so many Inca ruins. Horde del Inca is one of them.
Perched on a hill overlooking Copacabana, this sacred site has carved rocks from the pre-Inca period which served as an astronomical observatory.
The other sacred areas are the islands of Isla del Sol and Isla del Luna, both ridiculously pretty and with important Inca sites.
Click here to find the best accommodation deals at Copacabana
La Paz, one of the most chaotic places in Bolivia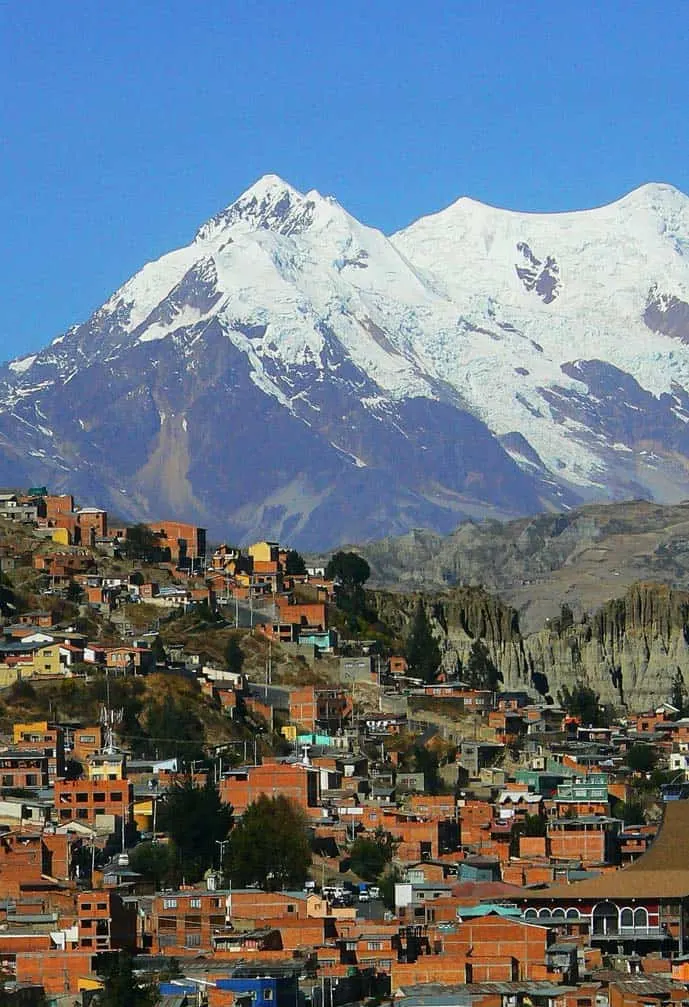 Situated in a sweeping valley surrounded by Andean peaks, the lofty heights of La Paz will literally take your breath away.
Exotic, chaotic, and brimming with colorful clothing, La Paz can feel overwhelming at times.
While the official capital of Bolivia is Sucre, La Paz is the administrative capital where you can explore not only on foot but also by cable car.
Discover the indigenous culture but also indulge in a well-served Bolivian foodie tour.
Explore the city center (maybe with a local) and when the bustling city feels overwhelming, escape to one-day hiking trips to Tuni Condoriri, Valle de las Animas, or Palca Canyon.
You might even want to bike down the famous (or infamous?) Death Road, the world's most dangerous road.
Take it easy on the descent because lots of people have died here.
Click here to find the best accommodation deals at La Paz
Tarija, excellent place to drink wine in Bolivia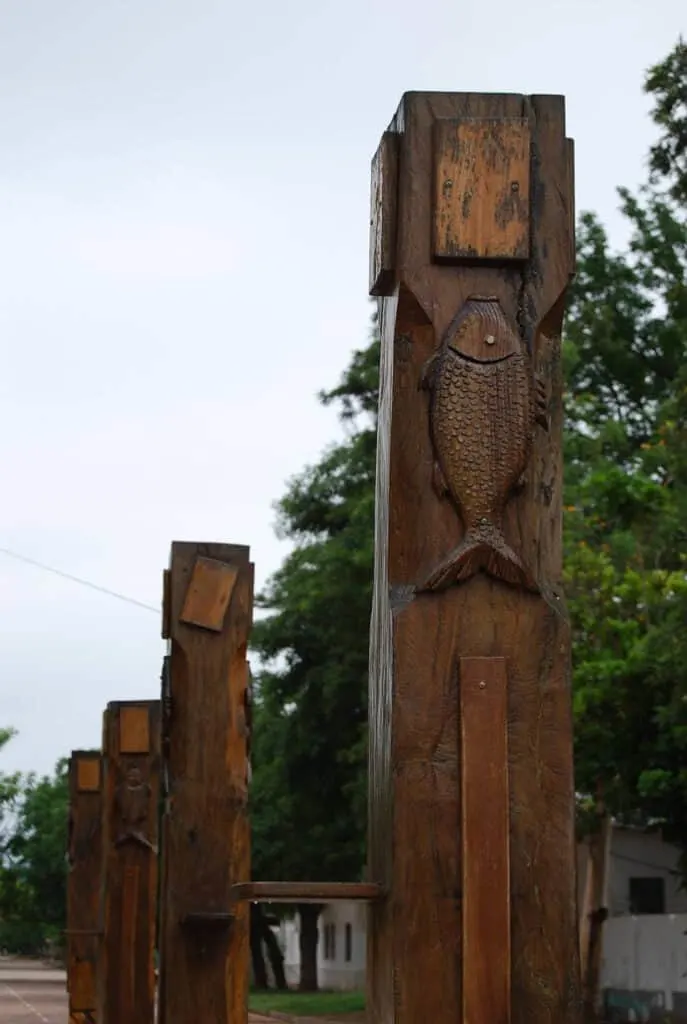 Wine lover? Then venture on a boozy wine tour in Tarija, one of the most underrated places in Bolivia.
The vast vineyards and wineries are excellent places to learn more about the local wine culture and, why not, taste the best Bolivian wine.
Even if you aren't a wine lover, this is a unique opportunity to feel the local vibes.
When you have had enough wine, go for a stroll through the laid-back streets of Tarija. Far from bland, the architecture will impress you.
From the dazzling Casa Dourada to El Castillo Azul, the town is filled with attractive buildings and parks.
Click here to find the best accommodation deals at Tarija
Samaipata, one of the most impressive Bolivia tourist spots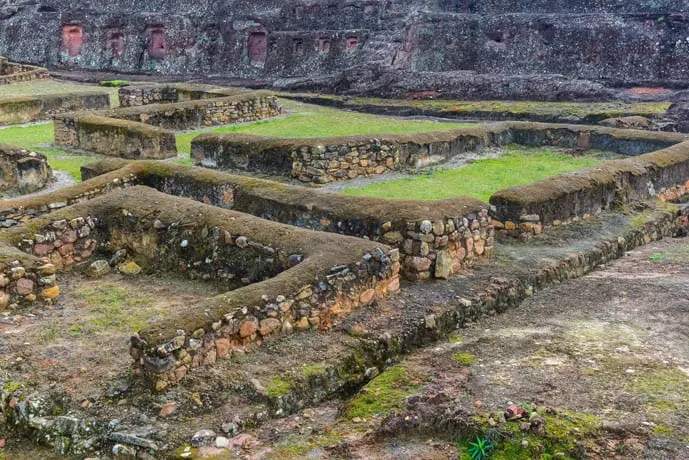 Outside the city of Santa Cruz de la Sierra lies the little oasis of Samaipata, a teeny-tiny town in Bolivia with considerable Dutch, German, and American immigrants.
The town was influenced by these cultures, and today you see European shops and English signs around Samaipata.
While that might take the magic away from the town, La Cuevas Waterfalls certainly puts it back.
These falls are just around Samaipata, and so is El Fuerte, an archeological site built over 2,500 years ago.
The views from this UNESCO World Heritage Site are excellent, but the ruins and barely visible anymore, making it a bit disappointing.
On the other hand, Amboro National Park has lots of things to offer. The park is composed of three ecosystems, namely the foothills of the Andes, the northern Chaco, and the Amazon Basin, and has some of Bolivia's most remarkable wildlife.
Click here to find the best accommodation deals at Samaipata
Trinidad, a cute town in Bolivia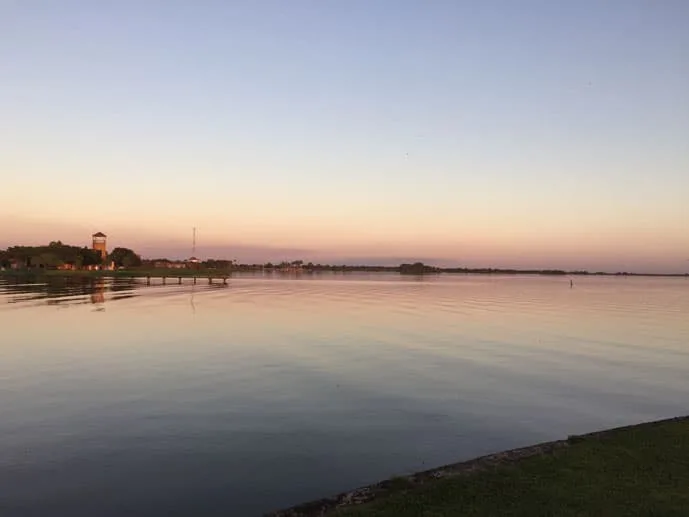 Originally a small Jesuit town, Trinidad is located in the Bolivian tropics; hence, it's hot and humid most of the year.
Nowadays, the city has significantly increased its population, but the religious sites and relics remain intact.
The town is the center of a massive hinterland of forests, savannah, and swamps where rivers remain one of the primary means of transport.
Trinidad is surrounded by rivers, lakes, and lagoons, making it one of the most unique places to visit in Bolivia.
There are many exciting river tours and rainforest tours, so if this is something that has been laying around on your bucket list, you know where you should go.
Click here to find the best accommodation deals at Trinidad
Coroico, breathtaking views in Bolivia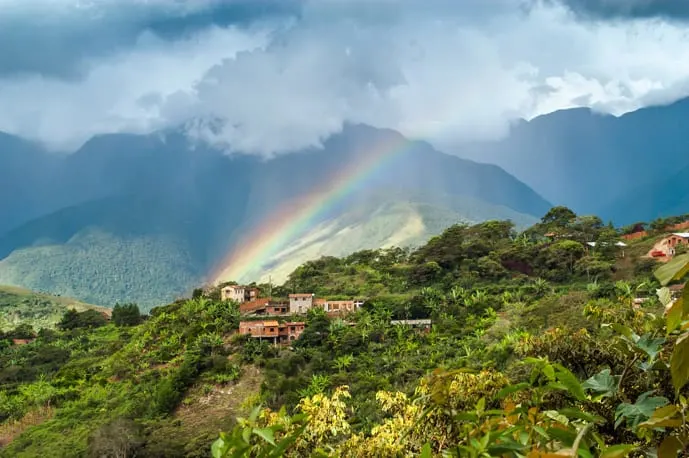 Remember the Death Road we mentioned in La Paz? Many companies that offer the bike tour include the option to finish it Coroico.
But before you reach the town, know that you can zipline in Yolosa and raise (considerably) your adrenaline.
So far, nothing special, but it turns out this zipline is 1,150 ft (350 m) high and reaches speeds of up to 50 mph (85 kph).
In case you were wondering, it's perfectly safe.
After this rollercoaster of emotions, relax in one of the waterfalls surrounding the town or in a pool.
Many accommodations of all ranges have pools and balconies with unbelievable views of the valley.
Click here to find the best accommodation deals at Coroico
The Pampas, best place in Bolivia to spot wildlife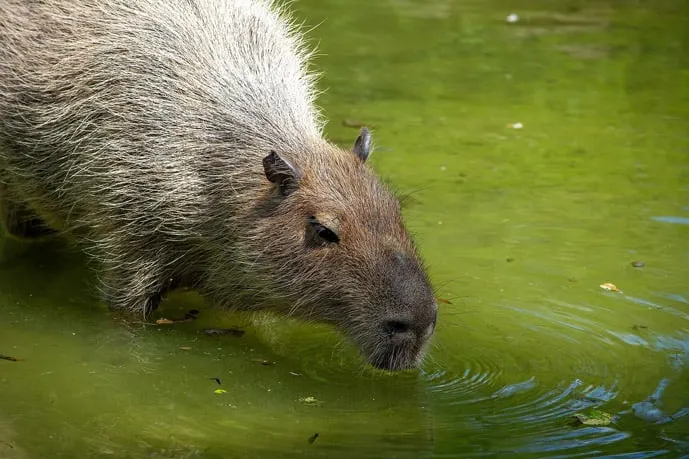 While the Pampas in Bolivia is not a real jungle experience, it does offer many more wildlife spotting opportunities.
Naturally, to see and experience this unique place in Bolivia, you need to go on a guided tour.
After hours of driving to Santa Rosa, expect to canoe for a few more hours until your camp.
However, you'll feel as if you were on a safari. No joke.
On both sides of the river, you'll see alligators, turtles, capybaras, and monkeys. But that's not all.
The region is also home to anacondas, pink dolphins, and more. But whatever animals you spot, remember not to disturb their natural habitat whatsoever for photos or better views.
Click here to find the best accommodation deals near the Pampas
Wrapping up on Unique Bolivia Destinations
It's difficult to choose where to go in Bolivia, right? Yes, we know. Hopefully, you'll have enough time to see a little of its jaw-dropping landscapes, wildlife, and cuisine outside the main cities.
For us, the offbeat parts of a country are the place where we can feel the culture and history the most. And we love that.
Did you like this article about famous places to visit in Bolivia? Then save it to your Pinterest travel board.
Our best travel tips & resources:
Here're our all-time favorite travel tips & resources so that you can save money and plan your travel logistics hassle-free! For more travel resources, check out our
travel tips.
Saving money: Fly on offseason, winter (not Xmas or NYE), Tuesday, or Wednesday! According to experts, these are the cheapest days to fly.
Travel insurance: Before you leave for your trip, make sure you have a valid travel insurance policy because accidents happen on the road. We have been paying for Safety Wing travel insurance for a little over a year now, and we happily recommend them to our family and friends.
Accommodation: We usually stay in mid-range comfy hotels or private rooms in hostels. These are the sites we use to book accommodation: Booking.com for hotels (excellent flexible cancellation policy) and Hostelworld for hostels (low deposit and easy cancellation).
Tours:We absolutely love booking guided tours with locals to get a history lesson while sight-seeing, especially food tours and walking tours! We book all of our tours using Viator and GetYourGuide.
Transportation: We use Google Maps to figure out how to get around a place using public transport. When we book a rental car, we always use Discover Cars to find the best deal.