We went on the Sachsenhausen concentration camp tour near Berlin, and here's what we experienced on that day.
While planning our visit to Berlin, my Dutch teacher recommended a tour in a concentration camp.
At that point, I didn't even know there was a concentration camp near Berlin, but after she explained how the tour was, we were sold. We wanted to learn more about the dark side of WW2.
Sachsenhausen is a concentration camp located 21.7 mi (35 km) to the north of Berlin, and it's easily reachable by train.
Fast-forward a few months, we finally visited this moving place and we were glad we did.
Our guide was amazing and explained a lot of things about this place and its history.
The visit wouldn't be the same without all his knowledge about WW2 as well as his thoughtful explanation about the prisoners' lives and stories.
That's why we wrote below some practical information so that you can also visit this camp. We also talk about some of the heartbreaking stories we learned that day.
Considering going on the Sachsenhausen Concentration Camp tour? Read on!
Practical information about Sachsenhausen Concentration Camp
We booked the Sachsenhausen tour in English and we only have compliments to Rob Shaw, our knowledgeable guide.
He went above and beyond to explain what those people went through as well as all the sites in the camp. Everything in a very respectful way.
We took a train from Berlin to Sachsenhausen together—he met our small group at the Brandenburg Gate—, and he was very sympathetic and even helped us buy the tickets because we didn't understand the vending machines. Oops.
Don't miss out! Click here to book your tour.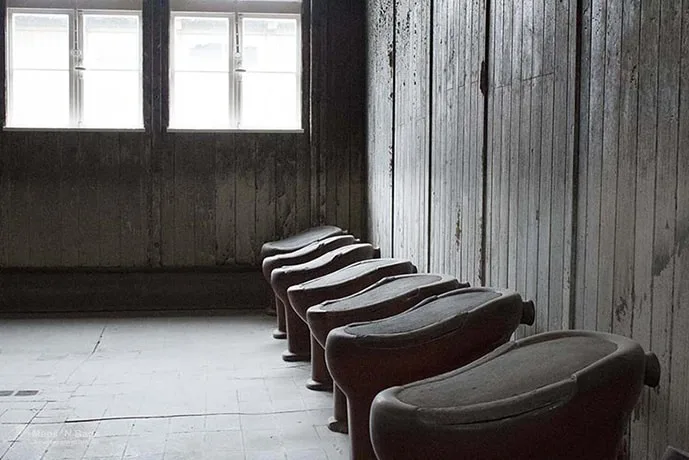 Tips for going on the Sachsenhausen Concentration Camp tour
Take water and snacks with you. There is a cafe at the entrance, but it's not like you'll cross the camp to get something to eat and then go back to your tour.
Wear comfortable walking shoes because you'll walk a lot.
If it's chilly outside, pack extra layers in a daypack as the temperature at the camp can feel chiller.
Respect the no-photography and no-trespassing signs. They're are there for a reason.
Respect the people who suffered at Sachsenhausen. This is not the place to take a photoshoot of yourself or selfies. Remember, people died here in the most horrendous ways.
How to get there?
We went there by train with the guide, departing from the Brandenburg Gate, S-Bahn S1 line to Oranienburg station (around 50 minutes).
From there we walked 20 minutes to the camp. There are buses available, but we didn't want to wait for them.
Bus line 804 to Malz and line 821 to Tiergarten.
Sachsenhausen Concentration Camp opening hours
March 15th-October 14th: daily 8.30 am-6.00 pm
October 15th-March 14th: daily 8.30 am-4.30 pm
During the winter season, the museums are closed on Mondays.
However, the Visitor Information Centre, the open-air exhibition, "Murder and Mass Murder in Sachsenhausen Concentration Camp," and the site of commemoration "Station Z" are open to the public every day.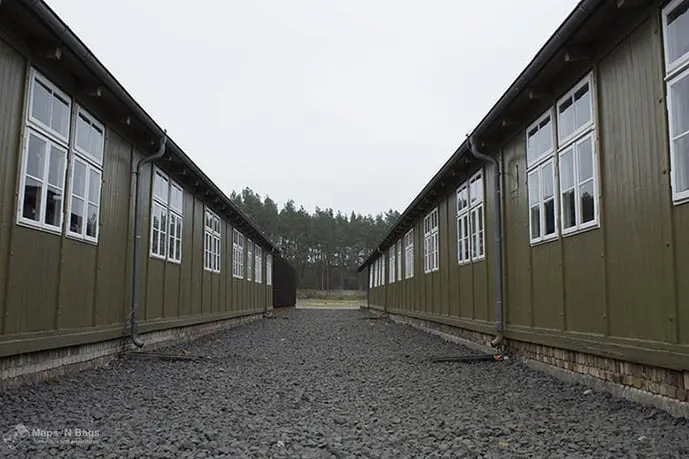 Entrance fee
The admission to the Memorial and the Museums is free of charge.
They charge €3 for an audio guide if you're going on your own, but we highly recommend taking the tour.
Only a knowledgeable person can explain in detail the shocking events that happened here, and obviously, answer any questions you might have. You won't regret it!
The audio guide is available in German, Italian, Spanish, Dutch, French, and Portuguese.
Sachsenhausen Concentration Camp
The Sachsenhausen concentration camp was first built to imprison political opponents; however, other types of prisoners were kept there too.
Many of whom the Nazis affirmed being "racial and biologically inferior." Whatever that means.
As we said, the main goal of the Nazi with this camp was to maintain prisoners. But later on, they started exterminating inmates after high SS officials created the "final solution", in other words, the extermination of Jews.
We took a tour in the Sachsenhausen Concentration Camp, and even though it is a sorrowful place, as you have noticed by now, we didn't regret going there at all.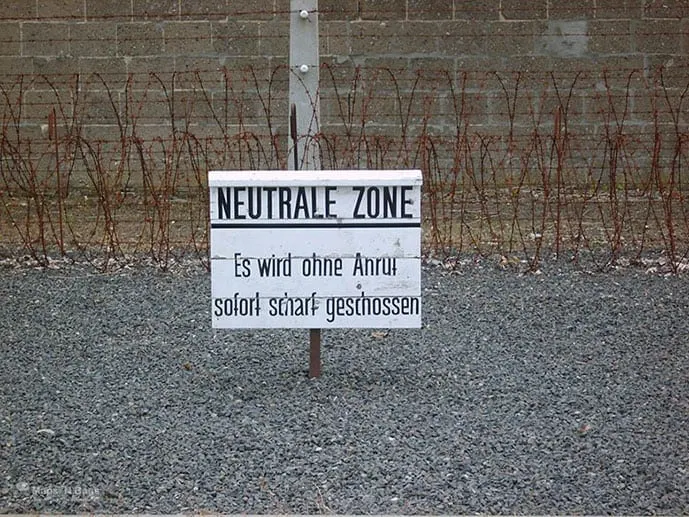 This tour was intense, but it is undeniably a must-do in Berlin because the world needs to see what those people went through—the horror, suffering, and humiliation.
We've written below what we learned on the tour. If you're visiting Berlin, don't skip this concentration camp. It's really worth your time!
Read next: War sites in Berlin
Role-model camp: Sachsenhausen
Sachsenhausen was built to be the role model concentration camp. According to Himmler, SS leader, this was an example of a "modern, up-to-date, ideal, and easily expandable concentration camp."
Even the way the camp was designed had a symbolic representation.
It's a triangle of hierarchy where the SS administration is located at the center and the prisoners were symbolically subjugated to their power, at the base of the triangle.
In total, around 200,000 people were held as prisoners in Sachsenhausen. At some point, about 950 men were sleeping in one barrack.
Sachsenhausen Concentration Camp: Horrifying conditions
We went inside one of the still-standing barracks, and we can tell you that if there were 950 people in there, we would feel terribly claustrophobic as we couldn't be able to move.
The barracks are far from being big. In my opinion, not even 450 men would fit there, for that matter.
Needless to say that the sanitary conditions were very basic, and diseases would spread easily. Each barrack had a central washing area for all the prisoners.
But obviously, they only had cold water even in the most chilly winters.
Note that winters in Germany can be severe and given the fact that they didn't have much fat on their bodies or even warm clothes (many didn't even have shoes), surviving was really a matter of being lucky and wanting to live.
It was a matter of not giving up hope.
Because, to keep living in those conditions, you need to hold on to something. Maybe for a better future where all this suffering doesn't exist. Otherwise, you let your body succumb to this pain.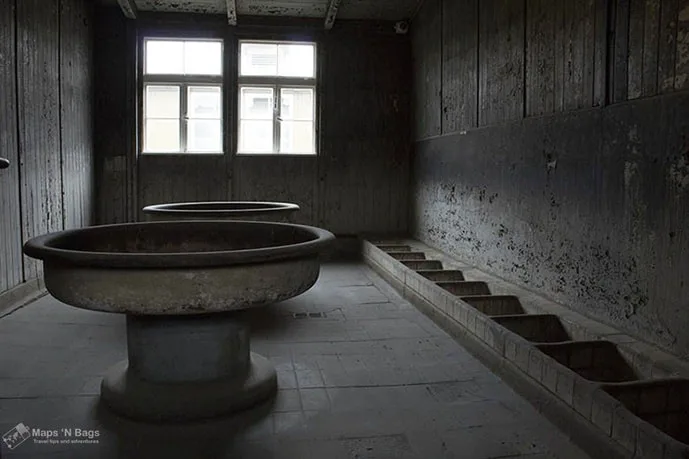 The daily menu was a small cup of broth, in which rotten vegetables were often used, and a piece of old bread.
Note that it was 32 degrees F (0 degrees C) when we were there. Both of us had a few layers of warm clothes, good winter shoes, and we had eaten right before this tour.
Still, we were freezing.
The barracks had no isolation whatsoever and the washing area was right in front of the door, where the cold wind would get in in every opportunity. We can't imagine the pain of those people…
Sachsenhausen sorrows
In modern prisons, cigarettes are one of the most common and easiest goods to contraband.
That's not something new. For centuries, prisoners have used goods as payment means.
Well, that wasn't different in Sachsenhausen.
Inmates contrabanded cigarettes so that they could exchange it for a little more food ration.
They didn't really smoke them because they had other priorities—surviving.
If they had put their hands on anything that could be exchanged for food, then they would surely trade it. It was a no-brainer.
If they didn't do it, they wouldn't make it until the next day.
However, if someone was seen smoking, it was a clear sign that this person. When inmates give up the chance of getting a little more food, all the others knew it was a matter of days before he would die…
Read next: Best things to do in Berlin
Arbeit Macht Frei
Arbeit Macht Frei – Work makes you free.
This slogan is written on the entrance gate of Sachsenhausen.
Arbeit Macht Frei is not only a slogan. In fact, that's what many prisoners were told at first.
They were told they would work for the Nazis so they could pay for their debts (of being Jewish) and after that, they could go back home.
Soon enough they realized they had been lied to.
Prisoners were made slaves and were even treated as an object to be rented as the Nazi party would rent out many inmates to companies in the area. After all, they were cheap labor (aka slaves).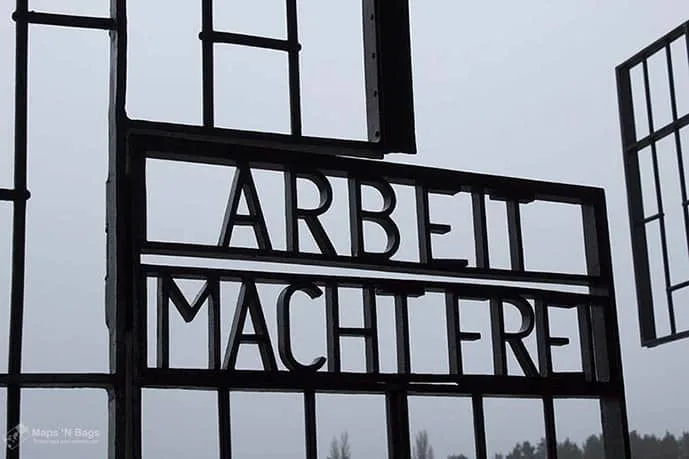 Pleasure in cruelty
During our Sachsenhausen Concentration Camp tour, we learned that a popular way to earn some money on the cost of the prisoners was to perform boot testing for shoe companies.
They would select over 100 prisoners who had to wear those new shoes and run about 25mi (40km) a day over tracks made of sand, cement, broken stones, cinders, and gravels.
Later on, this was used as a torture method, but in that case, the SS officer made a few adaptations.
The inmates had wear shoes one or two sizes smaller than their feet and had to run about 25mi (40km) a day while holding sacks filled with 44lbs (20kg) of sand.
The prisoners chosen for this torment had run every day until their bodies wouldn't be able to keep up anymore.
One thing was for sure: if you were chosen, you knew you were going to die—either of exhaustion or shot by a soldier because you stopped running.
Again, remember they didn't have proper food.
Nazi selection
In 1941, the SS doctors selected prisoners to what they called the "euthanasia program," a clandestine murder plan.
This procedure was performed to give continuation to the process of cleaning Germany of the "unworthy of life."
The doctors would execute anyone who had a physical or mental disability, inside and outside the camp.
It all started with children. Back then, they encouraged parents to take their kids with disabilities to pediatric clinics, but in reality, they would murder those children by lethal doses of medication or starvation.
It's estimated that about 5,000 children lost their lives to the euthanasia program.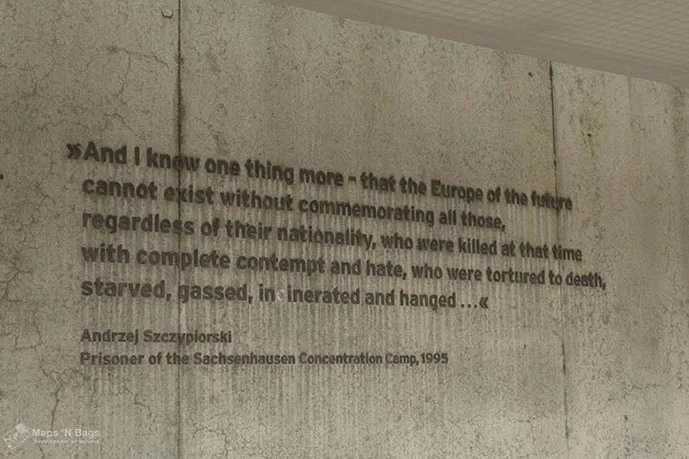 Sachsenhausen selection
Back to the Sachsenhausen concentration camp, execution trenches were caved so that prisoners could be shot dead.
Next to these trenches lie the gas chamber and the crematorium. A perfect death and cleaning process, if you will.
Prisoners died of exhaustion, hunger, illness, abuse, hypothermia, medical experiments, public executions, or simply mass murders.
At some point, around 10,000 people would die every month at Sachsenhausen.
Some of the survivors say many of those who were brought to the crematorium were still alive…
Note that these soldiers and doctors were so brainwashed by this insane ideology, they would perform medical experiments in an attempt to prove that Jews and Gypsies had different blood from Germans.
More stories about the Sachsenhausen
The stories we mentioned above are only a small part of everything we learned.
If you're curious about what else happened at the Sachsenhausen, don't hesitate in going on this tour. It really is priceless.
Also, you will want to reserve 4-6 hours for the tour + visiting more sites on your own.
We did a very informative tour and it took about 3 hours. We did skip a few exhibitions because at some point it was too much to assimilate.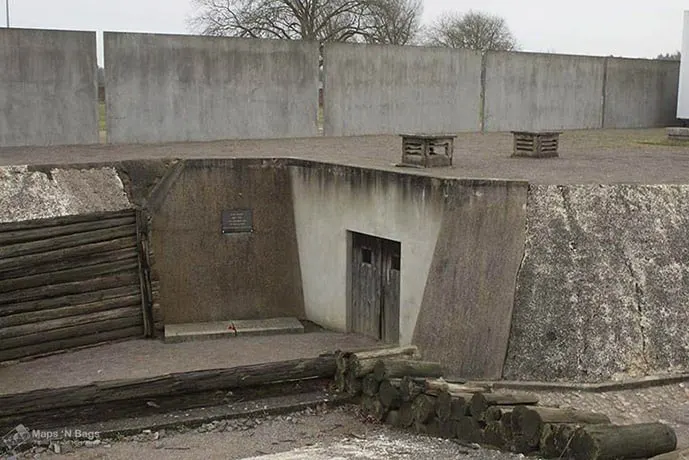 Final words on Sachsenhausen Concentration Camp tour
This tour was heartbreaking and very informative at the same time. We learned so much about the atrocities the SS soldiers did to anyone they considered inferior.
That's why we recommend this Sachsenhausen Concentration Camp tour to anyone who asks us tips about Berlin.
It's very important for the generations to come to know what a brainwashed society can do and hopefully, never repeat it again.

Click here to book your tour.
Have you ever been to a concentration camp in Europe or visited any war sites? Comment below with your experiences. We'd love to hear from you!
Did you like this post about the Sachsenhausen Concentration Camp tour? Then save this post to your Pinterest or share it with someone who might like it too.
Our best travel tips & resources:
Here're our all-time favorite travel tips & resources so that you can save money and plan your travel logistics hassle-free! For more travel resources, check out our
travel tips.
Saving money: Fly on offseason, winter (not Xmas or NYE), Tuesday, or Wednesday! According to experts, these are the cheapest days to fly.
Travel insurance: Before you leave for your trip, make sure you have a valid travel insurance policy because accidents happen on the road. We have been paying for Safety Wing travel insurance for a little over a year now, and we happily recommend them to our family and friends.
Accommodation: We usually stay in mid-range comfy hotels or private rooms in hostels. These are the sites we use to book accommodation: Booking.com for hotels (excellent flexible cancellation policy) and Hostelworld for hostels (low deposit and easy cancellation).
Tours:We absolutely love booking guided tours with locals to get a history lesson while sight-seeing, especially food tours and walking tours! We book all of our tours using Viator and GetYourGuide.
Transportation: We use Google Maps to figure out how to get around a place using public transport. When we book a rental car, we always use Discover Cars to find the best deal.