If you're looking for the most charming streets in Amsterdam, you have come to the right place! Amsterdam is home to some of the prettiest streets on earth so you in for a real treat.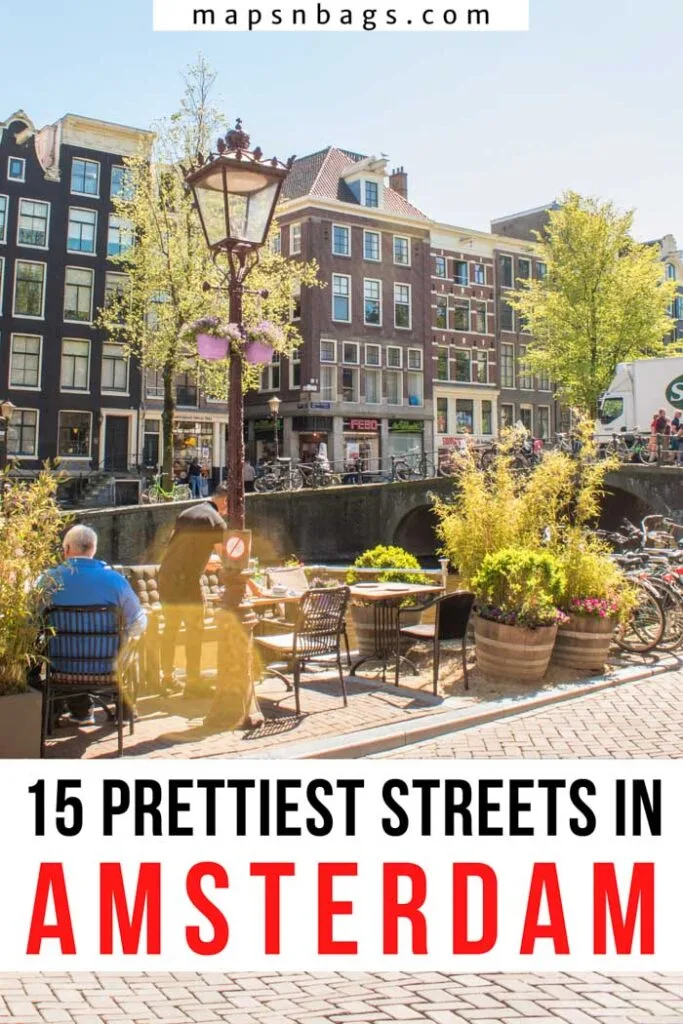 When you think Amsterdam, you probably think about the Red Light District, Anne Frank House, and the Van Gogh Museum.
Indeed, these are spots you should definitely visit when you're in Amsterdam, but did you know that some of the streets in the city will give you a whole different experience that will make you appreciate Amsterdam even more?
There are a lot of beautiful streets in Amsterdam that you have to explore!
In this post, we will talk about the 15 beautiful streets in Amsterdam. From a street where the residential windows are wide open to a lane with the most luxurious brands in the world, Amsterdam streets are incredibly beautiful, and you can learn a lot of things about the city by simply visiting these places.
Here you will learn more about:
The history of Amsterdam
The beautiful streets of the city
The places you can eat or drink
Where some of the museums are
The most coveted spots for good photos
So, if you're planning to spend one day, two days, or even three days in Amsterdam, familiarize yourself with these streets and make sure you visit them. By doing so, you will be able to make the most out of your trip.
Additionally, you'll have more stories to tell your loved ones and friends when you get back home.
Looking for accommodation in Amsterdam? Here's a guide to where to stay in Amsterdam based on your interests and budget.
Amsterdam streets hunting tips
While the city isn't vast, you're better off renting a bike or taking the tram to visit places.
Many of these places are the perfect location for taking some photos. You can read more about it in our guide about the best photo spots in Amsterdam.
Sometimes when we are on vacation, we forget that other people live in that destination. Be mindful when taking pictures. While it is perfectly acceptable to take a photo of beautiful houses, be sure not to be invasive.
Prettiest streets in Amsterdam
These are our favorite streets in Amsterdam in no particular order.
1. The Streets Of Prinseneiland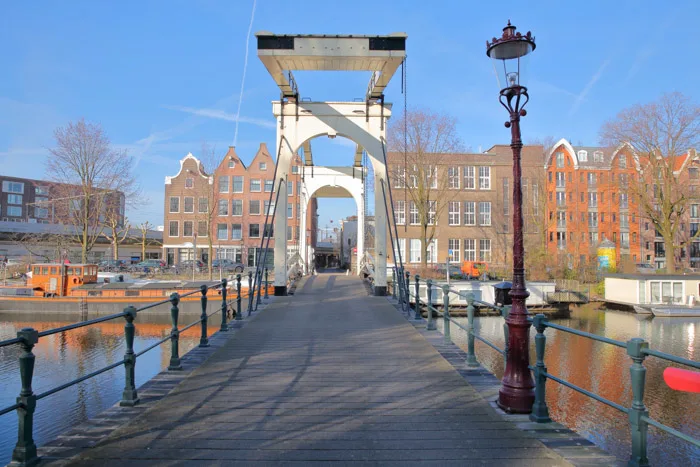 It's not every day you will come across a street lined with buildings with most windows fully open.
But this is precisely what you'll see when you walk the streets of Prinseneiland, an artificial island, if you want to take a break from the city's usual canals and waterways.
Also, don't worry; the Dutch don't really mind if you peer into their homes.
They're pretty chill with things, and it's not because they don't value their privacy; it's just that it stems from the Protestant religious tradition of Calvinism, which indicates the honest citizens have nothing to hide. Plus, it's an open culture here!
2. Oudemanhuispoort in the City Center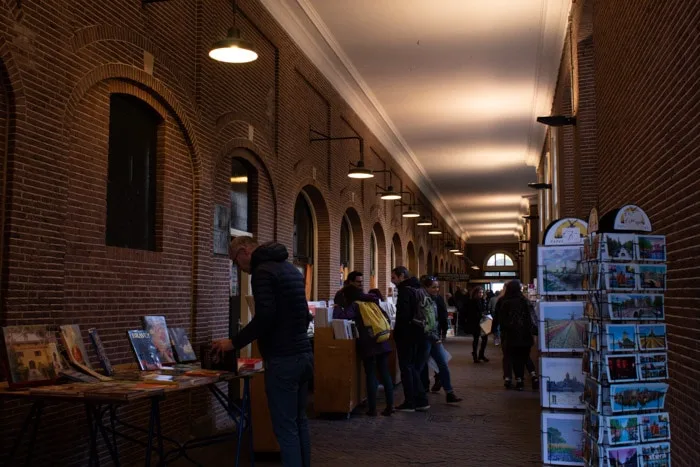 Whether you're a book lover or not, Oudemanhuispoort street is something you shouldn't miss when you're in the city. Here you will find a secret covered passageway that dates all the way back to the 17th century.
The passage is through the Oud Man Huis (Old Man House) building that used to be an almshouse for the elderly, which is now the University of Amsterdam building.
It connects the lovely Oudezijds Achterburgwal to the Kloveniersburgwal.
The passageway is lined with bookstalls and LP vendors. However, be warned: Most of the books are in Dutch. Still, you can find a few English volumes.
Make sure to bring cash because they don't accept cards here. Aside from books, there are old prints and posters you can get your hands on as well.
3. Javastraat in Zeeburg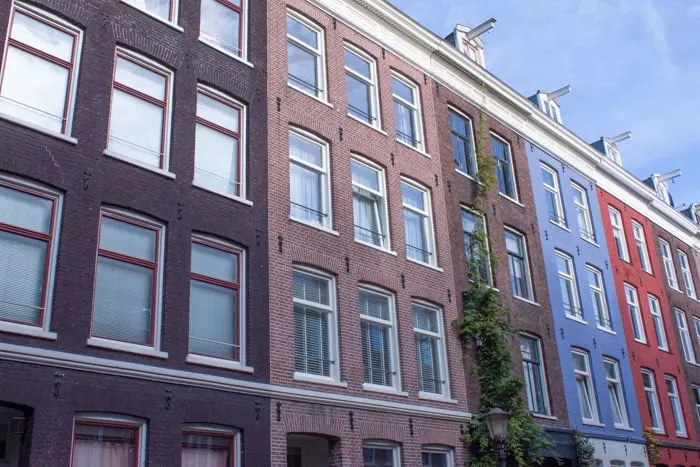 One of the coolest streets in Amsterdam, Javastraat is a stylish and buzzing road that houses great eateries along with a range of boutiques where tourists can buy their souvenirs from.
It's the main street in the neighborhood, so it's hard to miss. Consider it an honor to walk the streets of Javastraat as it was neglected before. Still, now it's flourished into a magnificent tourist attraction.
You can sit at a dainty cafe here while you take in the sights, eat delicious meals, and plan your next stop. You can do a lot of things on the street, and it should definitely be included in your Amsterdam itinerary.
4. Brouwersgracht near the Central Station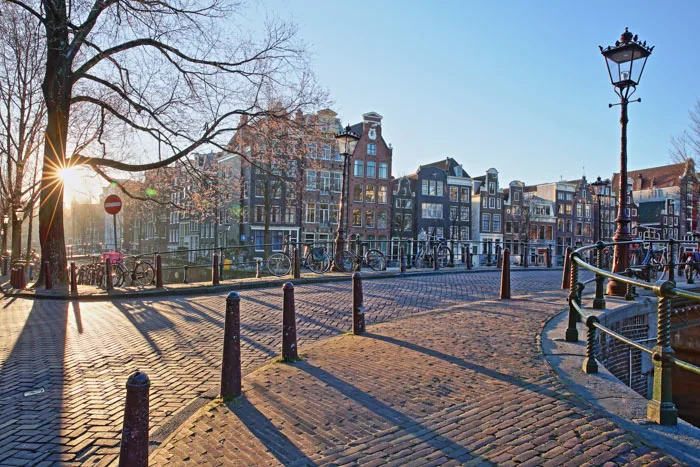 Voted as the most beautiful street in Amsterdam in 2007 by the Het Parool, this is one of the most important spots in the city, and you shouldn't miss it. Honestly, coming here is an experience!
Make your way through the streets via a boat to fully experience its canal system. From the boat, you will have fantastic views of the beautiful canal houses that were mostly built in the 17th-century.
Brouwersgracht, in English, means "Brewerscanal," because the street was lined with many breweries during the 16th and 17th centuries. What used to be warehouses today are homes.
5. Kalverstraat in the City Center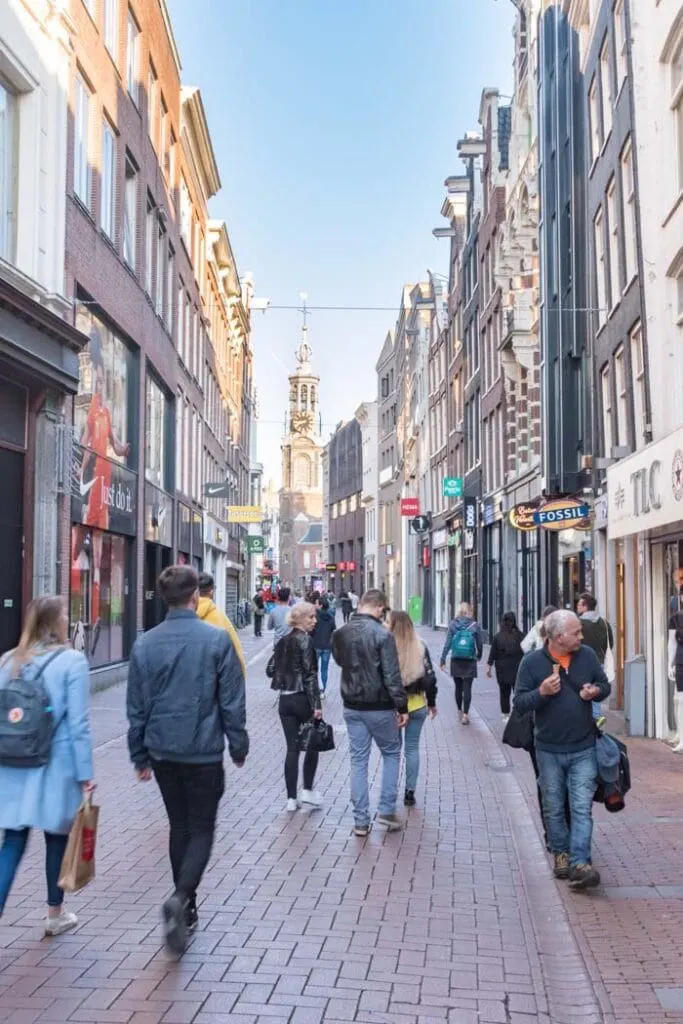 If you're ready to go shopping, this is the street to go to–or not. Kalvestraat is the most expensive street in the city, and it is packed with shops from top brands.
Most tourists think this is the perfect location for shopping, and it is good, but if you wander a few streets further, you will find more affordable prices.
This Amsterdam street won't be hard to miss as it begins at the Dam Square, near the Royal Palace and Madame Tussauds, and goes down to Munttoren, a historic tower with a carillon.
Keep in mind, over 50,000 shoppers and tourists stroll through the Kalvestraat every day, so it might be a bit busy!
6. Oudezijds Voorburgwal in the City Center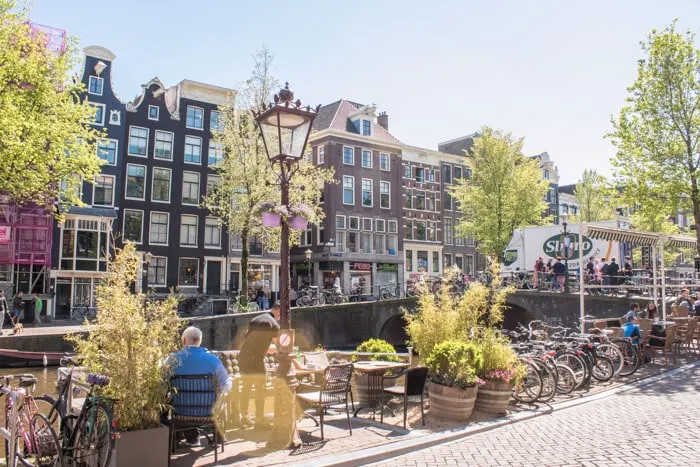 This is definitely a famous street in Amsterdam, and something worth visiting when you're here. Watch out—it's a busy one, but if you want to see the liberal side of the city, this is where you should go.
The street is illuminated with red light, and don't be surprised to see girls posing behind the windows as you pass by. Don't worry; you're safe here.
There are many pubs in the area and shops and venues where you can grab a drink or two. Also, music studios, hip cafes, and art exhibitions take place here, so keep an eye out for those.
Mind you, the Dutch are liberal, but until a certain point. The consumption of alcohol on public roads in certain areas is prohibited. The city center is one of these areas.
7. De Nieuwmarkt near the Old Church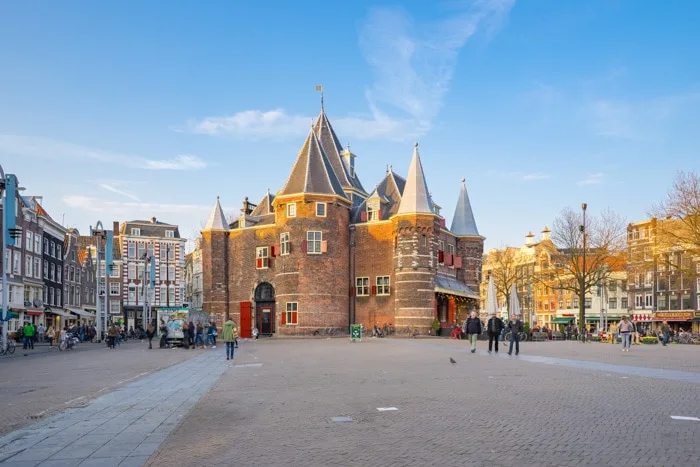 Do you want to feast on delicious food, such as organic cheeses and whatnot? In that case, De Nieuwmarkt is where you should go for some gastronomic delight.
There are pubs where you can grab a drink, Asian food for days when all you want to do is eat a Thai curry, and more. But there's always comfort in Chinese food that you can also find here.
Here is also where the yearly April Fests take place, filling the area with festivities and bohemian funfair. Indeed, if you want to feel Amsterdam, you should not skip visiting this spot.
8. Lindenstraat in Grachtengordel-West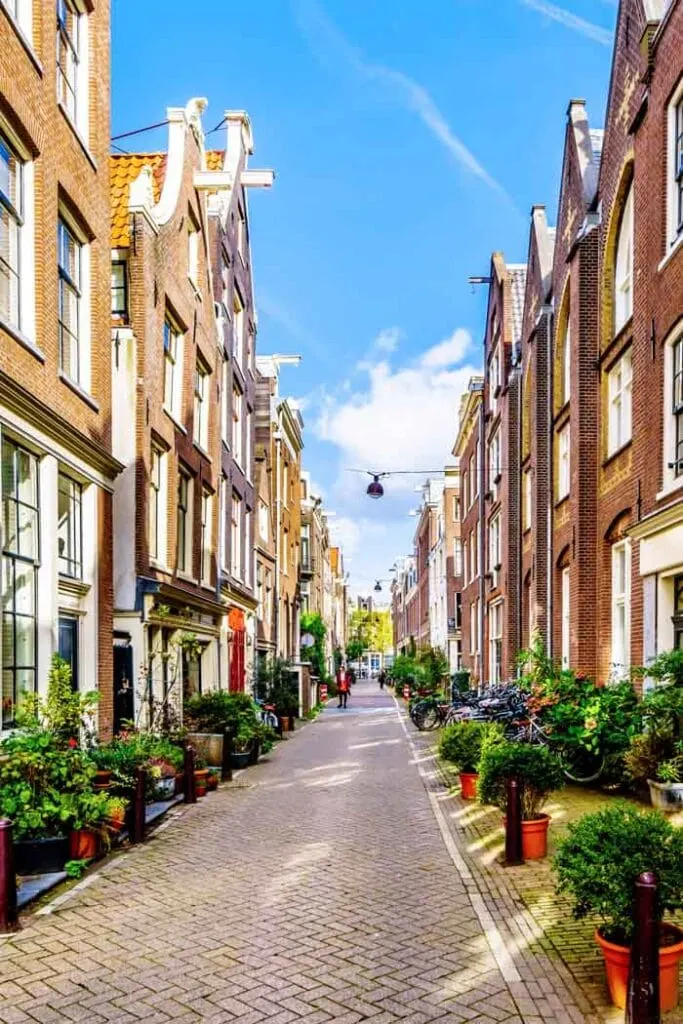 Away from the city's hustle and bustle, this street in Amsterdam is lined with beautiful houses. It's a great spot if you're looking for a quiet place to walk in and take some great photos.
Here you get a glimpse of Dutch architecture. It's even prettier because most of the houses here have vines crawling on its exterior walls that add a dramatic effect to the place.
While you bask in the beautiful homes and get swept away by the tranquil atmosphere, one thing to keep in mind is to be wary of bikes while you're walking!
9. Herengracht in de Grachtengordel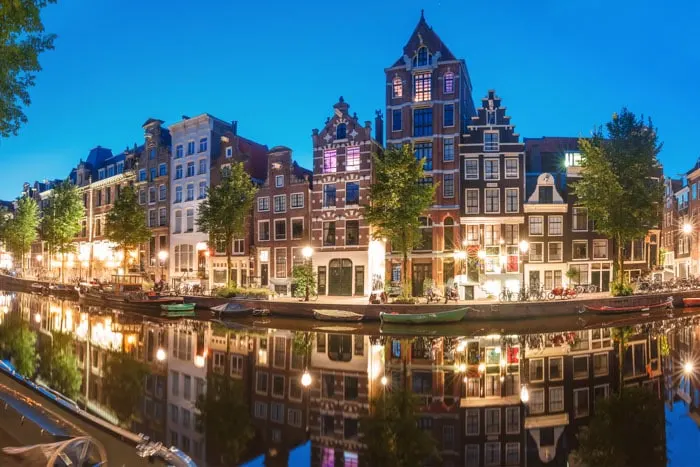 Yes, there are plenty of beautiful streets in Amsterdam, but this particular area is a delight. The Herengracht is in the Grachtengordel, the canal belt surrounding the city center.
What makes this street unique is that it's filled with a lot of museums, including the Cromhouthuis.
There are also cafes where you can enjoy a coffee or even a glass of beer. Aside from the museums and cafes, you can spot historic houses here, such as the no 81, which is the oldest house in Amsterdam!
Along the street, every monument house you pass by will take your breath away. From then on, you will truly feel that you're in Amsterdam.
10. Amstel Street in the City Center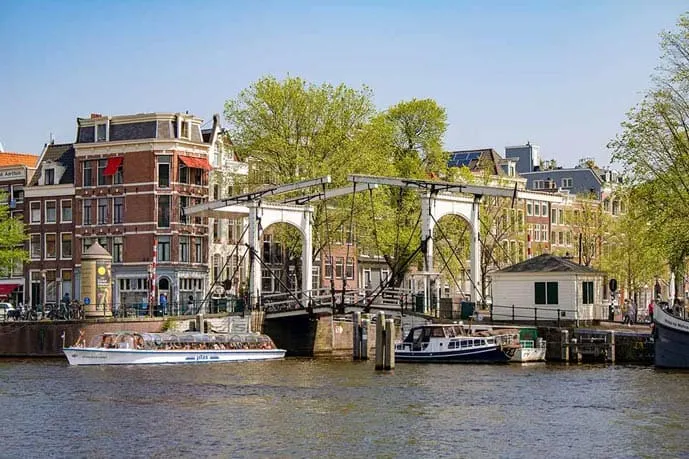 You can't really say you've experienced the entirety of Amsterdam without walking the streets of Amstel. This Amsterdam street runs along the river that gives the city its name.
Along the river and on Amstel, you will see important national heritage sites, such as the city's Jewish monument, The Hermitage Museum, and the Magere Brug.
If you're with someone special, do note that one of the most romantic spots in the city is the Magere Brug, which is a lovely bridge across the river from where you can spot the Nieuwe Keizersgracht and the National Opera House.
The Amstel shows the beautiful engineering of the city. Indeed, the Dutch are known for their beautiful waterworks, and this is definitely one of them.
11. Tweede Tuindwarsstraat near the Anne Frank Museum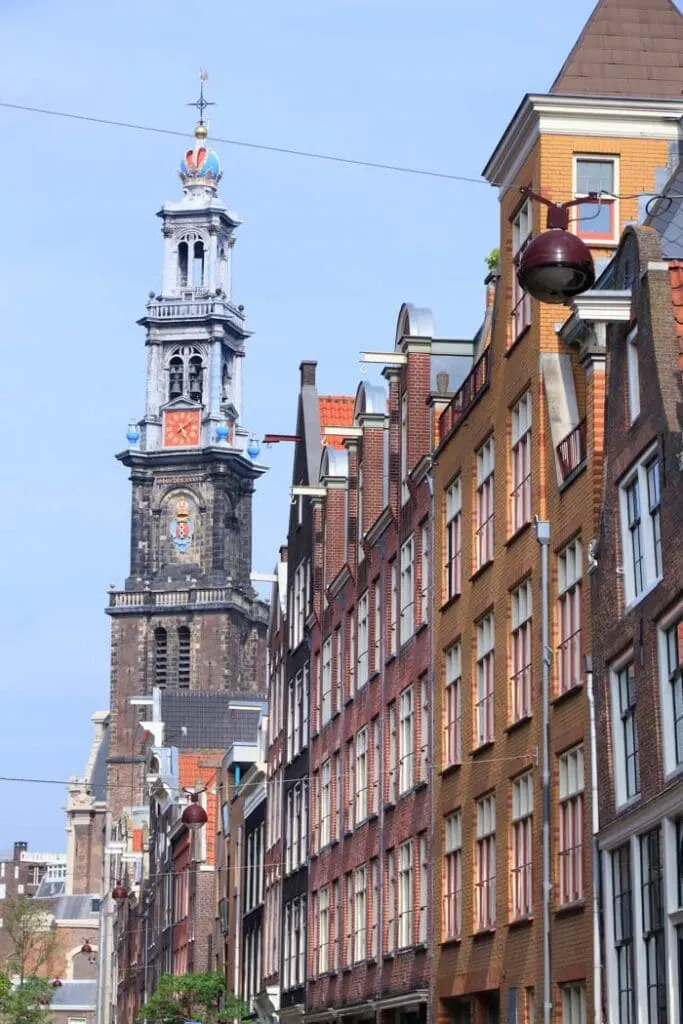 This is considered the Little Italy of the city. It's a tiny street set in the romantic part of the neighborhood. However, be prepared because this Amsterdam street gets packed.
Along the road, you will find Italian restaurants where you can satisfy your pizza and pasta craving. There are art galleries and vintage shops here as well.
The street is different during the summer, as there is al fresco dining, and it's just hustlin' and bustlin'!
12. De Negen Straatjes in the City Center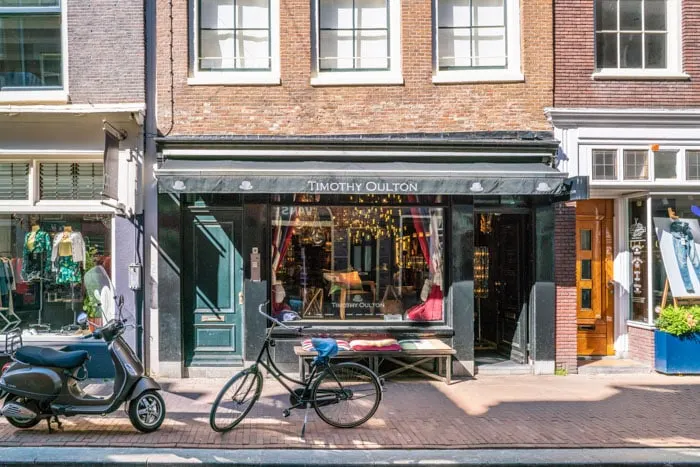 De Negen Straatjes, which is also known as Nine Little Streets in English, is made up of nine side streets. There are a lot of shops and restaurants here.
Are you looking for a wedding dress? They have it here! Perhaps, you want some Belgian chocolate? You can have them here too.
There are also specialist stores at De Negen Straatjes, as well as hairdressers if you plan to change up your look. The street is located in between Raadhuisstraat and Leidsegracht.
Also, while you're in this area, make sure to check out the various excellent museums.
If you're traveling to Amsterdam in August, you might want to check out the annual Prinsengrachtconcert, which takes place in De Negen Straatjes.
13. Haarlemmerstraat next to Central Station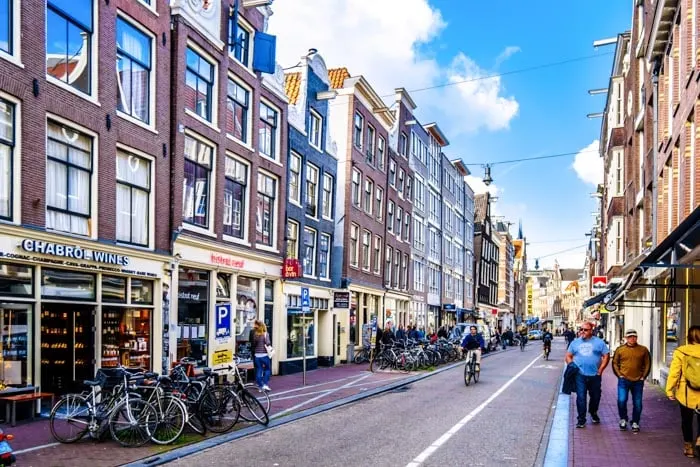 Experience the city's urban lifestyle and ready your wallets because this is another shopping street. In fact, it is voted as the best street for shopping in the Netherlands. Here you will find a mix of shops by top brands and many, many independent ones.
It's an excellent place to support local businesses and score great finds.
Aside from the shops, some great cafes and restaurants line this street in Amsterdam. So, should you get tired from all that walking, you can enjoy some coffee at one of the cafes at Haarlemmerstraat.
Or perhaps, you can end the day with a nightcap at a bar before you head back to your hotel.
14. P.C. Hooftstraat next to Vondelpark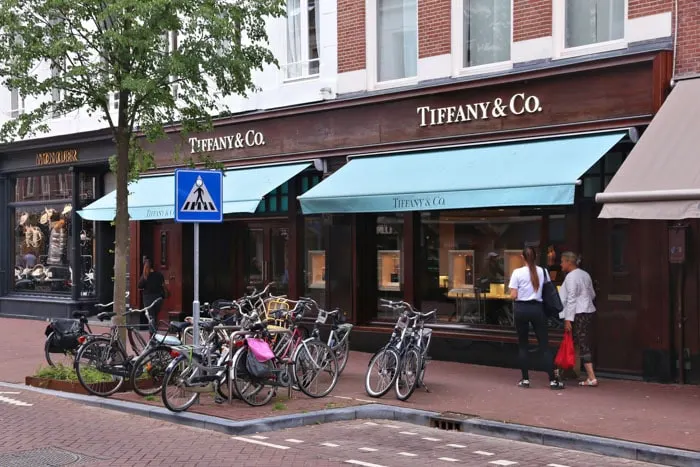 This street is difficult to miss when you're in the city—it screams luxury! If you're in Amsterdam for some luxury shopping, this is where you should go.
Aside from the shops, it has a luxurious architectural design that is truly an eye-catcher. The shops that line the street are from the fanciest brands in the world.
You can also check out the famous museums nearby, such as the Van Gogh Museum and the Stedelijk Museum.
The street is in the world's top ten chicest shopping streets. So, even if you have no plans to buy something costly, a visit to this street is worth it!
15. Reguliersgracht in the City Center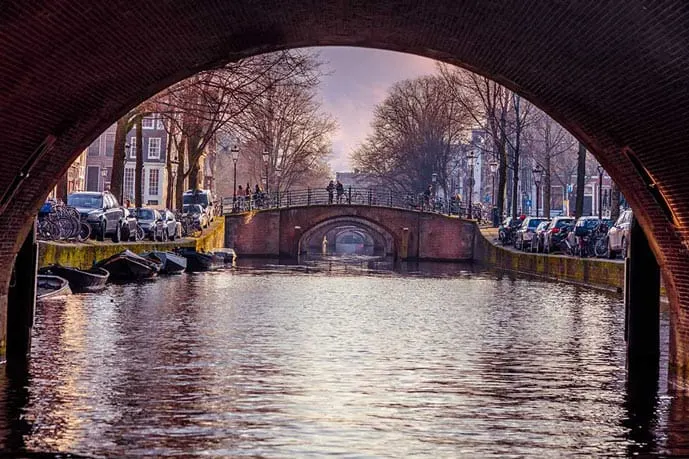 This street is one of the best in the city. Why? From here, you can see the seven bridges from the intersection of Herengracht and Reguliersgracht.
You also don't want to miss the beautiful sight at night, when the streets are well-lit, illuminating the canals. This is also known as one of the tranquil canals in the center of Amsterdam.
Don't be surprised when you see many photographers at the Reguliersgracht as this is one of the best photo spots in Amsterdam.
Still, you should definitely wander through the area and take in the character and beauty of the city.
Wrapping up on the most beautiful streets in Amsterdam
Now, are you ready to explore the beautiful streets of Amsterdam? We can guarantee you that these streets will not disappoint and you will have a fantastic time on each one of them.
These streets are some of the most popular ones in the city—from tranquil ones to buzzing streets that will make you genuinely feel you have touched down in the beautiful city of Amsterdam.
So, aside from checking out the most common tourist spots here, these streets will transport you to various worlds, and you will also learn more about the city while you're here.
We recommend that some of the streets be discovered via bike because it's easier to get around the city with it instead of walking. There are some streets when riding a boat will be best, but consider renting a bike for others.
Are you ready to explore Amsterdam and experience it fully? These streets are a whole different experience and trust us, you will enjoy every minute of it—plus, you can look forward to beautiful photos!
About the author
Ask The Dutch Guy your go-to guide when it comes to The Netherlands. The goal of Ask The Dutch Guy is to showcase the beauty of The Netherlands and to inspire others to explore the country. Read more about Ask The Dutch Guy at https://askthedutchguy.com. Follow him on Facebook and Instagram.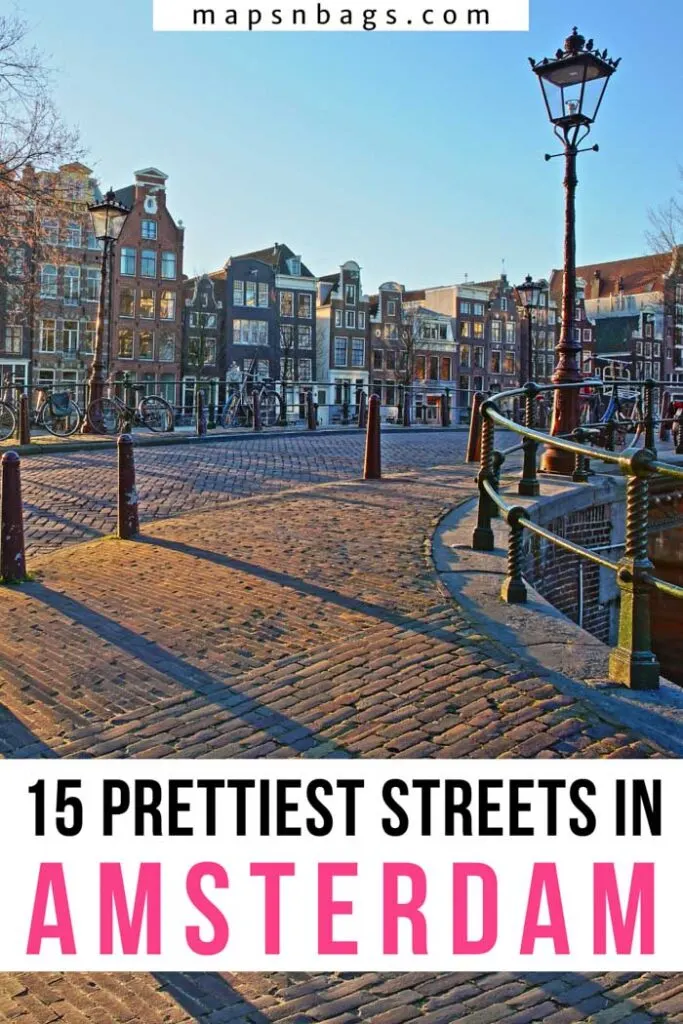 Our best travel tips & resources:
Here're our all-time favorite travel tips & resources so that you can save money and plan your travel logistics hassle-free! For more travel resources, check out our
travel tips.
Saving money: Fly on offseason, winter (not Xmas or NYE), Tuesday, or Wednesday! According to experts, these are the cheapest days to fly.
Travel insurance: Before you leave for your trip, make sure you have a valid travel insurance policy because accidents happen on the road. We have been paying for Safety Wing travel insurance for a little over a year now, and we happily recommend them to our family and friends.
Accommodation: We usually stay in mid-range comfy hotels or private rooms in hostels. These are the sites we use to book accommodation: Booking.com for hotels (excellent flexible cancellation policy) and Hostelworld for hostels (low deposit and easy cancellation).
Tours:We absolutely love booking guided tours with locals to get a history lesson while sight-seeing, especially food tours and walking tours! We book all of our tours using Viator and GetYourGuide.
Transportation: We use Google Maps to figure out how to get around a place using public transport. When we book a rental car, we always use Discover Cars to find the best deal.