Looking for a beautiful castle hotel in the Netherlands? Then you'll love the recommendations below. Warning: strong travel urge ahead!
It's one thing to witness majestic castles along hiking trails or explore them through guided tours, and entirely another experience to live in one.
So yes, for tourists who just love the aura and feel that comes with fairy-tale Dutch castles, the Netherlands is the perfect destination.
The country is dotted with medieval castles that attract enormous tourist crowds and even locals every year.
The best part is, some of these castles are redesigned as luxurious hotels to give visitors an unsurpassed medieval experience.
Also, some are affordable castle hotels as some older, abandoned castles have been revived, giving travelers a more reasonable experience.
However, when people search online for castle hotels in the Netherlands, they usually come across a long list of options which can get confusing…. And overwhelming.
To ease this ordeal, first-time visitors should check out this list before booking their castle accommodation.
Castle Hotels in the Netherlands
Here're our favorite Dutch castle hotels, hostels, and B&Bs in no particular order. Enjoy!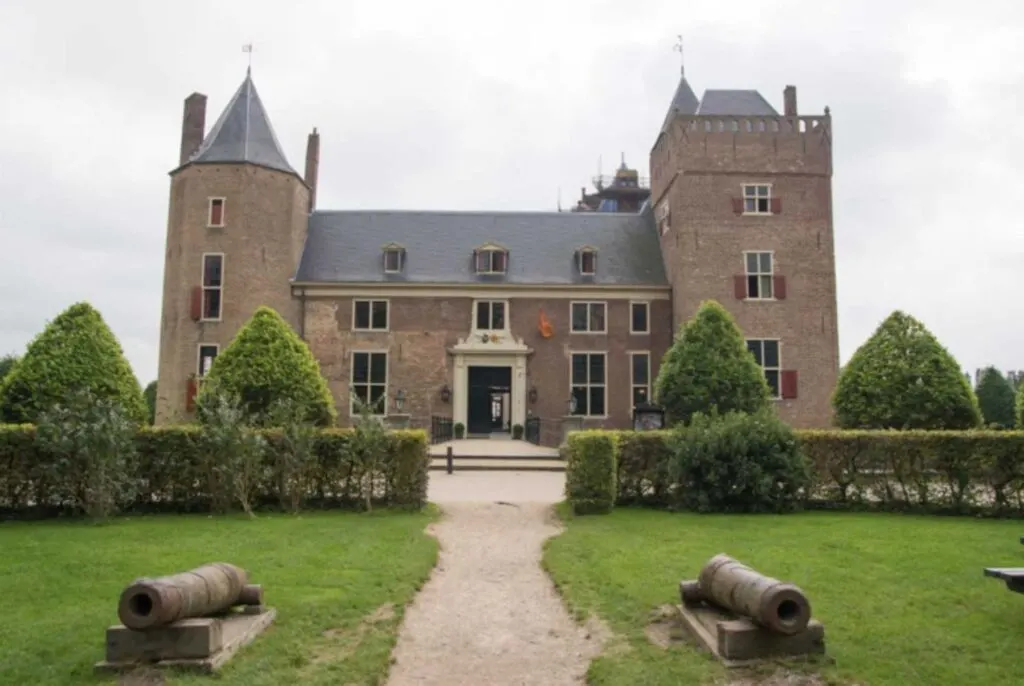 Castle Heemskerk is one of the most beautiful castle hotels in the Netherlands.
Situated in a strategic location near the Amsterdam airport, the hostel is accessible (they don't offer an airport shuttle) and provides all the necessary amenities for a comfortable stay.
The hostel offers both single and family rooms so tourists can book their accommodation according to their travel plans.
Besides that, they provide complimentary breakfast and luxurious three-course meals at nominal prices.
Moreover, every room has free Wi-Fi to help visitors record and share their experiences with their loved ones. These aspects make Castle Heemskerk one of the best Netherlands castle hostels on a budget.
Apart from the lodgings, the castle hostel has a unique assortment of activities to explore the Dutch heritage further. This includes taking guided walks across the gardens and booking tours around the castle.
Similarly, rental bikes are also available for those who want to stretch their legs and witness the beautiful countryside surrounding the castle.
Also, for people planning to book other attractions and activities, transportation methods such as the train station and bus stops are only a few minute's walk away.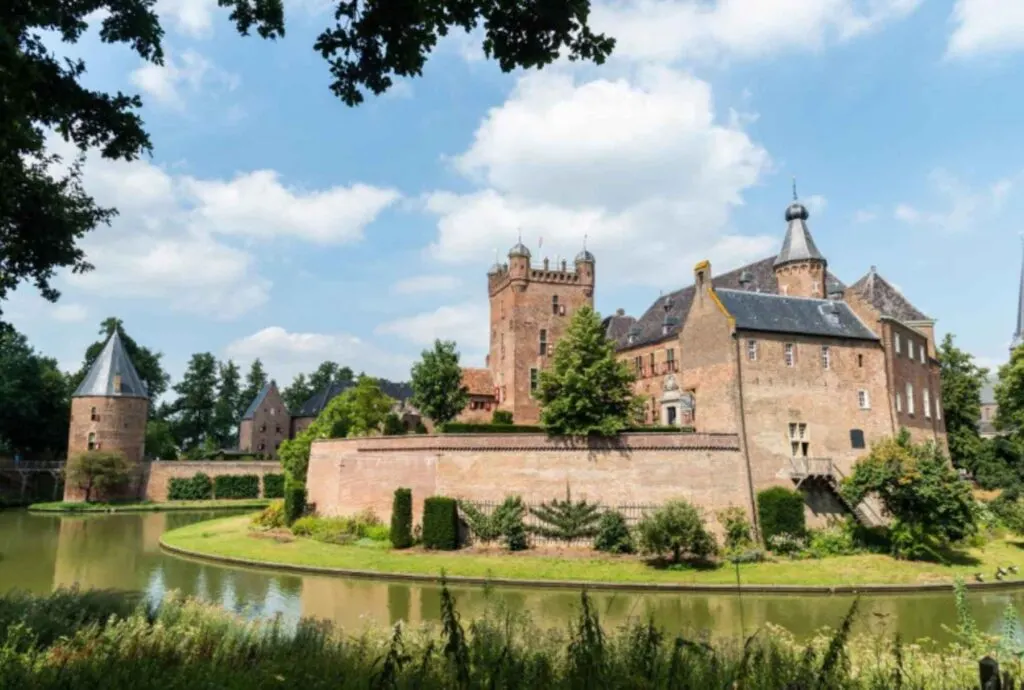 Castle Huis Bergh is a fantastic exploration and accommodation option for those planning to visit the eastern Netherlands.
Dating back to the 12th century, the fortified castle is astounding reminiscent of medieval Heerenberg.
What attracts locals and visitors to this castle hotel are the spectacular gardens across the castle grounds.
The various styles of gardens combined with the tropical plants make for an exciting learning experience for children and adults alike.
Situated in an idyllic location, visitors can plan picnics and even take guided tours across the lush gardens.
Moreover, every room is integrated with free Wi-Fi, and all residents using personal transportation get free parking.
One of the most impressive attractions of Castle Huis Bergh is its luxury suites located in the two oldest and highest castle towers.
These suites come at an attractive price but provide a memorable living experience for history buffs.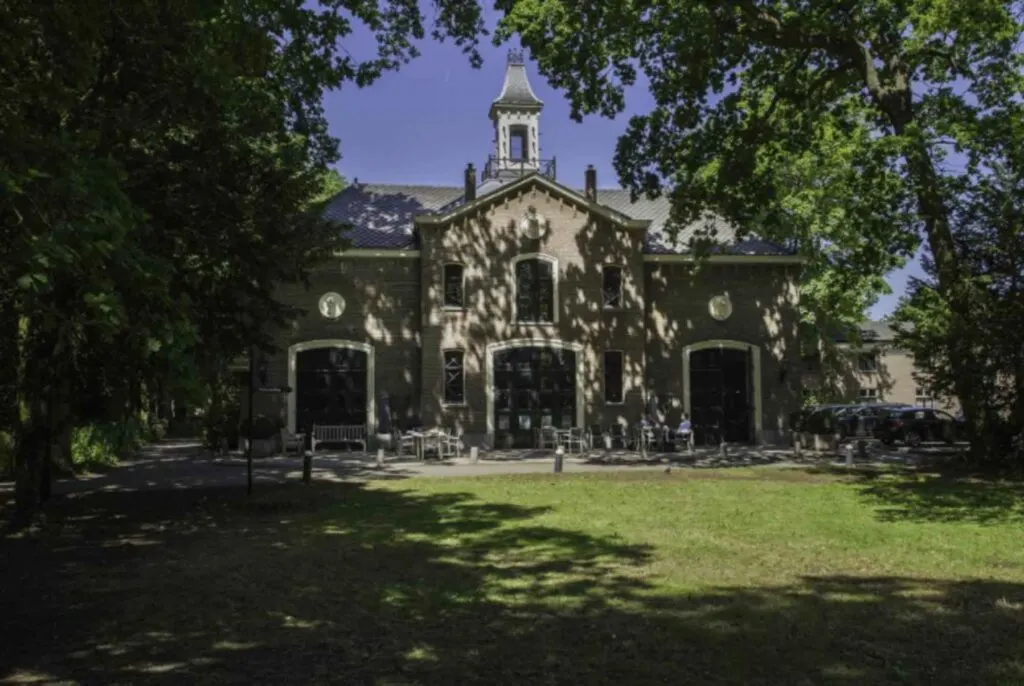 Castle Oud Poelgeest is the ideal accommodation option for visitors planning a vacation in Leiden, Netherlands.
Located at a 20-minute picturesque walk from the central city, the castle property includes a medieval coach house, chapel, forester's home, and a gatehouse as well.
Mainly, the coach house is the part transformed into a luxury hotel. It has comfortable rooms with private bathrooms, showers, free Wi-Fi, and breakfast in the house.
At Castle Oud-Poelgeest, tourists can experience a medieval castle without compromising the comfort and amenities they are accustomed to.
Similarly, each room has a majestic balcony where visitors can experience the magnificent natural views and feel like princes and princesses.
Apart from staying at the castle, tourists can book guided tours to explore and learn about every part of the fascinating property.
Additionally, rental bikes are also available for tourists planning their itineraries around the various attractions at Leiden.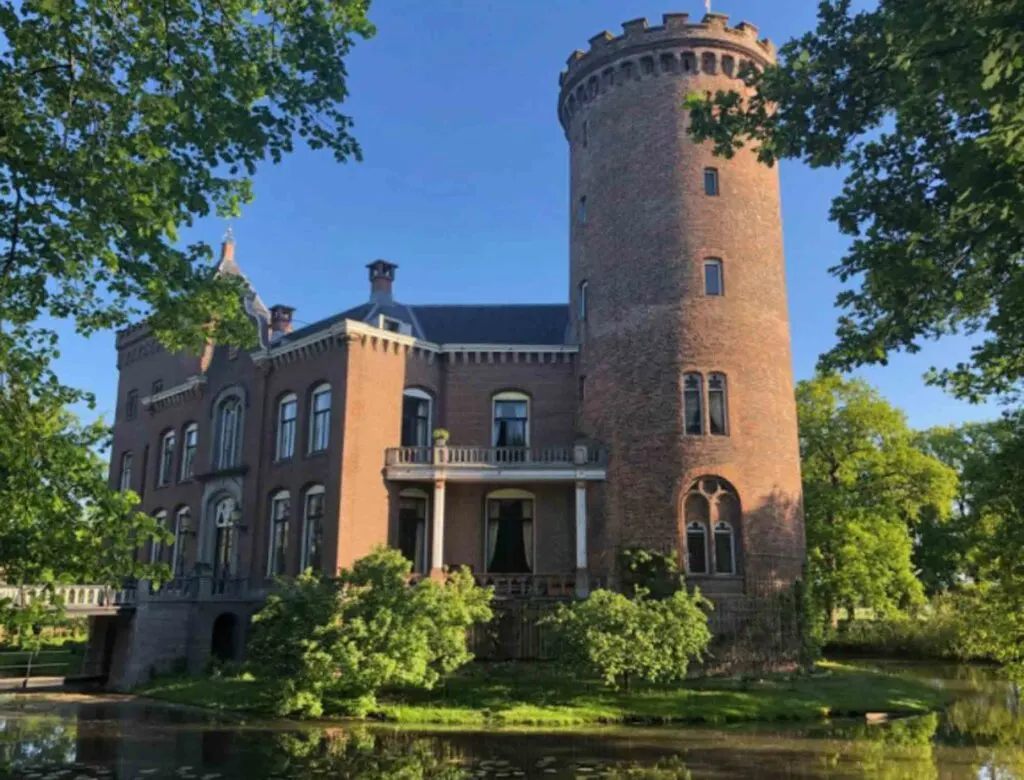 Castle Sterkenburg is another 13th-century castle turned into a majestic hotel for tourists and history lovers.
Built in the beautiful countryside of the city of Utrecht, the hotel is famous for its comfortable rooms and spectacular interior decor.
Furthermore, every room opens up to a mesmerizing view of the Dutch countryside, a scene right out of a Grimm Brothers' fairy tale.
Tourists can take walks along the stunning gardens or even organize barbeque parties on the castle terrace.
However, none of the rooms in Castle Sterkenburg hotel have televisions or Wi-Fi facilities.
Meaning tourists can use their stay to connect with the historical and natural aspects of the destination.
But that doesn't mean they'll get bored. On the contrary, the hotel offers fun activities like hiking, cycling, and horse riding across the castle property.
Moreover, tourists can visit Amersfoort, located only 30 minutes away, and indulge in various attractions.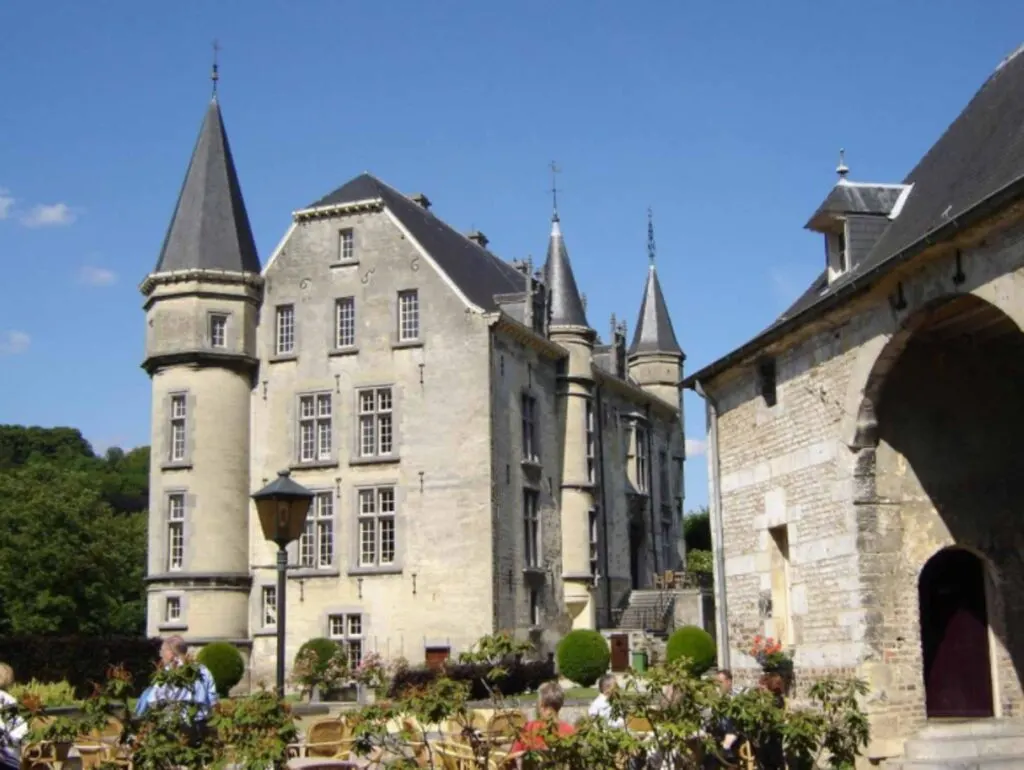 For those who want a luxurious experience for a few days on a budget, Castle Schaloen offers the best accommodation services.
The hotel has free Wi-Fi and free parking for locals with an affordable in-house restaurant and a complimentary breakfast spread.
Besides that, tourists who wish to save up on meals and dining on their trip can book an apartment with a small kitchen in the hotel. This way, they can cook their meals and avoid unnecessary expenses.
Castle Schaloen is located near the famous medieval town of Valkenburg, where visitors can get all the necessary amenities.
Similarly, there's a peaceful forest nearby where tourists can plan getaways close to nature with the castle towering above them.
Additionally, the city of Maastricht is only a few minute's drive away. This means people traveling with their families can plan eventful itineraries involving fun, educational, and relaxing activities in the vicinity.
Given that you get to stay in a castle and see Maastricht in one trip, it makes for a great weekend getaway from Amsterdam if you want some time away from the busy city.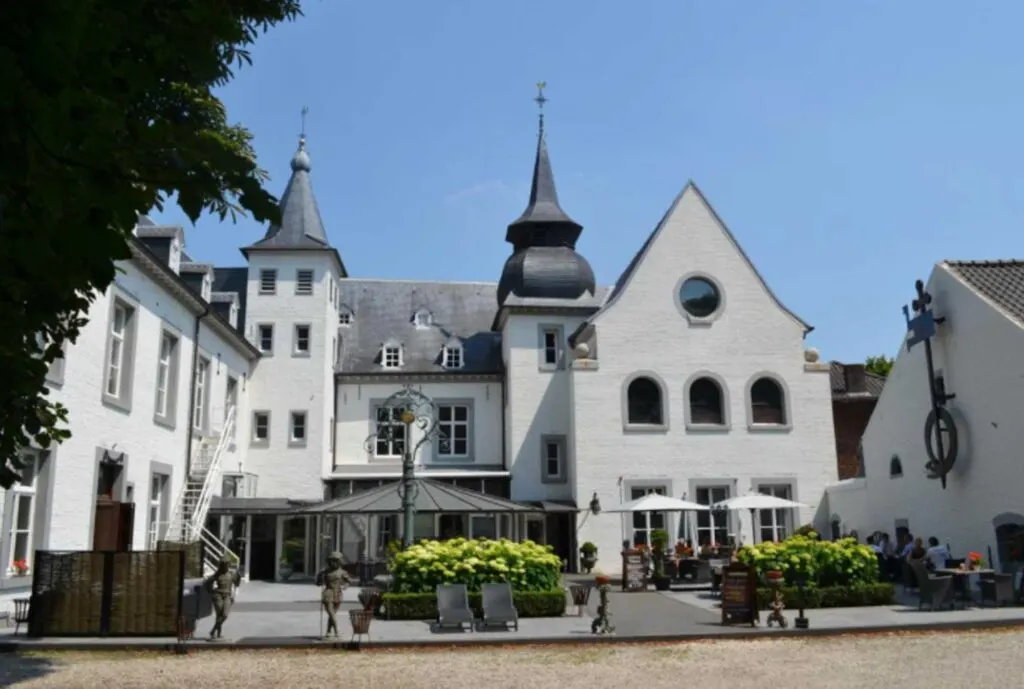 Located within 30 min drive from the major cities of Maastricht and Roermond, Hotel Castle Doenrade is a treat for history buffs.
It is originally a 12th-century castle in the heart of Limburg, later constructed into a luxurious yet affordable accommodation site for those looking for castle hotels in the Netherlands.
Apart from offering free Wi-Fi in every room and an attached luxury bathroom and flat-screen TVs, the hotel is known for its relaxing sauna facilities.
Whether you stay in their luxury suites or small single rooms, you are eligible to use the sauna. However, you will have to pay some additional charges for the service.
Besides that, the hotel presents a delicious breakfast spread every day, and guests can also dine in their restaurant during the evenings.
The best part is, you can book numerous biking and hiking tours from the castle. Just pick any excursion that strikes your mood and set out for the day.
Similarly, the castle is located near Hoensbroek Castle and the Wildpark Gangelt. Here, you can drive to spend the day with your family.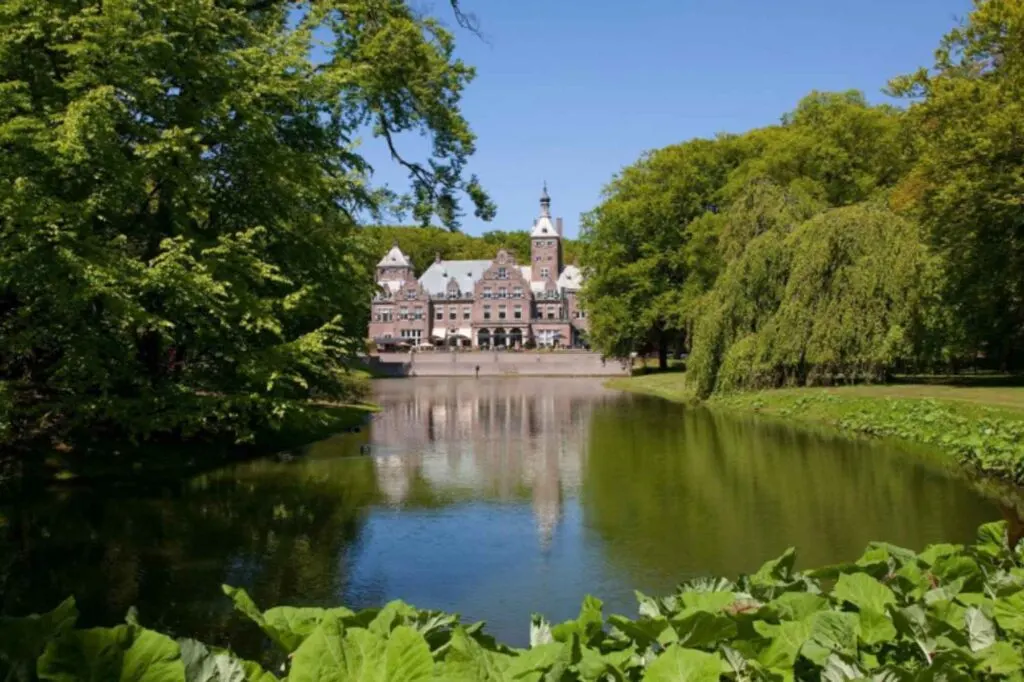 Landgoed Duin en Kruiderg is a relatively recent construction built by wealthy Dutch merchants in the 17th century.
These merchants aimed to follow suit of the kingly mansions and estates of the European royals by conjuring up beautiful estates of their own.
Over time, the building has changed hands multiple times and went through various renovations and additions.
However, it works today as a castle hotel accommodation for tourists willing to experience the majestic living standards of the Dutch kinds.
Surrounded by a lush English landscape, the estate itself is a sight to behold. Visitors can book the impeccably designed rooms to spend their vacation or choose the immensely luxurious exclusive suites for the perfect royal experience.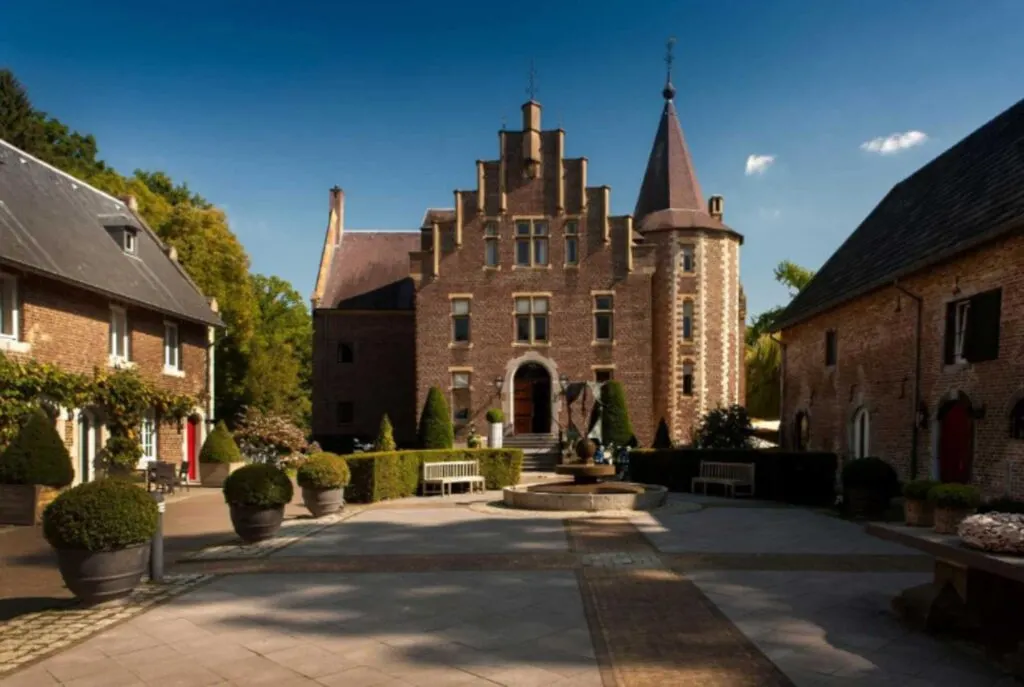 If you intend to visit the magnificent medieval city of Heerlen during your trip to the Netherlands, Hotel Kasteel TerWorm is the ideal accommodation choice.
Situated at a 5-10 minute drive from the central city area, the 4-star hotel is a 14th-century old castle.
With an architectural elevation straight out of a Disney movie, the hotel is surrounded by picturesque French rococo gardens. You can explore the gardens during your stay.
Furthermore, it is the ultimate option for those looking for a trip down history without compromising on luxuries and amenities.
It has impeccably designed rooms with relaxing seating areas, TVs, and fully equipped bathrooms. So, you can enjoy your stay with the ultimate fairytale experience.
Moreover, you can have breakfast, lunch, and dinner in its exquisite restaurant that maintains a classic medieval environment for history lovers.
Also, the Auberge bar has a rustic setting where you can enjoy a drink with your loved one.
If relaxing massages and spa sessions are your calling, you can visit the nearby Van Der Valk Hotel Heerlen. Here, you'll get free access to its wellness center as a guest at Kasteel TerWorm.
On the other hand, those targeting adventurous activities can rent bikes or cars, set out to nearby attractions, and even hire tour guides.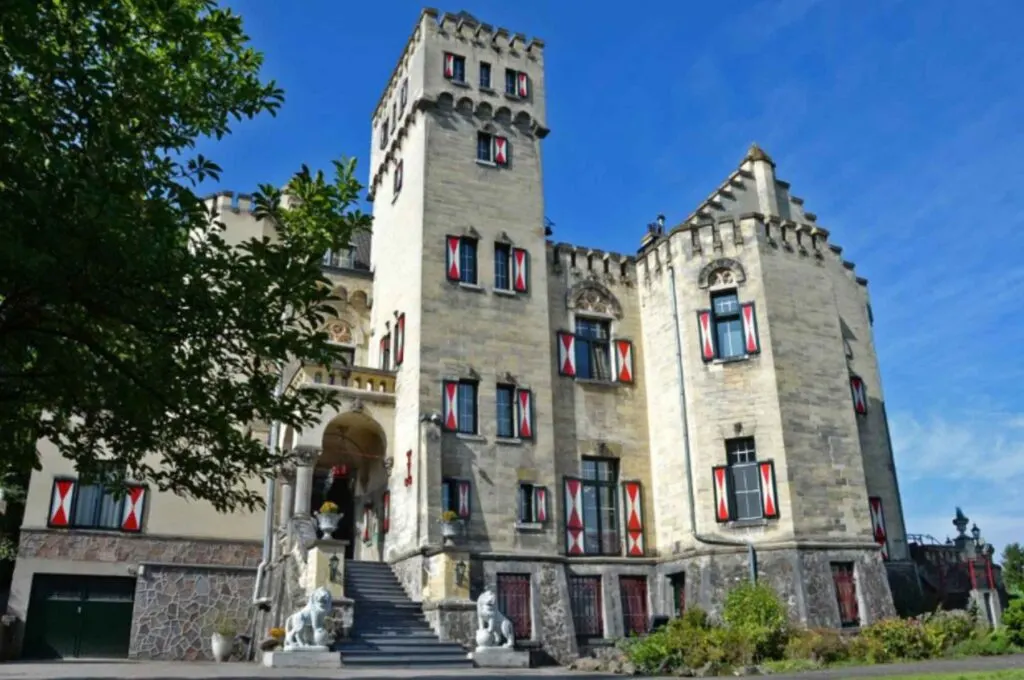 Castle Geulzicht is one of the most charming castle hotels in the Netherlands.
Built on a regal location near the Geul River with a waterfall across the valley, the castle has mesmerizing natural attributes combined with historical architecture.
It's an unusual anachronistic building that combines neo-gothic architecture and various design attributes from medieval fortresses.
As a result, Castle Geulzicht embodies modern and medieval architecture combined, making it a treat for architecture enthusiasts.
The castle was used as a military garrison during World War II and was converted into a hotel after being liberated by the Allies.
Today, the castle offers scenic and romantic views from its terrace (from where you might be able to have a romantic dinner), making it ideal for a romantic getaway for couples.
Given the offerings at the Castle Geulzicht, you won't need to bring a ton of travel accessories along the way.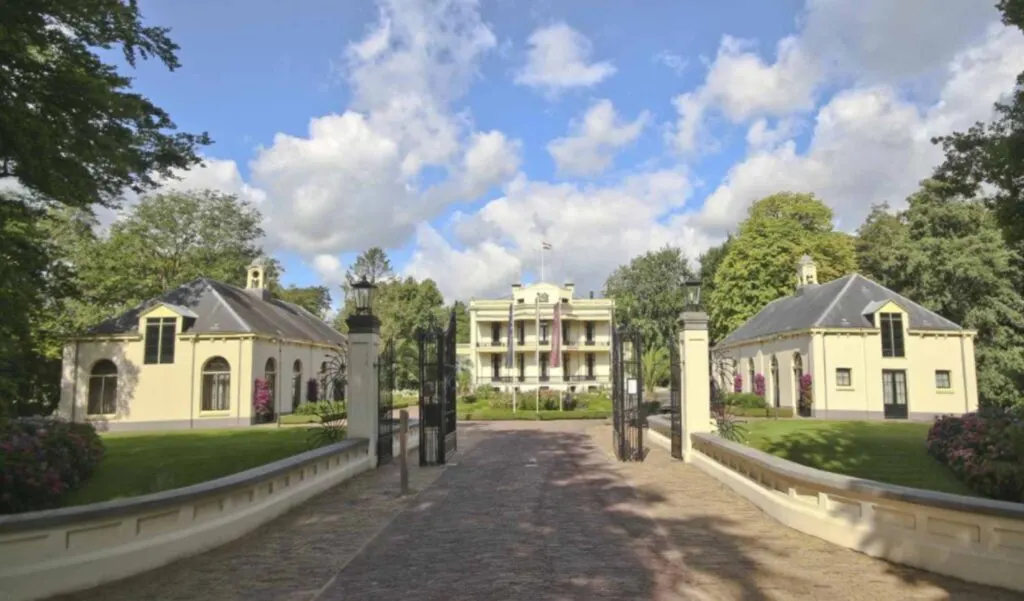 Kasteel De Vanenburg is a pristine 17th century estate with an enthralling beachfront view.
Surrounded by traditional French gardens, the beautiful Castle De Vanenburg offers comfortable accommodations for tourists looking for upscale relaxation.
The rooms are decorated in tranquil pastel tones with spacious showers and bathrooms.
Similarly, tourists can indulge in delicious local cuisine at the à la carte restaurant and indulge in several on-site activities.
Some of the significant attractions nearby the castle hotel include visiting Lake Nuldernauw and witnessing the war monuments in the vicinity.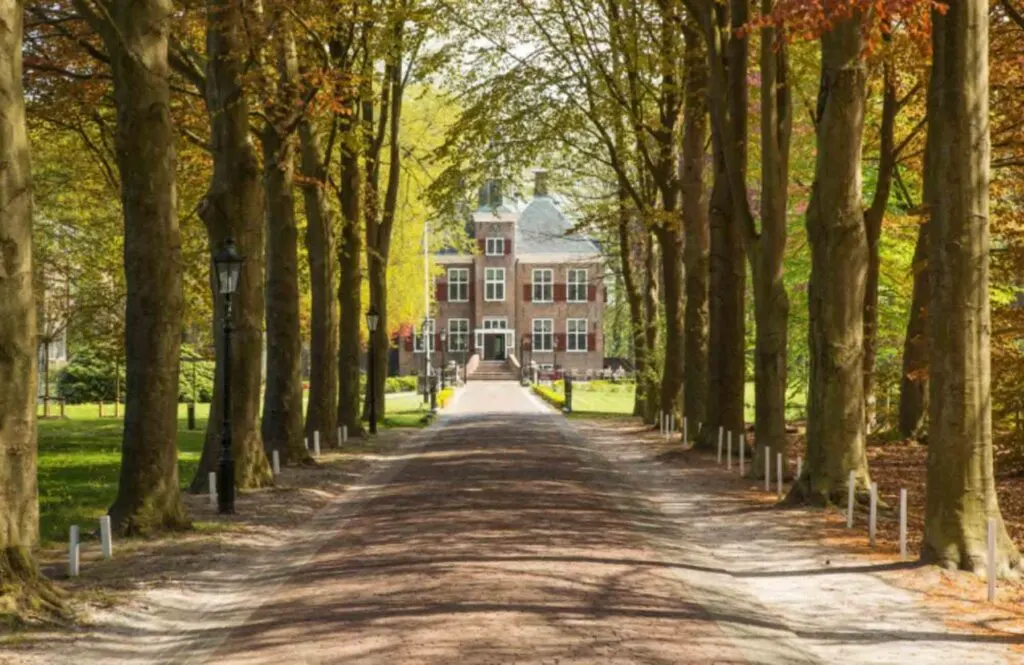 Castle De Essenburgh is a beautiful and modest redbrick castle in Hierden with affordable accommodation options.
While most castle hotel stays can cost you a fortune, Castle de Essenburgh has multiple accessible facilities to fit your budget.
As a guest at the medieval castle hotel, you'll get complimentary breakfast, parking, and a secure Wi-Fi connection during your stay.
Similarly, every room has complimentary drinks along with tea and coffee-making facilities to make for a truly relaxing holiday.
The most attractive aspects of this hotel are its wholesome home-cooked meals and the beautiful terrace gardens.
You can enjoy relaxing evenings with your loved ones on the terrace and click romantic photos to cherish later.
Furthermore, if you're looking to explore the towns nearby, Harderwijk and Elburg are a must-visit.
Additionally, you can go for some relaxing spa sessions at the Zwaluwhoeve, located within a 15-minute drive from the hotel.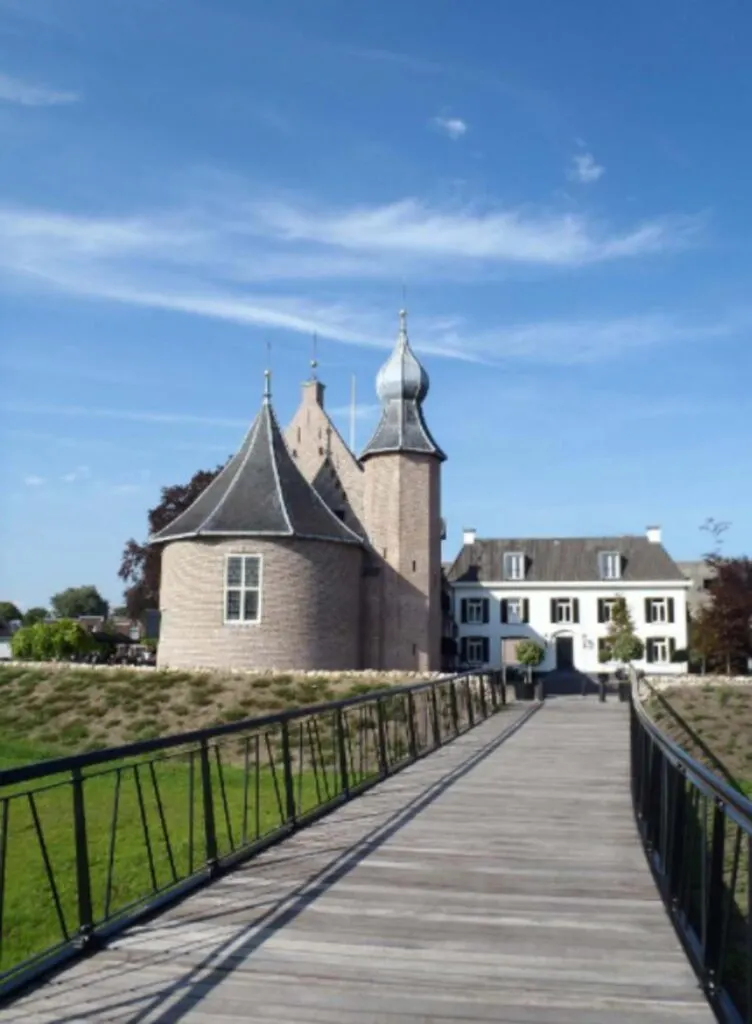 Castle Coevorden is one of the few castle hotels in the Netherlands located in the Drenthe province.
Unlike other parts of the country, there are limited castles available in this area. This makes it a go-to choice for tourists in the vicinity.
Apart from offering luxurious rooms with free Wi-Fi, Castle Coevorden also has a beautiful restaurant and bar to entertain visitors.
Tourists can experience the ethereal Dutch royal lifestyle reclining on the scenic castle terrace. Or, explore the Drenthe rural area around the hotel using rental bikes.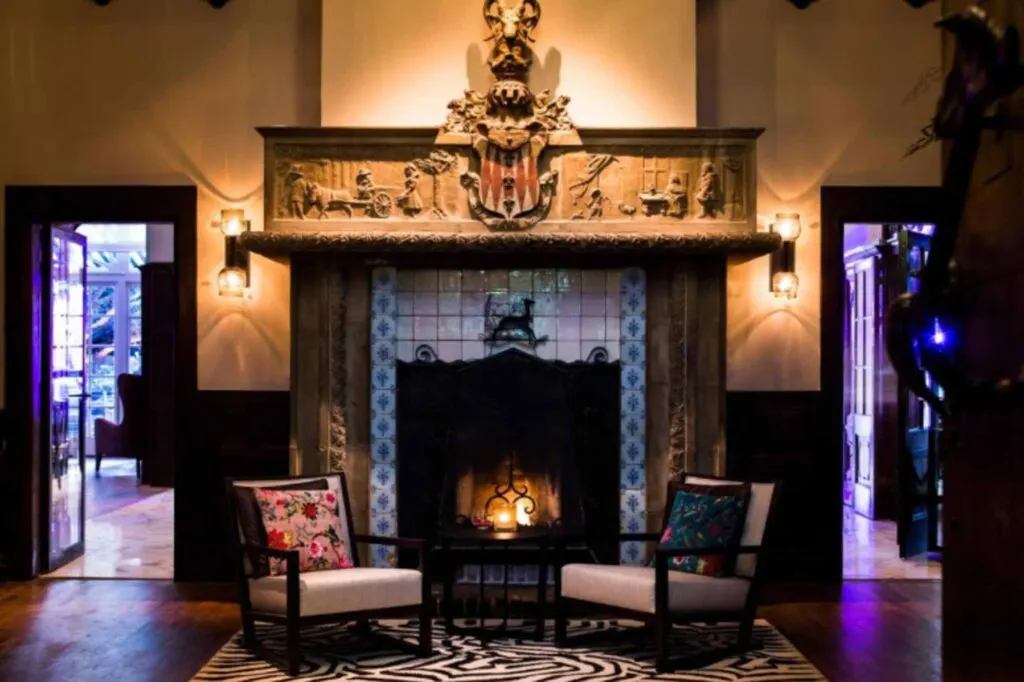 For those craving a wholesome amalgamation of modern and medieval architecture, Kasteel Kerckebosch is a sight to behold.
This historic 18th-century castle is one of the most magnificent architectural heritage in the Netherlands. Recently it was converted into a luxurious hotel for tourists.
Located near Utrecht, the castle offers relaxing accommodation combined with convenient access to numerous tourist attractions.
This means you can easily plan an extensive itinerary and never run out of things to do while staying at the Kerckebosch.
The comfortable rooms have free Wi-Fi, bath and shower amenities, flat-screen TVs, and coffee-making facilities.
Besides that, you have multiple options to choose from if you wish to grab a bite at the hotel.
Your choices include a rustic bistro serving fresh home-cooked meals, a fancy restaurant for date nights, and a bar for a quick bite with some drinks.
If you wish to spend some days in the castle vicinity, you can visit the luxurious terrace. Or, you can explore the lush gardens for an authentic historical experience.
Another attractive aspect is that you can book guided tours, rent bicycles, and even pack lunch for the day ahead from the hotel.
This way, you can enjoy exploring other significant cities while staying comfortably at the fairytale castle.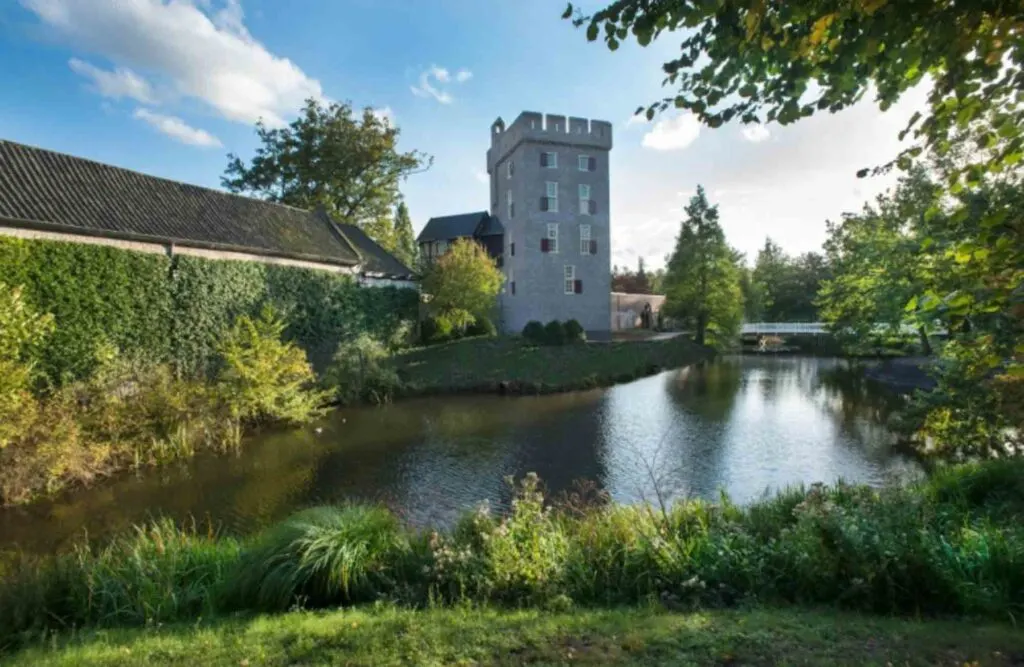 Tourists willing to spend on a high-end medieval hotel experience can enjoy a luxurious stay at Castle Daelenbroeck.
This 14th-century castle sits at the epitome of Dutch architecture straight out of a period movie scene.
Tourists can spend their days relaxing at the wellness center. Or, they can dine at the Burgundian in-house restaurant.
Similarly, there are many nature-oriented activities to conduct in Castle Daelenbroeck's surroundings. These include hiking, horse riding, canoeing, and biking.
Visitors looking for activities to keep their families occupied can also add nearby golf courses and the Meinweg National Park in their itineraries to visit during their stay.
Moreover, the castle hotel offers free Wi-Fi and breakfast and free parking for visitors throughout their stay.
Additionally, locals and foreigners can book the hotel's magnificent halls and terraces for weddings, parties, and other events.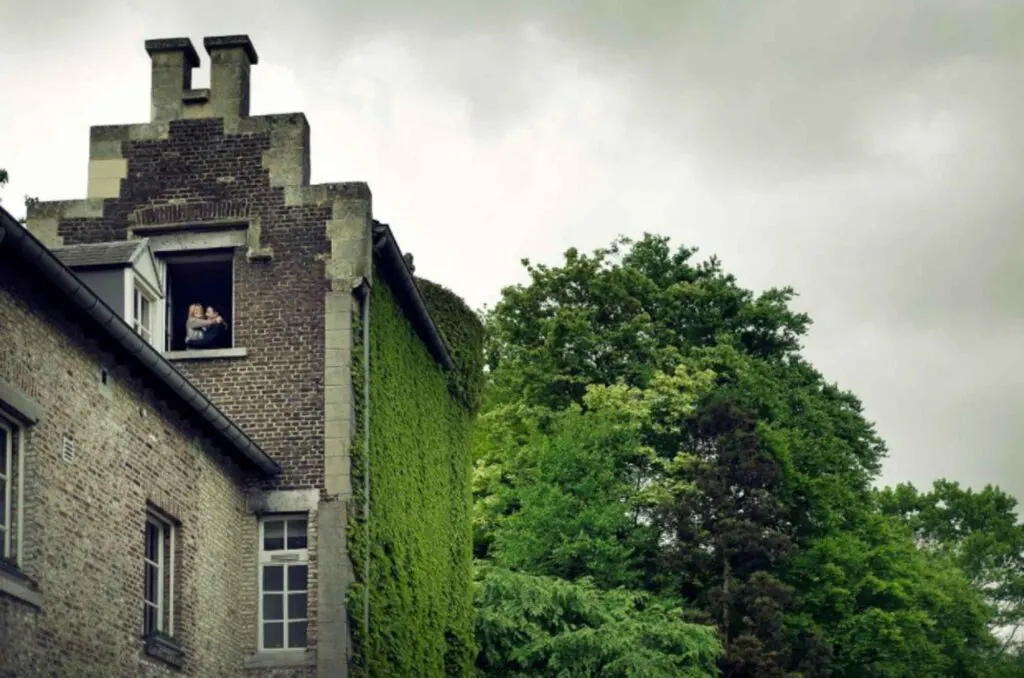 Located at a 20-minute drive from the central city Maastricht, Castle Elsloo is a majestic medieval estate surrounded by a rural setting.
The 16th-century castle offers a picturesque view combined with the perfect medieval experience for tourists to create cherishable memories.
At Castle Elsloo, visitors can book single and family-sized rooms. All options have luxury restrooms, showers, cable television, and free Wi-Fi.
Furthermore, the impeccably designed restaurant serves classic French dishes to rejuvenate the palate. Similarly, tourists can indulge in an assortment of high-quality wines and desserts.
Apart from picnicking in the countryside, visitors can conduct other physical activities to remain occupied during their stay. These include hiking, biking, and even playing tennis.
However, tourists will have to book the best rooms in the castle beforehand. That's because only a few offer all-encompassing views of the countryside.
Other Castle Hotels in the Netherlands Worth Checking Out
Amerongen Castle
Castle Duurstede
Kasteel Huis Doorn
Castle Maurick
Castle Van Rhoon
Wrapping Up on the Castle Hotels in the Netherlands
Historical locations, affordable nightly prices, and regal comfort, these Dutch castles are among the best European castle hotels.
Whether you're looking for a honeymoon suite for you and your significant other or simply a ridiculously comfortable stay, we're sure you won't run out of options in the Netherlands.
Author
Kyle Kroeger is a travel blogger for his site ViaTravelers.com. ViaTravelers is a modern travel blog providing the best tips, hacks, and itineraries to ensure you have a fantastic adventure. Follow us on Instagram, Pinterest, Facebook, and YouTube to get our latest travel updates in real-time.
Did you like this list of castle hotels in the Netherlands? Then share it with a dear friend who might enjoy it too!
Our best travel tips & resources:
Here're our all-time favorite travel tips & resources so that you can save money and plan your travel logistics hassle-free! For more travel resources, check out our
travel tips.
Saving money: Fly on offseason, winter (not Xmas or NYE), Tuesday, or Wednesday! According to experts, these are the cheapest days to fly.
Travel insurance: Before you leave for your trip, make sure you have a valid travel insurance policy because accidents happen on the road. We have been paying for Safety Wing travel insurance for a little over a year now, and we happily recommend them to our family and friends.
Accommodation: We usually stay in mid-range comfy hotels or private rooms in hostels. These are the sites we use to book accommodation: Booking.com for hotels (excellent flexible cancellation policy) and Hostelworld for hostels (low deposit and easy cancellation).
Tours:We absolutely love booking guided tours with locals to get a history lesson while sight-seeing, especially food tours and walking tours! We book all of our tours using Viator and GetYourGuide.
Transportation: We use Google Maps to figure out how to get around a place using public transport. When we book a rental car, we always use Discover Cars to find the best deal.