Sierra Nevada National Park is the most known national park in southern Spain and home to many of Spain's 3,000-meter peaks, including the highest peak on the Iberian Peninsula, Mulhacen.
The national park is also home to Europe's southernmost ski resort with slopes going down mainland Spain's 3rd highest peak, Pico de Veleta.
On top of that, it is surrounded by traditional, whitewashed Andalusian villages. There is no denying there are many things to do in Sierra Nevada National Park with so many incredible landscapes. After all, this is a unique travel destination.
Essential things to know before going to Sierra Nevada National Park, Spain
Always check the weather forecast before you head out on a hike. You can use eltiempo.es. If you plan to climb a peak, check the temperature at the start of the hike and the actual peak, so you know what clothes you will need.
Always bring layers of clothes if you are planning on staying in the outdoors, especially in winter.
Always bring the necessary hiking gear and accessories like a headlamp, water bottle, and trekking poles.
You need a permit to go wild camping, but there are many Refugios you can stay for free.
Always tell someone where you plan to go and when you plan on returning, no matter what activity you do.
Leave no trace. This includes organic food waste as it will create an unbalance in the ecosystem if animals eat what is not naturally in their diet.
Do not try to pet or feed wildlife. When you observe animals, be quiet and try not to disturb them.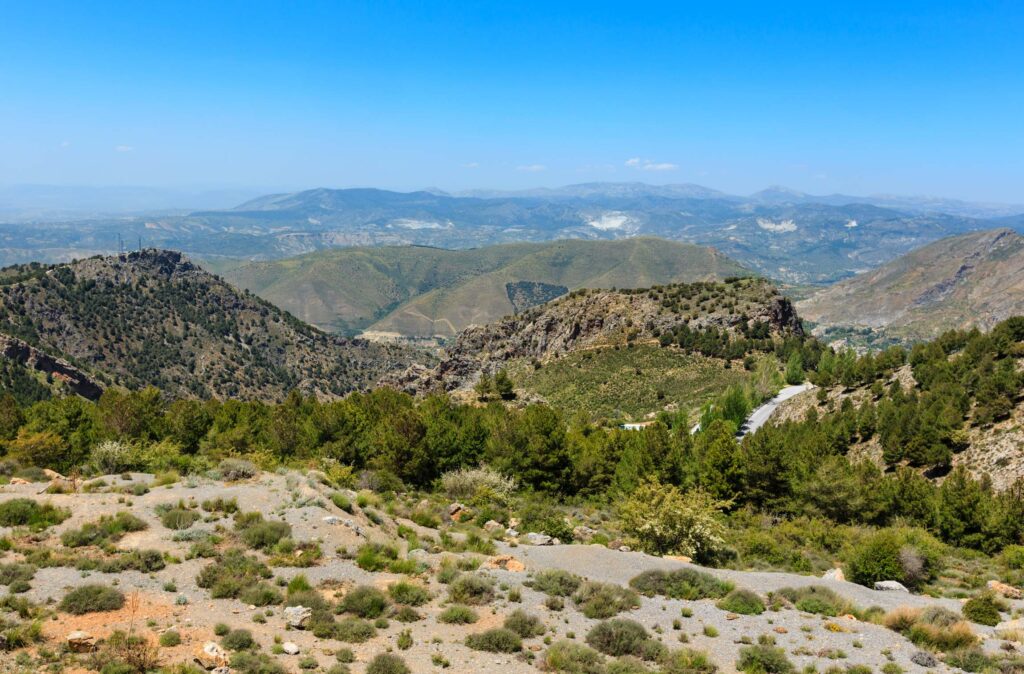 How to get to the Sierra Nevada National Park in Spain
Sierra Nevada National Park covers nearly 86 000 hectares plus another 90 000 hectares of the natural park across Granada and Almeria provinces.
The latter, not so commonly known, though the highest mountain in Almeria, El Chullo peak, is actually situated in the national park.
With this size, there are many entry points to the protected area. Still, the most common places are through Granada city, Sierra Nevada (the village), Monachil, Capileira, Trevelez, and Puerto de la Ragua.
The closest airport is Granada airport, but you can quickly fly to Almeria airport too. Malaga airport is only about an hour and a half from the park too.
Where to stay around Sierra Nevada, Spain
There are many different places to stay around Sierra Nevada National Park, depending on where you plan to go.
Granada city is trendy, as it is jam-packed with restaurants, bars, culture, and history and a short drive from Sierra Nevada ski resort, which is popular in winter for skiing and in summer for hiking.
Sierra Nevada's village is a great place to stay for skiing and hiking trails right at your doorstep. Capileira and Trevelez are cute white villages with the national park at their doorstep, with top hikes like Mulhacen easily accessible.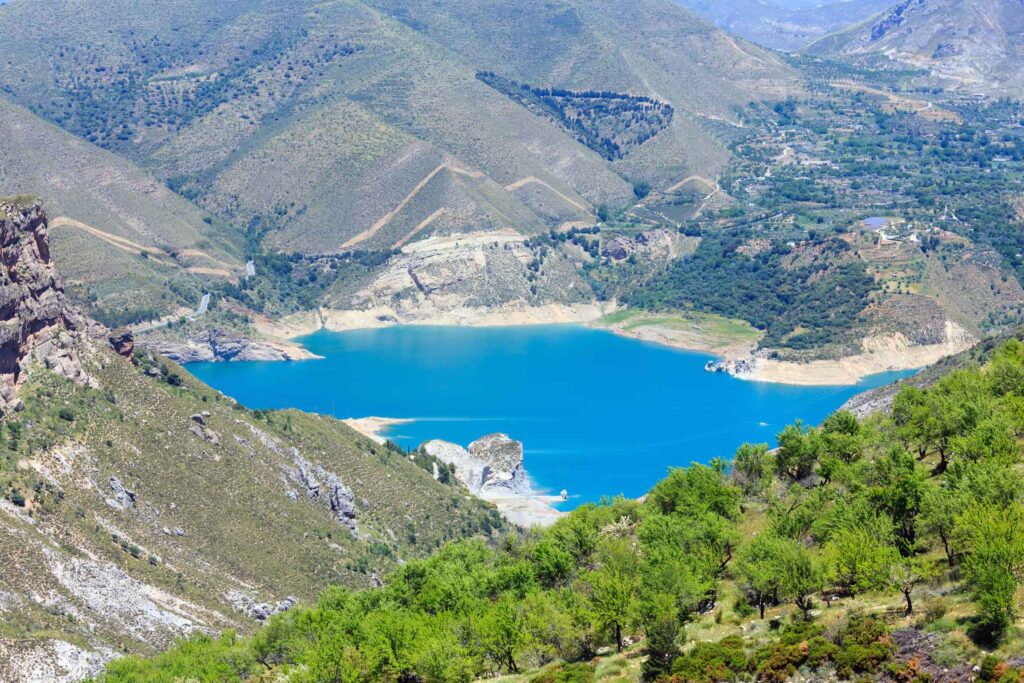 How to get around the Sierra Nevada in Spain
The best way to get around Sierra Nevada National Park is by car, as the public transport to most places is insufficient.
You can get a rental car directly from the airport in Granada, Malaga, or Almeria. But there are a few buses that can get you between Granada and Capileira, and Granada and Sierra Nevada (the village).
Best time to visit Sierra Nevada National Park
Sierra Nevada National Park can be visited all year round, offering different activities at different times a year depending on where in the park you go.
There are hiking routes best explored in autumn, winter, and spring; others, like the 3,000-meter peaks must be explored in the summer months.
Then you have the ski resorts that are open in the winter months. Climbing, trail running, and cycling can be enjoyed all year round, depending on where in the park you go.
Best things to do in Sierra Nevada National Park
There are endless things to do in Sierra Nevada National Park all year round, and here are some of the best activities.
1. Take the ski lift to Pico Veleta in summer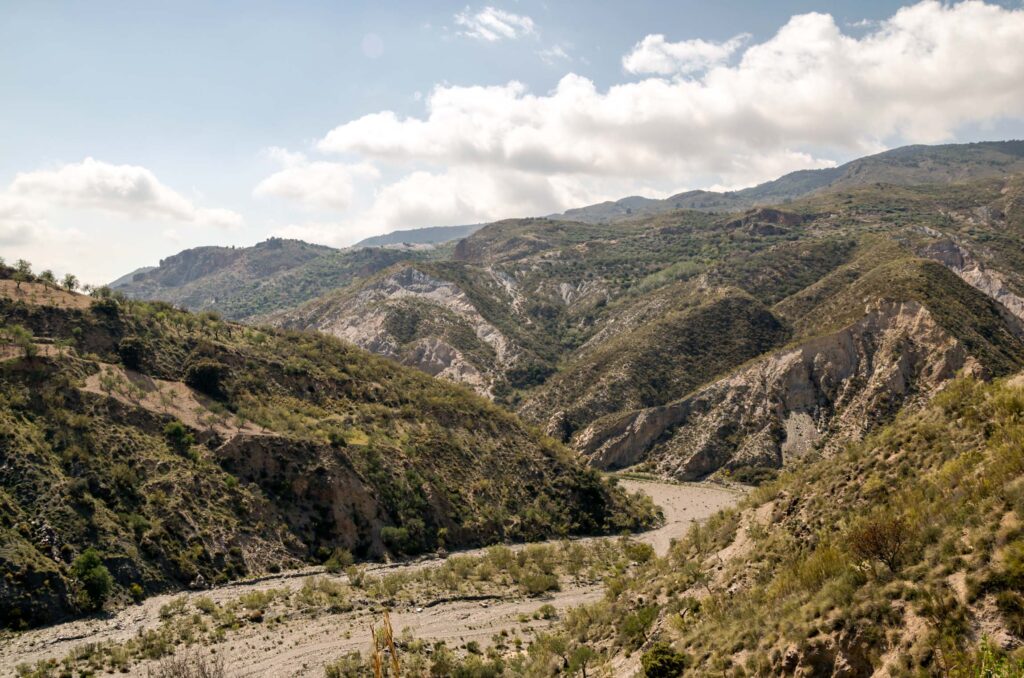 Pico Veleta is the second highest peak in the Sierra Nevada, Spain, and the third-highest in mainland Spain with its 3398 meters of altitude.
In the winter months, this mountain is where the ski slopes run, but in the summer months, it is possible to take the ski lifts almost up to the top of the peak. The views are astounding!
You can see the nearby Mulhacen, the highest mountain in the national park, and on the Iberian Peninsula. You can actually hike there in only a few hours. You can also see the Mediterranean, and on a clear day, you can see all the way to Morocco in Africa from the Veleta peak.
If you want to conquer the peak on foot, you can walk from Hoya de la Mora and back in 4-6 hours.
2. Hike Ruta de los Cahorros from Monachil
Ruta de Los Cahorros in Monachil, a village just 20 minutes from Granada, is probably the most fun hiking adventure for the whole family in Sierra Nevada, Spain.
The trail is only an 8-kilometer round trip through a gorge with multiple hanging bridges, waterfalls, and waterholes.
You also come across places where rock walls come out above the trail, so you will have to crawl under it or hold on to the metal handles in the mountain to get around it. It is a lot of fun, but it can be a bit too much if you have severe vertigo.
There are no areas where you have to swim to get through this route, and We recommend avoiding the summer months unless you stick to the river and make it a swimming day out.
Otherwise, it will get too hot. This hike is ideal in spring, autumn, and winter, as the last part goes above the ravine and continues on a dirt road that is completely exposed to the sun. So make sure you bring enough water.
3. Go skiing Europe's southernmost ski resort in winter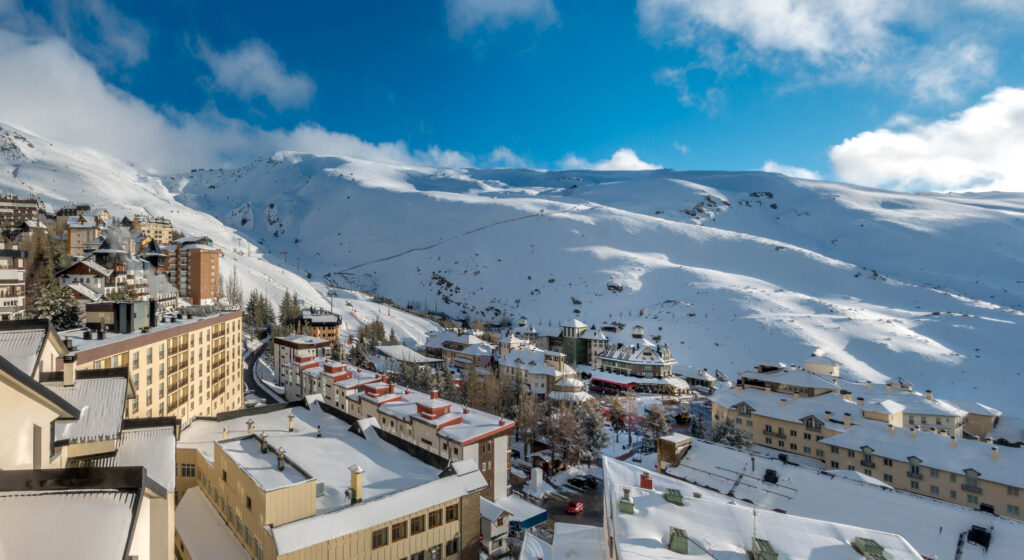 Sierra Nevada Ski Resort is Europe's southernmost ski resort and has a lengthy opening period starting in November and often ending as late as April. There are slopes for all levels, and the highest ski lift goes to around 3,000 meters of altitude, nearly at the top of Pico Veleta.
In Sierra Nevada (the village), you can rent equipment and book skiing or snowboard lessons.
At the top of the first ski lift that takes you up to the slopes, there is a restaurant and bar where you can enjoy the beautiful Andalusian winter sun and mesmerizing views. It is also possible to ski all the way back down to the village.
4. Hike the highest peak on the Iberian Peninsula in a day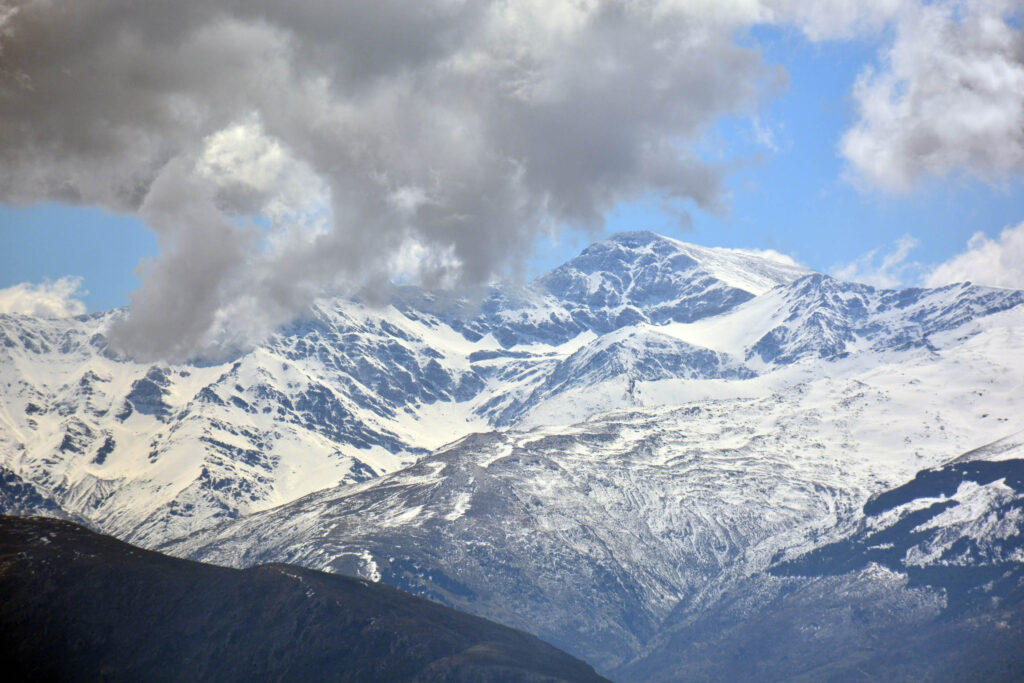 Mulhacen (3,479 meters above sea level) is the highest peak on the Iberian Peninsula and the second highest in Spain after Mount Teide in Tenerife.
Despite its altitude, it is, believe it or not, possible to hike this peak in only a day by taking a park bus from Capileira to Mirador de Trevelez at an altitude of 2,700 meters.
This is higher than private vehicles can drive, so the only way to make this a one day hike is by booking the shuttle bus in advance at the Capileira tourist office.
The bus will pick you up precisely 6 hours after drop-off, which gives you an excellent time to hike to the top, enjoy the views, eat your lunch, snap a heap of photos, say hello to some mountain goats, and walk back down again.
Many other hiking routes take you up to Mulhacen too. But these are best done as two-day treks. Alternatives are hiking from Trevelez, from Hoya de la Mora to Pico Veleta, and continue to Mulhacen, from Hoya del Portillo (the highest point where you can take a private car from Capileira), or from Capileira itself.
There are Refugios you can stay at for the night if you make it a multi-day trek. Hiking Mulhacen should be done in the summer months and early autumn.
Suppose you really want to hike Mulhacen in winter. In that case, you should hire a guide that is familiar with the mountain and assure you have the necessary equipment.
5. Hike the highest peak in Almeria province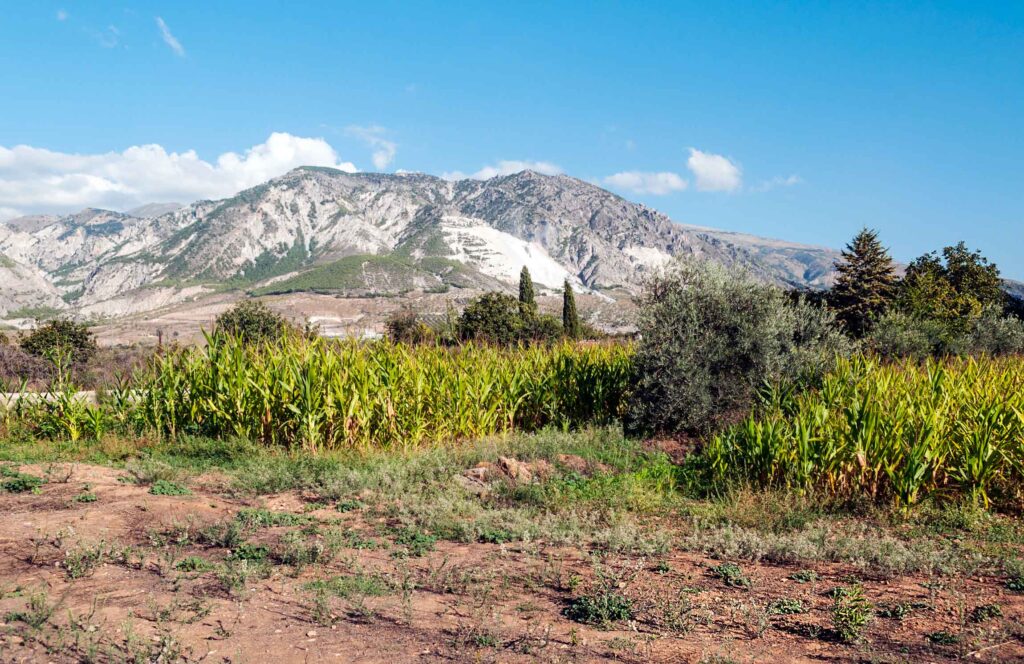 The lesser-known peak of El Chullo is Almeria's highest peak and is situated in Sierra Nevada National Park.
The trail starts at Puerto de la Ragua, located at 2,000 meters of altitude, making the hike an easy one considering it leads to a peak at 2,613 meters above sea level.
The path is easy to follow the whole way from behind the structure at the parking lot, and once you are past the tiny pine forest, you have the peak at sight the rest of the way.
You'll be surrounded by open landscape the whole way, with astounding views behind you all the time and the 3,000-meter peaks of Sierra Nevada to your right.
Also, it is easy to spot mountain goats on the way. The top of El Chullo boasts incredible 360 views, and you can even see Mulhacen from there.
There is a circular route taking you past the Lago Seco (dry lake). But you can also return the same way down, which makes this a 4-6 hour hike. Because of the easy trail and no drops or challenging parts, this trail can even be done in the winter months with snow.
6. Go cross country skiing at Puerto de la Ragua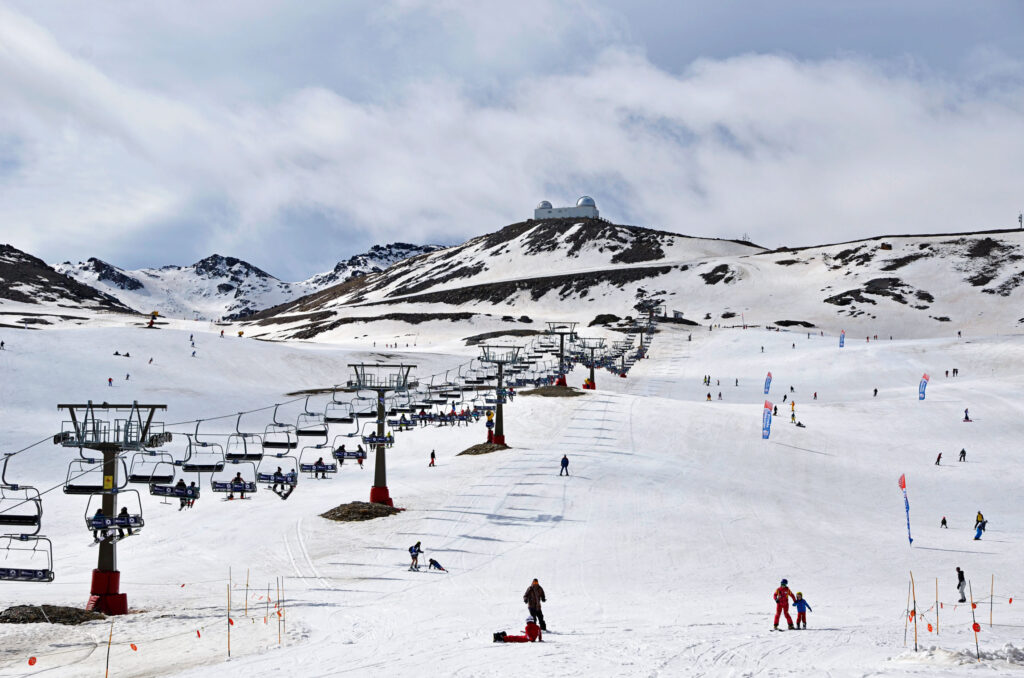 In the winter months, Puerto de la Ragua is where the cross country skiing in the Sierra Nevada happens.
With 15 kilometers of cross country skiing tracks, this is a beautiful activity to do in Sierra Nevada National Park.
You can rent cross country skis, boots, and poles there and have a wonderful day out in nature with incredible views. The skiing season is generally between January to March, and there are up to 7 tracks depending on the snow.
7. Go rock climbing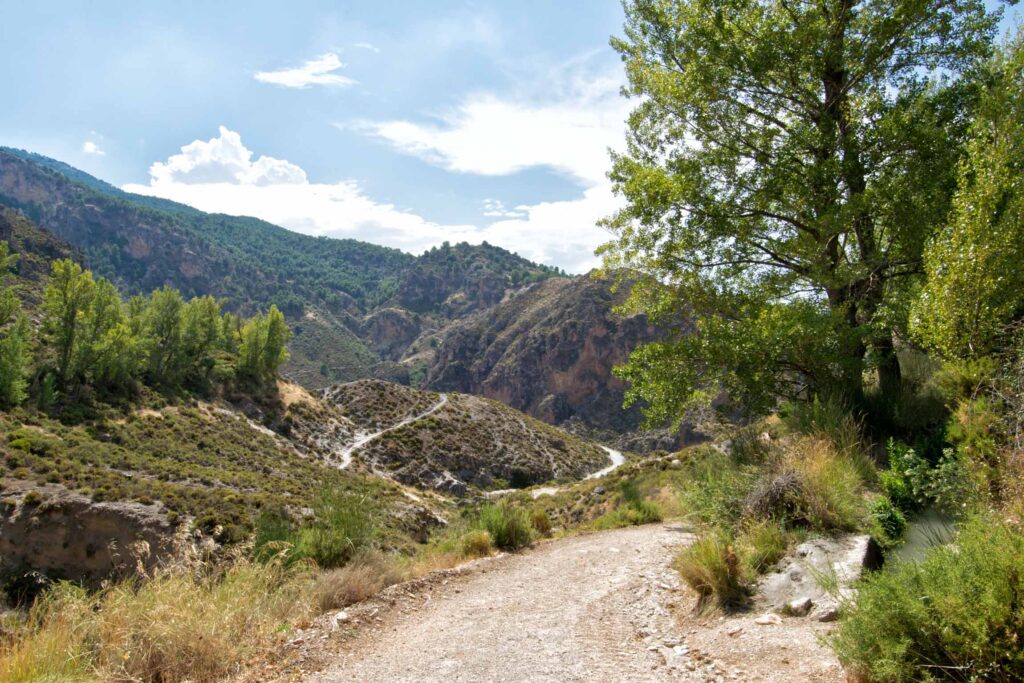 Sierra Nevada National Park is a popular rock climbing destination where rock climbers enjoy great rock walls awaiting exploration.
There are endless opportunities for beginners and experienced climbers and many opportunities to take rock climbing courses and rent equipment if you do not have your own.
Along Los Cahorros trail in Monachil, there are a few great spots for rock climbing but also in Capileira, Alfacar, Loja, and Los Vados, among many other places. The whole Sierra Nevada region has more than 2000 climbing routes for different levels.
8. Go cycling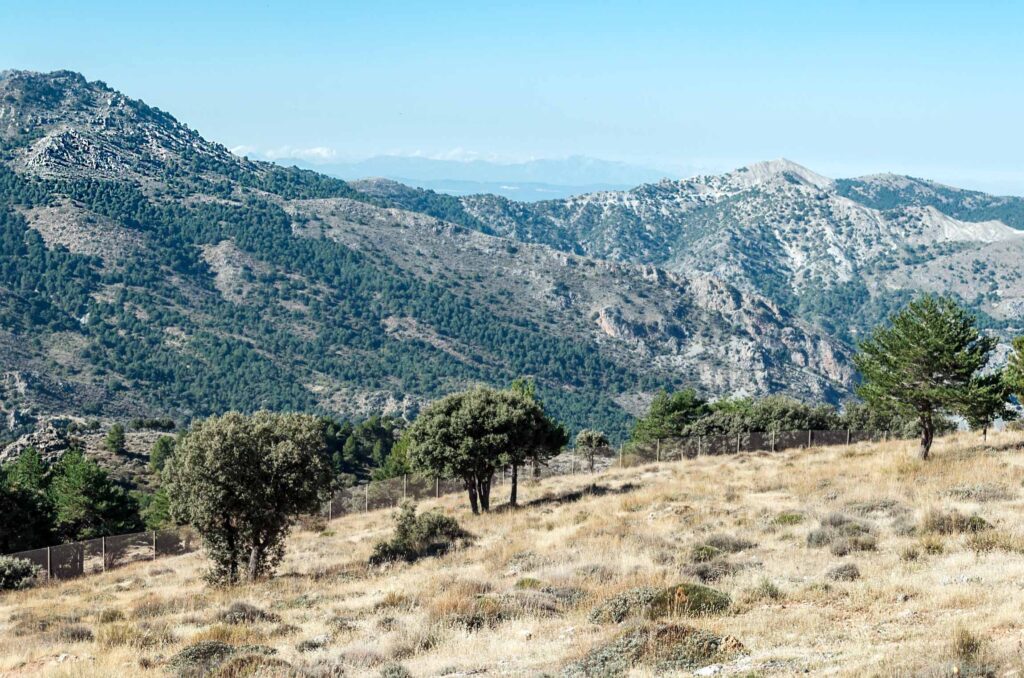 The narrow mountain roads crisscrossing Sierra Nevada National Park make the perfect cycling network, whether it is on the paved roads or the high mountain dirt roads.
Cycling in the Sierra Nevada is a popular sport, and there is no wonder why when you see the impressive views from these roads.
You can pretty much take your bike anywhere, and in summer, you can even get to Veleta without any problems. There are also biking trails between Veleta and Mulhacen and possibilities to reach the park's top.
In the winter months, the lower Sierra Nevada, where there is no snow, is perfect for cycling.
9. Do a multi-day trek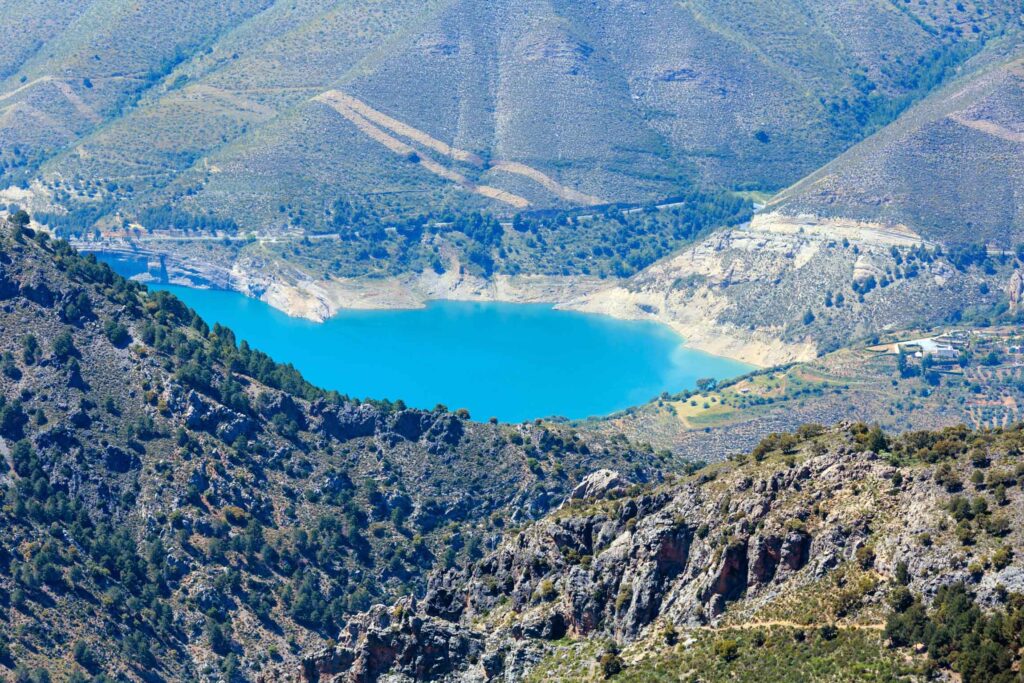 Sierra Nevada National Park is perfect for doing multi-day treks over the high mountain in the summer months.
There are many Refugios, simple stone structures, where you can spend the night for free, or you can pay for a bed at places like Refugio de Poqueira that also serve food and drinks in the restaurant.
In Spain, it is not allowed to wild camp. Still, if you ask for permission, you can set up a tent just before sunset and take it down right after sunrise as long as it is part of what the Spanish call "travesía de montaña," which translates to mountain crossing.
This permit has to be given by the National Park authorities and brought on the hike.
Final thoughts on visiting Sierra Nevada National Park
Visiting Sierra Nevada National Park is one of the best things to do in Andalusia as there are so many different things to enjoy for anyone both in summer and winter.
The above mentioned activities are just a handful of what you can enjoy all year round. Make sure you leave no trace and respect the high mountains.
Spending time in nature and the mountain villages are so underrated when people travel to Spain. But the country has so much more to offer than beaches and cheap drinks.
Author
Linn Haglund is an avid traveler from Norway that has spent most of her life abroad, living more than 8 years in Andalucía. Her passion for hiking made her realize just how hard it can be to find the information you need about hikes in Andalucía. This led her to create the destination blog Andalucía Hiking, a hiking resource in this incredible corner of Spain.
Did you enjoy this article about Sierra Nevada in Spain? Then share it with a friend who might like it too!
Our best travel tips & resources:
Here're our all-time favorite travel tips & resources so that you can save money and plan your travel logistics hassle-free! For more travel resources, check out our
travel tips.
Saving money: Fly on offseason, winter (not Xmas or NYE), Tuesday, or Wednesday! According to experts, these are the cheapest days to fly.
Travel insurance: Before you leave for your trip, make sure you have a valid travel insurance policy because accidents happen on the road. We have been paying for Safety Wing travel insurance for a little over a year now, and we happily recommend them to our family and friends.
Accommodation: We usually stay in mid-range comfy hotels or private rooms in hostels. These are the sites we use to book accommodation: Booking.com for hotels (excellent flexible cancellation policy) and Hostelworld for hostels (low deposit and easy cancellation).
Tours:We absolutely love booking guided tours with locals to get a history lesson while sight-seeing, especially food tours and walking tours! We book all of our tours using Viator and GetYourGuide.
Transportation: We use Google Maps to figure out how to get around a place using public transport. When we book a rental car, we always use Discover Cars to find the best deal.