Go back in time while discovering the best attractions of Dublin through its lovely cobbled streets. This small city has a huge selection of good pubs and historic sites that won't disappoint you. So, to help you explore Ireland's capital, I've put together a list of the best things to do in 2 days in Dublin, as well as some day trips.
Dublin is a lively city that breathes culture and beautiful architecture. Among castles and medieval constructions, Dublin's pubs take the scene and offer an authentic Irish experience. The city is one of the friendliest places I've been in Europe and I honestly can't wait to go back. As I wrote this post I got a bit nostalgic and couldn't avoid but to check plane ticket prices.
Hey, looking for more tips for your next trip to Ireland? Check out our post below.
Dublin to Cliffs of Moher Day Trip
Day Trip from Dublin to Kilkenny and Glendalough
Dublin Ireland Itinerary – How Many Days in Dublin
Many readers ask me how long to spend in Dublin and the truth is: a whole life wouldn't be enough. OK, I admit I'm poetic today. Anyway, the practical answer would be 2 full days because, as I said, the city is small and most of the attractions are within a walk distance from each other. For that reason, I'll tell you in this article what to see in Dublin, Ireland, in 2 days. No more, no less. Just kidding. My heart is too soft for that!
Dublin Itinerary 3 Days
You could easily spend 3 perfect days in Dublin by following this carefully written itinerary and hopping on a hop on hop off Dublin bus on your 3rd day. Or maybe you could visit some of the museums I list here and ending your stay in a cozy and very green Irish-ish pub. That's what I'd do.
2 Days in Dublin
Day 1
Christ Church Cathedral
Most cities have one cathedral, but not this one. Dublin is different. The city has two cathedrals and both of them are breathtaking! Christ Church is not as large as St. Patrick's, however, it's a century older. The original wooden church dates back to the 11th-century, to be more precise, and a century later the stone church was finished.
The Gothic/ Romanesque cathedral has a shine tiled floor full of patterns and different colors. Also, the crypt is a must-see!
Fun fact: Saint Laurence O'Toole's heart was kept in the cathedral's chapel until 2012 when a thief decided to stole it. Just the heart. The culprit totally ignored the golden artifacts next to it and stole an 800 years old heart. Creepy. Anyway, the police recovered it in April 2018 in Phoenix Park.
Dublin Castle
Since we're talking about medieval places, let's jump to Dublin Castle. This 13h-century complex was the seat of the United Kingdom's government in Ireland until 1922 when the country conquered its independence. Today, it's used by the Irish government, but you can perfectly visit it or take a guided tour.
Fun fact: Bram Stoker, author of Dracula, worked here for several years.
Hot tip: you can get free entrance or a good discount for plenty of Dublin's main attractions and access to a Hop On Hop Off bus by purchasing the Dublin Pass.
St. Patrick's Cathedral
Meet the largest and tallest church in Ireland. This gothic cathedral dates back to the 12th-century, just a bit younger than the Christ Church Cathedral, but I can assure you it is a very well conserved and charming place.
Most of the statues and historic items are not properly signed, but there are also printed material, so you can read a bit more about the church. St Patrick's Cathedral brought me back in time because of its Victorian decoration and highly detailed construction. I particularly like the door frames like the ones in the photo below.
Hot tip: The light inside is very low so you'll need a tripod if you want to photograph it. Just don't use flash and remember not to make any loud noises.
St Stephen's Green
The perfect place to have lunch or a coffee. Grab a sandwich and go to this calm and pleasant park, while you observe the swans and ducks in the lake. St. Stephen's Green has a good collection of monuments and statues celebrating Dublin, such as the Fusiliers' Arch, a monument dedicated to the men who fought and died in the Second Boer War.
Every time I went to this park I saw many people jogging, feeding the animals, or kids playing around. The atmosphere is really great, you shouldn't miss it!
Walk up the Grafton Street, the most famous shopping street in Dublin, towards the statue of Molly Mallone.
Molly Malone Statue
Maybe you have heard the famous Irish song about Molly Malone, a fishmonger who died of a fever and now her ghost haunts the streets of Dublin. This unofficial anthem of Dublin is so famous that in 1988 a statue of Molly Mallone was built as part of the city millennium's celebrations.
Where is Molly Mallone? Next to the St. Andrews Church, at the corner of the St Andrews Street and Suffolk Street.
Fun fact: It's said that if you rub your hands in her breasts, it brings you luck. Well, I think it's worth trying, right?
After you've rubbed your hands on her boobs, head to my favorite place in the city, the Trinity College Library.
St Stephen' Green
Molly Malone
The Book of Kells and Trinity College Dublin Library
Dublin is home to many gorgeous libraries, but my favorite one is the Trinity College Library. This gem is an impressive place where you'll forget about time as you walk into the past.
It's true. Close your eyes and imagine a…ops, don't close your eyes, keep reading. So, imagine a mystical long room with a high ceiling, which its dark shelves are covered with old books (over 200,000 of the oldest books in the library), and decorated with 14 busts. I felt like I was walking through a movie scene and I bet you'll feel the same too. By the way, the Harry Potter library was inspired by this one! This room is called "The Old Room". Very creative.
"Turning darkness into light", the Library's permanent exhibition, showcases Irish manuscripts and the oldest book in the world. Have you ever heard of the Book of Kells? These famous manuscripts are kept here; however, you'll only be able to see 2 pages of it during your visit. Why? Because the book is very old, and they want to cause as little damage as possible to it. However, they do turn the pages every now and then.
Just for clarification, the Book of Kells dates back to the 9th-century. This is an exceptional manuscript in Latin, containing the four Gospels of the New Testament (Matthew, Mark, Luke, and John) together with various prefatory texts and tables.
Irish Whiskey Museum
Your journey to the Irish history is not done yet! Take a guided tour of the Irish Whiskey Museum with enthusiastic and knowledgeable guides to learn a lot about their whiskey as well as discover new brands, and the most important part, to taste it!
The tour is very interactive, and the guides are just awesome (I love Irish people. They're so friendly!). And depending on the tour you take, you can even blend your own whiskey.
The museum has a strategical location next to the Trinity College. Right in the heart of Dublin city.
Dublin Pubs
You have probably heard about the Temple Bar and I'm sure it's a very fun pub, but because it's so packed with tourists I prefer to try other places. So, I'll give you some options in the city center (around the same price as the Temple Bar, but a little less touristy) and other options a little further away.
Pubs in the city center: Long Hall, a fancy mirrored pub and one of the oldest in the city, The Peadar Kearney's, reasonable prices compared to the Temple Bar, good mix between locals/ tourists, great atmosphere, and live music, The Palace Bar, a traditional place with a lovely facade, and the Chaplins Bar, it has an authentic Irish look and you pay a decent price for a pint.
Pubs outside city center: McNeills Pub, definitely not so touristy and has good pints. The 51 Bar has delicious bites, beer, and ambiance. McGowans, lively pub with the best chicken wings of the city.
Day 2
Dublin's Doors
Kick off your second day searching for the colorful doors of Dublin. Back in the 18th-century, the landowners built many terraced houses (a row of identical houses next to each other), characteristic of the Georgian time. Later on, the locals decided to set their homes apart by painting their doors with very bright and gorgeous colors. However, there are many interesting legends about how it started.
You can spot them around the city, but the best places are the Leeson Street, Merrion Square, Baggot Street (close to the Fitzwilliam Street Upper), and around the Fitzwilliam Square.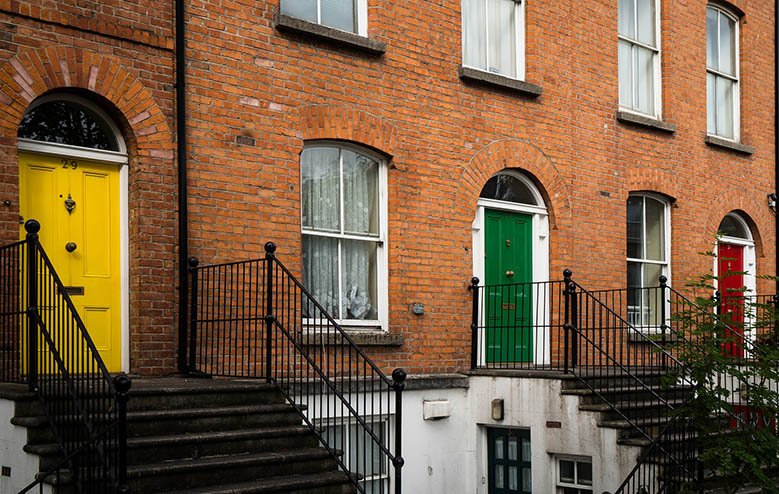 Kilmainham Gaol Prison
Not such an obvious attraction, but still very interesting. This former prison is now a museum where you can learn about the stories of many people who were imprisoned and executed here, as well as see their cells, the chapel, etc.
The prisoners were kept in very poor conditions, especially women. On top of that, there was no segregation of men, women, or children at first. A horrifying place. The Kilmainham Gaol prison is what we call a dark tourism site and here goes one of my best travel tips I sincerely hope you don't really need to hear: be respectful. People, like you and me, died in this place.
Anyway, our thoughtful guide showed this prison to us in a very respectful way and proposed interesting questions, so we could imagine how those people's lives were like. This is without doubts a moving place to visit.
Guinness Storehouse
I wouldn't feel like I had visited Dublin if I hadn't visited this place. Guinness is one of the most famous beers in the world, a very tasty one too, so it goes without saying that this is a must-see and must-drink!
This is a self-guided tour, so you'll make it all at your own pace instead of following a group. You can ask for an audio guide, though. There are 7 floors of Irish history, science, and beer to learn about the story of Guinness.
They offer a "Perfect Pint" class for €5,50 and yes, you get to drink the beer as well. Reserve 2-3 hours for the visit and the bar on the top floor.
Hot tip: The ticket to the Guinness tour includes a pint. My advice? Save your beer voucher for the Gravity Bar and have an amazing view of Dublin. 
Old Jameson Distillery Bow St.
I know it looks like you came to Dublin to only drink, but this brand whiskey is one of the most famous in the world, and again, one of the best too. If you want to skip it, I totally respect your opinion, but I think this is a must of Dublin (There are so many, right?!). The Irish Whiskey Museum I mentioned above is a non-brand museum, so you learn about several brands there, this tour is in the Jameson Distillery, thus only Jameson.
This is a very informative tour using multimedia tools that explain the flavors, smells, etc of whiskey. It's followed by some whiskey tasting and a drink at JJ's Bar.
If you have time left…
National Leprechaun Museum
Have a nosedive into the Irish folklore and mythology in the Leprechaun Museum. If you like funny stories, you've found the perfect place to hear them. I'd say this is not really a museum, but a lively "storytelling experience".
The following 3 museums are branches of the National Museum of Ireland, so the entrance is free. No reason to not visit them if you have some time left or if the weather is bad.
National Museum of Ireland – Archeology
Home to countless Irish objects of different ages, but it also has some displays from Egypt, Cyprus, and the Roman world.
National Museum of Ireland – Decorative Arts and History
The museum is home to a wide range of Irish objects such as coins, silverware, furniture, weaponry, costumes, and folklore items.
National Museum of Ireland – Natural History
Often referred to as the Dead Zoo, this museum has a unique collection of animals, from tiny insects to huge giraffes.
Day trips from Dublin
The Irish capital is a vibrant city full of cool pubs and interesting places, but I wanted to see more of the country. So after spending two days in Dublin, I decided to go on a day trip from Dublin to the Cliffs of Moher and I can't stress enough how amazing that experience was! I have never seen such a natural beauty like that one.
1 – Cliffs of Moher tour – This tour was amazing, so make time to see this place. You won't regret it!
These are 14km (8.7mi) of breathtaking cliffs on the Atlantic Ocean. The highest part reaches 214m (702ft) and while I was there the wind was blowing so hard that I could feel the water on my face! Yes, I was 200m above the water and I could still feel it. So, watch out for the edges!
To read how to get to the Cliffs of Moher from Dublin, read this detailed post I wrote.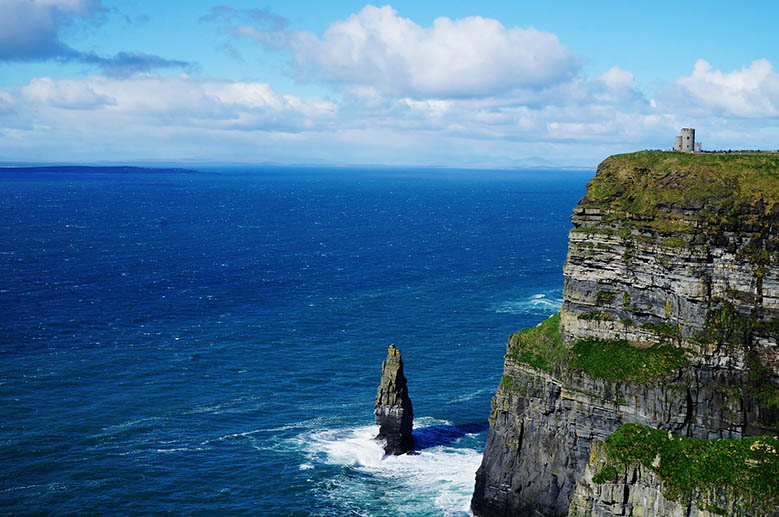 2 – Kilkenny – A gorgeous medieval town in southeast Ireland. Kilkenny's main attractions are churches, abbeys, and cathedrals because the city has deep religious roots.
Highlights in Kilkenny: Kilkenny Castle, St. Canice's Cathedral, Black Abbey, Jerpoint Abbey Ruins, St. Mary's Cathedral, Rothe House, and Smithwick's Experience.
3 – Galway – This is a harbor city on Ireland's West Coast where you can experience the best of the Irish culture. Definitely worth a visit!
Highlights of Galway: Cathedral of Our Lady Assumed into Heaven and St. Nicholas, Quay Street, Galway City Museum, Eyre Square, Galway's Latin Quarter, Kirwan's Lane, The Medieval City's Walls, and the Spanish Arch.
4 – Belfast – Capital of Northern Ireland, the city is the economic engine of the country and it is full of historic and cultural places. On top of that, Belfast is very close to the Giant's Causeway and many Game of Thrones locations.
Highlights of Belfast: Titanic Belfast, St. George's Market, Belfast City Hall, Crumlin Road Gaol, and Belfast Castle.
Pssst: Are you planning a longer trip to Ireland? Check out this 10-day itinerary in Ireland.
5 – Giant's Causeway – A UNESCO World Heritage Site in Northern Ireland, actually the only one, the Giant's Causeway is an area with basalt columns formed by a volcanic eruption.
Road trips in Ireland are very famous because of the country's beautiful landscapes, so if you enjoy this kind of trip the route from Dublin to the Causeway is a must!
Roxanna, a fellow blogger, wrote a photo tour post about this place, take a look! 
Where to stay in Dublin?
I stayed at the Abigail's hostel in a 10-bed mixed room because my budget was low, and I don't regret it. Totally recommend this place! The beds were equipped with USB ports, plugs, and lamps. The room was clean, even though there were 10 people sleeping there, and I can say the same for the bathroom. On top of that, there is free breakfast and the location is perfect! Right in the center!
Check out this selection of interesting tours that will show you more about Ireland:
Dublin is one of those cities you'll always want to go back to and enjoy the place a little bit more. So, what are your plans for this lively city? Would you add something to this list?
Did you like this post? Then help me spread the word and pin this post to your Pinterest Travel Board!


Disclaimer: Please note that some of the links above are affiliate links. If you make a purchase I'll receive a small commission for it, at no extra cost to you. If you have any questions about the companies or my status as an affiliate, please don't hesitate to contact me via e-mail.