Have you ever wondered what the castle of the most famous vampire in the world is like?
Actually, I had no idea what to expect, but this day trip exceeded any expectations I could possibly have.
At first, I wasn't even planning to go on this tour because I was short on money, so I wanted to spend as little as possible. But since I had seen everything in Bucharest already, I bought a last-minute ticket for the famous Bran Castle Tour. Do I regret it?
Nope! Thousand times no!
The Transylvania region is one of the most beautiful places in Europe I have seen so far, and this was really a magical day. Besides all the things I learned about Romania and Dracula, of course.
If you are looking for day trips from Bucharest, this is the best one you could find!
Check out the tour: Dracula's Castle Full-Day Tour From Bucharest
Bran Castle Tour
My guide for the day was Mary. She speaks English very well and definitely has a lot of knowledge about her country to share with the group. I definitely learned a lot about Romania and Bucharest that day.
Our day started at 8 am at the National Theatre. That's where we agreed the minibus would pick me up. It was just a block away from my hotel, so perfect!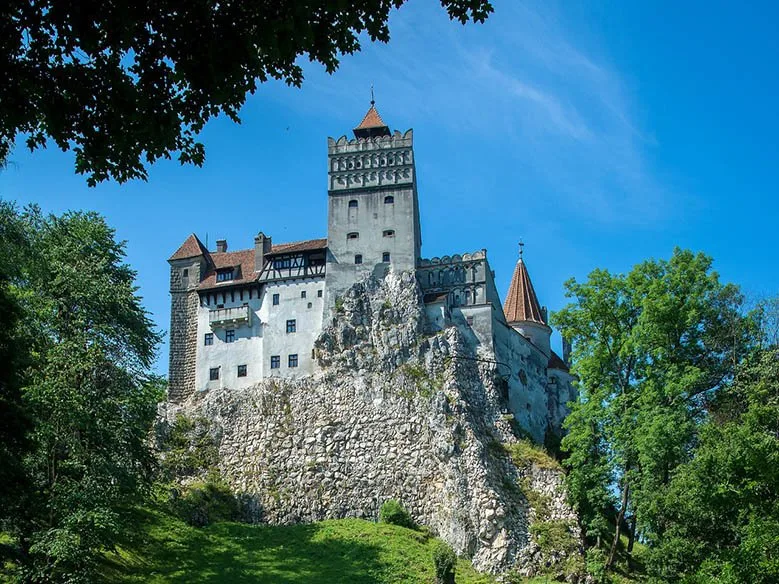 Most of the people who were in the minibus were picked up directly at their hotels just because their streets had easier access to cars.
On the way to Peles Castle, Mary explained a lot about communism in Romania, like what the country went through during those years, the things that Nicolae and Elena Ceausescu did, and how they got killed.
Nicolae was the general secretary of the Romanian communist party, and Elena was his wife. It was very interesting because I didn't learn about Romania at all at school, but the country has such an interesting story.
A story of fighters. We had a little stop at a gas station, so we could buy something to drink and eat, but I highly recommend you bring a bottle of water with you and snacks for the day.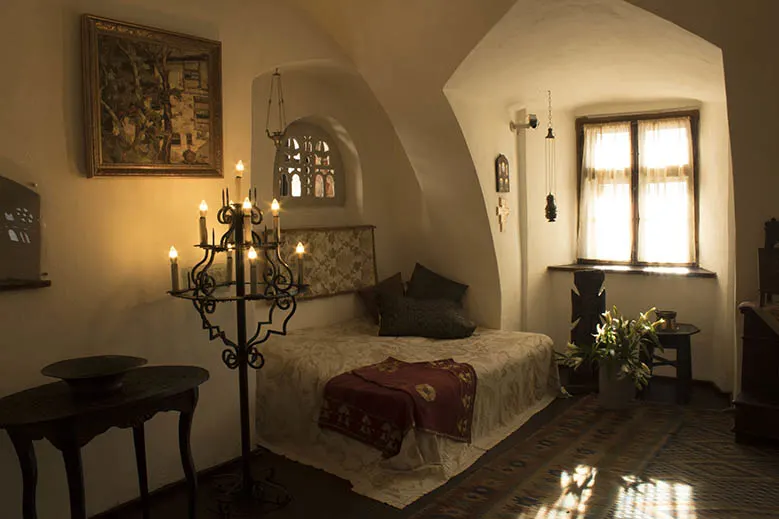 Read next: Top things to do in Bucharest
Peles Castle
It was a gorgeous winter day: Sunny, blue sky, and snow everywhere. After a smooth ride from Bucharest to Peles Castle, we arrived in Sinaia around 10:30 am. Peles Castle is located in this town 124km (77mi) from Bucharest.
The castle was built between 1873 and 1914 in the German style, as a remembrance of the king's origin because he was born in Germany.
The outside reminded me of a lot of the characteristic architecture in the Bavaria region. The view is fascinating. No, breathtaking! Look over the trees to see the mountaintops covered in snow!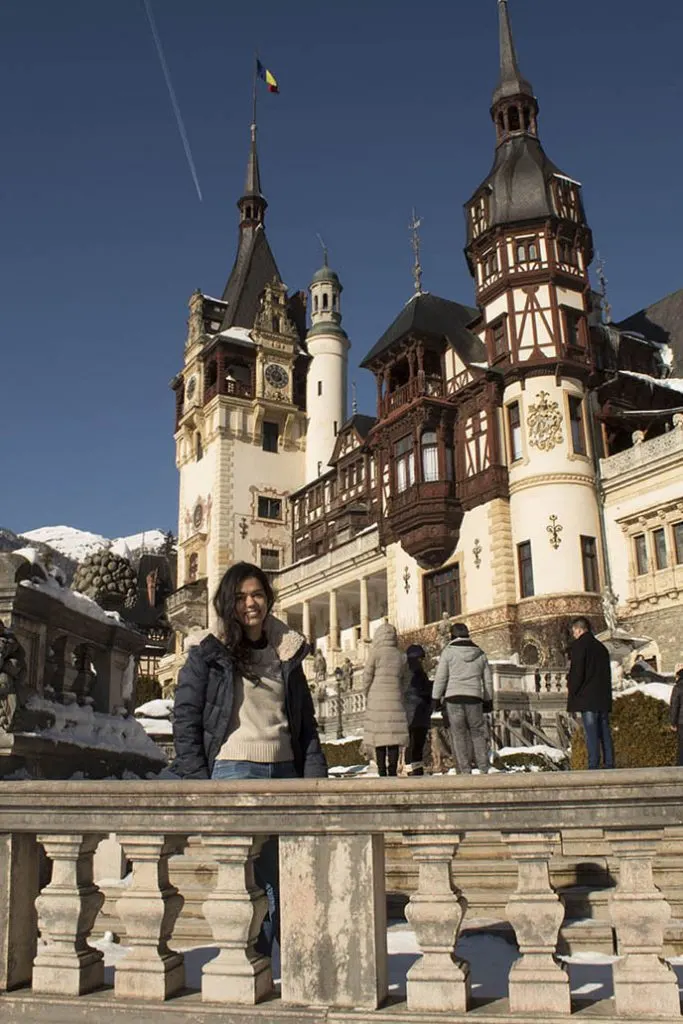 After everyone gathered at the entrance of the castle, we proceeded to the first room where we had to cover our shoes with plastic to keep the castle clean.
The entry tickets were included in the tour price, but the castle staff asks a fee of 35 lei ($9) if you want to take photos inside.
It has over 160 rooms, of which 30 are bathrooms and, for some reason, they were proud of it. The interior design is mostly Baroque influenced, with heavy carved woods, huge mirrors, and sophisticated fabrics.
The castle's guide takes you on a tour on the first floor only. You'll walk through the gun's room with coats of arms from many kings and plenty of guns from all over the world, the library, the smoking room, and many others!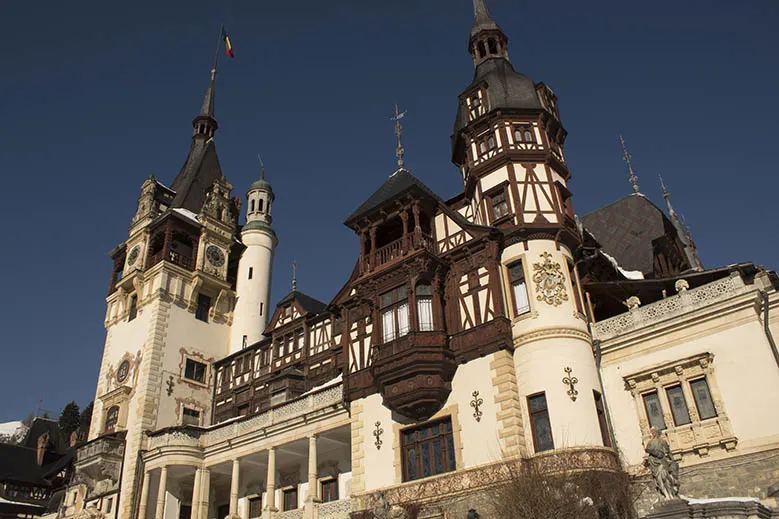 My favorite one was the old music room, so impressive! Some tips about this tour: The guide of this castle isn't the same who traveled with you, this time it is someone from the castle's staff. So, walk close to the guide otherwise you won't hear her/him.
They are very passionate and proud of their culture and history, which makes the tour even better. When the tour was over, Mary (the tour company guide) gave us around 30 minutes to take pictures before we would continue our journey to Bran Castle.
We took thousands of photos, of course. Peles castle is extremely instagrammable and if you don't know whether you should visit Romania in the winter, dear readers, please do! It was very cold, yes that's true.
But it was the most beautiful winter scene I've ever seen in my life! For real!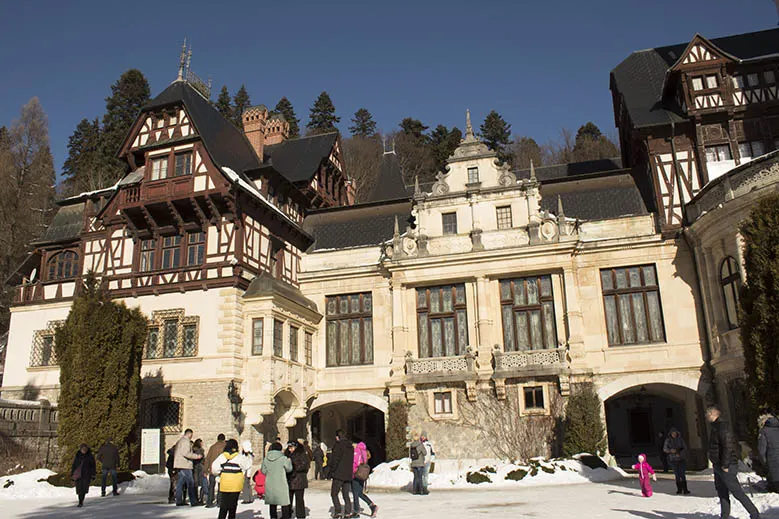 Bran Castle
On the way to Bran Castle, we had such a stunning and breathtaking view of the mountains!
It was a 50-minutes ride to the castle and before I tell you about the interior of this place, I'll tell you more about the legend of Dracula and why people call this place the Dracula Castle, even though Bram Stoker and Vlad Peles have never been here.
Vlad, the Impaler
*If you don't want to read about his bloody killing methods, skip the next three paragraphs. This man, Vlad Tepes, inspired the famous vampire story of Bram Stoker for his cruelty against alleged criminals and the Ottomans, but books say many of his victims were innocent.
Vlad was the Prince of Wallachia in the 15th-century, a southern region of Romania, and was infamous for his disturbing taste for blood.
He used unconventional methods of torture and execution which were broadly feared.
Rightly so, because he would hold his victim in the horizontal position, spread pig's fat over a sharpened stake, insert it in the person's anus or vagina (only 3cm/1 inch or so), then he would erect this person, impaling him or her to a horrible, painful, and slow death.
Many people wouldn't die in the next days…others would be eaten alive by crows. The corpses were left for months in that situation to serve as a warning to others.
One tale says 10,000 were impaled in Sibiu, a city in Transylvania where he once lived. Yes, Vlad wasn't a very friendly person to be around.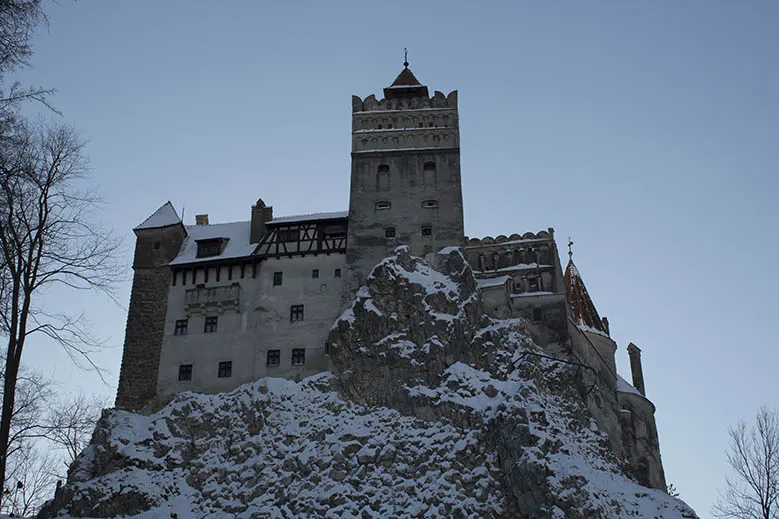 Elizabeth, the Blood Countess
Okay, the guy was pretty cruel, that's true, but he wasn't the only one. Oh, no. It's widely believed that the Dracula story was inspired by Vlad Tepes but also by Elizabeth Bathory, a Hungarian countess.
According to books, this Royal serial killer of the 16th-century was also fond of torture methods. She would ask her husband to write her letters explaining how he tortured enemies in his battles.
A very morbid reading style, if you ask me. As the years passed, she became violent and brutal against her female workers at the castle, doing all sorts of atrocities, such as mutilation, burning, starving them to death, freezing the girls, severely beating them, or covering their bodies in honey and ants.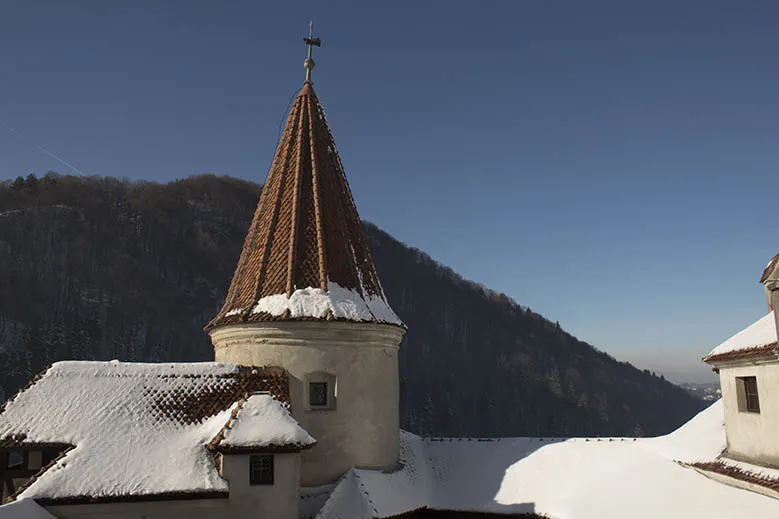 On one of those occasions, she said her skin felt softer after being covered in blood. That's where we can't tell anymore if it's a legend or a true story. According to stories, she used to bathe in their blood as a part of a beauty treatment.
The exact number of victims is unknown, some say she killed 650 girls, although she was sentenced for killing 80. Just for disclosure: she was sentenced to solitary confinement in her castle, while the servants who helped her, were burned to death.
Fun fact: There was a Swedish heavy metal band named after her, Bathory.
Dracula, the legend
Combine the thirst for virgin's blood, a bad character, a beautiful castle, done! You have the most famous vampire story. The interesting part is that Bram Stoker never set foot in Romania.
The Irish author met the Hungarian writer and traveler, Armin Vambery, whose dark stories inspired Bram to research about European folklore and mythological books about vampires.
After that, Stoker created the tenebrous character, Dracula, and gave him a castle on the top of a hill. There was no evidence that Bram knew about the today-Dracula's castle, which lies on the top of a hill.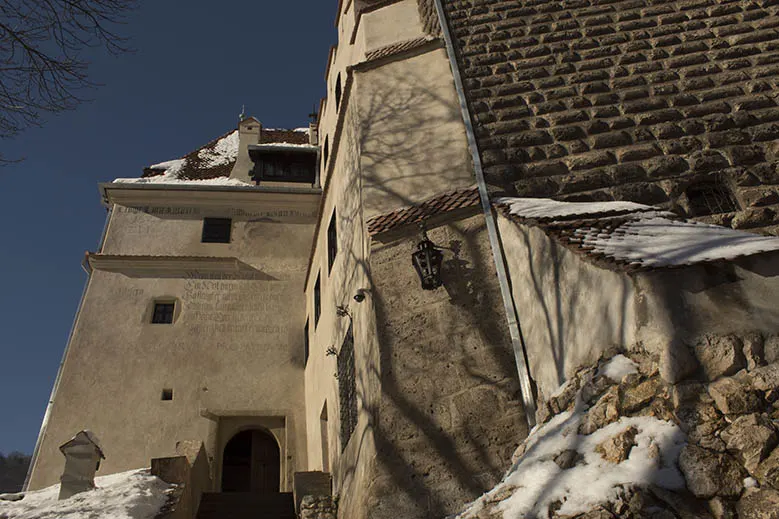 But maybe because he was inspired in Vlad, a Romanian prince, and his description of the castle matched a few details of this important residence, people started to call this place the Dracula castle.
Bran castle facts
Back in the 14th-century, there was a fortress on the top of that hill, which was destroyed to give place to a castle. This castle was meant to offer protection to Romania from its enemies, especially the Ottomans.
The location was strategically chosen because this area wasn't part of the country yet, so the castle served as customs to hold goods (as taxes) for crossing borders, and it would also have a good view of the region.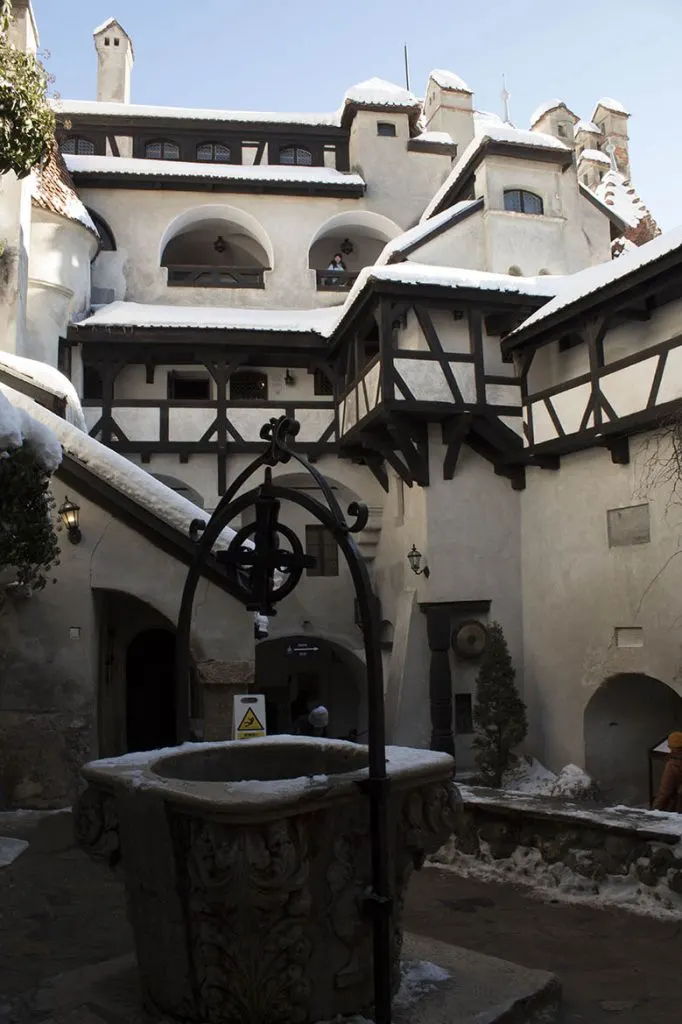 The castle was then inhabited by soldiers and servants of the king. Later on, it became an administrative seat of Brasov until the 20th-century when Transylvania became part of Romania.
And in a unanimous decision of the city's council, the castle was given to Queen Maria of Romania, who adored the castle and transformed it into a royal summer residence.
She and King Ferdinand I lived in this castle for a few years. Well, a lot more happened after that, but I'll stop here so you can learn something about the tour and not be bored because you already know the story.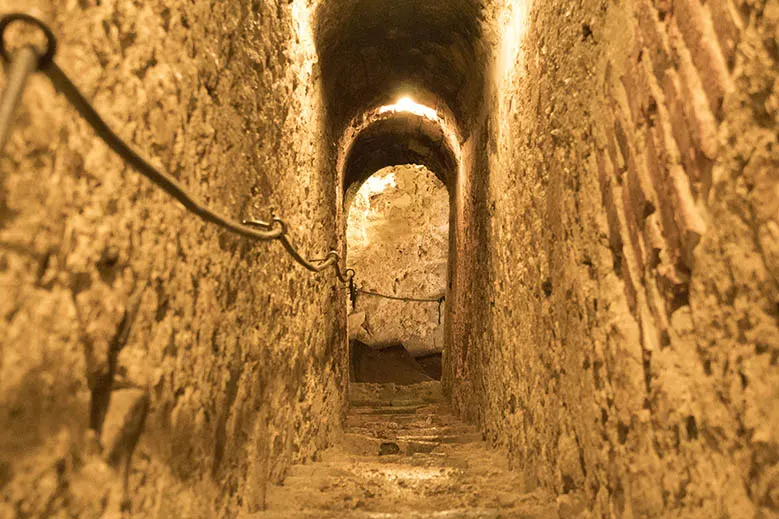 The whole area was enchanting, straight out of a book! It was such a beautiful view!
The castle was shining on a 200-foot-high rock, the sky was perfectly blue, and the hill, trees, and surroundings were covered in snow, so it was quiet even though the place was packed with tourists.
A real movie scene! Anyway, the first floor of the castle was Queen Mary's floor, while the second, was King Ferdinand I's floor. Back then, the royal family members wouldn't get married because they were in love with each other, but because that was a sort of business agreement.
For this reason, they wouldn't sleep or live together. The third and last floor was dedicated to Dracula's story. It has a summary of Bram's life together with the whole explanation about his character on the walls.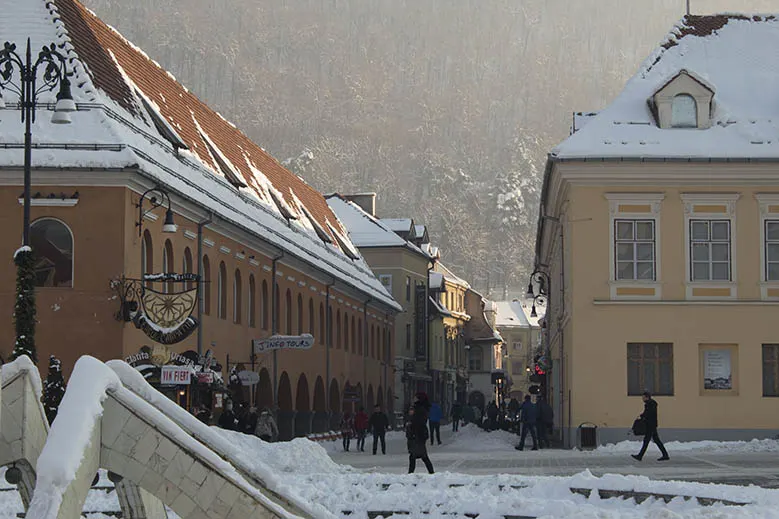 Don't think you'll find a vampire sleeping in a coffin, the scariest thing you'll see is the necklace used in the Dracula movie. Bran's castle is pretty simple on the inside, but the most fantastic part was the view from the park below. When I looked up to the castle…wow!
It is such an impressive and powerful construction! I'm so glad I got to see it because this was one of the items on my bucket list and it didn't disappoint me. After taking thousands of photos of the castle and region, I went to the little market at the entrance of the castle to buy my souvenir.
It cost me 20 lei (around $5), a fair price for a cute "Dracula's castle". When we were done with our tourist moment, we went on a 30-minutes ride from Bran to the sweet city of Brasov.
Brasov
A pleasant little city in the middle of the Transylvania region, Brasov (Bra-shov) was colonized by Germans who named it Kronstadt, which means Crown City in English. Later on, they named the city after the local river Barsa.
Brasov's center has a much more colorful city center than Bucharest. It is a beautiful mix of baroque, gothic, and renaissance architecture in the houses and churches.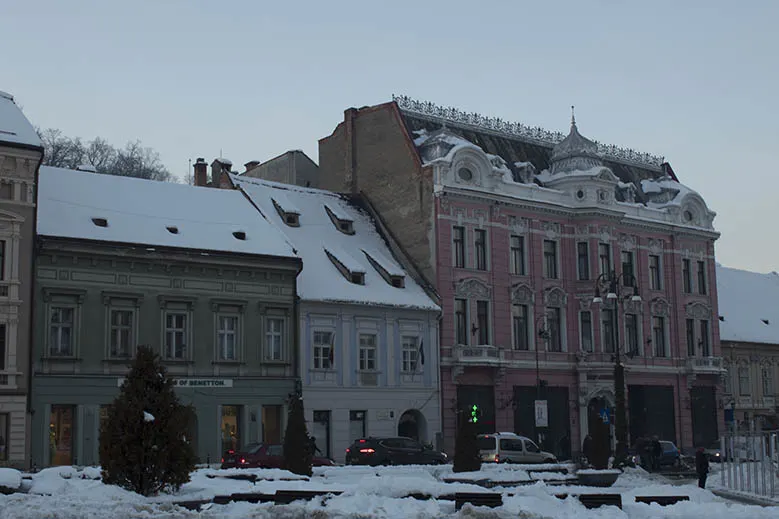 As soon as we arrived there, we got some time to eat and we would gather again later in the afternoon. We didn't bring snacks with us for the tour, so you can imagine we were starving, right?
We just walked into a restaurant and I'm glad it was a good one. The food was good, it wasn't pricey, and we didn't have to wait long. The name of the restaurant is Gustari, a green one on the main square.
That's where we've got to know about the Brasov pancakes. Apparently, they're very famous among locals and tourists.
I didn't have the pancakes (20 lei) here, only later on, but the lovely girls I met during the tour, two Italians and a Malaysian, adored it! I had the traditional polenta with cabbage rolls (20 lei). Also delicious!
After a late lunch, we still had time to explore Brasov by ourselves because we would only meet Mary at 5 pm.
But it was so cold outside (it was freezing actually!) that we didn't want to walk much as our feet were ice blocks already! The temperature was around -7 Celsius (19F)!
If you visit the gorgeous Brasov in better weather than me, walk around a little by yourself. The city center isn't big, and you'll get surprised by this place's beauty.
When we met again at 5 pm, Mary told us the story of Brasov and we walked together through a few interesting places in the Old Town.
Things to see in Brasov:
The name Brasov in white letters at the top of the Mount Tampa, like Hollywood;
Council Square;
Black Church;
Europe's 3rd narrowest street, Strada Sforii;
Catharina's Gate.
After our little tour in Brasov, we rode back to Bucharest and the minibus left us at the same place where it picked us up. We finished our day drinking some beers in the center of Bucharest.
Our day in Bucharest was very pleasant. The city and the country have an interesting story, and I enjoyed learning about them as well as seeing historic places in the capital.
However, this tour in Peles Castle, Bran Castle, and Brasov was so entertaining! I decided last minute to go there when I was in Bucharest already, but I'm so glad I did it because this region is fantastic, and the castles are too.
Maybe because there was snow everywhere, but the castles were especially gorgeous for me. On top of that, our guide Mary was super helpful and shared a lot of interesting facts with us about her country.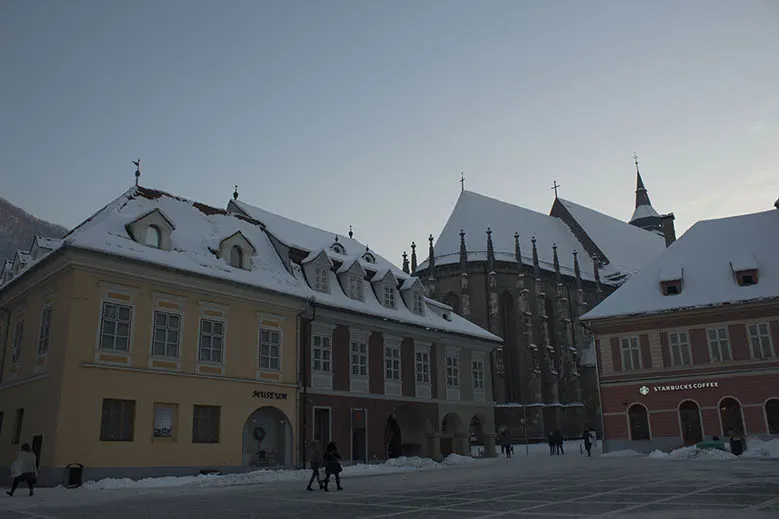 The Bran Castle Tour in a Nutshell
Would I recommend it? FOR SURE! Don't leave Romania without spending a day in these places. You won't regret it!
The total time of the tour is 12 hours, I know it seems a lot, but this day goes by so fast you won't even notice! I know it's possible to go to these places by yourself.
However, having a local guide and a driver to bring us from door to door saved a lot of hassle.
It was included in our tour a local guide, Mary, who accompanied us the whole time, the transfer (minibus with WIFI) from Bucharest to Peles Castle, Bran Castle, Brasov, and back to Bucharest; the entrance tickets to Peles Castle and to Bran Castle. It was worth the price if you ask me.
Check out the tour: Dracula's Castle Full-Day Tour From Bucharest
Which of the above photos is your favorite? This day trip was my first fairy tale experience. Have you ever been to magical places like these?
Hey Romanians, I'll definitely be back, so tell me where I should go next in Romania! Drop your suggestions in the comments!
Inspired today? Pin this post so you can find it easily later!
Our best travel tips & resources:
Here're our all-time favorite travel tips & resources so that you can save money and plan your travel logistics hassle-free! For more travel resources, check out our
travel tips.
Saving money: Fly on offseason, winter (not Xmas or NYE), Tuesday, or Wednesday! According to experts, these are the cheapest days to fly.
Travel insurance: Before you leave for your trip, make sure you have a valid travel insurance policy because accidents happen on the road. We have been paying for Safety Wing travel insurance for a little over a year now, and we happily recommend them to our family and friends.
Accommodation: We usually stay in mid-range comfy hotels or private rooms in hostels. These are the sites we use to book accommodation: Booking.com for hotels (excellent flexible cancellation policy) and Hostelworld for hostels (low deposit and easy cancellation).
Tours:We absolutely love booking guided tours with locals to get a history lesson while sight-seeing, especially food tours and walking tours! We book all of our tours using Viator and GetYourGuide.
Transportation: We use Google Maps to figure out how to get around a place using public transport. When we book a rental car, we always use Discover Cars to find the best deal.