Impressive. That's what I had heard about this place before going there, but on the inside, I really had no idea what to expect when I left Dublin to the Cliffs of Moher.
A true wonder of nature, these cliffs are amongst Ireland's most famous attractions, and they are a must in every Ireland itinerary.
Imagine a wall near the wild Atlantic that stretches for about 5 mi / 8km on the west coast of the country.
Yes, the 702 foot-tall Cliffs of Moher (214 m) is a breathtaking but also a dangerous place (stay away from the edges).
Over 1.5 million tourists visit the Cliffs every year. An impressive number which also raises a yellow flag in case you want to visit this place when it's not super crowded.
Click here to see the tour I took to the Cliffs of Moher.
Dublin to Cliffs of Moher
To help you with that, I will explain when is the best time to visit it and what you can expect in terms of weather.
This way, you can plan your trip to Ireland without any troubles.
Also, since this area isn't close to the Irish capital I've described how to get from Dublin to Cliffs of Moher as well as from Galway City and Doolin, in the County Clare.
But first things first. So, let's start with the history of the cliffs and which animals you can find there.
I remember walking towards the cliffs, smelling the sea, listening to the waves breaking on the cliffs, and feeling the wind (and water) in my face. When I finally reached the walking path and looked down at the ocean, I stopped. I stopped walking, thinking, and breathing. I was in complete awe.
How to travel from Dublin to Cliffs of Moher
One of the most important questions I receive all the time in my mailbox is how to get from Dublin to Cliffs of Moher. That's the reason why I decided to write this post.
This day trip from Dublin takes somewhere between 3.5h to 5.5h depending on your transportation.
Know that Dublin is 177.8 mi / 286 km far from the cliffs. I'll explain a few transportation options.
Dublin to Cliffs of Moher
1. Cliffs of Moher from Dublin Train: Option one is to take a train to Ennis with a connection in Limerick (it takes around 3h) then catch a bus to the cliffs (1 hour).
Too much hassle, if you ask me. In my opinion, if you want to go by train option 2 is much better.
This round trip to the cliffs costs around 27 euros for the train tickets and 18 euros for the bus tickets.
Check the Irish Railways to buy your tickets.
2. Dublin to Cliffs of Moher and Galway: Option two is to take a direct train to Galway which takes around 2h30 (train cost 34 euros for a round trip), enjoy the city and maybe spend a night there.
Then, head to Doolin or to the Cliffs of Moher by bus, which I describe better in the "Galway" paragraph below.
3. Dublin to Cliffs of Moher by car: Option three is to rent a car yourself and ride for 3.5 hours to the cliffs (follow Google's directions and you will be fine). Remember the Irish drive on the left side of the road.

Click here to rent an affordable car in Ireland.
4. Dublin to Cliffs of Moher Tour: Option four is for those who don't have much time in Ireland but would love to see the cliffs anyway. That's how I went to Western Ireland, actually.
I chose to take the day tour to the west coast of Ireland with a shuttle bus from Dublin. It was just hassle-free and since I was short on time, this was the perfect alternative.
Besides, if you want to spend more time in Galway, but don't want to worry about how to get there, this tour operator offers an overnight option in the city.
Back then when I traveled to Ireland, I didn't know how to travel from Dublin to Cliffs of Moher, so a shuttle bus seemed like the best option available.
But even now that I researched it all, it is the easiest way, so…here you are!
Pro tip: If you do take the above tour, sit on the left side of the bus. The view is much prettier on this side of the Atlantic Way (between the cliffs and Galway) as you have the ocean right in front of you.
Read next: 15 absolutely beautiful Irish castle hotels
Galway to Cliffs of Moher
There is a bus that runs from Galway to the cliffs 5 times a day during summer, and 3 times a day for the rest of the year. The ride takes around 2h20 and it costs around 22 euros for a return ticket.
Download the timetable of this line or check the Bus Eireann website.
Which bus?

Bus Eireann line 350 to Ennis Bus Station.

Where to take the bus?

At Galway Bus Station.

Where to get off the bus?

At Cliffs of Moher Coach Park.
Pssst: They do not operate during Christmas and St. Stephen's Day.
If you need help finding accommodation in the city, you will want to read our complete guide on where to stay in Galway.
Doolin to Cliffs of Moher
If you're staying in Doolin, the trip to the cliffs is much shorter and cheaper.
It takes around 15 minutes to reach the cliffs and you basically have to take the same bus as if you were departing from Galway. The fare for a return ticket is around 6 euros.
Which bus?

Bus Eireann line 350 to Ennis Bus Station.

Where to take the bus?

There are a few stops in Doolin: Rainbow Hostel, Hotel Doolin, Doolin Hostel, Camp Site, and Opp Doolin Hostel.

Where to get off the bus?

At Cliffs of Moher Coach Park.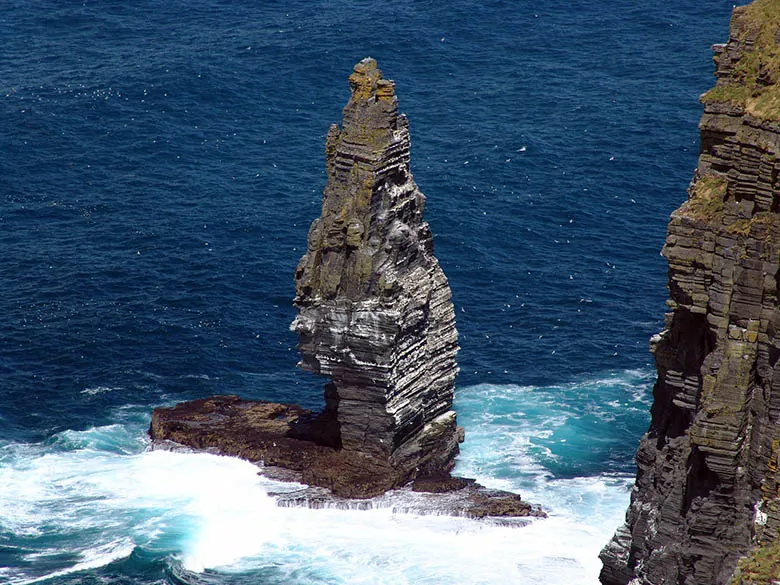 How is the day excursion: Cliffs of Moher Tour Including Galway
Our day started really early (around 6.45 AM) at the Molly Malone statue in Dublin, where we were picked up.
It was still dark and freezing because it was wintertime, but we were all so excited that we weren't feeling really cold.
Then we drove our way to the Cliffs (arrived at 10.30 AM) and had around 2 hours to hike in the cliffs and check out the Visitor Center.
The ride was really fun because our driver was telling us all sorts of stories about Ireland, legends, myths, and jokes. We had a great time, for sure.
Anyway, at 12.45 PM -ish we headed to Doolin for lunch (which is not included in the ticket price).
At 2 PM -ish we had a short stop at the Burren National Park and lastly, we spent some time (+-2 hours) in Galway city. Overall it was an excellent day that I want to repeat for sure.

Don't miss out! Book your ticket here.
Where to stay near the Cliffs of Moher?
There are no hotels or any sort of accommodation at the cliffs, but the closest village, Doolin, offers enough options.
The Killilagh House B&B is right in the heart of Doolin, close to the pubs too. Moreover, they have well-equipped rooms and a delicious Irish breakfast. Oh, and they also offer free parking on site.
The Doolin View B&B also has exceptional reviews: excellent breakfast, clean and comfortable rooms named after Irish authors, friendly staff, and great location. In addition, this B&B has free WiFi and parking on site.
These definitely are the best options to stay near the Cliffs of Moher.
Pssst: Looking for a guide for Dublin? Then check out this complete Dublin itinerary I wrote (including where to stay in Dublin).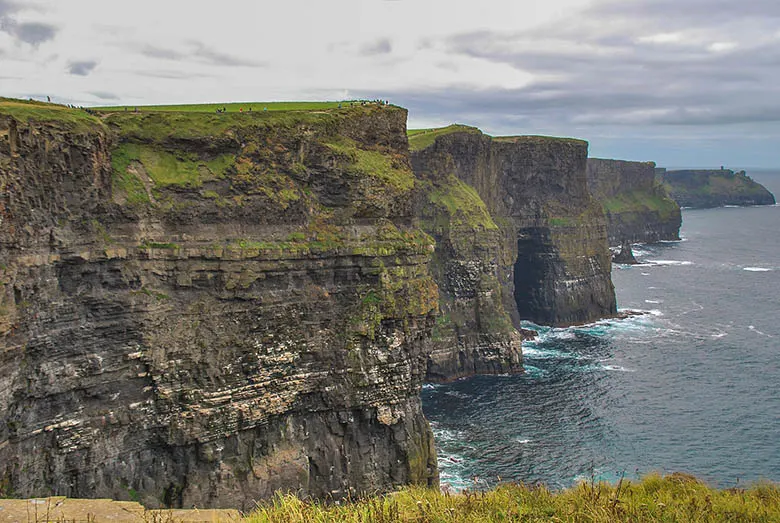 Read next: Ireland road trip itinerary
Cliffs of Moher Boat Tour
You have seen the cliffs from above, took a nice hike, and it was a lifetime experience.
But can you imagine how fantastic is to see them from below? Yes, from the sea level. At Doolin, they offer a pleasant 1-hour boat cruise to the cliffs.
I didn't do it and now I deeply regret this stupid decision, but before taking this tour check the weather to make sure it won't ruin everything.
Cliffs of Moher Day Tour: History & Geology
The area where the cliffs are today was the mouth of a large river years ago. 320 million years ago to be more specific.
As a result of floods, sand and mud were washed here to become the compressed rocks as we know today. To become the Cliffs of Moher.
Take a look at the photos in this post and you'll see that the rocks on the cliffs are layering all along it.
This rock formation not only proves the point I made above, but it also makes it possible for diverse species of birds, that arrive at the end of the winter and in the following months, to make their nest here.
There are over 20 birds' species that come to shore here in the cliffs every year, like the peregrine falcons, razorbills, black gulls, and the super cute puffins. My favorite ones.
Besides the rich diversity of birds, marine life in this region is also very impressive. If you're lucky, you'll be able to spot seals, dolphins, basking sharks, and whales.
Pro tips:
If possible, bring binoculars to watch the animals.

If you have doubts about which camera lens you should bring, my advice is to take a lens with a good range in focal length with you, like a 70mm-300mm. Avoid changing lenses here, it winds way too much for that.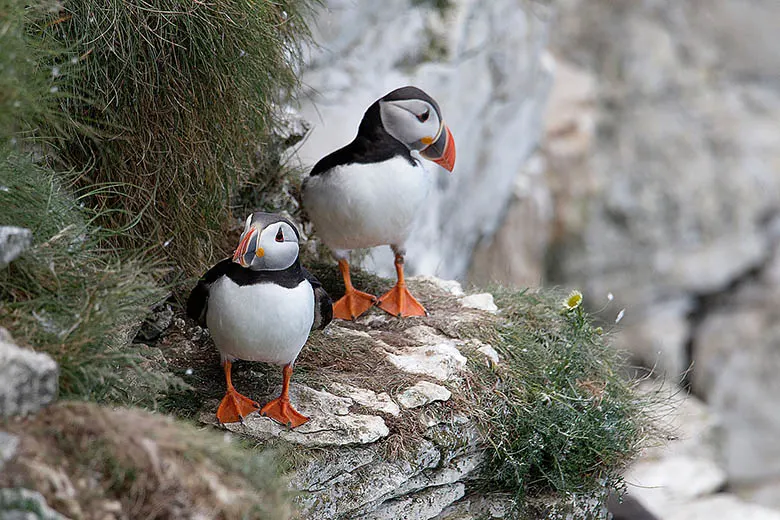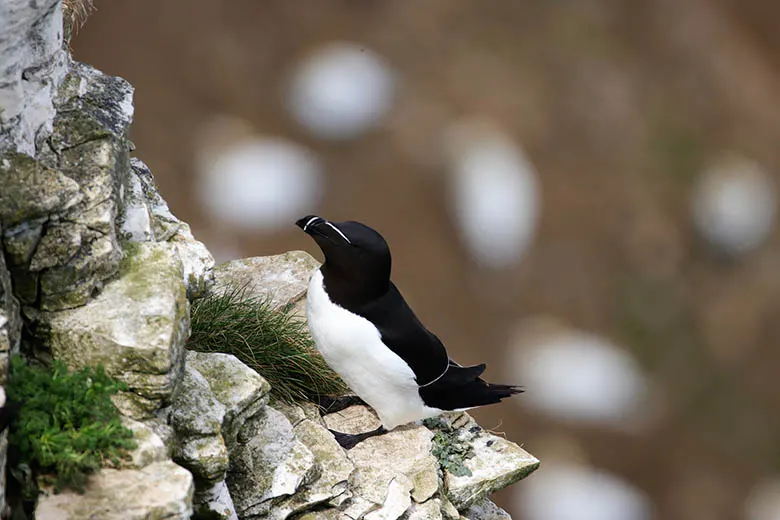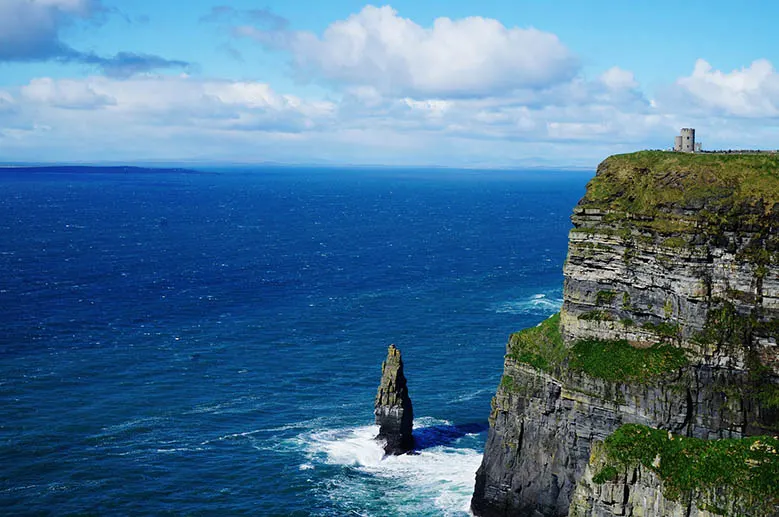 On the photo above, you can see the O'Brien Tower and a sea stack, which was once part of the cliffs, but due to erosion, it got detached.
It looks small from above the cliffs, right? It certainly does, but I can assure you it is not! This stack, called Branaunmore, is around 220 ft / 67 m high. Massive!
In the 19th century, Cornelius O'Brien, a landowner in Liscannor, built a wall along the cliffs, to offer more safety to its visitors, and the O'Brien tower mentioned above, to serve as a viewing point for tourists.
Like if this was even necessary. I mean, look around you. The view is spectacular already.
Not a coincidence, the O'Brien tower is the highest part of the cliffs and from there you can see the Aran Islands in Galway Bay, the Twelve Pins and the Maam Turk mountains on the other side of the Galway Bay, the Loop Head Lighthouse, and the Blasket Islands.
Cliffs of Moher Weather
The big boss. The weather is what will determine if you will see what I mentioned above. Well, it's no secret that it usually is rainy in Ireland. Not to mention that you can literally have the four seasons in one day.
Similarly, I left a rainy and cold Paris to arrive in a sunny and relatively warm Dublin in the winter. Yes, the freezing European winter.
So, before heading to the cliffs, check out the weather and the wind speed to know what to pack as well as to make sure you don't get yourself into a dangerous situation.
Besides the website above, there are warning signs regarding the wind at the cliffs parking lot's entrance.
Yellow means dangerous, but possible to visit as long as you use extra caution when walking along the cliffs.
Orange means the wind is too strong and a visit to the cliffs would be too dangerous.
Red means no visits to the cliffs, nor to the visitor center are allowed. It's too dangerous to stay in the area.
Please, respect these and all other signs you see along the pathways. No photo is more important than your life.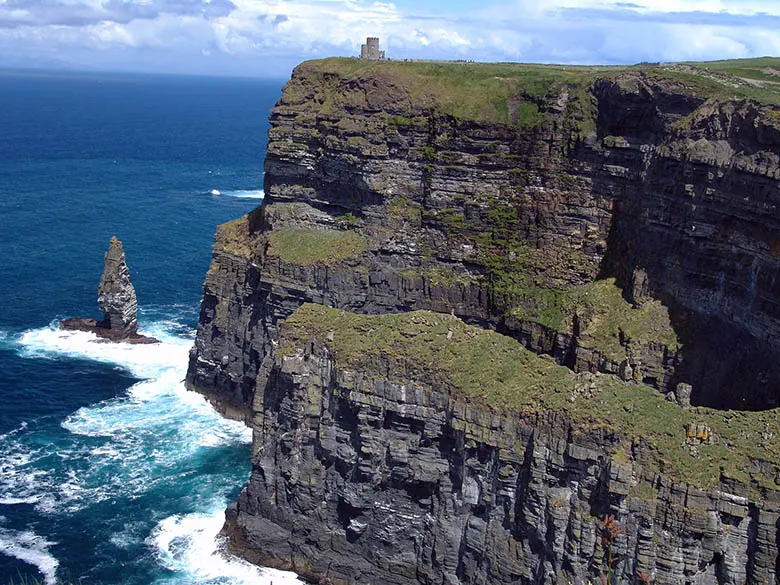 Read next: How to Spend 2 Days in Dublin Itinerary
Best Time to Visit the Cliffs of Moher
Before I give you some facts regarding the best time to visit them, remember that the weather in the cliffs is very unpredictable, as well as in the whole country.
The cliff's season begins in April and it goes until September, having July and August as the most crowded months.
So the best time to visit is in September rather than April because it's probably warmer – and it's after the school vacation. Try to visit it on weekdays and before 11 am or after 4 pm.
Arriving after 4 pm also has its benefits: You will be able to see the sunset from cliffs. If you do, please tag me on your picture. It must be a fantastic view!
If you're going from Dublin to Cliffs of Moher in the off-peak season (October-March), you will face fewer crowds. Note that they are open on a year-round basis, except on December 24th, 25th, and 26th.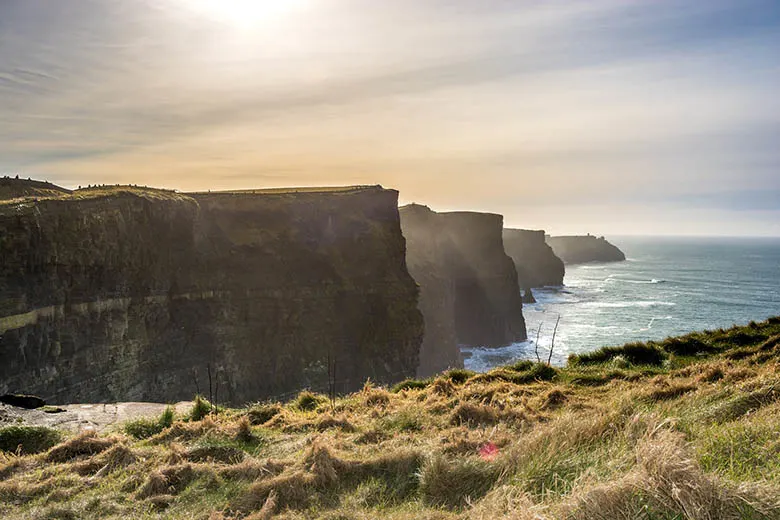 Cliffs of Moher Visitor Experience
The visitor center was designed to be an environment-friendly facility, which recycles water and uses renewable energy, among other things.
You can pay a visit to the interactive exhibition at the Visitor Experience Center, Atlantic Edge, which is about the history, geology, flora, and fauna of the cliffs. Very interesting!
This exhibition even won an award in the Interpret Britain & Ireland Awards 2007 and the judges were impressed by the facilities. Also, there are a few shops and two cafes in the visitor center. Maybe a stop for coffee?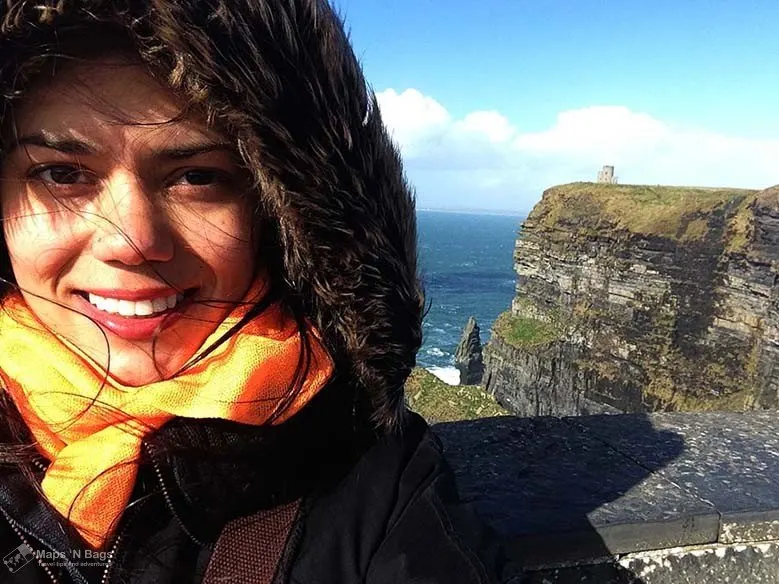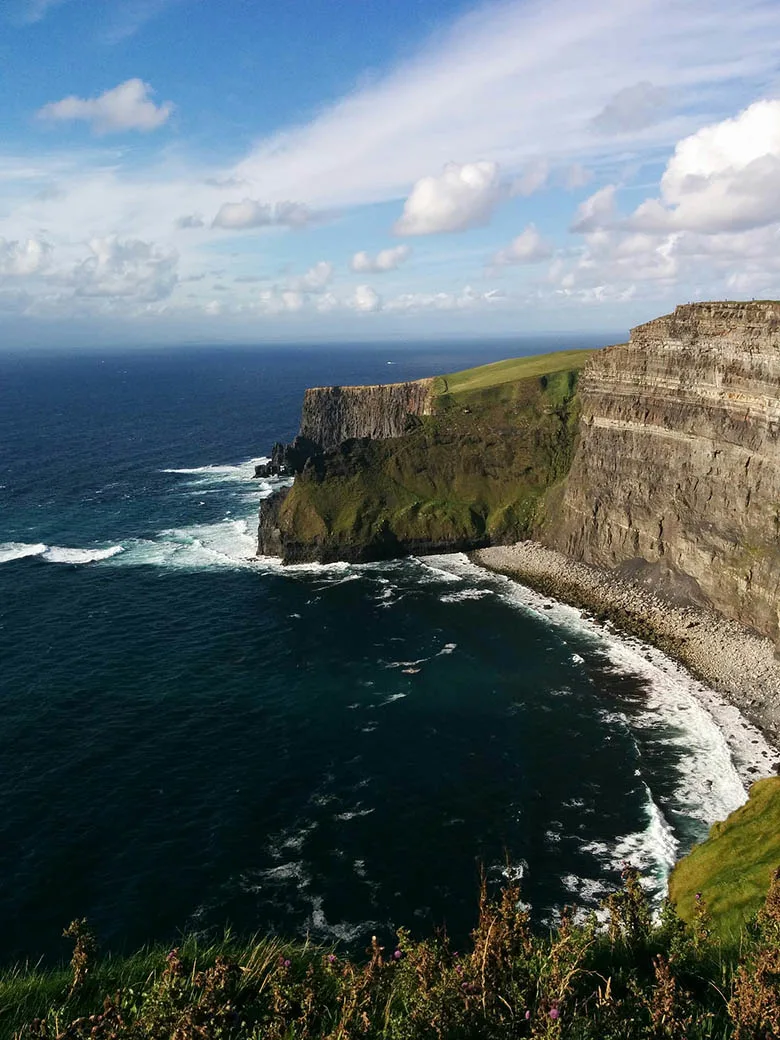 Recommended day tours from Dublin
We have written an in-depth post about the best day tours from Dublin to all regions in Ireland.
It includes the must-sees about the fantastic Irish culture, architecture, and landscapes, especially when you're short in time.
Practical information to travel from Dublin to Cliffs of Moher
If you're going to the cliffs by car, the parking lot is on the opposite side of the road from the visitor center. You pay 8 euros to park and it includes the visit to the Cliffs of Moher Experience (the exhibition I mentioned above).
The cliffs are free of charge, but if you want to go up in the O'Brien tower you pay a small fee of 2 euros per adult and 1 euro per children under 16 years.
Irish fact: Have you ever watched "Harry Potter and the Half-Blood Prince"? The cave scene was shot here.
Accessibility
There are 5 disabled parking places on the same side of the road and 6 on the parking lot across the street, but you can only park here if you have a disabled permit in your car.
If you don't have it, park your car in the main parking lot, on the other side of the road, but the closest to the pedestrian crossing as possible, so the distance to the entrance is shorter.
The visitor center is fully accessible by wheelchair as well as are the main parts of the cliffs, but prepare yourself (or ask for someone's help) because a few paths are very steep and some parts of it may be damaged by the weather becoming uneven.
Safety tips for the Cliffs of Moher
I have said this above, but I'll reinforce the idea because it's important: if it's too windy, don't put yourself at risk! It can be very dangerous!
Honestly, I wasn't surprised the forecast was horrible for that winter day I went there. Rainy and super gray. But I went anyway and it was the best decision ever!
The sun was shining (wonderful surprise, huh?) and it wasn't as cold as I expected when I arrived at the coach park.
Then I walked to the cliffs…and wow! I was so impressed by that view! The cliffs were definitely a breathtaking experience.
I mean, literally!
The wind was blowing so hard I couldn't even walk at some moments. Also, because it was so windy I could feel the water in my face from the huge waves breaking on the cliffs.
Needless to say that I didn't walk on some pathways because they were not only wet but it also felt too dangerous given the wind strength.
So this takes me to the next advice (which is obvious but people forget about it while taking photos), watch out for the edges!
Many unofficial paths seem ok but they are not. They can be dangerous and are totally unnecessary, to be honest.
You can have amazing views from the O'Brien Tower as well as from all secured paths, no need to take unnecessary risks. Don't be reckless because of a selfie.
It goes without saying, be sure to use the camera strap and hold it steady. Also, I'm not sure if you can use your drone there, but I've seen videos of the cliffs made with a drone. Just be careful because it is windy.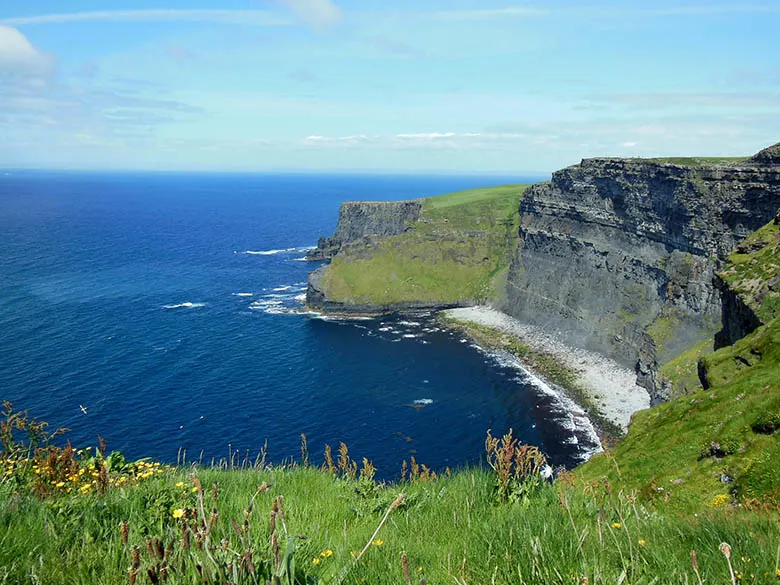 Read next: Ireland packing list
Things to see nearby the cliffs:
Baby Cliffs: Burren National Park
Not as glamorous as the Cliffs of Moher, but still remarkable, the Burren National Park is a unique place where you can appreciate the landscape and nature at its best.
The flat gray slabs give you a prehistoric feeling, but watch out for the edges, there are no fences here.
Together with the cliffs, the Burren form a UNESCO Global Geopark. So be sure to add this site to your list of things to do in Ireland!
Highlights: Burren Center, Ailwee Caves, Caherconnell Stone Fort, Lemenagh Castle, and Poulnabrone Dolmen.
Cliffs of Moher travel resources
So, the Cliffs of Moher are a must-see experience in Ireland and we are sure you won't regret visiting them!
But, if you're looking for more posts about Ireland, check out our 2-day itinerary for Dublin. Are you shorter on time? No problem! We have another itinerary for a day in Dublin.
And for fun, learn a bit about the meaning of the flag of Ireland.
The Cliffs are definitely something you should see, but if you're short on time, you might want to take a look at these half-day trips from Dublin.
Did you like this post? Then pin it to your Pinterest Travel Board!
Our best travel tips & resources:
Here're our all-time favorite travel tips & resources so that you can save money and plan your travel logistics hassle-free! For more travel resources, check out our
travel tips.
Saving money: Fly on offseason, winter (not Xmas or NYE), Tuesday, or Wednesday! According to experts, these are the cheapest days to fly.
Travel insurance: Before you leave for your trip, make sure you have a valid travel insurance policy because accidents happen on the road. We have been paying for Safety Wing travel insurance for a little over a year now, and we happily recommend them to our family and friends.
Accommodation: We usually stay in mid-range comfy hotels or private rooms in hostels. These are the sites we use to book accommodation: Booking.com for hotels (excellent flexible cancellation policy) and Hostelworld for hostels (low deposit and easy cancellation).
Tours:We absolutely love booking guided tours with locals to get a history lesson while sight-seeing, especially food tours and walking tours! We book all of our tours using Viator and GetYourGuide.
Transportation: We use Google Maps to figure out how to get around a place using public transport. When we book a rental car, we always use Discover Cars to find the best deal.