Traveling to Ireland and wondering where to stay in Galway? Look no further! Here we talk only about the best hotels in Galway for every kind of traveler.
We first visited Galway on our way to Doolin and the Cliffs of Moher, and although it was a quick visit, it was enough to fall in love with it.
The lively vibe and colorful storefronts stayed with us and made sure we would go back for more.
Once you get there you'll know what we mean.
If this is your first time in Galway, chances are don't know the city's neighborhoods.
Well, as a good ol Irish city, Galway has its fair share of vibrant pubs and cold pints, so choosing the right hotel in Galway is essential.
In today's post we'll talk about:
Best places to stay in Galway
Where to stay in Galway
The European city of culture 2020 has a lot to offer for those looking for festivals and Gaelic traditions.
Galway City in County Galway is often a base for tourists who want to visit the Aran Islands or the Connemara National Park – the region is rich in natural sites and legends.
Galway is also a city with a few key neighborhoods to visit and stay in, depending on what kind of traveler you are and what you're looking for from your time visiting and exploring Galway.
Here, you'll find the very best hotels and hostels in Galway for every kind of traveler, as well as the best neighborhoods to stay in Galway.
Our top picks: best places to stay in Galway
In a hurry? If you want a quick answer to where to stay in Galway, here are our top picks in the city for the best hostel and hotel.
Adare Guesthouse is a calming and beautiful inn that's just a short 5-minute walk from the heart of Galway City but has all the charm and atmosphere of a country inn.
You can spend your time in your private room, complete with a large and comfy bed, a private bathroom, and a TV, or you can socialize with other guests in the shared lounge area, which also offers a TV and a communal space to get to know your fellow travelers.
Adare Guesthouse also has its own garden, which is the perfect space to relax in if you're visiting Galway on a blue-sky summer's day.
For breakfast, you can enjoy fresh fruits and pastries, as well as cereals, coffee, tea, and juice each morning.
Eyre Square Hotel is located right in the very heart of Galway City, and that means every museum and tourist destination is at your fingertips, as well as the city's best bars, cafes, and restaurants.
Galway Cathedral is easily reachable on foot (only 10 mins away), and if you do want to head out of Galway to explore the rest of the county, you can easily reach both the bus and train stations on-foot from Eyre Square Hotel.
At this hotel, you'll also find a bistro restaurant stocked full of fresh pastries and offering a full continental or Irish breakfast every morning.
On top of that, every room has its own TV, wi-fi, and coffee-making facilities, so you won't be wanting for anything once you're settled into your room at Eyre Square Hotel.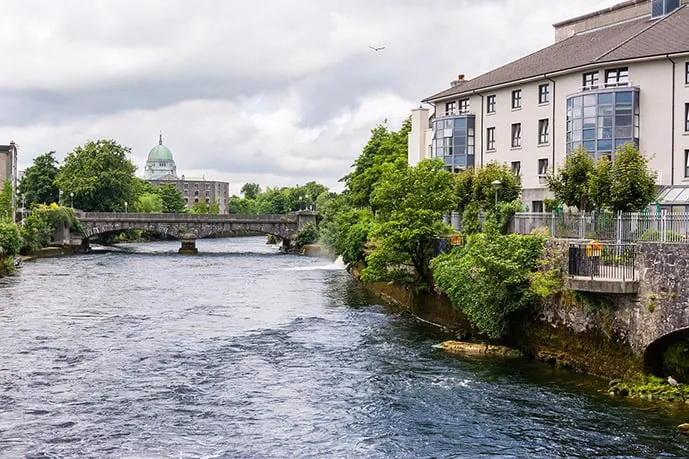 Galway neighborhood guide
Galway has four distinct neighborhoods to stay in, each one suited to a different kind of traveler.
While the city is small and all of the different neighborhoods are easy to explore, it's definitely worth considering where you'd like to be based during your stay in Galway depending on your situation.
Are you traveling solo? As a family or a couple? What do you want to have on your doorstep? Whatever you're looking for, we'll cover it here in this Galway neighborhood guide.
Galway City center is where all the action is. It's a historical area famous for its cathedral and churches, as well as the medieval townhouse of Lynch's Castle.
If you're looking for the best restaurants, bars, and cafes in Galway, you'll find all of them in Galway City, never too far from a church or a museum.
If you're a couple looking for a romantic area to relax in, The Claddagh is an ancient Irish former-enclave. The neighborhood's romantic connection comes from the famous Claddagh Ring which originated in this area.
Visiting Galway on a budget is also easy to do thanks to the Newcastle neighborhood, an almost entirely residential area with cheap and simple options for hotels and inns that's still not too far from the action of the city center.
Families can also enjoy an area that feels custom-made for them with Salthill, one of the most lovely Galway neighborhoods.
This area of Galway offers stunning views of Galway Bay and long evening walks with the view of the sunset and the sound of seabirds as your soundtrack.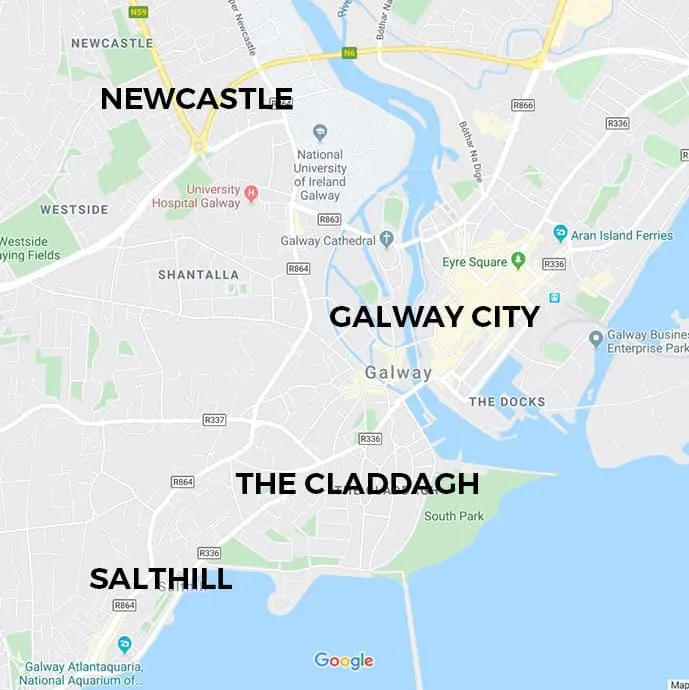 Best areas to stay in Galway
While Galway may only have a handful of distinct neighborhoods, each one has something unique to offer, not only in terms of its hotel and hostel options but also its entertainment options.
From bars to restaurants to museums to parks and more, there's a different vibe and atmosphere to each neighborhood in Galway that will suit a different kind of traveler.
While you'll find most of the big tourist attractions in Galway City, the city's other neighborhoods are also ideal as weekend getaway neighborhoods for those looking to be by the water and to take in the fresh air and peace while still being close to the history and nightlife offered by Galway City.
So, let's break down the best places to stay in Galway as well as the best hotels in Galway for each of the city's neighborhoods.
Galway City: the best neighborhood in Galway to enjoy the nightlife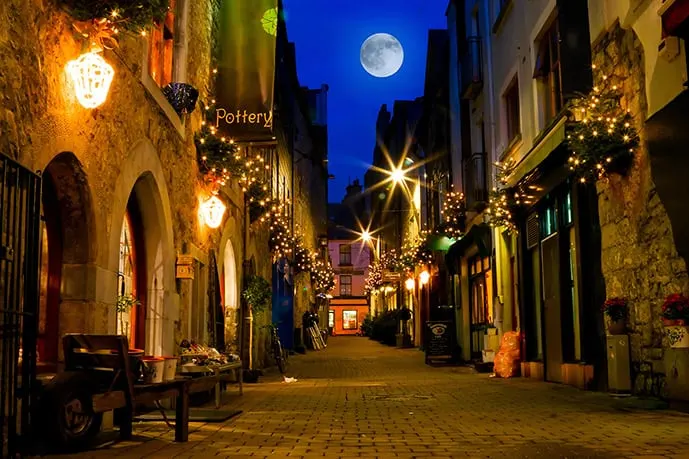 Galway City is the heart and soul of Galway. This central neighborhood is where you'll find all the best bars, clubs, restaurants, and music venues in Galway.
It's also where you can explore churches, the cathedral, and even the castle ruins.
There's enough in Galway City to keep travelers entertained and satisfied for days upon days. A new restaurant and pub to visit every day, as well as a new museum, church, or another piece of medieval history.
Things to do in Galway City:
Visit the Church of Ireland St. Nicholas' Collegiate Church, which is the oldest and largest church in all of Ireland that's still open and in daily use. Originally built in the 14th Century, this church stands a true and beautiful piece of Galway's medieval history.
See the Spanish Arch, a large stone arch that has experienced so much in the five hundred years since it was constructed. The 1755 Lisbon earthquake caused a tsunami that partially destroyed the Spanish Arch but still, it remains a kind of metaphor for the city's resilience.
Wander Galway City Museum, a small museum that paints a vivid painting of Galway's local medieval history, through both art and artifacts.
Walk up and down Quay Street. This is the street where you'll find all of Galway's best restaurants and pubs. You can also find awesome local stores here that sell hand-made products like vintage wool clothing. Food and Irish beer at the Quay Street pubs are all delicious and surprisingly affordable.
You'll find this friendly and delightful hostel located handily right next to the Galway bus and train stations.
The beds are comfy, and the communal area encourages you to get to know your fellow travelers. You also get views of the city's beautiful architecture and historical landmarks from your window.
These landmarks are a stone's throw away from this central hostel. The Spanish Arch and Galway Cathedral are both less than 10 mins walk away.
If you need help, the desk offers maps and tour suggestions. You'll also find vending machines in the hostel, as well as laundry facilities and luggage storage.
The very best hotel in Galway city center is Eyre Square Hotel. Its rooms are bright, beautifully maintained, and spacious. Every room has a private bathroom and strong WIFI access.
If you want to fuel up each morning before heading out, the hotel's restaurant, known as Le Bistro, offers a variety of breakfast options, including a filling continental breakfast. And you've got coffee facilities at your fingertips.
Everything is just a few steps away from you here, including the Spanish Arch and the Galway Cathedral, making this the best hotel in Galway for convenience and luxury.
The Claddagh: the best neighborhood in Galway for couples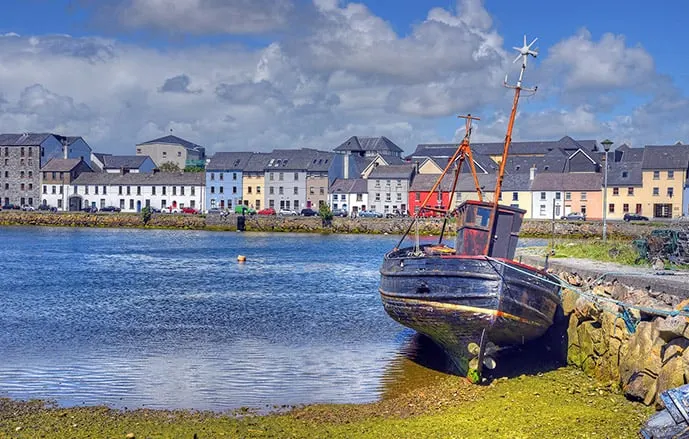 An area that's famous for the Claddagh Ring is an ideal place for couples to settle in during their time visiting Galway.
The Claddagh Ring, in case you don't know, is a traditional Irish ring that depicts a pair of hands gently cradling a heart, crowned with a literal crown.
Love, loyalty, and friendship are all associated with this iconic Irish ring which has its origins in The Claddagh neighborhood of Galway.
In many ways, The Claddagh feels very removed from the city of Galway, which is what adds to the neighborhood's romanticism and tranquility. It's an area full of parks and sea views.
Things to do in The Claddagh:
Stroll through South Park. This is a spacious park in The Claddagh that makes for an ideal area for picnics, romantic walks, and clear ocean views. It also has its own beach, which is pretty unique as parks go.
Visit the Mutton Light Famine Memorial. This is a dignified memorial stone dedicated to those people of Ireland who fled the famine of the mid-19th Century. It even points you in the direction of the distant lighthouse as one of the last things those refugees would have seen.
Take a tour with Galway Boat Tours, who operates from The Claddagh. These boat tours last about 2.5 hours and take you around the coast, offering a unique perspective on the beauty of Galway.
Adare Guesthouse offers as much of a romantic atmosphere and rustic beauty as the area it's found it does.
The Claddagh is an ideal neighborhood for couples, and Adare Guesthouse is one of the best hotels in Galway for that same romanticism and charm.
This guesthouse is all wood floors, antique furniture, and warm home comforts. Every room has a TV, private bathroom, and WIFI.
You'll also find a shared lounge area with a TV if you want to get to know your fellow guests, and a garden to relax in and enjoy the fresh air.
Best hotel in The Claddagh: Sli Na Mara
Despite being in The Claddagh, this lovely hotel is still only a short walk from Galway city center. The rooms are sweetly decorated with an emphasis on coziness and a homey atmosphere.
Every morning you get breakfast in the hotel dining room, and coffee can be prepared for you at any time; all you need to do is ask.
If you also want to walk to Salthill and stroll the famous promenade, it's only a 10-minute walk to the beginning of that picturesque walk.
Every room has its own private en suite bathroom and access to the WIFI. That plus breakfast and endless coffee mean you won't want for anything.
Newcastle: the best neighborhood in Galway for budget travelers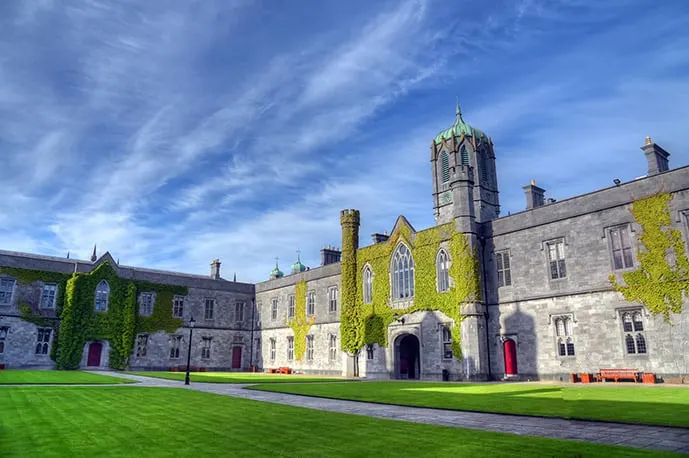 Located a little way north of the city center, Newcastle is slightly out of the way, making it a much more reasonable place to stay if you're a budget traveler.
Newcastle is a mostly residential area with a few nice restaurants to visit, but it's mostly a quiet and unassuming place from which you can still easily reach the center of Galway.
Hotels and inns here are cheaper and perfect for those looking to visit Galway on a budget.
Things to do in Newcastle:
Enjoy a great dinner at Curry and Spice, an Indian restaurant on a quiet residential street. The chef here is fantastic and always delivers exceptional Indian curries. There are vegetarian options here as well, meaning there's something for everyone.
Visit Westside Library. This library has a huge selection of literature, both new and old. If you're staying in Galway for a week or so and you haven't brought a good vacation book, visit Westside Library and check one out.
Walk along the River Corrib. The riverside offers views and historical sites on both sides. Across the river, you can spy the remains of the medieval Menlo Castle, and on the Newcastle Side, you will pass by the beautiful buildings of the National University of Ireland.
One of the best things about The Sliding Rock Inn is its expansive lunch and dinner menus. If you want to be able to save money and eat at your accommodation, this inn allows you that delightful privilege.
The rooms of this inn are calming, clean, and perfectly maintained. They also provide free WIFI and a private en suite bathroom.
And from The Sliding Rock Inn, you can easily walk, within minutes, to the National University of Galway and the beautiful River Corrib just beyond it.
Mocha Newcastle is one of the best hotels in Galway for travelers on a budget, in part because it offers a full English breakfast every single day included in the price of your room.
From here you're an easy walk away from the National University of Galway and the River Corrib. It's also a very short 10-15 minute walk into the town center.
The rooms of this hotel are tastefully decorated and each one has its own private bathroom with toiletries included.
Salthill: the best neighborhood in Galway for families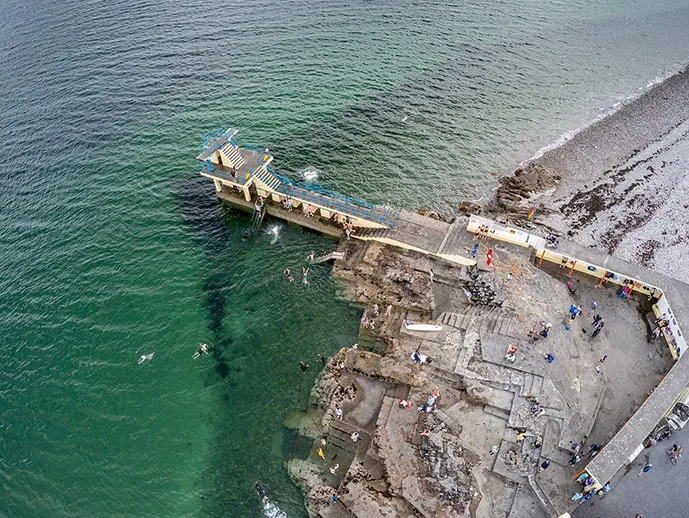 Like The Claddagh, Salthill is a waterside neighborhood of Galway which is defined by beautiful walks, especially along the Salthill Promenade.
For families, Salthill is a perfect peaceful area that is within arm's reach of Galway city center but also offers picturesque views of the ocean.
This area also offers plenty of peace and calm for families looking to use their vacation in Galway as a way of escaping the hustle and bustle of everyday life.
Things to do in Salthill:
Walk the Salthill Promenade. This long stroll along the water offers beautiful, peaceful views of the bay and the endless waves of the ocean. It's also lined with some excellent bars and restaurants for those who stroll along in the evening and are looking for a place to refuel.
Visit Galway Atlantaquaria, the National Aquarium of Ireland. This aquarium is found on the edge of the water and features sea life that's native to the surrounding waters of Ireland and offers fish feeding that's perfect for your kids.
Take your kids to Curry's Outdoor Fairground. This is a fairground full of kid-friendly rides and attractions, including a Ferris wheel. You'll find it attached to Leisureland, just a short walk west from the Galway Atlantaquaria.
Grab a drink at O'Connor's Famous Pub. Any pub that actually puts the word 'famous' in its name must surely be worth a visit, right? And it sure is. O'Connor's was Ireland's original singing pub and has been a spot for live music for decades. The pub has a jolly and inviting atmosphere, with its walls lined with local bric-a-brac like ship's wheels, gas lamps, and old portraits.
The luxurious apartments are absolutely perfect for a family to stay in while enjoying a vacation in Galway.
With open sea views, a spacious living area, and bright, white décor, Jameson Court is one of the most luxurious and best places to stay in Galway, especially if you have a family.
These fully furnished private apartments come with a large TV in the living room and smaller TVs in each bedroom, as well as comfortable sofas, to relax on and endless blue ocean views just outside.
In terms of luxury, this is one of your best options for accommodation in Galway.
While from the front it looks very unassuming, Merrion Townhouse inside is a beautiful, modern hotel that offers bright, well-lit, spacious rooms ideal for families and couples.
Every room in this hotel comes with a Smart TV and strong WIFI access. If you visit in the summer there are plenty of outdoor activities nearby to enjoy, including golf and windsurfing.
The décor and comfort offered by Merrion Townhouse really are comfortable and peaceful. It's a beautiful hotel and one of the best places to stay in Galway.
Where to stay in Galway – Galway Ireland hotels
Galway is a gem in the green-hued landscapes of Ireland.
From the Gaelic traditions to the quirky shops to musicians playing on the streets, Galway is a unique town to visit.
It's a lot to process, but once you've experienced it yourself, it feels like a lovely place to be.
And while it can be a bit overwhelming to choose a place to stay in the city, we hope this guide can help you pick the one that suits you best.
To recap, the best hotels in Galway, Ireland, are Adare Guesthouse in The Claddagh, and Eyre Square Hotel in Galway City Center.
Both of these Galway hotels are excellent accommodations in great locations. We're sure you will enjoy either.
Galway travel resources
We want your trip to Galway to be fantastic! To help you with that, we wrote a few useful guides so that you can find your way through Ireland.
If you're planning your trip to the Emerald Isle, consider renting a car and going on an Ireland road trip. It's an amazing experience.
If you don't have so many vacation days or simply don't want to drive in Ireland, then definitely go on a day tour from Dublin.
As for Dublin itself, this handy itinerary for 2 days in Dublin will certainly be useful to you.
And while looking for accommodation in Ireland, consider staying in a fairytale castle hotel. Some castles on this list are pretty affordable, namely the one near Dublin, Clontarf Castle.
Otherwise, our guide to where to stay in Dublin will serve you well.
For transportation, since you will most likely arrive in Dublin, be sure to read this practical guide to how to get to Dublin City from the airport.
That's all for today. Happy travels!
Our best travel tips & resources:
Here're our all-time favorite travel tips & resources so that you can save money and plan your travel logistics hassle-free! For more travel resources, check out our
travel tips.
Saving money: Fly on offseason, winter (not Xmas or NYE), Tuesday, or Wednesday! According to experts, these are the cheapest days to fly.
Travel insurance: Before you leave for your trip, make sure you have a valid travel insurance policy because accidents happen on the road. We have been paying for Safety Wing travel insurance for a little over a year now, and we happily recommend them to our family and friends.
Accommodation: We usually stay in mid-range comfy hotels or private rooms in hostels. These are the sites we use to book accommodation: Booking.com for hotels (excellent flexible cancellation policy) and Hostelworld for hostels (low deposit and easy cancellation).
Tours:We absolutely love booking guided tours with locals to get a history lesson while sight-seeing, especially food tours and walking tours! We book all of our tours using Viator and GetYourGuide.
Transportation: We use Google Maps to figure out how to get around a place using public transport. When we book a rental car, we always use Discover Cars to find the best deal.