Wondering how to get from Dublin Airport to the city center? We've got you covered!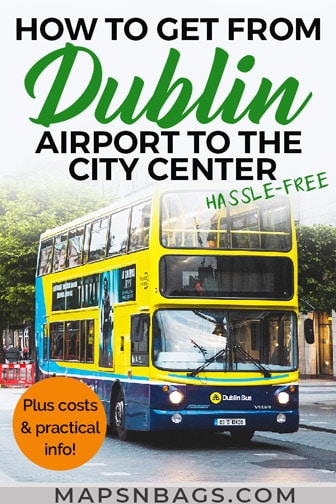 Dublin is one of our favorites cities in Europe, if you follow our blog, you know that we love the Emerald Isle.
Traveling to Ireland is a no-brainer no matter the weather. (Even because it's almost always raining there.)
Anyway, Dublin is a compact capital sprinkled with vintage pubs, excellent little shops, and historical sites.
And getting from Dublin Airport to the city center isn't as challenging as most people think.
In fact, it's ridiculously easy to get to the city center. That's why we'll explain each available option (there're four) including their costs, where to buy the tickets, and where to find them.
And of course, tell you which one we prefer to use. (Spoiler: It's #4, the Dublin Airport Bus.)
All of that, just so you can plan your trip to Ireland hassle-free. Ready?
In today's post we'll talk about how to get from Dublin Airport to the city center by:
Traveling to Dublin – Dublin Airport (DUB)
Dublin Airport is only 6.7 miles (10.8 km) far from the city center, which means that, without traffic, this is a 25-30-ish-minute drive.
Yes, drive – either by shuttle bus or car. Unfortunately, there is no train station at the airport.
Also, most flights from the United States land in Terminal 2. While Dublin Airport only has two terminals, there's no need to walk from one to another as the transportation options we'll indicate below depart from both T1 and T2.
How to get from Dublin Airport to the city center
Overall, it's definitely not difficult to get from Dublin Airport to the city center. There are enough options, some more expensive than others, but they're also a tad more comfortable.
We'll thoroughly explain all the details, so you can decide what's the best alternative for you. Let's get to them.
Read next: Affordable castle hotels in Ireland
Option 1 – Rental Car
Lots of tourists who go on an Ireland road trip get their rental car at the airport. This is a convenient and comfortable way to get to the center for sure.
However, you won't use it to drive in the city itself because the center is compact, and for the farthest attractions, which aren't that many, you can take a bus.
And unless you have free parking at your hotel, we wouldn't even consider this option, to be honest.
In case you want a car just to visit the Cliffs of Moher, for example, know that there are excellent and hilarious day tours to the west coast.
In this post, we help you choose the best day tour from Dublin.
Our verdict: If you're indeed going on a road trip around Ireland, we suggest getting your rental car after visiting Dublin to avoid unnecessary costs.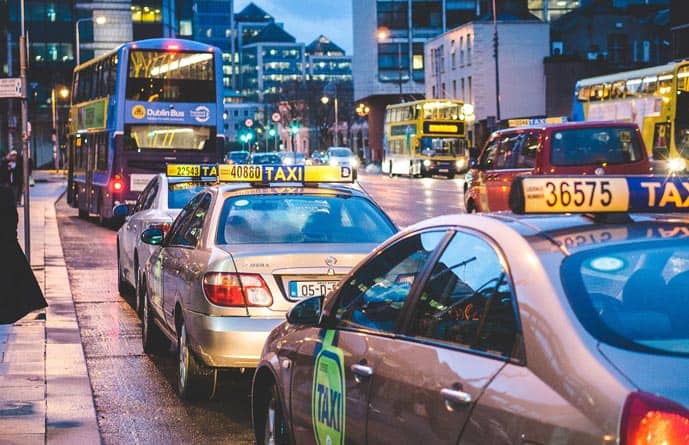 Option 2 – Taxi
Taxi is by far the easiest way to get from Dublin Airport to the city center.
All you have to do is raise your arm, get into the car, and the driver will take you to your accommodation. Vehicles are usually black or dark gray with a taxi sign onto it.
It's hassle-free indeed, but this convenience comes at a higher cost when compared to other transportation means. See below.
This is one of the easiest Dublin Airport transportation means because:
You don't have to wait for taxis.
You have a doot to door service.
You'll have a nice and comfortable ride after your flight.
However, we think that taxis are quite expensive.
The cost of a taxi from Dublin Airport to the city center usually ranges between €25 and €35. Depending on the traffic conditions it can be higher though.
Note that night rates also apply to taxi rides. Also, be sure the taximeter is on from the beginning and only agree on fixed rates that you know are fair. After all, taxi scams are common worldwide.
Our verdict: This is the best option if you're traveling with a group of four people and preferably not during peak hours.
Read next: Best hotels in Dublin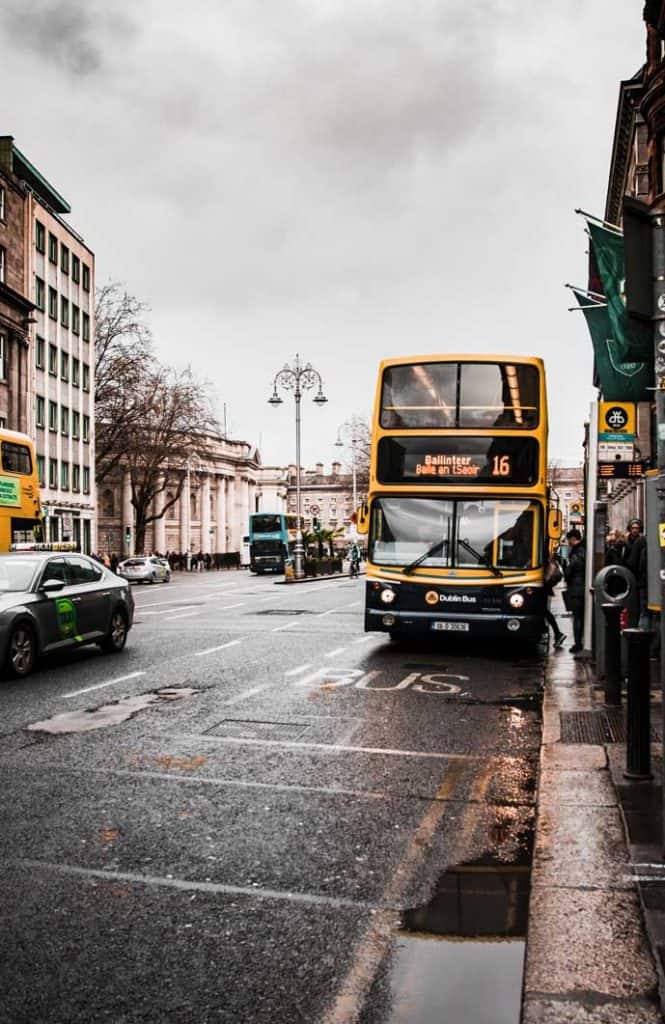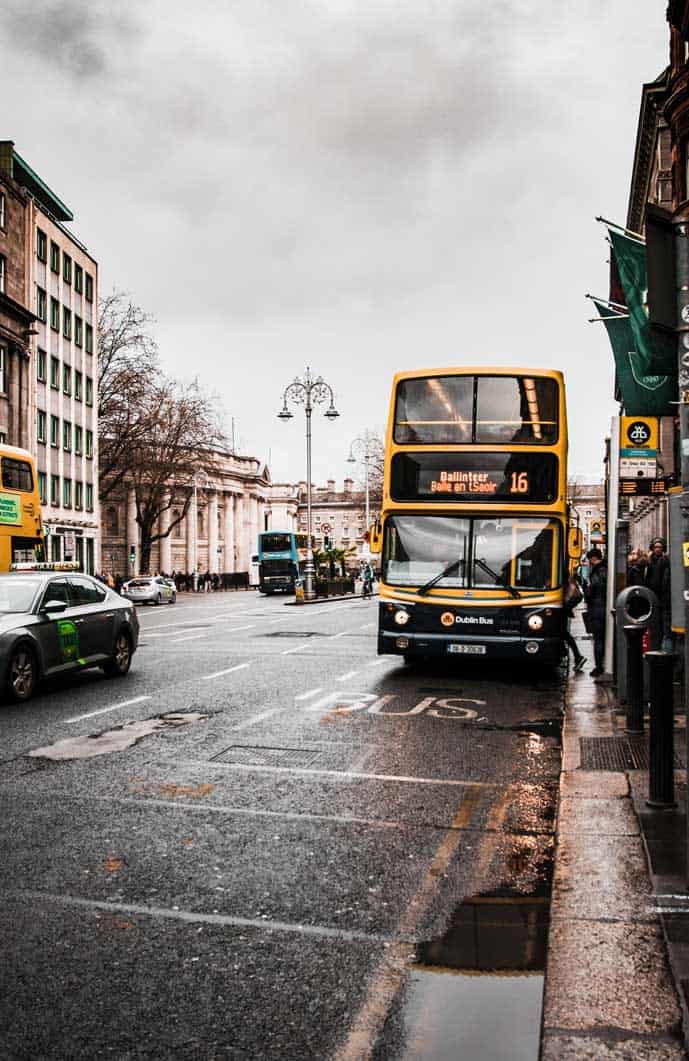 Option 3 – Aircoach 700
The Aircoach 700 is a coach line that operates 24 hours a day, 7 days a week, except on Christmas Day.
The Aircoach 700 Bus is a good Dublin Airport transportation because:
It's more luxurious and comfortable than other buses.
It's cheaper than a taxi.
It runs every 15 minutes during the day, and 30 minutes during the night.
The bus fare from Dublin Airport to the city center is €7 a one-way ticket or €12 for a round trip for adults. While the children (5-15 yo) ticket costs €2 and €4, respectively.
Where can you buy the tickets and catch the bus
At Dublin Airport on T1: Exit the baggage reclaim area turn left and turn left immediately as you exit the terminal building.
At Dublin Airport on T2: Go to the Departures Road, then exit the baggage reclaim area, continue on the same level following the signs for buses and coaches, cross the footbridge, and then exit down the escalator on the left-hand side. There you'll find their Customer Service Team.
Read next: Ireland packing list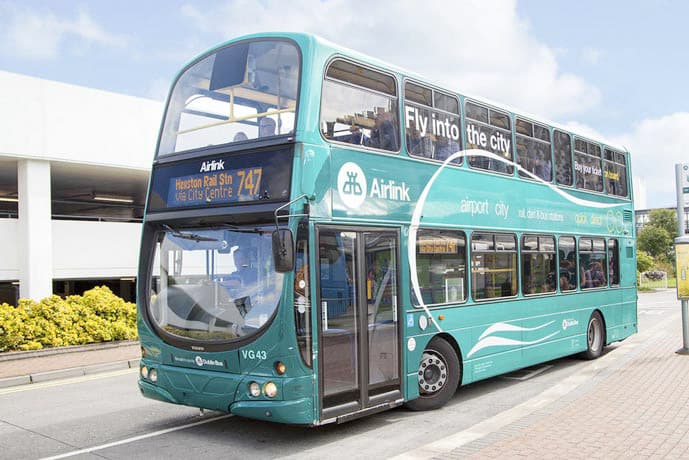 Option 4 – Airlink Express – Dublin Airport Shuttle
The Airlink Express 747 is an efficient shuttle service that runs between Dublin Airport and Heuston Rail Station through Dublin city center.
The whole system is practical, and there are enough buses throughout the day. We never had to wait long for it.
Personally, this is the best way to get from Dublin Airport to the city center, and we'll name our reasons below, but first, know that the Airlink 747 rides from 4.45 am to 00.30 am. See timetable.
The Airlink Express 747 Bus is the best Dublin Airport transportation because:
The bus runs every 10-15 minutes, 7 days a week. (15-20 minutes on Sundays.)
It runs through Dublin Tunnel, which is the fastest route to the city center.
It's cheaper than a taxi.
The bus rides near the major hotels and through the city center.
There's free WiFi onboard.
Whenever we arrive at our destination, unless we're exhausted and need some comfort, we always opt for the fastest route.
We strongly prefer getting to our hotel fast to freshen up rather than having a little luxury for half an hour.
Some people recommend using the Leap Visitor Card, but it wasn't profitable for us so we didn't purchase it. We only used the bus once while in Dublin, and we visited all the main spots.
Where can you buy the tickets
The bus fare from Dublin Airport to the city center is €7 a one-way ticket or €12 for a round trip for adults. While the children (5-15 yo) ticket costs €3 and €5, respectively.
You can buy the tickets at the Bus & Travel Information desk at the T1 on the ground floor, at the exit of T2 with their Meet & Greet staff (they'll be wearing green), or with the bus driver in cash. See the map here.

However, it's a tad cheaper to buy it online.

Click here to purchase your tickets from home.
Where can you catch the bus
To catch the bus on T1, leave the terminal and turn left before the car park. You'll find there the turquoise buses. On T2, exit the terminal and the stop will be on your right.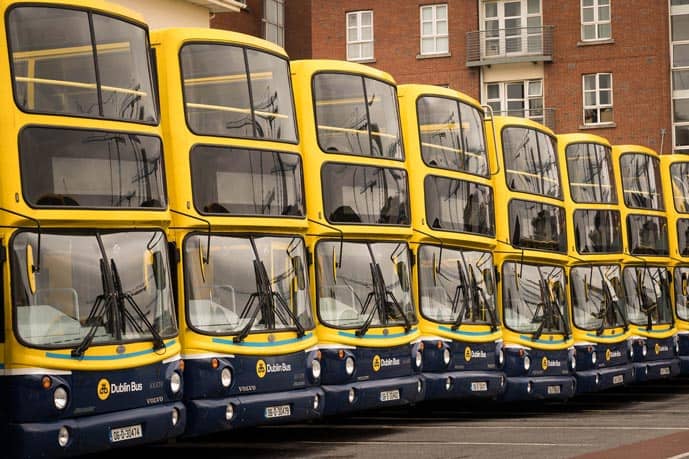 Pssst: Organize your trip with our FREE travel planner! Subscribe to Maps 'N Bags newsletter and get access to our private library jam-packed with this and other freebies. Subscribe!
Airlink or Aircoach
Both buses have similar prices and we know it can be confusing to choose the best option, but we'll list their differences below.
More comfortable: Aircoach
Time to Dublin City Center: About the same – 30-ish minutes
Price: About the same
Number of stops near hotels: Airlink
Frequency: Airlink
Our verdict: We prefer the facility Airlink offers, especially because it drives near the Temple Bar District, and that's particularly handy when our flight is later in the day. (So we have more time to go sightseeing.)
How to get to Dublin Airport from the city center
Unfortunately, every trip comes to an end.
So whether you're following our detailed Ireland itinerary, our complete one day in Dublin itinerary, or even our 2 days in Dublin guide, you'll most likely be in Dublin on the day you travel back home.
In case you're going on some day trips, plan to overnight in Dublin so that you can avoid any setbacks and catch the bus to Airport Dublin hassle-free.
Then, simply walk to an Airlink bus stop (they're well marked), and show your printed ticket to the driver.
Be sure to purchase a return ticket instead of a one-way so you can get a little discount. Also, there's no need to reserve a date for the return ticket.
Wrapping up on how to get from Dublin Airport to the city center
Dublin is a compact city and getting around or to it shouldn't be difficult. Just plan these details in advance, and you're good to go.
If you have any questions, please write them in the comments below, and we'll happily try to help you!
Was this post useful to you? Then help us spread the word and pin it to your Pinterest board.
My best travel tips & resources:
Here're my all-time favorite travel tips & resources so that you can save money and plan your travel logistics hassle-free! For more travel tips, check out my complete guide on how to plan a trip to the Netherlands.
Saving money: Fly on offseason, winter (not Xmas or NYE), Tuesday, or Wednesday! According to experts, these are the cheapest days to fly.
Travel insurance: Before you leave for the Netherlands, make sure you have a valid travel insurance policy because accidents happen on the road. I have been paying for Safety Wing travel insurance for a little over a year now, and I happily recommend them to my family and friends.
Accommodation: I usually stay in mid-range comfy hotels or private rooms in hostels. These are the sites we use to book accommodation: Booking.com for hotels (excellent flexible cancellation policy) and Hostelworld for hostels (low deposit and easy cancellation).
Tours: I absolutely love booking guided tours with locals to get a history lesson while sight-seeing, especially food tours and walking tours! I book all of our tours using Viator and GetYourGuide.
Transportation: I use Google Maps to figure out how to get around a place using public transport. When I book a rental car, I always use RentalCars.com to find the best deal.
What to Pack: Here're the travel essentials I bring on every trip. I also have lots of packing guides!