Looking for a 7 day Ireland itinerary? So grab a pint of Guinness and read on!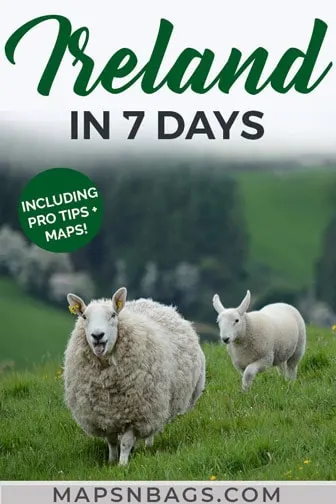 Since the very first time I visited the Emerald Isle, I knew that was a place for me.
On that first trip, I, Bruna, was alone. Fast forward a year to when I spent one week in Ireland, Frank joined me. (He couldn't resist my enthusiastic Irish stories.)

Although our 7 day Ireland itinerary wasn't so organized as this one back then, we still had a fantastic time in the country, and he instantly fell in love with it. (I did long ago.)
After all, 1 week in Ireland isn't enough to learn all its tales, legends, and beautiful stories. In fact, you just see the tip of the iceberg in one week.
But maybe it was the humid, salty air from the sea, the green-hued landscapes, or the delicious Irish drinks we had that made this trip so special.
Don't know what to see in Ireland in 7 days? Check out the best Ireland itinerary!

Your Remarkable 7 day Ireland Itinerary
One thing is for sure: something lingered with us, and now it keeps pulling us back there every now and then.
That's why this guide to see Ireland in a week is jam-packed with tips and valuable information so you can plan your 7 day Ireland itinerary hassle-free.
In detail, we have included a bunch of travel tips for your Ireland road trip, such as what to pack and essential things to know.
But we have also included lots of information to plan a trip to Ireland, such as:
Things to do in the towns along the way
How to get around
Where to eat or drink in each city
Best hotels or B&Bs to stay in with a parking lot, and lots of maps.
All of that, just so you can easily find your way through this 7 day Ireland itinerary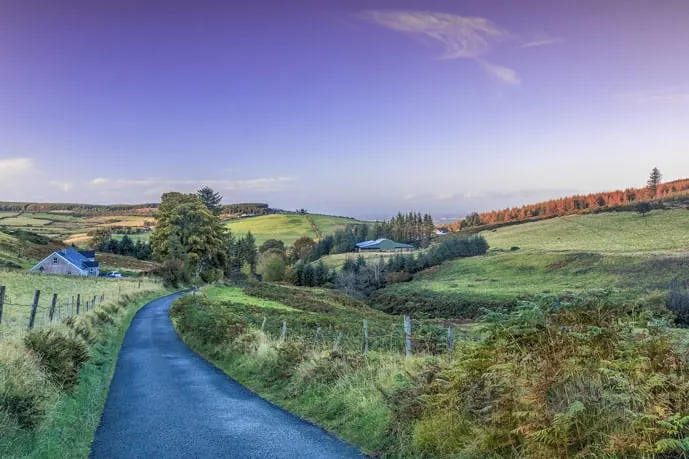 Oh, and we have pinned every single location mentioned below in a Google Map. Yes, every single one. Link below.
Just on a side note: We've just spent 7 days in Ireland, but we're already planning another trip to the country that will last (at least) two weeks. We hope to write about it soon!
Want to know what to do on your Ireland itinerary? Read on!
How much time in Ireland?
Many friends traveling to the Emerald Isle ask us this question, and the answer will depend on many things, of course.
But what we can tell you is one week in Ireland will be enough to see the main cities and some towns without spending much time on them.
After all, if you don't consider Northern Ireland, which is on the same island, the total area of Ireland is 27,133 sq mi (70,273 km2). That means Ireland is a little bigger than South Carolina and a little smaller than Maine.
Personally, touring Ireland by car in 7 days, and we mean the whole island (Northern and Southern Ireland), it is not realistic.
Naturally, you can indeed drive around Ireland in 7 days as we have seen in many blogs, but we can assure you that our Ireland itinerary will be much better for a couple of reasons.
First, because road trips are exhausting. You'll drive, learn, see, and explore a lot in a short time.
Second, because if you were to drive around the whole island in 7 days, you would have less time to see fewer places.
And finally, because this route is much more realistic than some we have found, and it will give you an excellent excuse to go back. (Like us.)
By that we mean we won't cover any city in Northern Ireland. At least, not in this article. We're preparing more guides on that region, so subscribe to our newsletter to be up-to-date.
However, if we were to choose the perfect length of this trip, we'd say a little over 15 days would be ideal. (Promise to write an itinerary on that.)
But unfortunately, that's not what you're looking for so let's continue with your 7 day Ireland itinerary.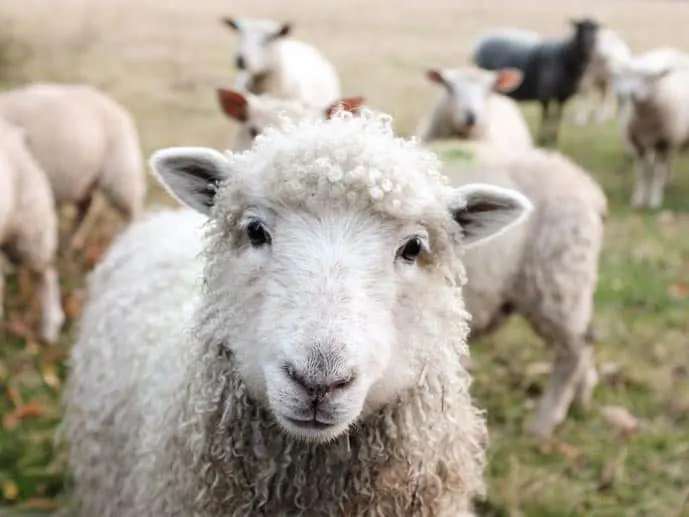 Important notes on this 7-day Ireland itinerary road trip
Although this Ireland itinerary only covers the southern half of the country, it will be exhausting to travel and drive so much.
Therefore, reserve some time after your trip to Ireland to rest at home. We know it seems counterintuitive but trust us. You'll feel better afterward.
Also, consider purchasing activated charcoal to help with jet lag, and give you an energy boost on the go.

Summary 7 days in Ireland itinerary
This is a summary of your self-drive tour of Ireland, and what we'll talk about in this post.
Ireland itinerary 7 days travel tips
Take a rain jacket with you regardless of the season
Rent a car (and if possible share costs with your travel buddy) – This is a road trip itinerary, which will give you more freedom to decide where to go and when
Purchase travel insurance – if you have an accident or get injured, all you have to do is call Safety Wing. (More on that below.)
Only pick up your car when leaving Dublin, not at the airport. Otherwise, you'll pay to leave it parked somewhere
Watch out for the edges at the cliffs – it's windy
Bring a day pack with essential items – snacks, water, scarf, hat
Have cash (euros) with you, especially when visiting cities and towns in the countryside
Do not order a Black and Tan or an Irish Car Bomb in any pub (under no circumstances)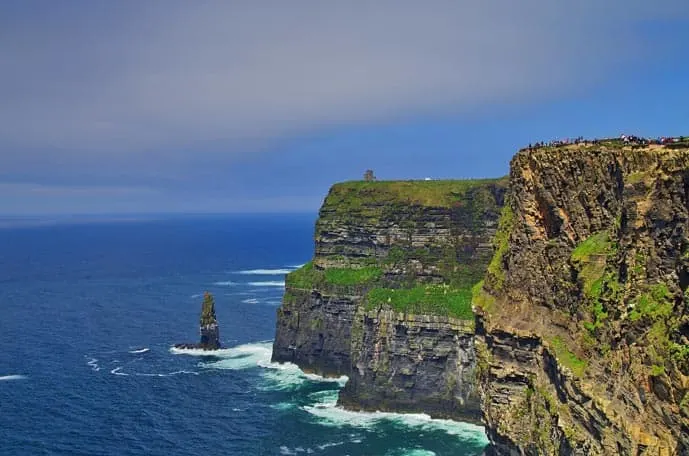 Weather in Ireland
You might have heard, the weather in Ireland isn't among the most pleasant ones in Europe, but we can tell you it isn't extreme either. As we said, expect rainfall all year long, cool summers, and mild winters.
Average temperatures range between 37°F and 45.8°F (3°C and 7°C) in the winter, and between 54°F and 66°F (12°C and 19°C) in the summer, which means you can visit Ireland all year long.

Best time to visit Ireland
When planning a trip to Ireland, you want to choose months with the best weather (aka driest as possible) and not so packed with tourists. Challenging task.
The weather in Ireland is unpredictable to start with. It rains all year long, a little less in late Spring and Summer, but the latter doesn't last long anyway. (The days are pretty long though.)
To be honest, Frank and I never do touristy things during the summer holidays because the place will probably be packed with crowds, and we prefer to enjoy sites without rushing.
So, we'll suggest exactly the same to you: the best time to go on your 7 day Ireland itinerary is between late April through June. But in September and October is also feasible.

Best places to stay in Ireland
We often choose to stay in hotels in bigger cities, but if prices are exorbitant, we go for private rooms in hostels. Preferably with private bathrooms too.
However, when we're in smaller towns, we always go for family-run businesses, such as B&B for a more intimate atmosphere.
Below you'll find where to stay at each town we will walk in this itinerary:
Dublin: The Academy Plaza – well-priced and excellent location.
Cork: Shandon Bells B&B – Calm area and free parking.
Killarney: The Gardens B&B – Excellent location and breakfast, and free parking.
Doolin: Moloney House – Good location, welcoming hosts, comfortable rooms.
Dublin (last day): Clontarf Castle – An affordable (and well-deserved) luxury.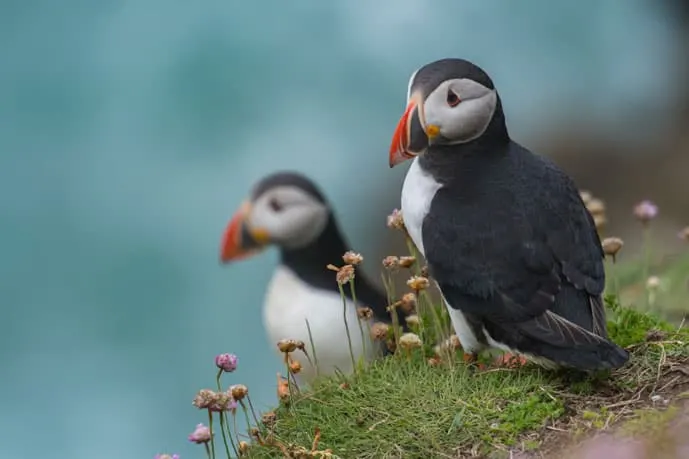 Essential things you should pack for your 7 days in Ireland road trip
Rain jacket – already explained why
Scarf – light one in the summer, thick and windproof in the winter, especially if going to the coast
Walking shoes – preferably waterproof to hike the cliffs and countryside
GPS – Only if the rental car doesn't have it
Activated charcoal – to help with jet lag, and give you an energy boost for your Ireland road trip
Joto universal case – protect your phone with a waterproof case (it can get wet even in your pocket)
Ginger caplets – provides some relief from nausea caused by motion sickness
If you want more tips on what to wear or to pack for your trip to the Emerald Isle, check out our complete Ireland packing list, with a breakdown per season.
Read next: Drinks you must try in Ireland
How to get to Ireland for your 7-day Ireland itinerary trip
If you're flying to Ireland, chances are you're arriving at Dublin airport because it's the biggest one in the country, and the flights to that airport are usually cheaper.
Pro tip: If possible, book your trip to a Tuesday or Wednesday. These are the cheapest days to fly.
Also, you might want to check tickets from the national Irish airline, Aer Lingus.
Fares can be among the most affordable ones, and they offer non-stop flights from the US. (On an honest side note: We've read reviews in occasions where their staff was not so friendly).
Also, remember to pack light as their aircraft aren't very spacious.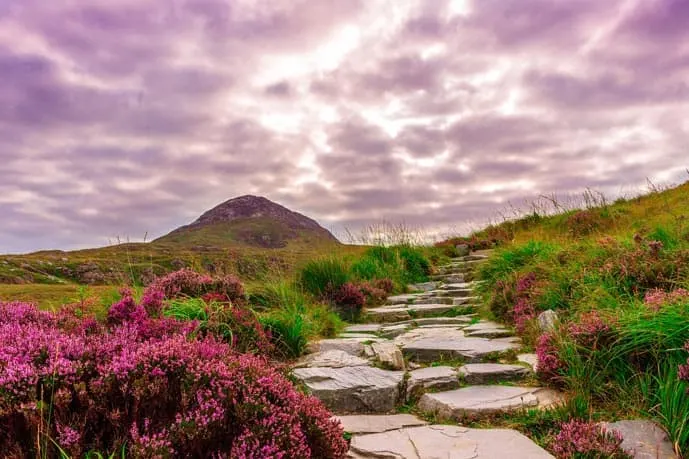 How to get around Ireland
Dublin airport isn't far from the city (only 6.6 mi/ 10.7 km), so is relatively easy to get from Dublin Airport to the city center. You can just take a shuttle bus that drives the whole day, and in no time you'll be in the city center. We highly recommend it.
Click here to book your ticket.
Furthermore, the most convenient way to get around Ireland is by far by car. Irish roads are a tad narrower than the American ones, but it isn't difficult to drive in Ireland. Not at all.
You can rest assured that your own Irish self-drive tour will be smooth if you pay attention while driving.
We'll talk more about our booking resources below.
Quick tips for driving in Ireland
Do not travel without travel insurance + rental car insurance–that's so important! We always use Safety Wing travel insurance as they are affordable and reliable.
The speed signs, as well as the speedometer, are all in KPH
The Irish ride on the left side of the road
When driving along a narrow route, such as the Ring of Kerry or the Slea Head Drive, be sure to follow a specific direction, so you don't meet cars head-on in a one-lane road (More on that later)
Try not to rent a large car as there are car length and weight restrictions in some streets, and it can be challenging to maneuver it in Ireland's narrow roads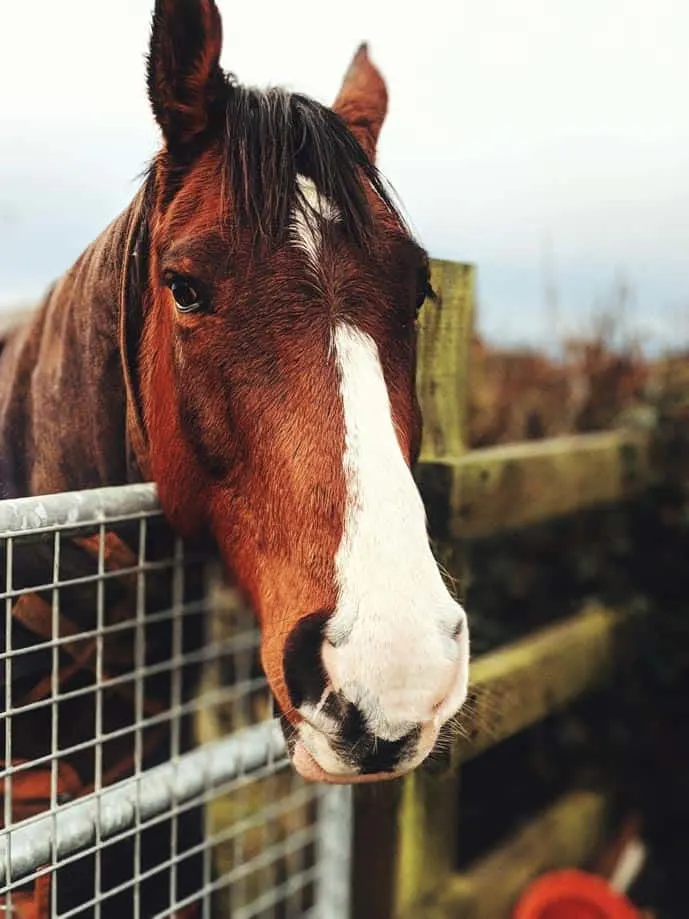 Booking resources
For reference, we'll list here the companies we used to book our tickets, accommodation, car, travel insurance, everything.
Skyscanner and Google Flights – We always open two windows to search for flights, one for each website, and to compare the airfares. This way we have been founding pretty good deals in the past years.
Booking.com – 90% of the time we book our hotels and B&B through Booking.com. They're reliable, easy to use, and we can compare prices effortlessly.
Hostelworld – When the city is too expensive for booking a hotel, we look for a nice hostel at Hostelworld. Also, a great tool.
RentalCars – This is a no-brainer. RentalCars is just like Booking.com, but for cars. The platform is easy to use, and we've found pretty affordable deals when booking in advance.
Safety Wing – Another no-brainer. Traveling without travel insurance is a considerable risk to take away from home.
Get Your Guide – GYG is ideal for practical travelers who need to book a tour or buy a skip-the-line ticket. But in this case, that's where we booked the shuttle bus to Dublin center. Easy peasy.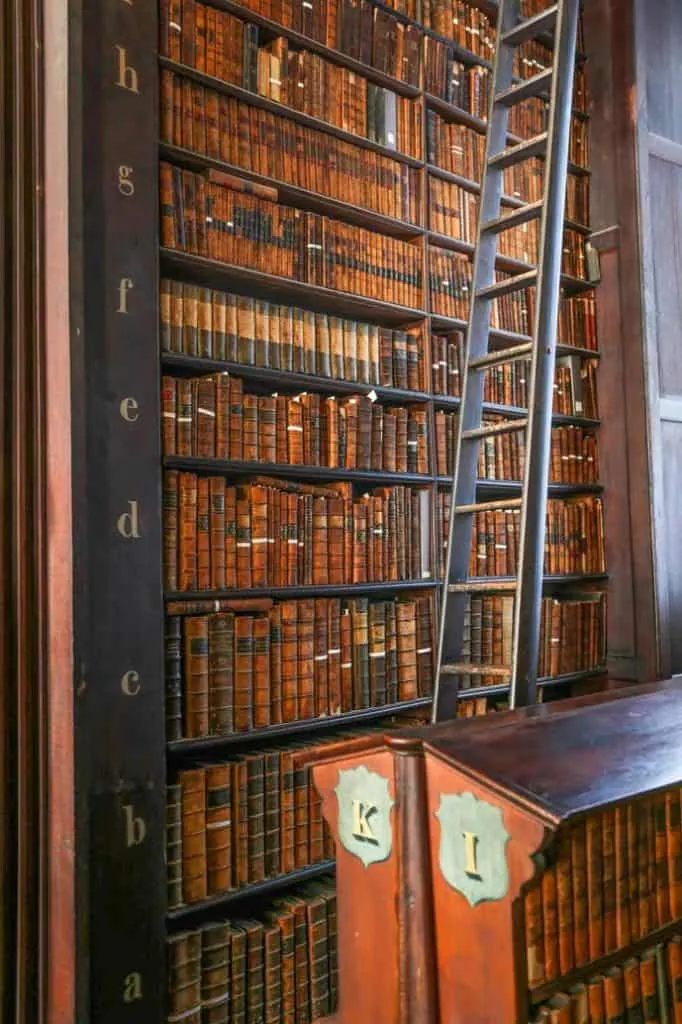 7 day Ireland itinerary maps
Click here to see the interactive map below with the driving route, and here to see the map below with all locations of this Ireland itinerary.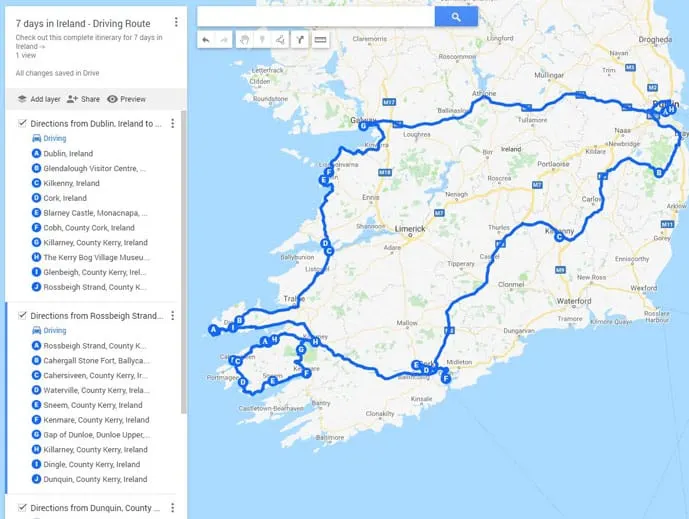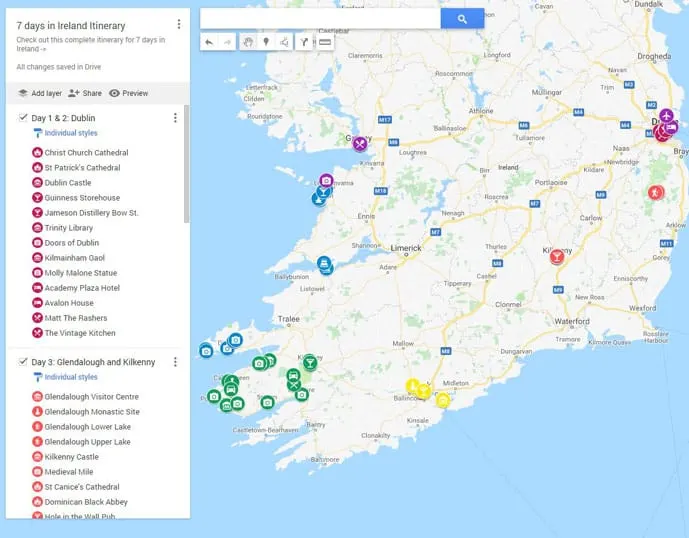 Ireland itinerary
It took us a long time to organize this 7 day Ireland itinerary because we traveled to Ireland pre-blogging. So we didn't really pay attention to how to get around, prices, etc.
The good thing is that I, Bruna, did have a travel journal, and wrote some nonsense stories on the road, but also some valuable tips we're using to write this article for you.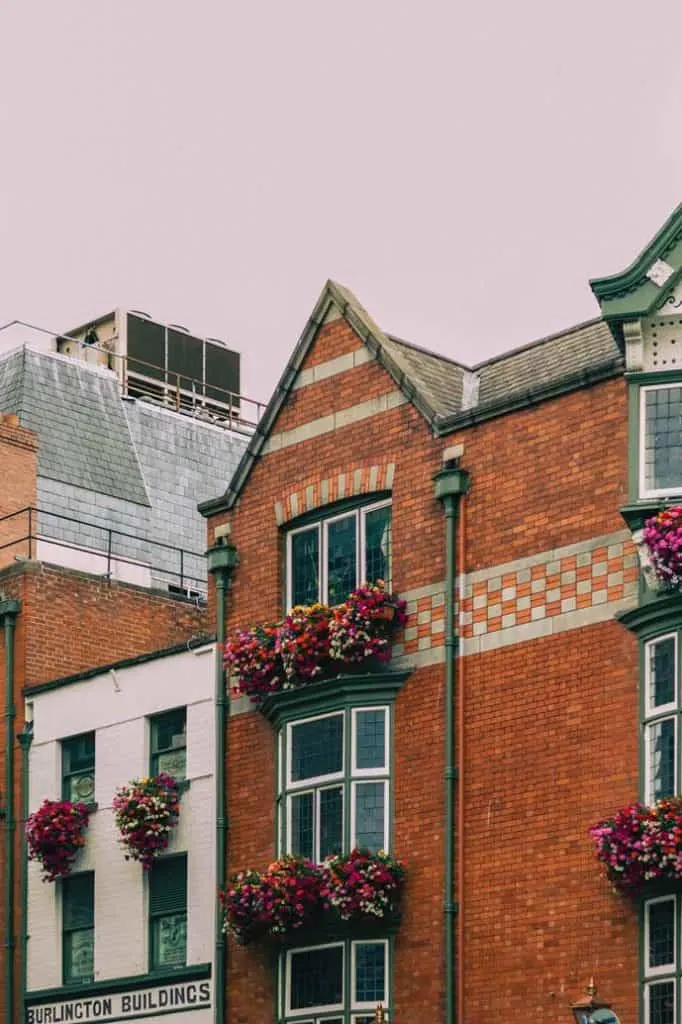 Day 1 & 2 of your Irish road trip: Dublin
Dublin is where most people traveling to Ireland start their journey. Sprinkled by old pubs, unique small shops, and colorful doors, Ireland's capital is quite lively, and it could keep you busy for far longer than two days.
But for the sake of keeping this itinerary focused, let's jump to the best things to do in Dublin. We'll talk about the main activities without specifics, but we also wrote a more detailed two days in Dublin itinerary.
What to do in Dublin
Visit castle and churches: Dublin has ridiculously beautiful Gothic cathedrals that also hold a part of the city's history.
Christ Church and St Patrick's Cathedral are both worth visiting because of their tiled floors and austere architecture. Be sure not to miss the Christ Church's crypt, which is the largest one in the UK/ Ireland.
Then head to Dublin castle, a construction built atop a former Viking settlement.
Today, tourists can visit the museum inside it that showcases various fine and decorative arts, including part of the Viking structures.
Fun fact: Bram Stoker used to work at Dublin Castle.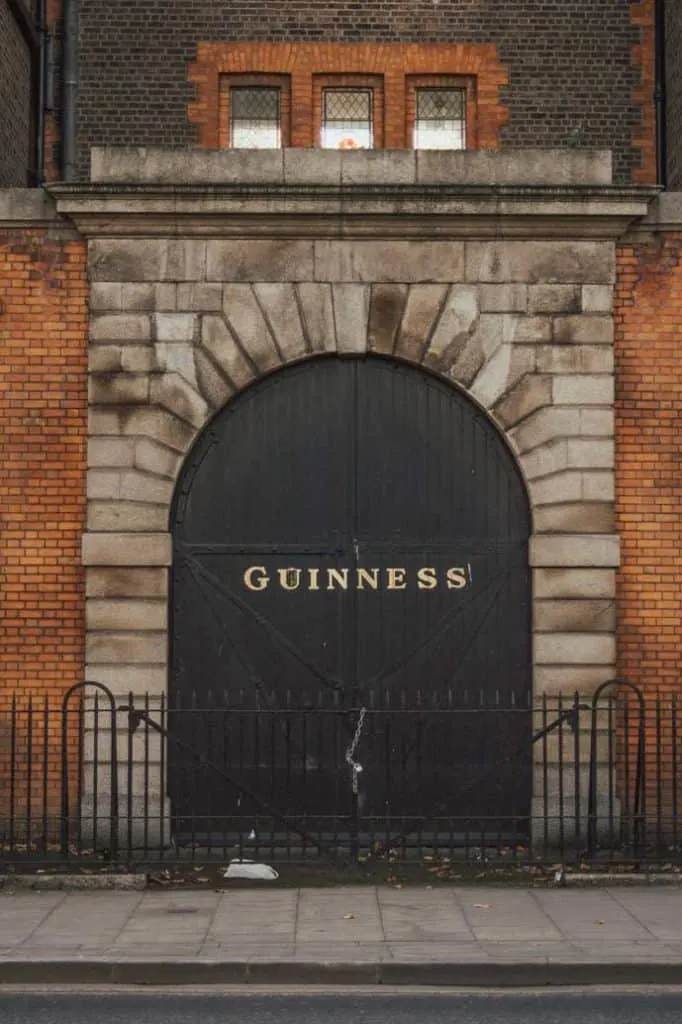 Get tipsy: Top-notch cocktails, whiskeys, and beers are an intrinsic part of the Irish culture, so be sure to go for a self-guided experience in the Guinness Storehouse.
Needless to say that a tasting of local whiskey is a must, right? The Old Jameson Distillery offers different kinds of tours.
For example, in one of them, you can blend your own whiskey and take it home. (How awesome is that?) But at the end of the day, stop by a pub and have a pint while, hopefully, listening to local songs. It's a unique experience.
Learn Irish history and tales: From the world's oldest book, the Book of Kells, to an ancient library, Trinity College is by far our favorite stop in Dublin. (After the pubs, of course!)
Heading to a more recent past, the doors of Dublin are funny to spot on a pleasant walk past the Gregorian houses of the city.
However, not everything was a bed of roses in Ireland's past, and you can learn more about that at Kilmainham Gaol Prison. (A must-see dark tourism site!)
To cheer you up a bit, go rub your hand on Molly Malone Statue's breast. Spoiler: It's said to bring good luck.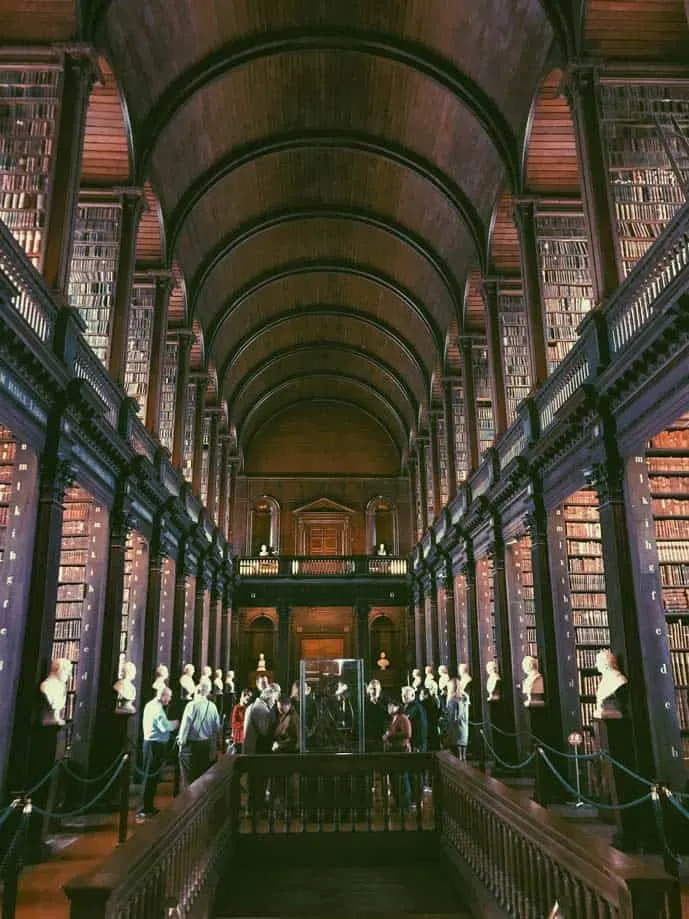 Where to stay in Dublin – 2 overnights
Best hostel in Dublin: Abigail's hostel – In case your budget is on a shoestring, consider staying at this hostel. The rooms are clean, the beds are equipped with convenient lamps and socket plugs, and breakfast is included in the dorm price. On top of that, the location is also great!
Best hotel in Dublin: Harrington Hall – This well-priced hotel is near St Stephen's Green – not far, but also not too close to the buzzing city center. The rooms are very comfortable and spacious, and they're also equipped with a TV, tea kettle, and free WiFi.
Castle hotel in Dublin: Clontarf Hotel – Looking for luxurious accommodation? Then you might want to spend a night in a castle. It's an affordable luxury and a once in a lifetime experience.
Read next: Best places to stay in Dublin
Where to eat in Dublin
Just outside the city center, Matt The Rashers is the perfect option if you want to taste the real Irish Breakfast.
This local spot serves a generous portion of this Irish goddess dish, and it's an ideal fill up for a day of exploration through Dublin.
For us, it filled up good, and we were still full after hours of having it.
Another good option is The Vintage Kitchen. This is a restaurant with mouthwatering dishes and an interesting BYOW policy. (Bring your own wine!)
We had a two-course menu with a risotto of red pepper and garlic, and lamb with caramelized red onion. (Drooling!) It's a small space filled with tables, so be sure to make reservation months in advance.
Yes, months. It books out quickly. This intimate setting also has generous portions.
Pro tip: If you can't make reservations online, try calling them. Maybe there's a cancellation. If that doesn't work, stop by for lunch. It's easier to find a table then.
How to get around Dublin
Most of the activities are close or in the city center, so unless you have physical impairments, you will be just fine walking.
We don't recommend renting a car to drive in Dublin, only in the countryside.
It's a bit chaotic in the city. Therefore, if you need to get somewhere farther away, you can either rent a bike in one of the many stands throughout the city or take a bus. Both are really easy to use.
Pro tip: Use this website to know what bus to take and where. You're welcome. <3
Read next: One perfect day in Dublin
Average costs per day
Dublin is by no means a cheap city, for this reason, start saving for your vacation months in advance. Below we'll give you the average prices for the expenses in the city.
Note that this is an average, you can stumble upon a hotel more expensive or much cheaper, for example. Also, there're currency fluctuations you should consider.
Accommodation costs: around €120 ($133)
Meals costs: €33 ($37)
Drinks costs: €13 ($14.50)
Transportation costs (bus): €14 ($15.50)
Attractions/ entrance tickets: €19 ($21)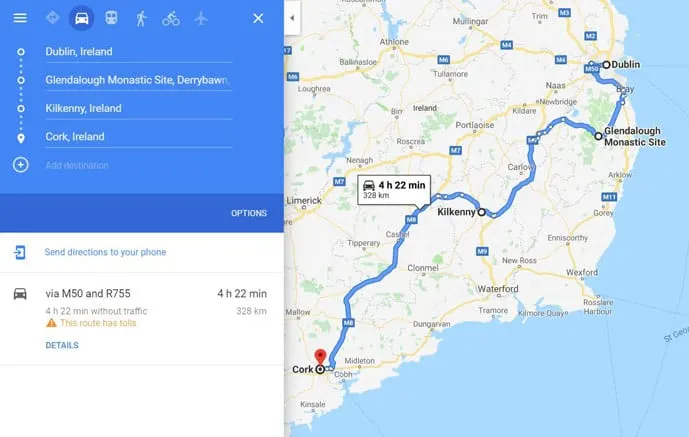 Day 3 of your Ireland itinerary trip: Glendalough and Kilkenny
Leave Dublin early in the morning to enjoy your full day outdoors.
What to do in Glendalough
Go back in time: Your first stop is at Glendalough Valley in the Wicklow Mountains National Park. Glendalough is a glacial valley famous for its ancient monastic sites (it dates back to the 6th-century) and for its picturesque lakes.
Go for a hike: After visiting the religious sites (church and round tower) and the visitor center, start the walk with the lakes on your left so you can reach the top around lunchtime and picnic there. The view is amazing! This is a pleasant hike (approximately 2-4 hours a full loop around both lakes).
There are no fees to see the church or the lakes; however, you pay a small fee for the visitor center (€5) and for using its parking lot (€4) during the weekends, which is free during the week except on bank holidays.
After Glendalough, head to Kilkenny, a small medieval town in Kilkenny County. The city is a cultural heritage hub sprinkled with ancient sites.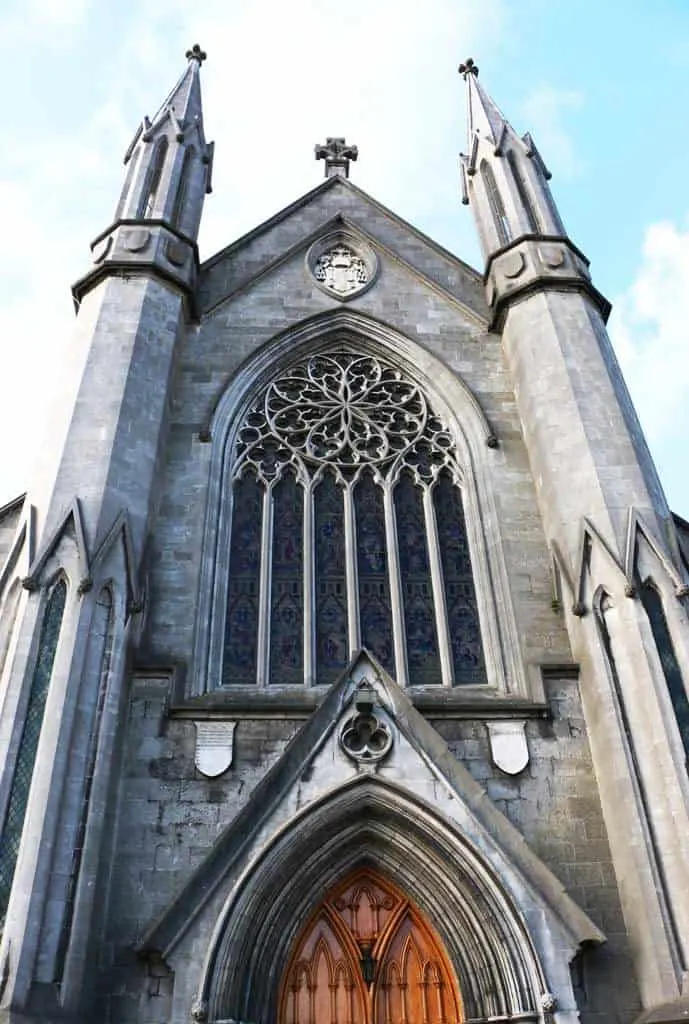 What to do in Kilkenny
Learn about Ireland Ancient East history: Pay a visit to Kilkenny Castle, a 13th-century castle with well-maintained gardens.
On top of that, the colorfully painted walls are covered with paintings, and the rooms filled with luxury furniture are impressive. Oh, they've done a fantastic job of restoring this charming place!
The guided tour (November-January) is included in the ticket price (€8), and it takes approximately 45 minutes. If you can, take this tour. It's interesting and clarifying.
Continue to the Medieval Mile, a street packed with picturesque alleys, excellent pubs, shops, and lots of history.
Learn about Kilkenny's roots: This street leads you directly towards St Canice's Cathedral, which is the 2nd largest cathedral in Ireland just behind St. Patrick's in Dublin.
This 13th-century Gothic church had more influence in the town than you could think. That's because Kilkenny is the anglicized form of Cill Chainnigh, Gaelic for "Church of Canice."
The stained glass windows, wooden ceiling, and the 9th-century round tower outdoor give this place an ancient feeling. Beautiful. But in case you want to climb the tower, know that it's relatively narrow and steep. Be sure to use both hands to climb its 120 steps up.
Obviously, that's not the only imposing church in town. Pay the Black Abbey a visit too. The austere exterior look contrasts with its ridiculously gracious interior.
So, after visiting Glendalough and Kilkenny, head over to Cork, where you'll overnight in the 3rd and 4th days of your Ireland itinerary.
Where to stay in Cork – 2 overnights
Shandon Bells B&B – A sweet and simple place with rooms on the small side, but clean and comfortable. With a lovely decoration, this B&B offers excellent breakfast in a beautiful area by the river. It's conveniently near the Cork center area (10-minute walk) with free parking.

See on Booking.com
The B&B above is excellent. We love the calm area where it is located. But if you want to expand your options, you might want to read about the best hotels in Cork.
Where to drink in Kilkenny
Stop by the Hole in the Wall, a small pub hidden in a narrow alley, but that holds a lot of history in its stones and beams.
The owner, who was our bartender, is an excellent storyteller, and he will love to tell you more about the past of this special place.
You can clearly see that he enjoys what he does. No, seriously, he'll take you on a journey to another time in Ireland. It was the highlight of our day.
Pro tip: As the name suggests, it is a hole in the wall. So it isn't easy to find. If you're leaving Kilkenny Castle, take the Medieval Mile. It's on your left side.
Inside a simple gray facade that leads you along a dark hall. (Address: Hole in the Wall 17 High Street, which is also in the map I linked to.)
How to get around Kilkenny
Walking. It's a small town, attractions are not far from each other. Therefore you're better off walking. This way, you get to see the local shops and pubs too.
Average costs per day
Kilkenny is much more affordable than Dublin. You'll notice that right away.
Meals costs: 23 ($25.50)
Drinks costs: 10 ($11)
Transportation costs (bus): 17 ($19)
Attractions/ entrance tickets: 12 ($13.50)
Day 4 of your Ireland itinerary road trip: Cork, Blarney Castle, and Cobh
Cork is the second-largest city in Ireland, but it has a charming small-town feel to it – laidback.
Home to seriously awesome pubs, excellent food venues, and quirky museums, Cork is a place where you must stop in this Ireland road trip.
The city was first a monastic site, then a Viking settlement, as you'll learn in its streets. It's a shame you'll only have a day here, but still, it's better than nothing.
What to do in Cork
Enjoy the city center: Waste no time and go sightseeing. Stop at the 18th-century indoor market, English Market, for some bites. They sell a variety of fresh vegetables, meat, fish, cheese, chocolate, and coffee. Coffee is always good.
Then take in the view of the beautiful neo-gothic St. Finbarr's Church(€6 entrance). This is a genuinely beautiful church with arches and spires. Lovely.
Next, go ring the bells at St. Anne's Church (€5 entrance). The tower overlooks the city with its white sandstone (south and west) and red sandstone (north and east) facades.
Now, head to Cork City Gaol to see how was the city's prisoners lived in the 19th and early 20th-century (€10 entrance + guide book).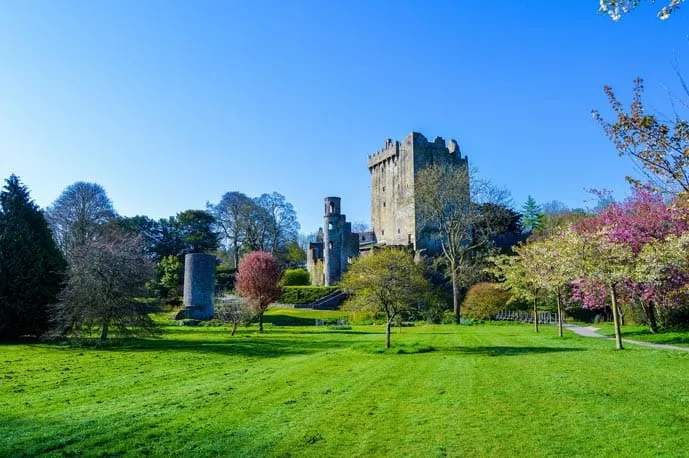 Go on short half-day trips: Visit the beautiful grounds of the Blarney Castle and its gardens. Take this opportunity to kiss the famous Blarney Stone. Legend has it that those who kiss it gain the Irish gift of eloquence. Just be sure to hold on to the bars when leaning backward.
It gets crowded as people come from Dublin to kiss the stone so you might want to go there first thing in the morning.
Then head to Titanic's last stop, the Cobh port. While there, look for the Titanic Experience (€10 entrance) and the St. Colman's Cathedral. Both must-visit places in the area.
Where to eat in Cork
In a busy street full of shops, you'll find the Cornstore Restaurant in a Manhattan-style setting. The early bird menu is well served, and the food is delicious. Also, their focus is on fish and meat, but aiming to keep it as organic as possible.
Be sure to make reservations, if you go there for dinner.
For some drinks, go to Sin é ("That's it" in Irish), a snug Irish pub where you can listen to some cool local songs (at 7 pm). The focus here is on the drink and music, so eat before going there or take your own. (Hot food is not allowed though.)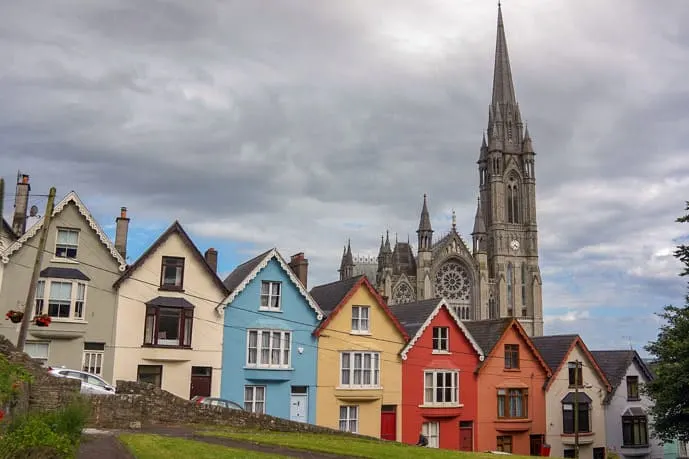 How to get around Cork
Luckily, most of the attractions in the city center are at a walk distance. Therefore, stroll along the charming looking streets, and get to know Cork a little more. On the other hand, to get to the Cork City Gaol, to Blarney Castle, and Cobh, you need the rental car.
It's a short drive, but it will save you lots of time, and you can have a flexible schedule.
Average costs per day
As the second-largest city in Ireland, Cork is quite expensive. But as usual, planning a trip to Ireland months in advance might cut you good deals with accommodation.
Accommodation costs: around 100 ($111.50)
Meals costs: 24 ($27)
Drinks costs: 10 ($11)
Transportation costs (bus): 12 ($13.50)
Attractions/ entrance tickets: 8 ($9)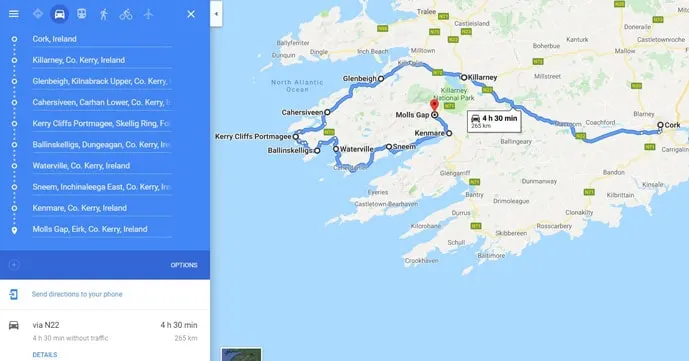 Day 5 of your Irish road trip: Ring of Kerry and Killarney
After a 90-minute drive from Cork, you'll get to one of the most unique driving trails in Ireland, the Ring of Kerry.
This trail contours unspoiled and mystical regions in the Emerald Isle. From quaint villages to green mountains landscapes to old constructions.
We recommend leaving Cork early in the morning so you can explore the ring without having to rush, and possibly rest at the end of the day in a pub. There're lots of stops along the way to take photos and learn about Irish history.
The Ring of Kerry starts at Killarney, and it stretches around the Iveragh Peninsula completing a loop of 105 miles (169 km), with much of the driving along the coastline.
Driving the Ring of Kerry, and considering some stops along the way, should take around four hours. But the trip will obviously be shorter or longer for you depending on where you want to stop and for how long.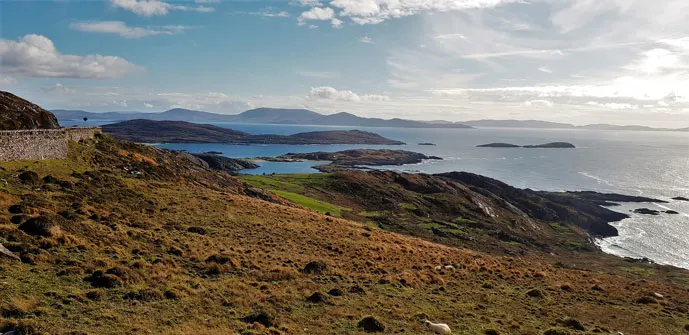 Essential tips for the Ring of Kerry
Drive counterclockwise: Irish roads are narrow, and at times, there are two lanes, and others, only one. We don't know about you, but we rather not meet a tour bus head-on in that situation. Save yourself the hassle.
Don't worry about getting lost as the roads are very well marked, and there are lots of signs to the attractions along the way. It does help to have a map though.
Stop along the way in a restaurant or Irish pub, but be sure to take snacks and water with you too.
What to do at the Ring of Kerry
Drive the Wild Atlantic Way: Stop by the quaint villages of Kerry Bog (village museum) and Glenbeigh, by the pristine Rossbeigh beach, the well-preserved stone ringfort of Cahergal, and the Old Barracks Cahersiveen.
After this last stop, you can take a detour (optional) to the Skellig Ring, and pass by Portmagee and Ballinskelligs for breathtaking views, and to take in the beautiful horizon just ahead. Other must-sees along the way are the towns of Waterville, Sneem, and Kenmare.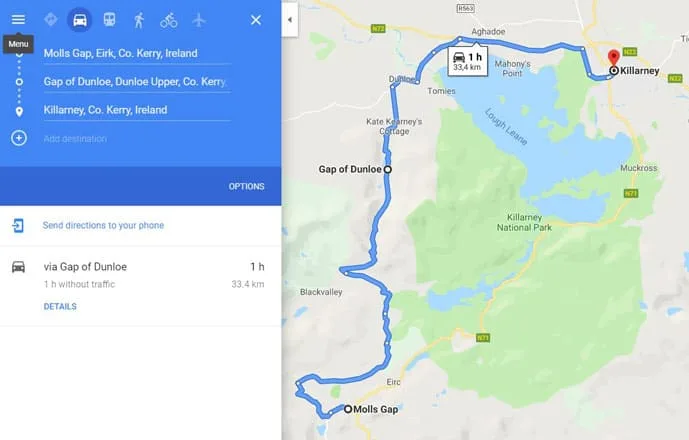 Discover a fairytale mountain pass: From the Ring of Kerry, right after the Avoca Café at Molls Gap, there turn left to the R568 towards Sneem and follow the signs to the Black Valley Hostel.
It'll lead you to Gap of Dunloe, a 7-mile (11-kilometer) mountain pass with scenic views.
Words can't describe how beautiful this place is. It looks straight out of an Irish tale book with narrow roads, rugged mountains, and still lakes.
The downside is that this one-lane pass is open to two-way traffic, and the carriage drivers don't really enjoy cars there.
But this is a public road, so don't fear. There are spots along the road to pull over to allow other vehicles to pass, so be sure to do that yourself too.
Also, drive slowly here, there are hikers on the road too. Considering stops to take photos, this road trip on the Gap of Dunloe alone takes around 3 hours.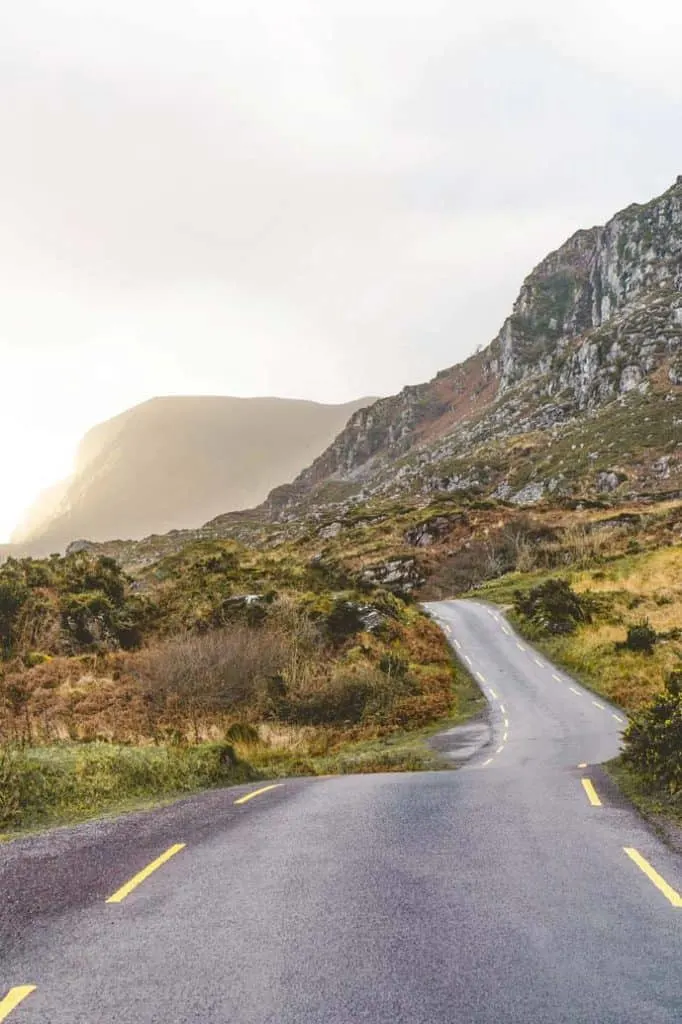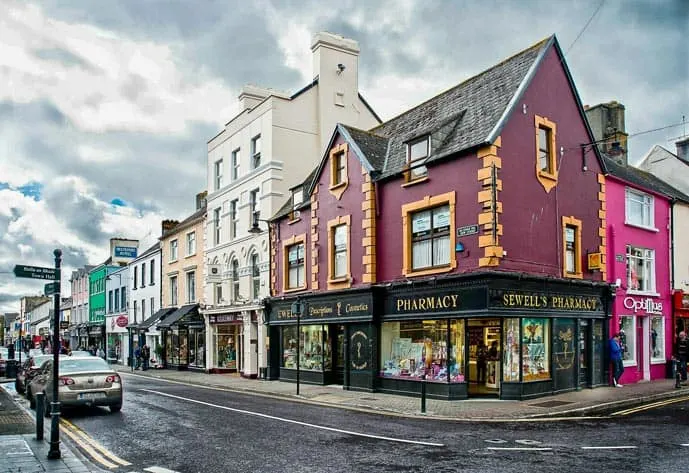 If we had more time left
And energy too, of course, we would have loved to visit the Catholic 19th-century St Mary's Cathedral in Killarney.
Also, we'd have loved to wander through the Killarney National Park and visit the Muckross House and Gardens, the ruins of Muckross Abbey, the beautiful Torc Waterfall, and the Ladies View to have a privileged view of the region. Maybe next time.
Where to stay in Killarney – 1 overnight
These are our top hotel picks for this trip to Ireland. If you want more options, you will want to read our guide to where to stay in Killarney.
The Gardens B&B – This family-run B&B dates back to 1957, hence its distinctive look.
The room was comfortable, clean, and perfect for two people, while the garden was beautiful and well maintained. The continental breakfast was excellent too.
Location-wise, it was also excellent because it's an only 2-minute walk to the center. Therefore, definitely a good start/ endpoint for those who want to venture on the Ring of Kerry. Free parking on site.

Check latest prices on Booking.com
The Ross – With a stylish design, this lovely boutique hotel in Killarney has all the amenities you could wish for.
It features a restaurant and a bar on-site, where you can get some delicious drinks.
On top of that, the rooms are equipped with tea/coffee makers, WiFi, and air conditioning.
All of that right in the heart of Killarney, minutes walk from most attractions and venues, meaning it is the perfect place to stay for first-time visitors.

Check latest prices on Booking.com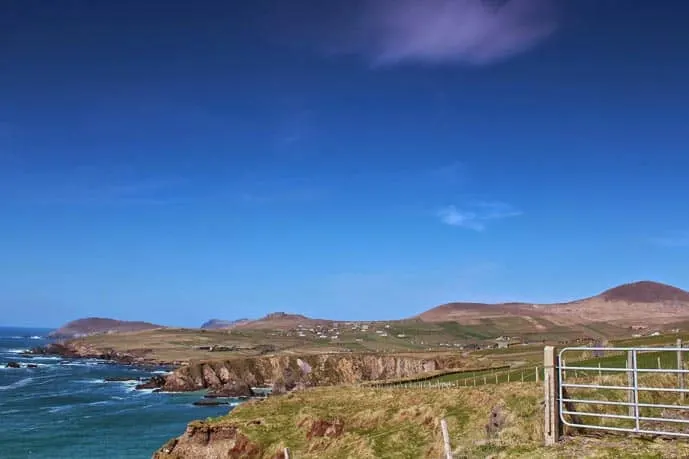 Where to eat in Killarney
Have some fresh and tasty food at the family-run business, Cronin's Restaurant. If you want some meal recommendation, go for the shepherd's pie. (Drooling over here.)
This is a cozy venue with super friendly service, so if you're going for dinner, be sure to make your reservation.
For a few drinks, stop by the Courtney's Pub, a 19th-century old school bar with wood interior, and authentic Irish atmosphere. Worth a couple of pints to finish your day. After all, you deserve it.
How to get around the Ring of Kerry and Killarney
Killarney is a small town, and everything is at a walk distance from the city center. However, to tour the Ring of Kerry and visit the Killarney National Park (parking available), be sure to go by car.
Also, don't take a day tour around the ring. Driving yourself gives you much more freedom to stay where you want and for how long you want.

Average costs per day
Accommodation costs: around 90 ($100)
Meals costs: 24 ($27)
Drinks costs: 10 ($11)
Transportation costs (bus): 12 ($13.50)
Attractions/ entrance tickets: 10 ($11)
Read next: How to choose the best day tours from Dublin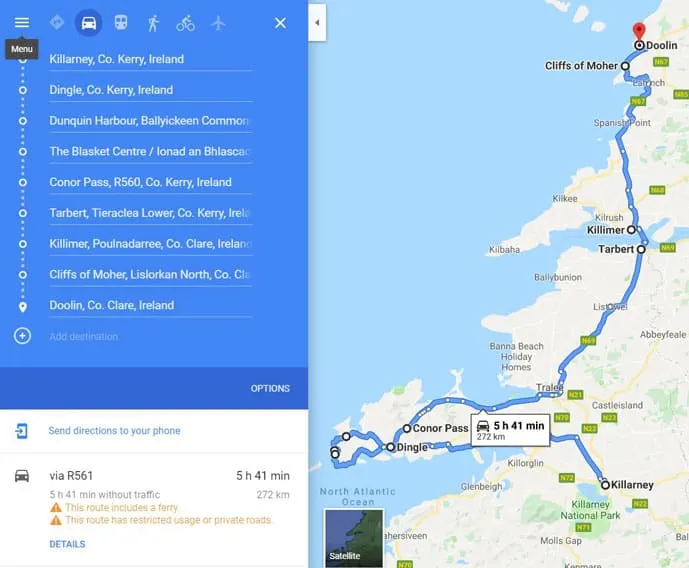 Day 6 of your Ireland itinerary road trip: Dingle Peninsula, Cliffs of Moher, and Doolin
Today your Ireland road trip itinerary will continue to the rugged Irish west coast. It isn't easy to choose, but we risk to say that this was our favorite day of our 7 day Ireland itinerary.
So wake up early and drive a little over an hour to Dingle Peninsula, an area dominated by mountains and with jaw-dropping views. (We're not exaggerating.)

What to do in Dingle Peninsula
Venture on the Slea Head Drive, a road that makes a loop around the peninsula where you have dramatic views of the Atlantic Ocean, including the famous Dunquin Pier and the Blasket Center.
Be sure to stop for pictures, and to drive clockwise in this 26-mile loop (42-kilometer).
Now, head over the Cliffs of Moher, but instead of driving all the way through Limerick, drive to Tarbert and take the 20-minute ferry to County Clare. It will save you some precious time, giving you more time to enjoy your 7 day Ireland itinerary.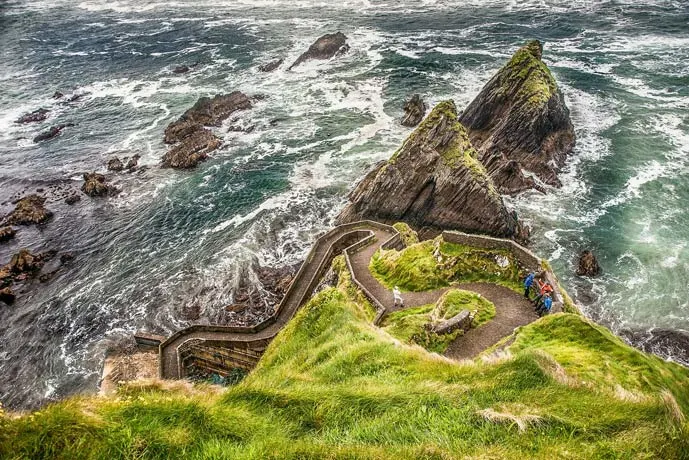 But on the way to Tarbert, take the Spa Road so you can drive through the twisty Conor Pass, Ireland's highest mountain pass.
The green-hued landscapes are breathtaking, so make sure to stop at the carpark at the summit to take some good shots of the region.
Weather permitting, you'll be able to spot the Aran Islands near the Cliffs of Moher.
Since you're coming from Dingle, the first 1.3 miles (2 km) of the Conor Pass is a descent with several spots to pull over to allow traffic to pass.
Be friendly and pull in to let other vehicles pass. This is without doubts one of the most beautiful roads of this Ireland itinerary.
Pro tip: There will be another improvised carpark on the right by a waterfall. Stop there, climb the rocks (10-15 minutes) to find the Lough Doon nestled among rugged mountains and steep cliffs.
Take the ferry to County Clare
Again, head over Tarbert to take the 20-minute ferry to Killimer, County Clare. It might save quite some time in your 7-day Ireland itinerary if you plan ahead, so check the ferry timetable. This way, you can arrive here not long before the ferry departs.
Just so you know, the trip to Cliffs of Moher through Limerick is a 140-mile (226-kilometer) drive, while with the ferry, it is a 96-mile (155-kilometer) drive.
Pro tip: Don't order coffee on the ferry. It wasn't good. At all.
After crossing the mouth of the River Shannon, the drive to the Cliffs of Moher takes a little over an hour. Don't be afraid to arrive late in the afternoon (around 4 pm) because at this time most tour buses are leaving, so the place isn't crowded.
Once there, park your car (on the right side of the road), and cross it to finally see Ireland's most famous attraction, the ridiculously pretty Cliffs of Moher.
They rise up 700 feet (213 meters) above the Atlantic Ocean at its highest point by the O'Brien Tower. (€2 to go up in the tower. We didn't think it was worth it.)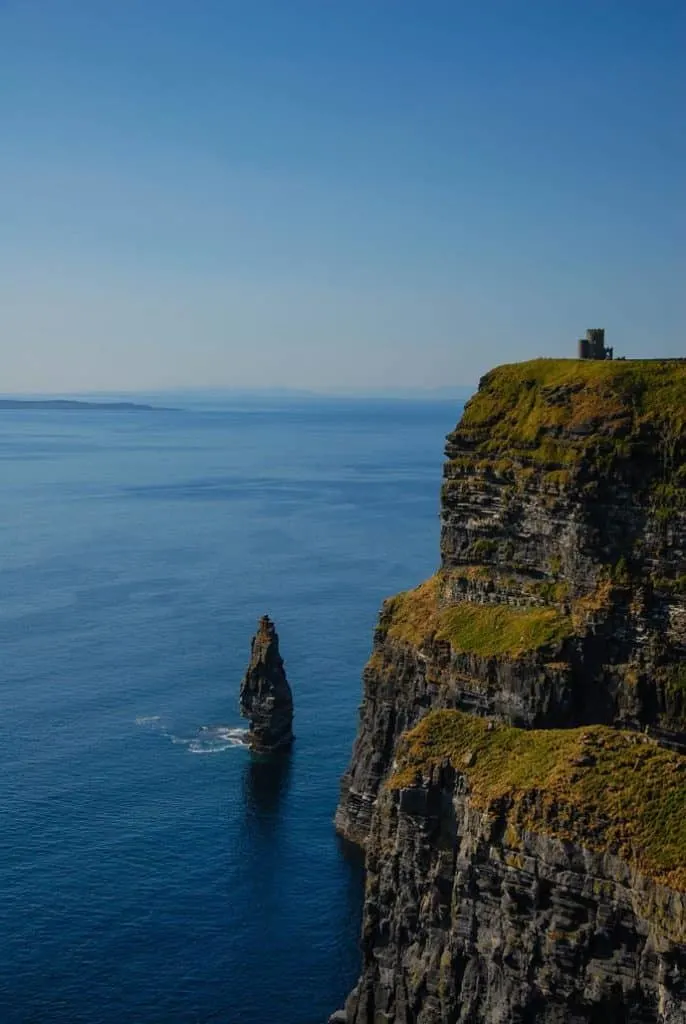 Explore the Cliffs of Moher
Take your time to wander through the cliffs and take in the view. It's breathtaking. Literally.
It was so windy when we were there that we had to hold ourselves not to be blown away. And this coming from people (aka us) who live in a windy country (aka the Netherlands).
Pssst: To see real-life, funny, and scary example of how windy it can in the Netherlands, check out our Instagram stories in our profile. It's under the NL folder.
Anyway, explore the cliffs the most you can, after all, the view is extraordinary, and you deserve it.
However, watch out for the edges. It can be very dangerous, and if you're traveling with kids, hold them by their arm, not hand.
As we said, it's hard for us to choose a favorite place in the country, but the Cliffs of Moher is undoubtedly among the best places we've included in our 7 day Ireland itinerary. We were (and are) so glad we got to see it.
Be sure to read up more about the Cliffs to know in detail what you can expect.
We wrote a complete guide to visiting the Cliffs of Moher from Dublin, but you can just skip the part where we mention the logistics. It includes information about the birds, how it was formed, and more!
There's no entrance fee to the cliffs, only to the parking lot and Cliffs of Moher Experience (€8), which has exhibitions about the local flora, wildlife, and geology.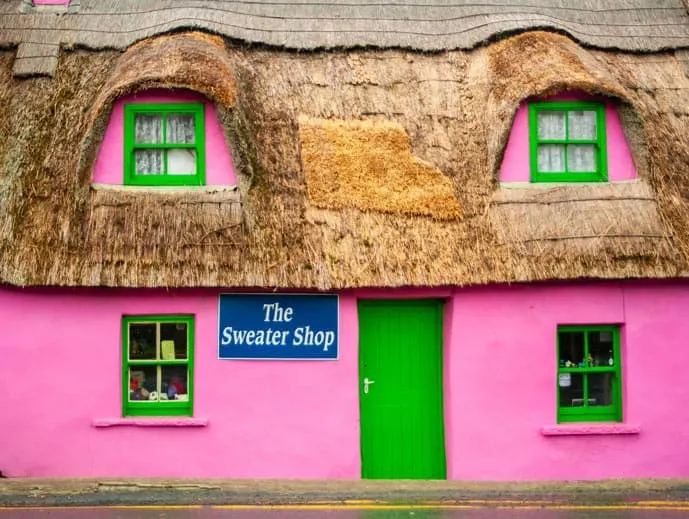 Doolin
After sunset, head over to Doolin, a small town 10-minute drive from the cliffs. That's where you will overnight.
When you arrive there, you'll be exhausted (trust us), which is totally understandable. After all, you drove a lot today and in the last few days.
So after the experiencing Dingle Peninsula and Cliffs of Moher, have a relaxing night in Doolin.
Where to stay in Doolin – 1 overnight
Moloney House – Right in Doolin's heart, and only 0.2 mi (300 m) away from O'Connor's Pub (more on it below). Here you'll find extremely welcoming hosts, and comfortable rooms with a typical Irish view – green fields.
Also, it had a good size for us. Not huge, not small. The Irish breakfast was excellent. Free parking on site.

See on Booking.com
Blackberry Lodge – A more affordable option, the Blackberry Lodge is a lovely house a few minutes away from some pubs in Doolin. (Not the O'Connor's though.)
The rooms are simple, but spacious, clean, and neat. Breakfast also has excellent reviews, and there's free parking on site.

See on Booking.com
Where to eat in Doolin
Gus O'Connor's Pub, that's our first and only recommendation. There's no way to go wrong here. If you like seafood, that's an excellent place to have it because they source it locally.
Otherwise, the other Irish dishes won't disappoint either. Fish and chips are always good. (Right?) We had beef with Guinness stew served with the traditional soda bread. It was delicious.
Average costs per day
Accommodation costs: around 105 ($117)
Meals costs: 19 ($21)
Drinks costs: 4 ($4.50)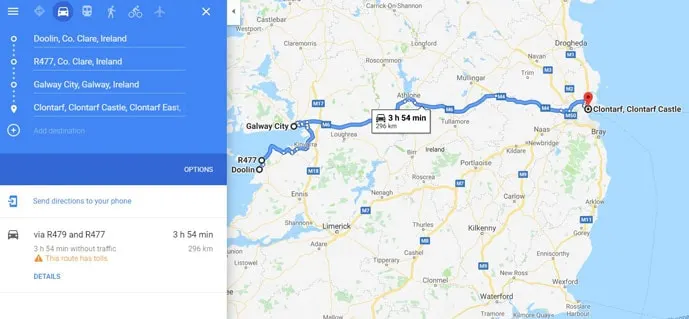 Day 7 of your Irish adventure: Galway and Clontarf Castle
Finally, that's the last day of your 7 day Ireland itinerary. We know it was a fantastic soft adventure, but we also know it's exhausting to drive so much, explore new places, and learn (so many) new things every day.
For that reason, you'll finish this day in style. Trust us. (No spoilers here.)

Anyway, Galway is only a 90-minute drive north, but be sure to take the R477 along the coast right outside of Doolin. There you'll see a small improvised carpark. Stop there for a few minutes so you can see the Burren, or also known as baby cliffs.
Don't expect them to be so impressive as the Cliffs of Moher. They're nevertheless ridiculously pretty and memorable.

What to do in Galway (to the tune of Galway Girl…)
Well, Galway isn't really known for tourist attractions but rather for beautiful architecture and welcoming vibe. And after so much travel, that's precisely what you need.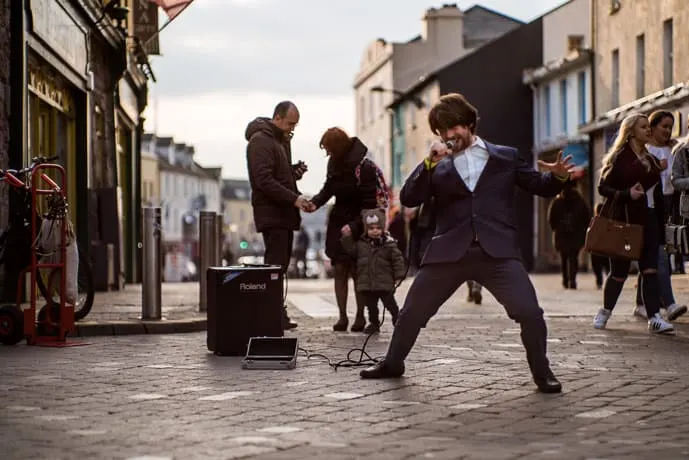 Explore the city center: The area around Quay Street is filled with unique shops, pubs, and restaurants. So take your time to walk around and explore it a bit. The narrow streets, the typical Irish architecture, and the burst of colors make this place unique.
You won't want to leave Galway, but use that spirit to make a second trip to Ireland so you can visit the north and Northern Ireland too. (Good idea, huh?)
Calling all bookworms: As a declared bookworm, Bruna loves stopping by those unique independent book shops sprinkled throughout small towns. Thankfully, Ireland has lots of it, so if you want to buy some Irish literature as a souvenir, stop by the miniature version of the Trinity Library, Charlie Byrne's.
This shop is a labyrinth of 100,000 books of all genres you can imagine. The books cover the shelves from floor to ceiling. (Heavy breathing cat meme.)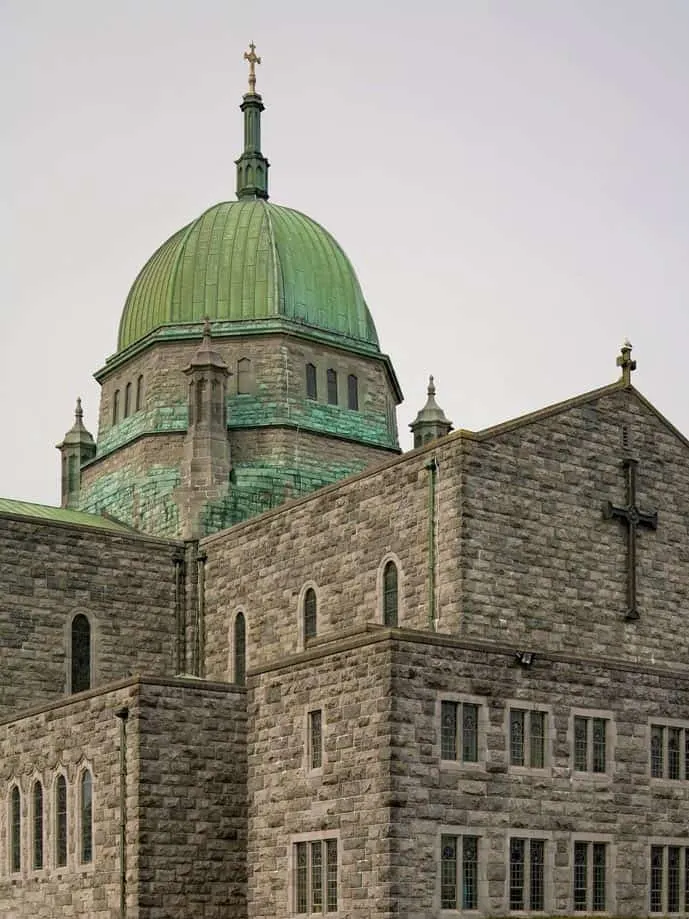 Explore some old sites: Explore the Galway Cathedral on the west bank of the River Corrib. Dating to 1965, this cathedral is Europe's youngest stone cathedral, which was built on the site of the former city prison.
The massive stone walls and marble floor are impressive. The entrance is free of charge, but they ask a donation of €2 from the visitors.
Next, head to the National University of Galway. This limestone building in a Tudor Gothic style dates back to 1845. As a result, the university grounds are impressive and make up for a beautiful photo location.
Back to Dublin: The trip back to Dublin through the M6 and M4 takes around two and a half hours.
Therefore, plan to leave Galway somewhere in the afternoon so you can have dinner at your next stop's restaurant, the Clontarf Castle in Dublin.
However, if you decide to stay more days in the city, be sure to read our guide to the best hotels in Galway.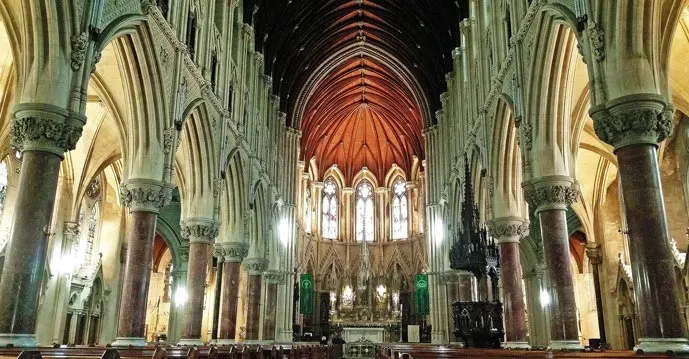 Where to stay in Dublin
Clontarf Castle Hotel – We told you this Ireland road trip itinerary was going to end in style. So here you are. Stay in Clontarf, an affordable castle hotel in Dublin. This 11th-century castle is an old construction with some touch of modernity.
Also, the beautifully decorated rooms are incredibly comfortable and spacious (aka to die for). No joke.
How is it to sleep in a castle? Like a dream!
Ireland has lots of castle hotels, but this one offers exactly what you need to relax after driving so much. It's one of a kind.
Oh, and be sure to book a table at their award-winning restaurant, Fahrenheit. Just so you know, the menu isn't abnormally expensive. Free parking on site.

Check latest prices on Booking.com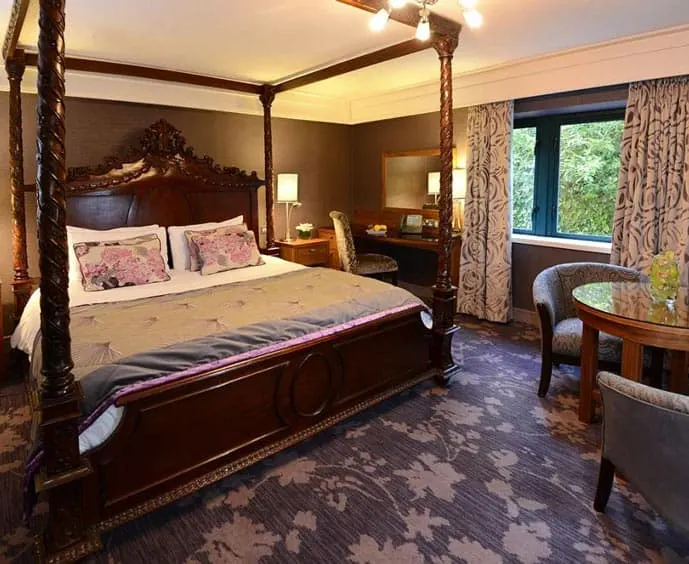 Where to eat and drink in Galway
Just to finish Galway – There are lots of pubs in Galway center where you can have something to eat and drink. Some more touristy than others, but still good, such as Kings Head, An Pucan, and The Quays.
But you can also go to Dail Bar for a juicy steak accompanied by Guinness. Delicious.
How to get around Galway
Galway city center is small, and you'll gladly walk around its narrow streets. This way, you get to see the quirky shops by yourself.
The farthest attractions are the Galway Cathedral and University, which are only a 10-15-minute walk. No need to use the car here.
Average costs per day
We had the feeling that Galway was slightly cheaper than Cork, which was a pleasant surprise.
Accommodation costs: around €94 ($105)
Meals costs: €20 ($22)
Drinks costs: €12 ($13.50)
Transportation costs (bus): €26 ($29)
Attractions/ entrance tickets: €8 ($9)
Wrapping up your 7 days in Ireland
We hope you've found this itinerary useful for you 7 days in Ireland. The country is ridiculously lovely and full of landscapes that will take your breath away. No doubt in that.
So that's it, folks. Whatever questions you might have, constructive feedback, or just want to say hello, drop us a message in the comments below. We'd love to hear from you!
Did you find this 7 day Ireland itinerary useful? Then pin it to your Pinterest board!
Our best travel tips & resources:
Here're our all-time favorite travel tips & resources so that you can save money and plan your travel logistics hassle-free! For more travel resources, check out our
travel tips.
Saving money: Fly on offseason, winter (not Xmas or NYE), Tuesday, or Wednesday! According to experts, these are the cheapest days to fly.
Travel insurance: Before you leave for your trip, make sure you have a valid travel insurance policy because accidents happen on the road. We have been paying for Safety Wing travel insurance for a little over a year now, and we happily recommend them to our family and friends.
Accommodation: We usually stay in mid-range comfy hotels or private rooms in hostels. These are the sites we use to book accommodation: Booking.com for hotels (excellent flexible cancellation policy) and Hostelworld for hostels (low deposit and easy cancellation).
Tours:We absolutely love booking guided tours with locals to get a history lesson while sight-seeing, especially food tours and walking tours! We book all of our tours using Viator and GetYourGuide.
Transportation: We use Google Maps to figure out how to get around a place using public transport. When we book a rental car, we always use Discover Cars to find the best deal.