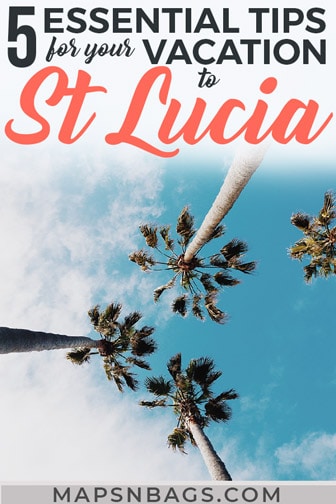 Planning your St Lucia honeymoon? Then check out our tips for an awesome vacation.
Situated off the Central American coast, Saint Lucia definitely has some of the most beautiful views.
This is a must-have vacation destination to have on your bucket list.
From the palm-fringed beaches to the endless waterfall-dotted rainforest which attracts tourists from all over the world it is just breathtaking.
With its fantastic culture and music traditions and beautiful scenery, you may want to make it your vacation destination.
Organizing a getaway can be overwhelming in itself. Planning your getaway to Saint Lucia can be even more nerve-wracking. Not to worry, we have put together 5 tips to help make sure your vacation is incredible!
Know What To Pack
One of the first things to do when planning a vacation is deciding what to pack. When traveling to any Caribbean island, it is essential that you have all your necessary documents. These include your passport and ID.
You should also carry along your credit or debit card. In case of any difficulties accessing your bank cards make sure you have some cash on hand.
It is also a good idea to have your health insurance cards in your travel bag in case of any emergencies.
Even on sunny days rain can occur in Saint Lucia so ensure you pack in a coat as well as an umbrella. No matter what the weather is you should pack in:
Tank tops/cotton tops
Shorts or lightweight clothing
Swimsuits
Beach cover-ups for areas where it may be inappropriate to wear only a swimsuit – a travel essential for women!
Beach towels
Summer accessories such as sandals, sunglasses, and hats
Sleepwear
Sneakers in case you want to hike
Last, but not least – purchase travel insurance. This is perhaps the most essential thing for your vacations.
Make sure to pack in your health care items such as prescribed medication and your toiletries. If you forget your toothbrush, you could buy one from a local store in your resort area.
Don't forget sunscreen lotion to protect you from the sun! You may also want to carry along a camera to take photos for memories. Click here for more tips on how to pack.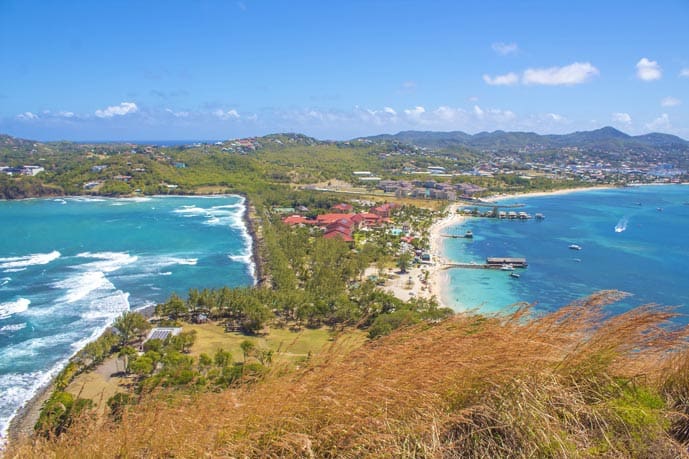 Timing is Key
Timing is key when planning your getaway to Saint Lucia. It is usually a moderate, warm climate throughout the year.
However, it is still a good idea to know what weather to expect so that you can plan activities accordingly.
Most tourists travel to Saint Lucia from mid-December-April. During these months you can expect dry, sunny weather.
It is not the best time for your vacation if it's last-minute especially if you are on a tight budget as prices are at a peak during this time of the year.
Jun-Nov is known as the rainy season. September and October are when the hurricanes are most expected to hit. July and August are known as very wet months yet very hot and humid.
Although you'll be able to see the colorful birds throughout the year, they're easier to spot when it is not raining. The trails to view them will also be more accessible during this time.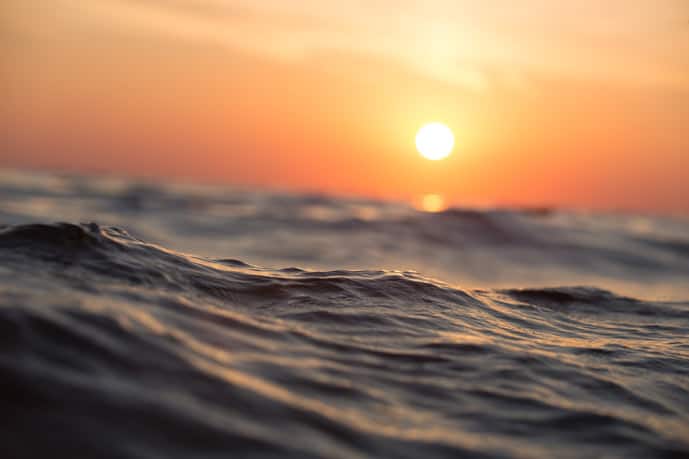 Where To Stay
While there are many places to stay during your Saint Lucia vacation, it may be a tough decision.
Below are three of tourists favorite places:
Sugar Beach: This beach resort is a 5-star hotel that offers 2 restaurants & 3 bars, plus an outdoor pool, a spa & a dive center.
Jade Mountain Resort: if you want a perfect hillside hideaway this is the one for you. It offers oceanfront rooms with whirlpool tubs, as well as a chic restaurant and a spa.
Serenity Escape St Lucia: a 3-star hotel that has an excellent location for sightseeing, recreation, and getting around.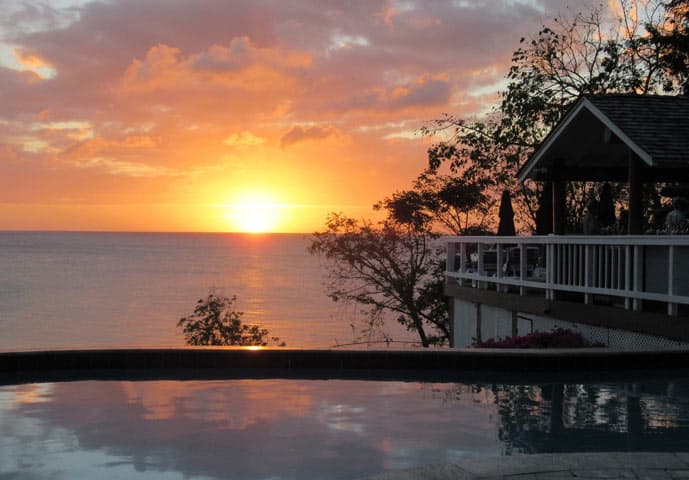 Cool Things To Do
Saint Lucia is one of the best places to explore the ocean. You can relax while watching the waves of clear waters.
Perhaps you're interested in sea creatures. If you are you could participate in a once in a lifetime experience by diving and snorkeling among the beautiful creatures of the sea.
There are many waterfalls to admire on the island. However, The Diamond Falls definitely stand out from the rest. Its waters are laced with minerals. The waterfall is a 50-foot tall waterfall of beautiful colors from a mix of rainwater and volcanism.
If volcanoes catch your interests make sure you take a guided tour to The Pitons.
Once you reach the top of the two now dormant volcanoes, the marvelous view will take your breath away. The 2 hours hike may be challenging but is most definitely worth it!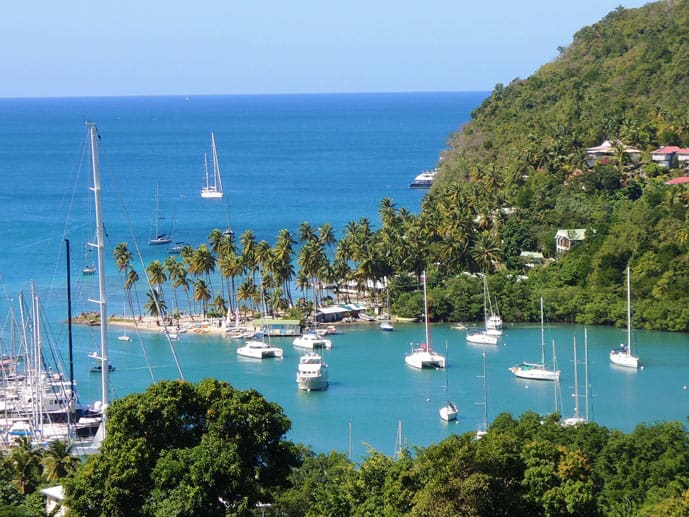 Be Kind To Your Wallet
Vacations often leave your wallet a bit empty. Fortunately, there are ways to save some money during your getaway.
A great way to reserve some cash is to book online. Before booking your trip search for those discounts roaming online. You'll also be able to find all-inclusive resorts. These packages save you a ton of money and are very convenient.
Consider traveling off-season. Prices for accommodation are lower between May and October. It is possible to save 30% or more during summer which is April-December in Saint Lucia.
Wrapping up on tips for your vacation to Saint Lucia
St Lucia is a dream location in every couple bucket list, but planning a vacation to this paradise doesn't have to be complicated. We hope these tips will help you get the most out of your romantic trip to Saint Lucia!
Our best travel tips & resources:
Here're our all-time favorite travel tips & resources so that you can save money and plan your travel logistics hassle-free! For more travel resources, check out our
travel tips.
Saving money: Fly on offseason, winter (not Xmas or NYE), Tuesday, or Wednesday! According to experts, these are the cheapest days to fly.
Travel insurance: Before you leave for your trip, make sure you have a valid travel insurance policy because accidents happen on the road. We have been paying for Safety Wing travel insurance for a little over a year now, and we happily recommend them to our family and friends.
Accommodation: We usually stay in mid-range comfy hotels or private rooms in hostels. These are the sites we use to book accommodation: Booking.com for hotels (excellent flexible cancellation policy) and Hostelworld for hostels (low deposit and easy cancellation).
Tours:We absolutely love booking guided tours with locals to get a history lesson while sight-seeing, especially food tours and walking tours! We book all of our tours using Viator and GetYourGuide.
Transportation: We use Google Maps to figure out how to get around a place using public transport. When we book a rental car, we always use Discover Cars to find the best deal.