Need some savage Instagram captions to unleash your inner beast? You're in the right place.
Sometimes we just need to not give a damn. The world is full of haters, and chances are if they're jealous is because you're doing something right. After all, everyone pities the weak. Jealousy, you have to earn. So show them you do with these savage Instagram captions, and kick some asses!
Because let's be honest, some people just deserve a few good and savage captions on their timeline. Maybe they'll get the message. Maybe.
If you aren't following us yet (OMG!), be sure to do it now and be up-to-date with our adventures. Click here to follow Maps 'N Bags on Instagram.
Wanna learn some savage captions for Instagram? Read on!
I would like to confirm that I do not care.

your muse
Savage Instagram captions
No, I checked my receipt. I didn't buy any of your bullsh*t.
Losing you was my biggest win.
But who is really down for you?
It is what it is, f*ck what it was.
If you slept on me it's too late.
Easy for a good girl to be bad.
She is bad with ambition, don't see any competition.
This is not to snack, boy. This is a full plate.
His ex thinks I'm her teacher, she's stalking me for features.
I don't take shit personal from a person who doesn't know me personally.
Hey, I found your nose. It was in my business.
Rumors are carried by haters, spread by fools, and accepted by idiots.
I'm sorry, what language are you speaking? It sounds like b*llsh*t.
If you listen closely, you can hear me not caring.
The difference between a pizza and your opinion is that I only asked for pizza.
A penny for your thoughts. Five bucks if they are dirty.
Thinking is expensive, that's why most people judge.
I don't have the energy to pretend to like you today.
My mascaras are too expensive to cry over little boys like you.
Me, jealous of you? Bless your delusional heart.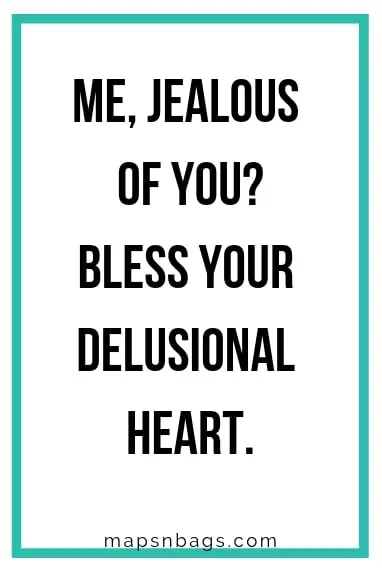 Badass Instagram captions
Yeah, I'm single. And you'll have to be amazing to change that.
Oh, let the Jameson sink in.
My middle finger salutes you.
There's always a wild side to an innocent face.
No girl is me. She may be cute, but she is not me.
Take the risk or lose the chance.
There's no reason to repeat yourself. I ignored you just fine the first time.
You either on my side, by my side, or in my f*cking way. Choose wisely.
Can you see the "f*ck you" in my smile?
You're not a model. You're a b*tch with a smartphone and 50 editing apps.
Throwing fertilizer at some people to see if they grow the hell up.
Don't like me? Have a seat with the rest of the bitches waiting for me to give a fuck.
Underestimate me. That will be fun.
I would like to confirm that I do not care.
Sorry, sarcasm falls out of my mouth as stupidity falls out of yours.
Judge me when you're perfect.
An apple a day keeps people away if throw it hard enough.
If you have a problem with me. Call me. If you don't have my number, then that means you don't know me well enough to have a problem.
People say I act like I don't care. I'm not acting.
In order to insult me, I must first value your opinion. Nice try though.
Pssst: You'll love these travel puns and hilarious travel memes.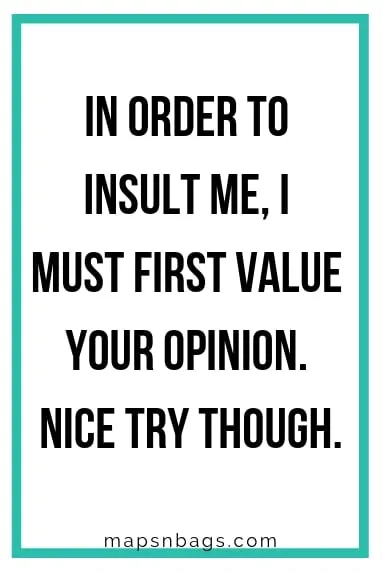 Read next: Sassy captions that you'll love
Savage quotes for Instagram
If you're testing my waters, you better know how to swim.
Keep rolling your eyes. Maybe you'll find a brain back there.
"Go to hell", oh honey, where do you think I came from?
If I wanted to kill myself I'd climb your ego and jump to your IQ.
Life is short. Smile while you still have teeth.
I like to smile at people who don't like me 😉
Everyone is entitled to stupidity, but some abuse that privilege.
I don't have a dirty mind. I have a sexy imagination.
I wish common sense was common.
I'm 99% angel, but oh, that 1%…
After Monday and Tuesday, even the calendar says WTF.
Sunshine mixed with a little hurricane.
Oh sorry, I didn't realize you were an expert on how I should live my life. Hold on, let me get a notebook.
Feels so good being bad.
I do a thing called "what I want."
Go disappoint the next bitch, I'm busy.
Needing you AF.
Stay up off my instagram, pure temptation.
I need someone who sees the fire in my eyes and wants to play with it.
50% savage. 50% sweetness.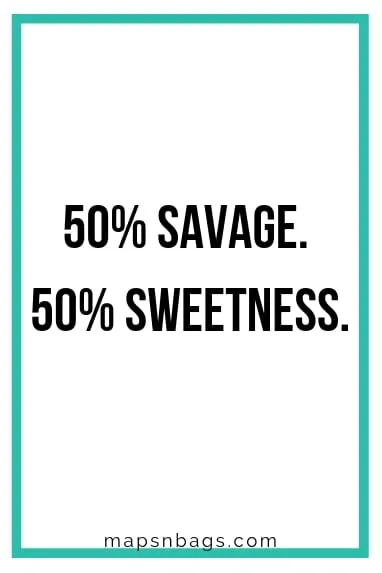 Savage selfie captions
Kill them with success and bury them with a smile.
Emotional somedays, emotionless other days.
Treat me like a joke and I'll leave you like it's funny.
"What are you 12?" Yeah, on a scale from one to ten, bitch.
And she gave no f*cks. Not even one. And she lived happily ever after. The end.
I always laugh when people try to hurt my feelings. As if I have any.
Shut up. I wear heels bigger than your d*ck.
If I say "first of all" run away because I have prepared research, data, charts and will destroy you.
Row, row, row your boat gently the f*ck away from me.
You haven't seen my bad side yet.
Bitch, please! You're so fake even China denied they made you!
Sweet as sugar. Hard as ice. Hurt me once. I'll break you twice.
Bitch, please. My phone battery lasts longer than your relationships.
If I ever let my head down, it will be to admire my shoes.
I've got heels higher than your standards.
I'd rather steal your snacks than your man.
If you treat me like an option, I'll leave you like a choice.
I keep it real cause I'm not afraid to make enemies.
Even on my worst day, I'm killing it.
Be savage, not average.
Read next: 150+ Best beach quotes for you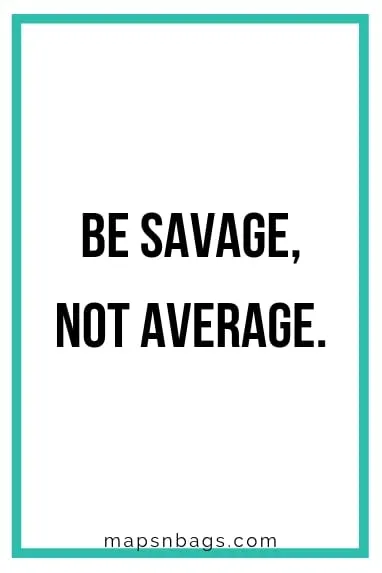 Read next: The cutest Instagram captions
Savage captions for Instagram
You don't deserve my tears. I guess that's why they ain't there.
Sorry for the mean, awful, accurate things I said.
Bitch, I wanna slap you, but I don't know on which face.
I've come to a point in my life that I need a stronger word than f*ck.
Just like the alphabet, bitch. I come before u.
You're the reason this country has to put directions on shampoo.
If you can't handle the sass. You can't handle this ass.
5'2 but my attitude is 6'1.
Zombies eat brains. You're safe.
She may be the queen of hearts, but I'm gonna be the queen of your body parts.
Are you mad? Stay mad, because I don't give a f*ck.
I swear I wish somebody would dare me.
Too hot to handle, too cold to hold.
I may not be perfect, but at least I'm not you.
I ain't sorry.
Don't say that you miss me, just come get me.
Be savage AF.
My personality is who I am. My attitude depends on who you are.
Don't stand too close to the heater, babe. Plastic melts.
Be that kind of woman that when your feet hit the floor each morning, the devil says "oh crap, she's up."
Thank you, next!
Didn't they tell you I was a savage?
I hope karma slaps you in the face before I do.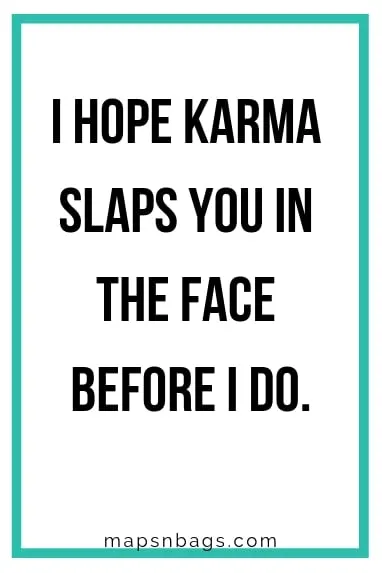 Read next: Funniest travel puns
Wrapping up on savage Instagram captions
What about you? Do you know any savage Instagram captions we didn't mention above? Share them in the comments! Oh, and forget to follow us on Instagram.
Did you like this article about savage Instagram captions? Then pin it to your Pinterest board!

Our best travel tips & resources:
Here're our all-time favorite travel tips & resources so that you can save money and plan your travel logistics hassle-free! For more travel resources, check out our
travel tips.
Saving money: Fly on offseason, winter (not Xmas or NYE), Tuesday, or Wednesday! According to experts, these are the cheapest days to fly.
Travel insurance: Before you leave for your trip, make sure you have a valid travel insurance policy because accidents happen on the road. We have been paying for Safety Wing travel insurance for a little over a year now, and we happily recommend them to our family and friends.
Accommodation: We usually stay in mid-range comfy hotels or private rooms in hostels. These are the sites we use to book accommodation: Booking.com for hotels (excellent flexible cancellation policy) and Hostelworld for hostels (low deposit and easy cancellation).
Tours:We absolutely love booking guided tours with locals to get a history lesson while sight-seeing, especially food tours and walking tours! We book all of our tours using Viator and GetYourGuide.
Transportation: We use Google Maps to figure out how to get around a place using public transport. When we book a rental car, we always use Discover Cars to find the best deal.