Check out the best things to do in Bratislava on your next trip!
Pastel-colored buildings, hearty food, and funny statues, Bratislava is a tiny traditional city with a lot of character.
You might be wondering if it's worth the visit the city (since it isn't so big like other European capitals, but I can assure you will find lovely places to visit in Bratislava, as I'll mention below.
The pleasant medieval inner city, cheap beer, and the short distance between Bratislava and Vienna attract more and more tourists to the city every year.
If you're in Vienna for a few days, this is a perfect day trip as one day in Bratislava is enough to see the main attractions. Keep in mind that the real charm of Bratislava is the vintage feeling: walking in the city center, drinking and eating!
The city became Slovakia's capital after the dissolution of Czechoslovakia, which took place, among other reasons, because of the Velvet Revolution and ethnic differences between the Czechs and Slovaks.
How to get to Bratislava from Vienna?
The city has a vintage charm, an old atmosphere that takes you back in time. Actually, both cities have this feeling but in different ways. Vienna is fancy, expensive, neat. Bratislava is not.
However, Austria was a country of kings and was (still is) much richer than Slovakia. If you're looking for a day trip from Vienna, you've found it. Also, when you arrive in Bratislava, you'll understand what I meant above.
And while you're there, try not to compare Bratislava with Vienna. Just enjoy it because you'll certainly have things to do there, keep reading to know what. 🙂
So, how to get to Bratislava from Vienna? There is a train between both cities that takes around 1 hour to get from one central station (Wien Hauptbahnhof) to another (Bratislava Hlavná stanica).
The train is hardly full of people and they run quite often, so no need to buy a ticket online (OBB website), you can just buy it at the train station.
We paid €10 for a one-way ticket to Bratislava because from there we would go to the cool Budapest.
When you arrive at the Slovak capital don't be surprised by the difference between both central stations, Bratislava is definitely not as fancy as Vienna, but that's the city charm.
Pssst: The good side of it is that the prices aren't like Vienna either.
The Old Town is 15 min by foot from here and this is honestly the easiest way to get to the center. We preferred to walk there rather than take public transport as you get to see more of the city that way.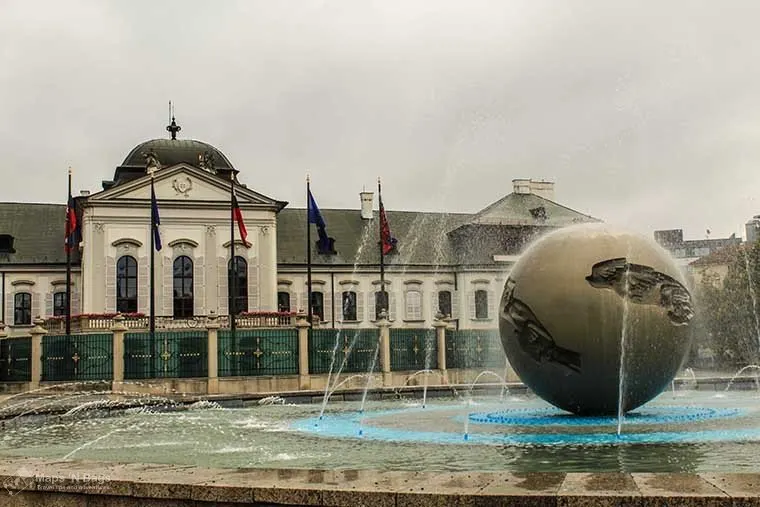 Things to do in Bratislava – How to spend one day in Bratislava
On the way to the city center, you'll stroll by the beautiful presidential palace, Grassalkovich (image above). The Slovak White House has a gorgeous French garden on the back of the palace where locals enjoy spending some time.
As I said above, there are some interesting statues throughout the city, and some itinerant statues are to be found here.
If you want to see the (short) change of guards at the front yard, stay around at 12 p.m. on weekdays. It's not possible to go inside the palace though. They do let people visit but only one day a year, usually in June.
Fun fact: The fountain you see in front of it, the Planet of Peace, represents freedom.
Ok, let's start our day back in the 1920s! Head to the city center, or to the Michael's Gate to be more exact. The Gate is a 51 m (167 ft) high tower that houses the exhibition of Weapons of Bratislava City Museum.
This is the only gate that is still preserved in the medieval fortifications. It dates to 1300! Jaw-dropping info, I know. Probably one of the oldest buildings in Bratislava.
Such a high tower might have an impressive view of the city, right? Right. So, look for a canon replica on the ground level (on your left after the tower), it marks the entrance of the Museum of Arms. That's the entrance to the tower (€4,30).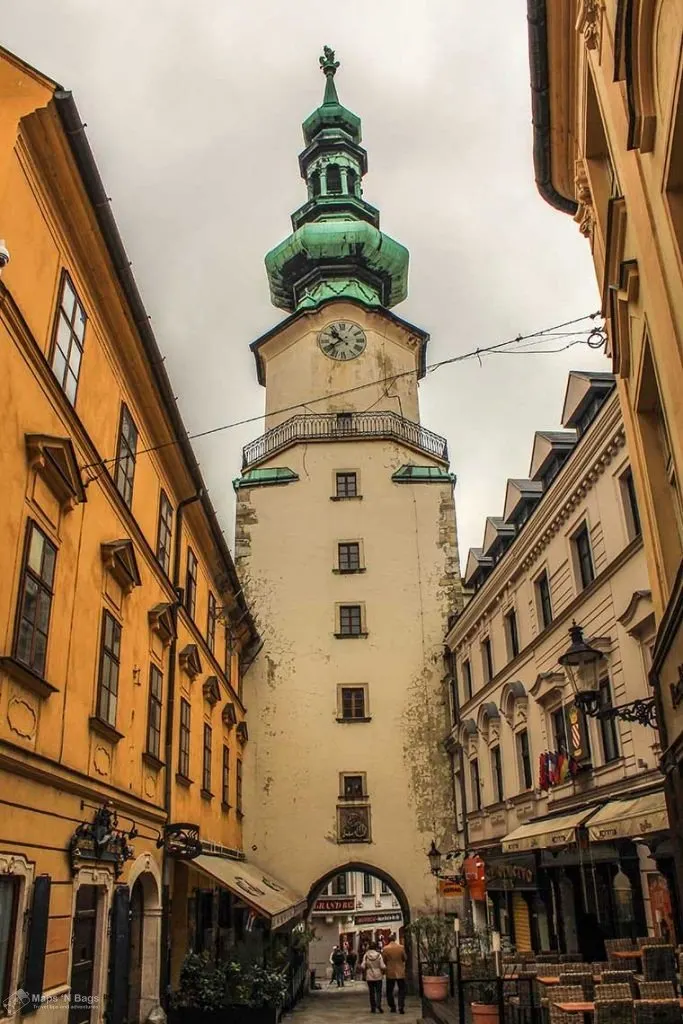 Also, while walking underneath it look to the ground. That's the zero kilometer plate, marking the distance to 29 capitals around the world. Just out of curiosity, let me know if your city is there after you've visited the city (I found mine!).
As you walk down the Michalská street you'll see many restaurants, cafés, souvenir shops, etc. On Sedlárska street, to your left, you'll see many cool pubs (Irish and Scottish).
This second street will lead you to Hlavné námestie, the main square. By the way, don't worry about these difficult names, I'll add a map below with all locations to visit in one day in Bratislava.
Some of the main landmarks found in this square are Napoleon's soldier statue, the Old Town Hall and the Maximiliánova/ Roland Fountain.
Fun fact: It's said that one of Napoleon's soldiers, Hubert, fell in love with a Slovak woman while in the city, so he decided to stay with her, becoming a wine producer. Today the most famous wine brand in the country is called Hubert.
I bought my souvenir on a street market at the Frantiskanske námestie, next to the square. It was cheaper than the souvenir shops I mentioned above. We saw a very cute sightseeing bus at the main square (first picture below). They offer a short tour of the main city's attractions.
If you want a nice view of the square you can go up to the Old Town Hall Tower, where the place houses the oldest museum in the city (Museum of City History). The ticket to the museum costs €5.
Read next: 3 days in Vienna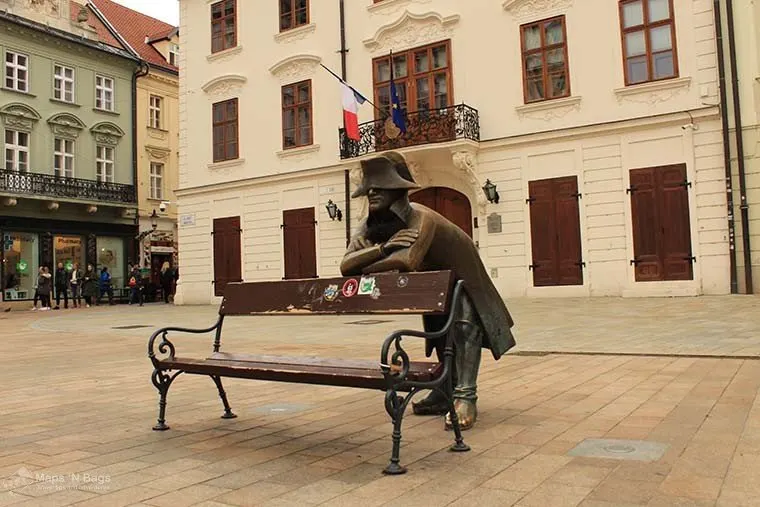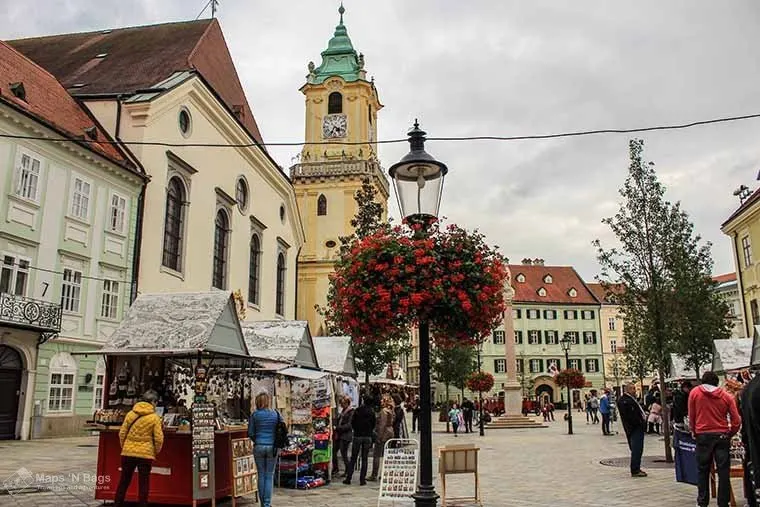 Food, food, food
We stopped at the Koliba Kamzik restaurant to reload our energy. This cozy restaurant has a welcoming decoration of a traditional Slovak house.
The waitresses, besides being friendly and helpful, were wearing local outfits. Very sweet.
I had the typical Slovak dish Bryndzové, which is basically potatoes, as Italian gnocchi, covered by creamy sheep cheese, smoked bacon and pieces of sausage. Needless to say that this was yummy, right!
Not only the food was good, but also the price, only €7,90. This is nothing compared to my hometown, Amsterdam. *sigh*
My husband had the mouthwatering potato balls with smoked meat and sauerkraut, Zemiakové knedle s údeným mäsom, €8,90 (yes, I had a bite of it).
So, these two divine typical Slovak dishes plus French fries and beer, the check was €22,80 (including tip). Terrible to write about it, omg I'm getting hungry. Let's move on!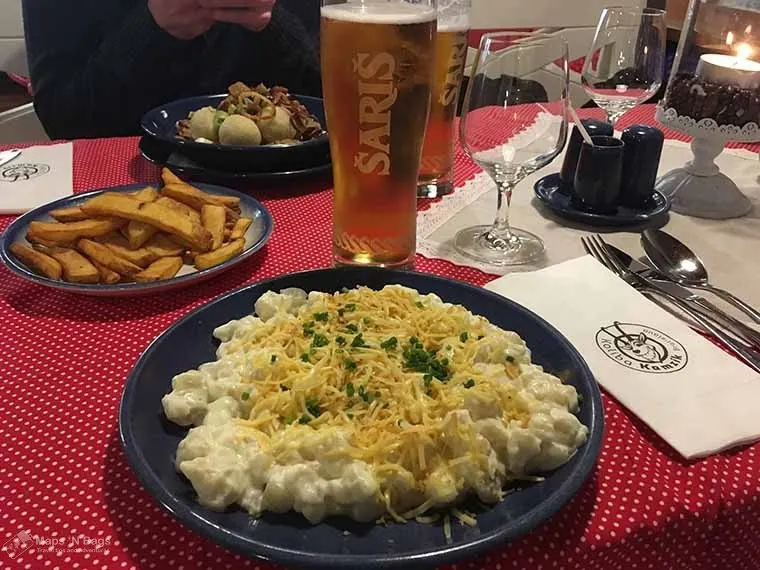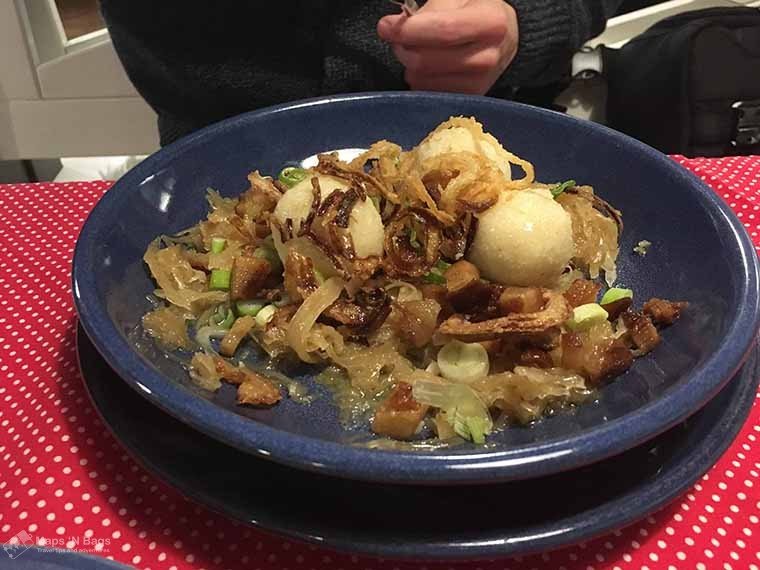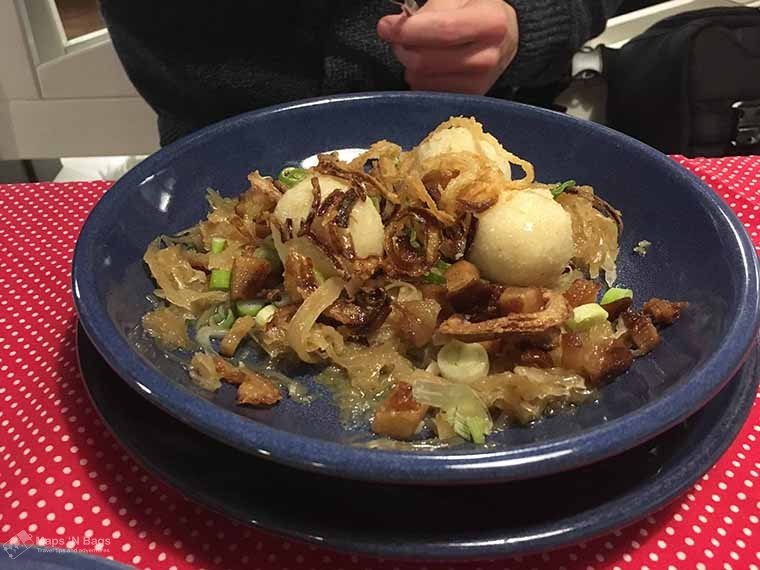 Bratislava's statues
If you head back to the main square and continue on the Rybárska brána street a little bit further you'll see a very sympathetic man at work.
Or better saying, Cumil, the sewer worker who is watching pedestrians (or beautiful women? Or just resting?). Whatever the man is doing there, "he" is the most famous statue of Bratislava.
Fun fact: Cumil was placed here in 1997 and it lost its head twice in car accidents. Later the city's council placed a sign to make sure drivers remember the poor man is there.
Since we are talking about Bratislava's statues, you'll notice a sneaky paparazzi taking pictures of you on the corner of the Laurinská st and Radničná st.
Actually, you won't unless you have eagle eyes, but still, it was a good way to introduce the third statue of the day.
Anyway, to reach the next attraction, the Blue Church of Bratislava, follow these directions: walk down the Laurinska st and turn right on the Sturova st.
Take the first left on Grosslingova and right on Bezrucova. You'll see a sweet tiny blue church there.
St Elizabeth's church
Commonly referred to as Blue Church, its real name is Church of St Elizabeth of Hungary. The building is relatively new if you compare to the rest of the city, it dates to 1913.
The whole church is decorated in shades of blue and it actually reminds me of a Disney movie: all fairytale-ish and cute! Wouldn't you agree with me?
Bratislava's most appealing art nouveau building represents Slovakia in the Mini-Europe Park in Brussels.
The Blue Church is only a 10-15-minutes walk from the city center, so no reason to skip it.
Address: Bezručova 2534/2, 811 09
Opening hours:
Mon-Sat from 06:30 am to 08 am and from 05:30 pm to 07:30 pm
Sun from 07:30 am to 12 pm and from 05:30 pm to 07:30 pm (or during a regular mass)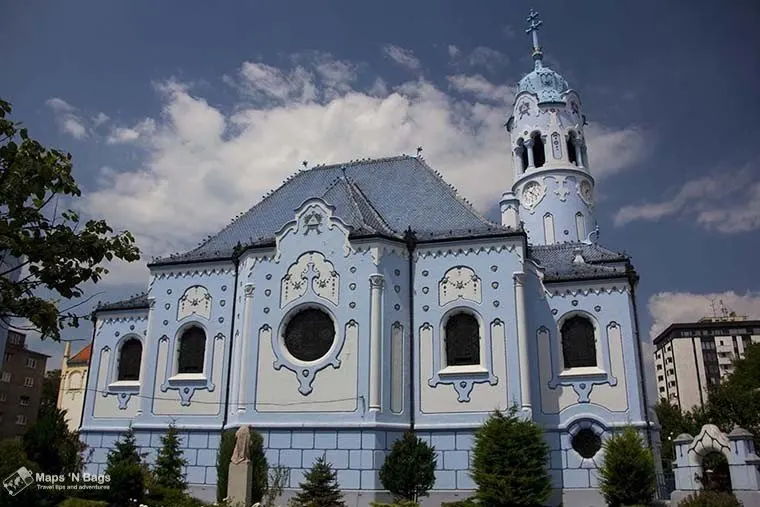 After visiting the church, come back to the Cumil statue, Man at Work, and walk down the Panská st to the St. Martin's Cathedral (we didn't go inside because a mass was taking place at the time) and take a look at the surrounding streets to see the definition of "old continent" at its best.
Vintage city
The paint of the pastel-colored houses here are a bit worn out which together with the cobblestone streets, and religious statues give this are a whole atmosphere. It's a real vintage feeling.
Next to the cathedral, on the opposite side, you came from, there is a path to the castle. Stroll up the hill to the castle through cute and steep streets or stairs (there are 2 ways up on your left side, as you cross the bridge).
These are some real movie scene-cafés on the way up, you might want to stop for a coffee.
Pssst: Hey are you Slovak? Do you know what my name means in this sign below? I saw it next to the cathedral, but I have not a clue about what it could be. Nor does Google.
Read next: 3 days in Budapest
Bratislava's Castle
This is the most important castle in Slovakia. The castle dates to around 907, but it has to be reconstructed again and again over time.
This place, in particular, was very precious because of its strategical location, namely above the Danube river. The Celts, Romans, Hungarians, and Slavs used this ground as a fortification.
The castle is an important historical place with an interesting view. From there you can see the traditional constructions in the city center on your side of the river.
On the other side are the modern business buildings sharing space with Soviet blocks. Take a look at the wind turbines on your right side, across the Danube. That is Austria.
If the weather allows, you can also see some parts of Hungary on the left side, behind the Soviet blocks.
Among the modern constructions I mentioned, you'll spot the futuristic UFO bridge. Hard to miss it. Come back at night if you want to take some cool photos of it!
As I said above, Bratislava isn't an expensive city and that's also so because some attractions have free entrance, such as this castle.
However, Bratislava's castle houses collections of the Slovak National Museum and the entrance to the museum costs €7.
The castle is pretty simple compared to other European cities, but it is still worth the walk up, in my opinion.
Pssst: Don't forget to take a look at the peaceful garden on the back of the castle.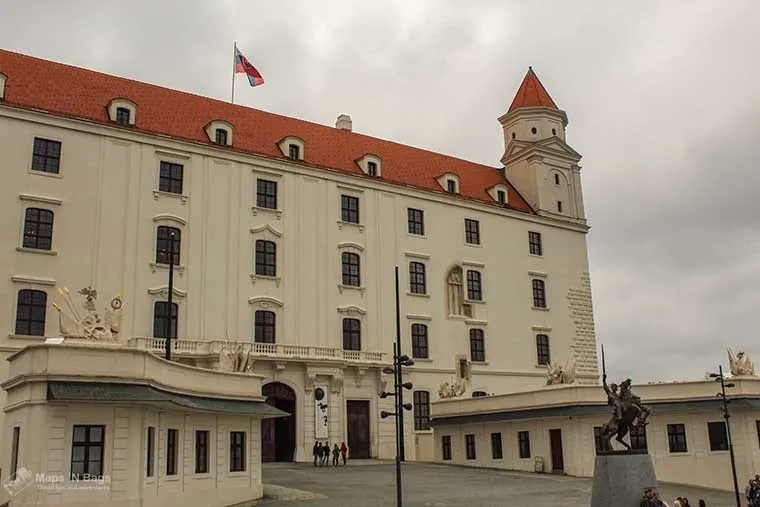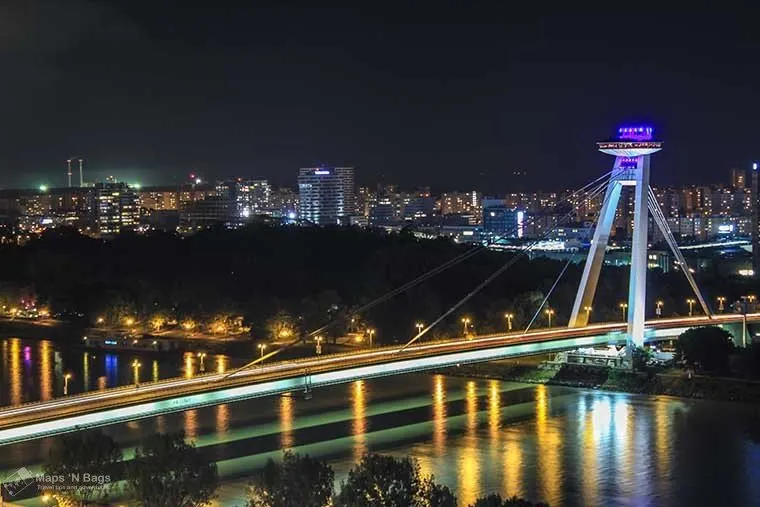 UFO Bridge
The UFO bridge is contrasting to everything you have seen so far, there is nothing more modern in the city than this bridge.
It has the best panoramic view of Bratislava and, if you are into photography, you should consider coming here in the blue hour.
The lights from the castle are beautiful at night and lit up the whole photo! Up in the tower bridge is an observation deck, a bar and a restaurant (it is pricey) if you consume food from the menu (you usually need a reservation for the restaurant, mainly during the weekends) you get a 100% discount on the admission fee.
Admission fee adults €7,40, students and big groups €4,95.
Opening hours:
Deck: daily from 10 am to 11 pm
Restaurant: daily from 12 pm to 11 pm
Bar: daily from 10 am to 11 pm
Where to eat in Bratislava
I already suggested a great place to eat Slovak food for lunch. Now I'll suggest the second one, this time for dinner.
The Zeleny Rodriguez serves delicious local dishes and has a friendly atmosphere. Enjoy your meal while drinking some local beer.
Directions: Leave the castle through the main entrance and turn right. Walk down the street and take the right path in the intersection. Continue on this street until you reach the restaurant on the right side.
Address: Zamocka 36
Where to stay in Bratislava
If you're planning to stay in Bratislava for a night and budget is the limited, very limited, take a look at Hostel Folks. Good price, location, comfortable, and neat rooms. Sounds perfect, right?
Especially for those who want to go to the city center for a few drinks and don't feel like walking long distances at night. All rooms include air conditioning (and heating), linen and WiFi.
In case the lack of privacy in hostels isn't for you, check out the Garni Hotel Virgo.
This hotel is also close to the city center and it has all basic amenities, such as tv, coffee maker, towels/ linen, WiFi, and parking under surcharge. A good choice to spend one night.
However, if you make a point of having the ultimate comfort, I suggest you take a look at the Radisson Blu Carlton Hotel.
Elegant rooms, gracious decoration, and an outdoor terrace for summer days, this charming hotel is set in a historic building dating back to the 13th century.
I saw it in the evening and the external lights were on giving it a majestic look! Besides the extreme comfort, the location is also great. Near plenty of bars, restaurants, and some of the attractions I mentioned above.
Best Time to Visit Bratislava
Spring would be the best time to go as the trees are blooming and it's starting to get warm.
Autumn is also a good time to go, around September/ October. Winter is chilly and the brief summer is hot because the climate here is continental.
OK, so what's the best time to visit Bratislava? I'd say October, as it usually rains less than in September.
Bratislava Map
You can download the interactive map of the best things to do in Bratislava by clicking here. Still, if you want to create your own maps, check out our Google My Maps tutorial.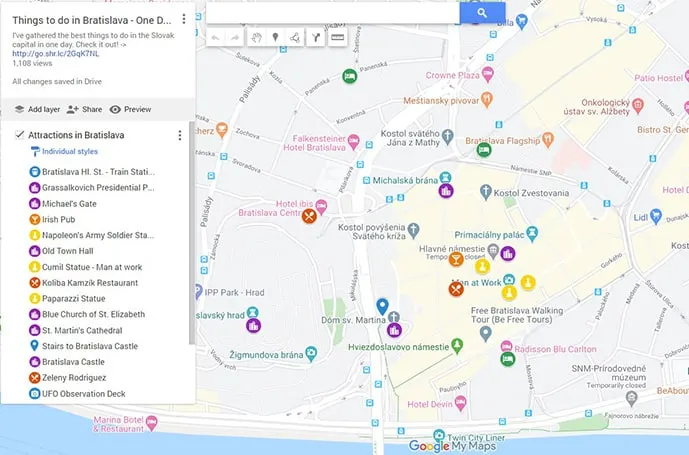 So, tell me. I'm curious. Which photo above was your favorite? Pssst Slovaks, I'll be back, so tell me where I should go next in Slovakia!
Did you like this post? Then pin it to your Pinterest travel board!
Our best travel tips & resources:
Here're our all-time favorite travel tips & resources so that you can save money and plan your travel logistics hassle-free! For more travel resources, check out our
travel tips.
Saving money: Fly on offseason, winter (not Xmas or NYE), Tuesday, or Wednesday! According to experts, these are the cheapest days to fly.
Travel insurance: Before you leave for your trip, make sure you have a valid travel insurance policy because accidents happen on the road. We have been paying for Safety Wing travel insurance for a little over a year now, and we happily recommend them to our family and friends.
Accommodation: We usually stay in mid-range comfy hotels or private rooms in hostels. These are the sites we use to book accommodation: Booking.com for hotels (excellent flexible cancellation policy) and Hostelworld for hostels (low deposit and easy cancellation).
Tours:We absolutely love booking guided tours with locals to get a history lesson while sight-seeing, especially food tours and walking tours! We book all of our tours using Viator and GetYourGuide.
Transportation: We use Google Maps to figure out how to get around a place using public transport. When we book a rental car, we always use Discover Cars to find the best deal.