Looking for clever Instagram captions? We've got you covered.
Every now and then, we use clever captions on Instagram to be fun or just to let our sass flourish.
I mean, who doesn't love a good old inspiring quote? Or just a fun quote, for that matter? There's just something about these clever quotes that resonate with us in the craziest or ordinary moments.
That's why we decided to gather a massive list with the best clever captions we could find online.
So in this post, we're going to list the best clever Instagram captions together with some shareable photos for your social media.
The Best Clever Instagram Captions
Here are a series of the best clever captions for Instagram we could find online. Some of these quotes we found scouring the internet, others just being bored on the couch.
Either way, we hope you enjoy them, and if you know any clever Instagram captions yourself, tell us in the comments.
Now, let's get to the best clever Instagram captions.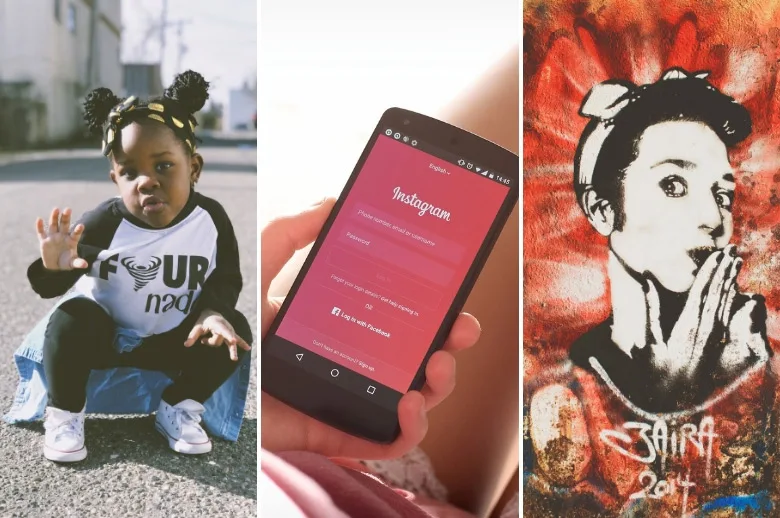 100+ Clever Captions For Instagram
Clever Instagram Captions For Selfies
Humble, with just a hint of Kanye.
Sometimes the most clever thing to say is nothing at all.
Everyone is entitled to stupidity, but some abuse that privilege.
If you can't convince them, confuse them.
Don't raise your voice, improve your argument.
Arguing with a fool proves there are two.
Watch more sunsets than Netflix.
On this day, a queen was born.
A wise girl knows her limits. A smart girl knows she has none.
A party without a cake is just a meeting.
Clever Instagram Captions For Funny Selfies
Home is where you take your pants off.
I'm going outside, so if anyone asks, I'm outstanding.
The only thing getting "lit" this weekend is my fall-scented candles.
Be a flamingo in a flock of pigeons.
Weekend, please don't leave me.
People will judge you no matter what, so you might as well as what works best for you.
Smile, it confuses people.
Legends don't die. I'm a living example.
Feeling like Floyd in this May weather.
I doubt vodka is the answer, but it's worth a shot.
Funny Instagram Captions For Clever People
I have mixed drinks about feelings.
Emotionally stable as an IKEA table.
Patience: what you have when there are too many witnesses.
The universe contains protons, neutrons, electrons, and morons.
I've found your nose. It was in my business.
Yesterday, I changed my WiFi name to "Hackitifyoucan"; today, someone changed it to "challenge accepted."
Me, jealous of you? Bless your delusional heart.
More vitamin sea, please!
I love Fridays like Kanye loves Kanye.
I'll never try to fit in. I was born to stand out.
Clever Instagram Captions For Foodies
I'm sorry for what I said when I was hungry.
People need to understand the difference between "want" and"need." Like, I want abs, but I need tacos.
FML. Food's my life.
I'm on a seafood diet. I see food, and I eat it.
I followed my heart, and it led me to the fridge.
I'm just a girl standing in front of a salad, asking it to be a donut.
Resting coffee face.
Give me chocolate, and nobody gets hurt.
Clever Instagram Captions For Simple People
Clever – Meaning: showing originality and sharpness.
Know your worth. Then add tax.
Airport waiting game.
One does not simply create a clever Instagram caption.
I just rolled my eyes so hard I saw my brain.
The mondayest Tuesday ever.
I need vitamin SEA.
Say Beer Can with a British accent. I just taught you to say Bacon with a Jamaican accent.
Motivation Monday? I'm motivated seven days a week.
Is Google a boy or a girl? Obviously, a girl because it won't let you finish your sentence without suggesting other ideas.
Clever Instagram Captions For Strong Girls
If I ever let my head down, it will be just to admire my shoes.
I will continue my life the way I dream it and not the way others want it to be.
Do not take life too seriously. You will never get out of it alive.
Don't be ashamed of who you are. That's your parents' job.
Don't worry about those who talk behind your back, they're behind you for a reason.
I'm 5'2, but my attitude is 6'1. – this is one of our favorite savage Instagram captions!
They used to shout my name, now they whisper it.
It doesn't matter what anyone else thinks of me because I know who I am, and I am damn proud of it.
Clever Instagram Captions For Friends' Pics
The only time a woman is helpless is when her nail polish is drying. Other than that, watch out.
You can't sip with us.
Be a badass with a good ass.
Real queens fix each other's crowns.
Why be moody when you can shake your booty?
Just remember, if we get caught, you're deaf, and I don't speak English.
Life imitates art.
There are two reasons why we don't trust people. First, we don't know them. Second, we know them.
You think this is a game?
You never realize how boring your life is until someone asks you what you do for fun.
Clever Instagram Captions For Your Ex
It's ok to disagree with me. I can't force you to be right.
Life is too short for bad vibes. – we simply love short IG captions!
You were my cup of tea, but I drink champagne now.
Catching flights, not feelings.
You look like something I drew with my left hand.
I heard you are a player. Nice to meet you. I'm the coach.
I'm a rainbow, but he's colorblind.
May my coffee be stronger than your personality.
Apology accepted, trust denied.
"Are you free tomorrow?" No, I'm expensive.
He broke the wrong parts of me. He broke my wings and forgot I had claws.
Be happy in front of people who don't like you, it kills them.
If the world was created in 7 days, but it took nine months to make me, I'm clearly a big deal.
Kill them with success and bury them with a smile.
So, you're on Instagram? You must be an amazing photographer.
I'm a good person. But don't give me a reason to show you my evil side.
Clever Instagram Captions For Couples
Know what's on the menu? Me-n-u.
I don't have a dirty mind, I have a sexy imagination.
Don't judge people for their mistakes, judge a person on how they fix them.
Friday. My second-favorite F-word.
Life is scary. Find your boo.
It's Sleepy Sunday. So here's a selfie of us pretending to sleep.
If you seek peace, then always be ready for war.
Don't confuse my personality and my attitude. My personality is who I am. But my attitude? That depends on YOU.
That moment when you realize your childhood is over.
Clever Instagram Captions For Sassy Ladies
Here are other sassy Instagram captions for you, girls!
Well-behaved people don't make it into history books.
I know looks aren't everything, but I have them just in case.
If I say "first of all," run away because I have prepared research, data, and charts to destroy you.
If you listen to me closely, you can hear me not caring.
Here's a band-aid.
It's better to arrive late than to arrive ugly.
Aside from gravity, nothing in life can keep me down.
If I don't post a picture, did it even really happen?
They laugh at me because I'm different, I laugh at them because they're all the same.
Maybe she's born with it, maybe it's the Clarendon filter.
I've got my sassy pants on. Watch out, world!
Clever IG Captions From Songs
The rest of the world was black and white, but we were in screaming color – Taylor Swift
You are my sunrise on the darkest day – Luis Fonsi
Kill 'em with kindness – Selena Gomez
Reality leaves a lot to the imagination – John Lennon
Final Thoughts On Clever Instagram Captions
Dull or amazing days, no matter the situation, clever captions for Instagram are a good way to make things more interesting and add a little sass to the moment.
Have any other clever captions to share? Drop it in the comments below!
Did you like any of our clever IG captions for Instagram? Then share them with your friends!
Our best travel tips & resources:
Here're our all-time favorite travel tips & resources so that you can save money and plan your travel logistics hassle-free! For more travel resources, check out our
travel tips.
Saving money: Fly on offseason, winter (not Xmas or NYE), Tuesday, or Wednesday! According to experts, these are the cheapest days to fly.
Travel insurance: Before you leave for your trip, make sure you have a valid travel insurance policy because accidents happen on the road. We have been paying for Safety Wing travel insurance for a little over a year now, and we happily recommend them to our family and friends.
Accommodation: We usually stay in mid-range comfy hotels or private rooms in hostels. These are the sites we use to book accommodation: Booking.com for hotels (excellent flexible cancellation policy) and Hostelworld for hostels (low deposit and easy cancellation).
Tours:We absolutely love booking guided tours with locals to get a history lesson while sight-seeing, especially food tours and walking tours! We book all of our tours using Viator and GetYourGuide.
Transportation: We use Google Maps to figure out how to get around a place using public transport. When we book a rental car, we always use Discover Cars to find the best deal.