Mind-blowing adventures in all sorts of landscapes. Literally!
From diving in the blue ocean to climbing a steel bridge in the middle of Sydney, this Australia bucket list is ready to be used and to be copied.
Australia offers countless possibilities to have an amazing trip. Not only the landscapes are breathtaking, but also the wildlife is striking and unique.
This country is simply fantastic! We could use lots of words to describe Australia, but in the end, you need to see it to really understand.
So, let these epic adventures inspire you to explore the four corners of this diverse country. Trust me when I say you won't regret it.
After all, we bet you have at least one item from Australia in your personal bucket list, are we right?
How to plan your trip to Australia
It's exciting to dream, but there are some practical matters you also need to take care of before ticking off some items from your bucket list:
Accommodation: While looking for accommodation in Australia, consider staying in hostels to cut back your expenses. For instance, here are good tips on the best hostels in Sydney.
Flights: We compare the ticket prices and airlines for every trip we make. So, if you're leaving North America or Europe to go to Australia, comparing flight prices is a must. Click here to check ticket prices.
Car Rental: The best way to travel around Australia is by far by car. You can rent cars all over Australia here.
Travel Insurance: We ALWAYS travel with travel insurance. It's a big no to travel without it, for obvious reasons. And, especially if you're going to do some of the items in this list, consider purchasing extreme sports insurance.
Packing: Be sure not to overpack for your trips. You should only travel with essential items because you'll make your life much easier. Trust me. Read up our guide to packing light.
Australia Bucket List
1. Drive the Great Ocean Road
If this is not the world's best road trip, then I don't know what it is.
Rent a car and tour the Great Ocean Road of Australia surrounded by breathtaking views.
Take your time to stop along the way, photograph, enjoy the attractions and lookout spots, and last but not least, respect the rules.
Oh, and don't forget all cars in Australia drive on the left.
Main highlights: Twelve Apostles, London Arch, and the Loch Ard Gorge.
2. Fly Over the Heart Reef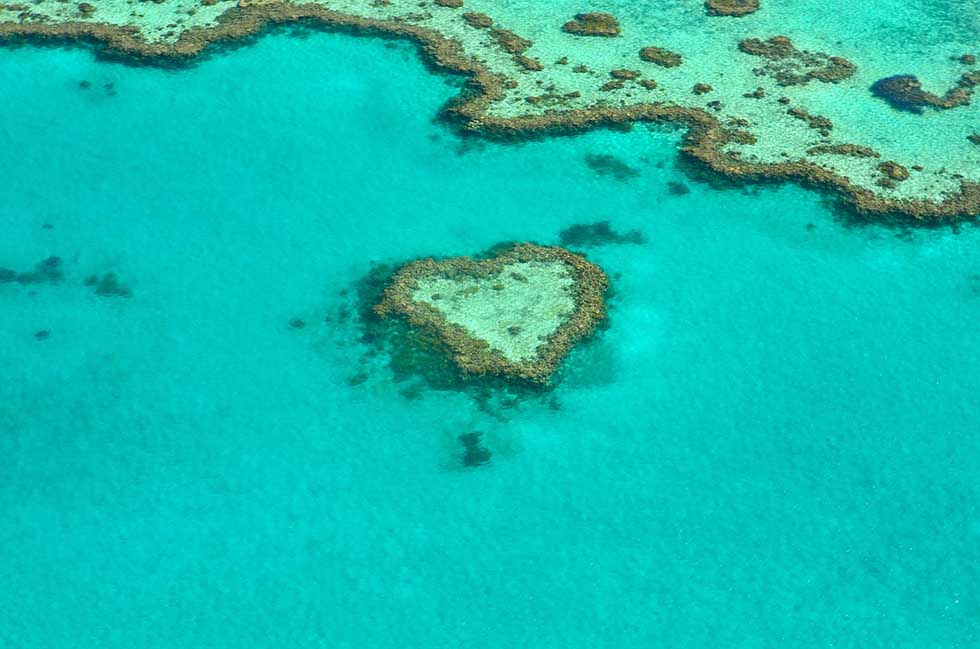 If visiting the Great Barrier Reef isn't in your Australia itinerary, add it now! Also, there is nothing more romantic (and adventurous) than flying over a vibrant blue sea towards a heart-shaped coral formation.
The Heart Reef, in the glorious Great Barrier Reef of the Whitsundays, is truly spectacular. Prepare your camera for that moment and take a shot like this one below.
It might not look like it, but the heart is quite small. So be prepared!
3. Scuba Dive in the Great Barrier Reef
Scuba diving in THE Great Barrier Reef certainly has a spot on this list.
Unfortunately, actually, fortunately, swimming is not allowed in the Heart Reef area because it's a protected area.
However, the Great Barrier Reef has a bunch of jaw-dropping places to dive, which are among the prettiest places to dive in the world.
4. See the Aurora Australis in Tasmania
There's one thing you definitely should add to your Australia bucket list: the southern lights!
That's right.
It's possible to see the southern lights here in Australia from different parts of the country.
But it turns out, Tasmania is one of the best places to see the southern lights, also known as Aurora Australis.
The farther south you go, the better. So think of Bruny Island, for example.
Also, don't forget to check the forecast in advance and bring a good camera (and tripod) to take the perfect photograph.
Although the lights here aren't as strong as the Northern Lights, this is something epic to look for.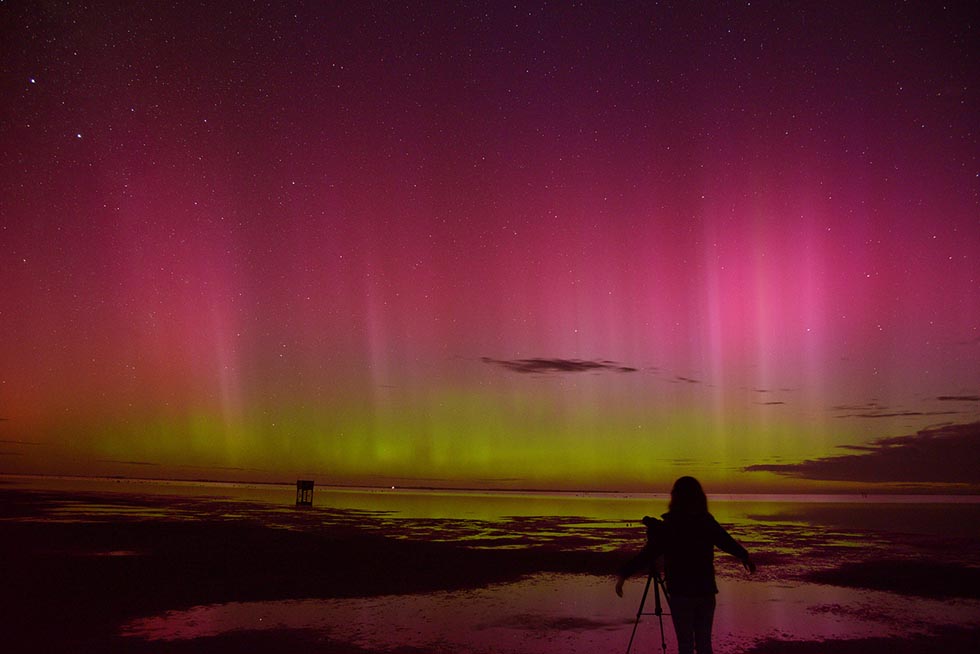 5. Learn to Surf on the Gold Coast
Gold Coast is one of the world's surf capitals. But you probably already knew that, right? So what about learning how to surf in this iconic place?
Long sandy beaches, an emerald ocean, and surfers enjoying the waves. That's basically the landscape here. And the city behind you, of course.
There won't be a problem finding a surfing school, as many people come here especially to learn how to surf.
6. Climb Sydney Harbor Bridge
Yes, I'm telling you to climb one of Australia's symbols. I had to add some crazy bucket list ideas here, so this is it.
You don't have to climb to the top of the bridge though. There are different levels to reach, but if you choose to climb to the summit, prepare to get 134m above sea level.
Don't worry about heights though because you'll feel pretty safe with special clothes and equipment. Of course, the whole route has handrails to ensure your safety too.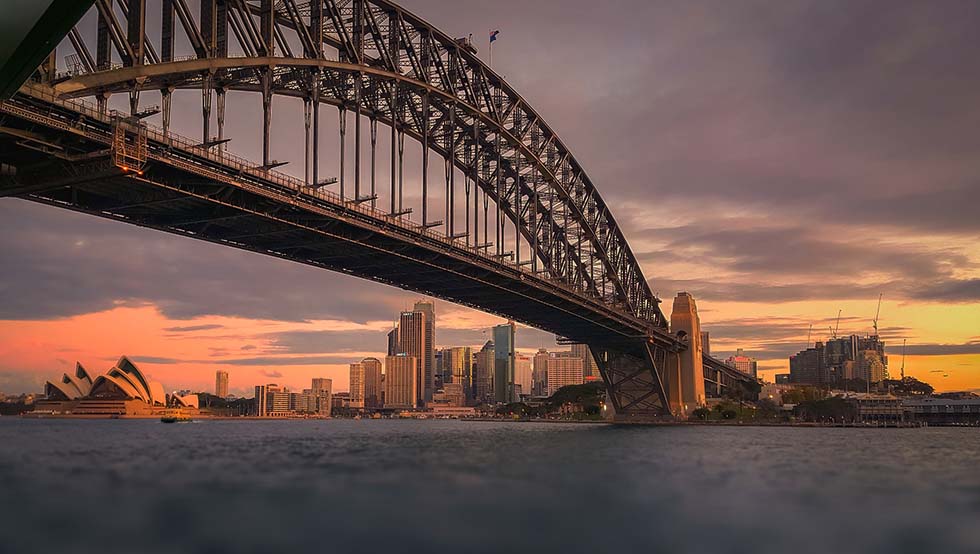 7. Visit the Twelve Apostles
Difficult to point out the best stop along your road trip, but this is possibly the most interesting one.
These famous limestone stacks, the Twelve Apostles, are the result of years of erosion in this area. Actually, there used to be twelve, as the name suggests.
However, now there are eight. So, you better get there fast. Also, since they're in the ocean, they're prone to further erosion from the waves.
8. Hike on the Kings Canyon
Only 3 hours from Uluru, you'll find the Kings Canyon within the Watarrka National Park. There are a few trails to follow here.
The shortest (3 km) at the gorge, will show you the canyon's walls from below. Stick to your path otherwise you might accidentally enter a sacred Aboriginal site.
The second one is atop Kings Canyon. If you can, watch the sunset there.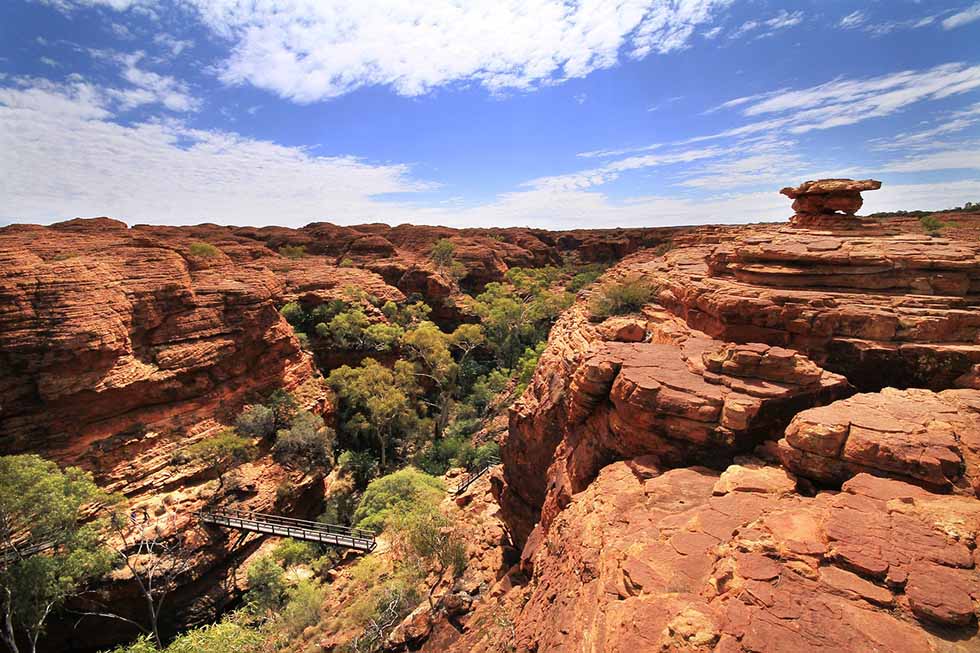 The views are really worth the effort.
9. Sandboarding at Lancelin Sand Dunes
After you have learned how to surf, sandboarding will be a piece of cake. The Lancelin Sand Dunes are an easy ride from Perth.
For around $10 an hour you can rent a board and have a blast here.
Especially if you are into photography. The white sand against a blue sky makes for a dramatic scenario.
10. Wander the Lavender Fields in Tasmania
Imagine yourself running through a fluffy purple field while the wind is blowing through your hair and it all looks like a romantic movie.
OK guys, let's wake up now. This was a little joke to bring you in the mood of the area, but a place like this does exist though.
The Bridestowe Estate is the largest lavender farm in the Southern Hemisphere.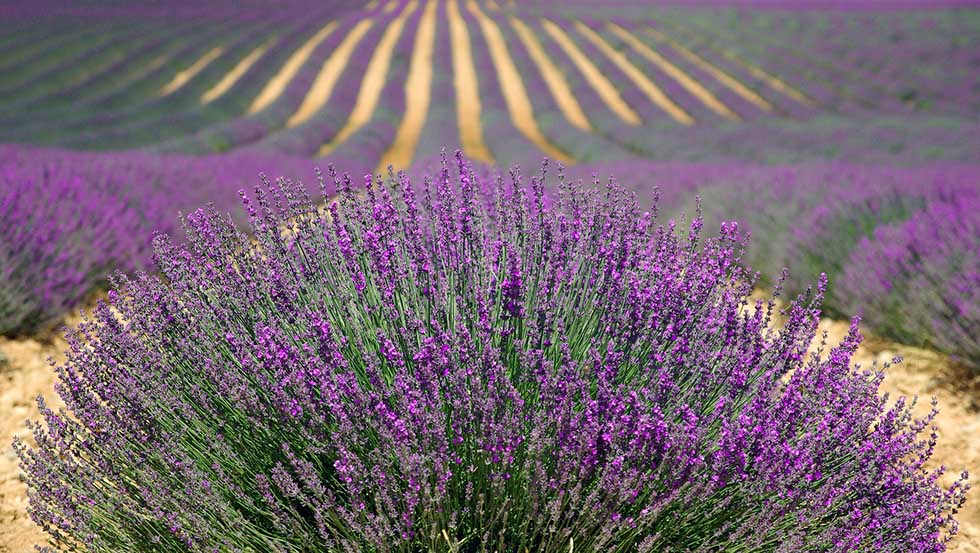 The lavender fields can only be seen in the flowering season, which is from December through mid-January.
Now tell me, what are the top 10 items in your world bucket list? Drop your comments below.
Did you like this post? Then pin it to your Pinterest travel board!
Our best travel tips & resources:
Here're our all-time favorite travel tips & resources so that you can save money and plan your travel logistics hassle-free! For more travel resources, check out our
travel tips.
Saving money: Fly on offseason, winter (not Xmas or NYE), Tuesday, or Wednesday! According to experts, these are the cheapest days to fly.
Travel insurance: Before you leave for your trip, make sure you have a valid travel insurance policy because accidents happen on the road. We have been paying for Safety Wing travel insurance for a little over a year now, and we happily recommend them to our family and friends.
Accommodation: We usually stay in mid-range comfy hotels or private rooms in hostels. These are the sites we use to book accommodation: Booking.com for hotels (excellent flexible cancellation policy) and Hostelworld for hostels (low deposit and easy cancellation).
Tours:We absolutely love booking guided tours with locals to get a history lesson while sight-seeing, especially food tours and walking tours! We book all of our tours using Viator and GetYourGuide.
Transportation: We use Google Maps to figure out how to get around a place using public transport. When we book a rental car, we always use Discover Cars to find the best deal.