Traveling to Paris in March? We have the best tips to enjoy the crisp air while enjoying the best of Paris.
Paris is always a good idea.
It may sound cliche, but the city is indeed lovely all year round. The French capital is far from compact and boring.
That's why tourists usually find lots of exciting things to do in Paris in March and beyond.
From eating and drinking to visiting museums and attending events, March in Paris is an excellent time to travel to the French city and experience most attractions without the summer crowds.
Traveling to Paris in March allows you to have a far more intimate experience in this romantic city.
In today's post we'll talk about:
Paris in March
This complete guide to visiting Paris in March has all the info you need to know to have a perfect time in Paris.
It includes where to stay, weather, what to wear, what to do in Paris in March, as well as events to attend.
We want it to be useful, and we will make sure to keep this article up-to-date.
Wanna know more about Paris in March? Read on!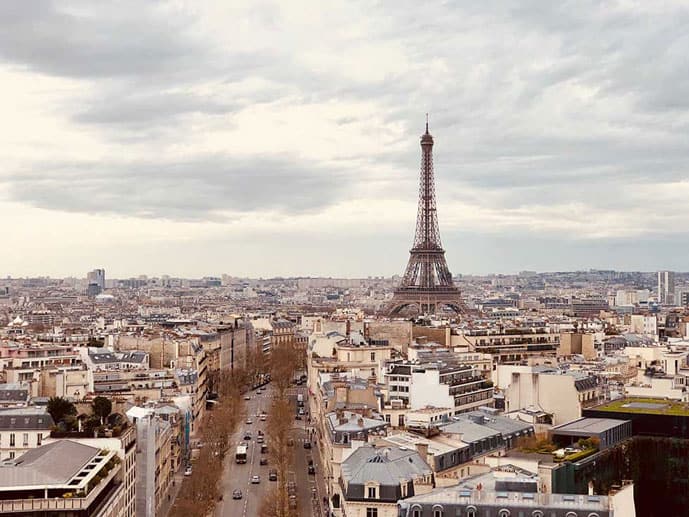 Why you must visit Paris in March
We could name several reasons why you should visit Paris in March, but for us, the main reason would be the first flowers blooming in the city of love.
"Paris, the city of love," sounds romantic, but it's definitely not our favorite Paris quote, though.
Anyway, the cool winter colors are finally turning into pink shades throughout the streets of Paris.
While the crisp spring days take over the French capital, the tourist crowds haven't arrived yet. Not entirely, at least.
That is to say, visiting Paris in March is a calmer month for sightseeing and enjoying the local vibes.
Where to stay in Paris in March
It can be a bit overwhelming to look for accommodation in Paris since there are so many options.
For that reason, we decided to give you the perfect location to stay based on this month's features, but we also wrote a detailed review of the best accommodation in Paris.
In the Marais quarter, you'll find the Hotel Le Compostelle.
This pleasant hotel is near the Hôtel de Ville, which is Paris' city hall.
The town hall is a beautiful 19th-century neo-Renaissance-style building that makes an impressive backdrop to the spring flowers in the garden.
The building is surrounded by delicate white blossoming trees and pink magnolias. Perfect for romantic shots of the area.
Paris weather in March
Although it's almost spring in Paris, the weather in Paris in March is quite rainy and chilly.
Showers come and go, and there's a chance it might snow or hail.
Unprepared tourists might have a hard time getting used to the cold and humidity.
But as you prepare to embark on your trip, keep in mind these are the average temperatures in Paris in March, as well as rainfall and sunshine hours:
Minimum temperature: 41°F (5°C)
Maximum temperature: 54°F (12°C)
Average day temperature: 48°F (9°C)
Average rainfall: 0.94in (24mm)
Average sunshine hours: Roughly two hours
Wind chill: Although the windy season is between Nov-Jan, it can be quite windy in March, with a windchill making the apparent temperatures a bit lower.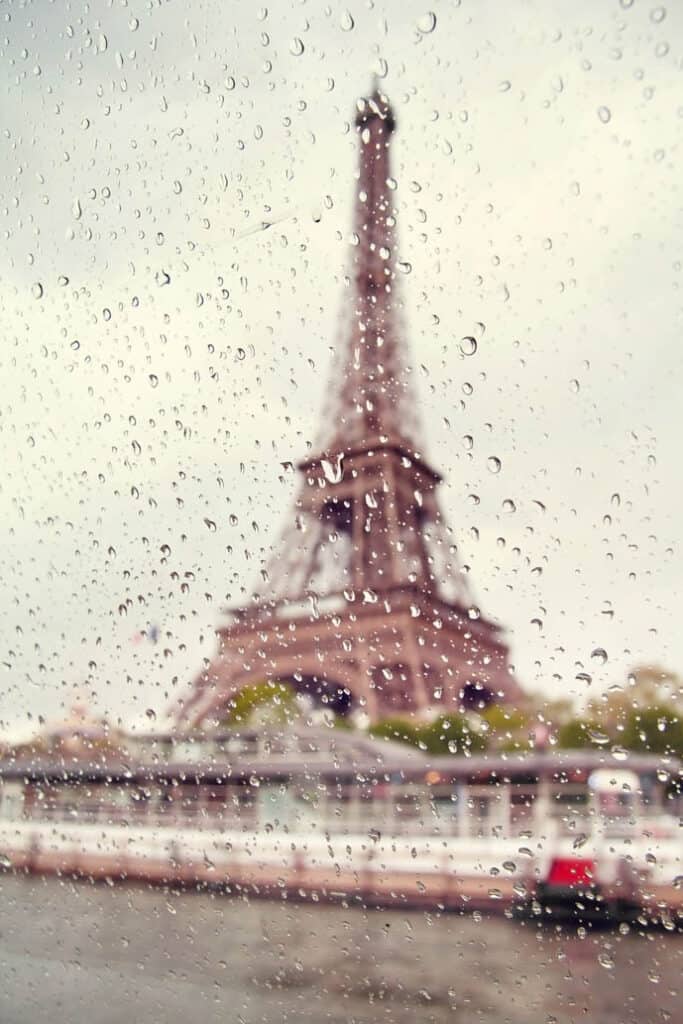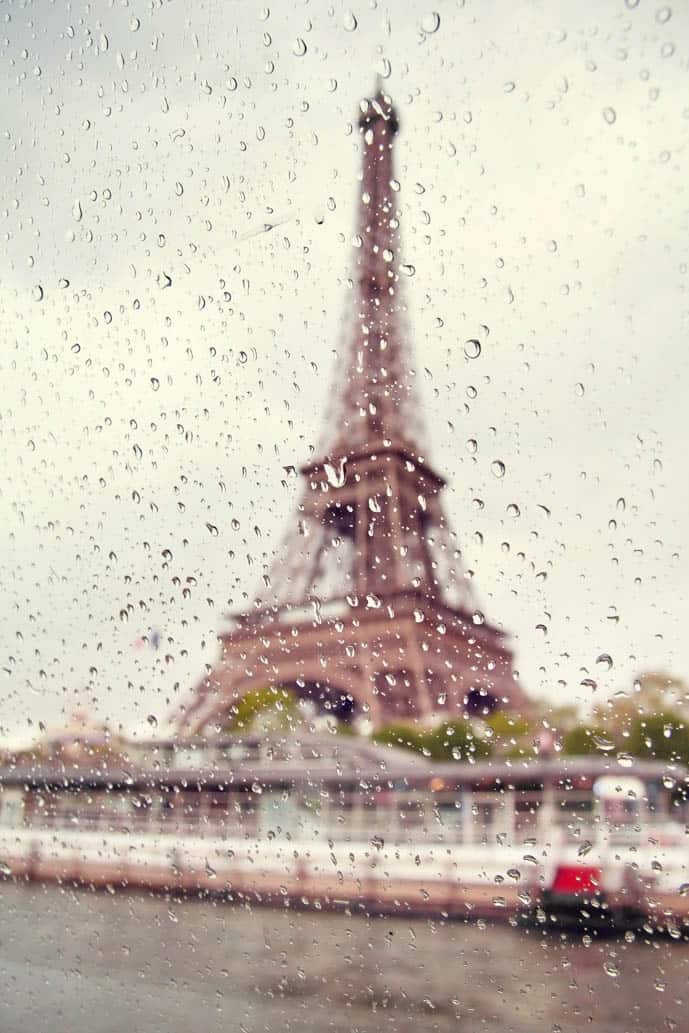 What to wear in Paris in March
As you can tell from the averages above, March is a month of lows, so it's essential to be prepared for all weather conditions.
Be sure to pack many layers to keep you nice and warm and a waterproof jacket to keep you dry.
Clothing: You will want to pack plenty of clothes to layer up, in case a cold or warm day sneaks up on you. Bring along light cotton shirts, skirts, and tights, hoping the sun will shine, but we highly advise you to pack a few sweaters, warm socks, and a light coat too.
Waterproof jacket or umbrella: March in Paris can be quite wet, so remember to pack an umbrella that can withstand strong winds or a waterproof jacket in case you don't like carrying umbrellas.
Walking shoes: On the same note, remember to pack good walking shoes, preferably waterproof too. Paris is a large city, and even taking the metro, you will most likely walk a lot in the town.
Warm accessories: Because it's still chilly outside, you will want to wear a warm scarf and gloves. Maybe it wouldn't be a bad idea to bring a beanie, too.
What to do in Paris in March
While there is a whole array of things you can do in Paris, here are some suggestions that are particularly good for March.
Either because of the crowds or the serenity the winter brings, these attractions are delightful during this time of the year.
Visit Disneyland Paris (mid-march)
Although cold, you might be lucky to have a bright and sunny day. Visiting Disneyland Paris in March is a good idea if you want to avoid the crowds and want to watch Illuminations, the nighttime show.
The days are getting longer, but the show may not begin late in the evening.
However, if you want to avoid crowds, be sure to check when Easter falls, if it is in March, it may be crowded.
Either way, pack layers and waterproof shells to avoid any surprises. Maybe it's a good idea to pack a body warmer.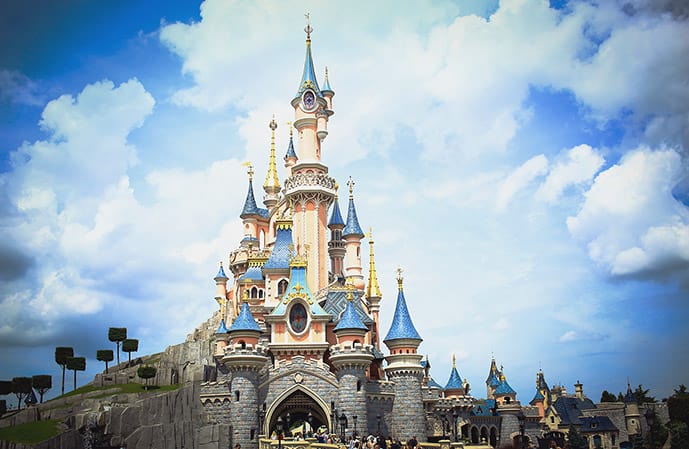 Stroll around Versailles Gardens
Versailles is a must-see when visiting Paris, and you can easily dedicate two days for it, one for the palace and fountain and the other for the gardens.
And while you can't see any flowers or the fountain in March, the place gets an exceptional quality – serene and very atmospheric. And cold, of course.
As for the crowds, there will be fewer people than, let's say, in the summer months.
But there will always be loads of people. It's Paris, after all.
Go indoor swimming
Swimming is one of the best exercises and an excellent way to warm you up.
So to chill out during your stay in Paris, visit the city's oldest pools at Piscine de la Butte aux Cailles.
It opens on weekdays, except Monday, and the entrance is only €3.50 for a full adult price.
But do avoid the afternoons if you can, as the pool welcomes groups of school children for lessons.
Stroll around some parks and gardens
Visiting Paris in March doesn't mean you will stay inside the whole time.
In fact, you should go outside to explore the beautiful parks in Paris and breathe fresh air.
It's invigorating.
Paris has several parks and gardens that are gorgeous all year round, including winter months.
For instance, a stroll around Jardin des Champs Elysées or the Champs de Mars would be perfect. Just don't forget your coat and camera.
Weather-permitting, you might even be able to sit on the grass and enjoy the winter sun.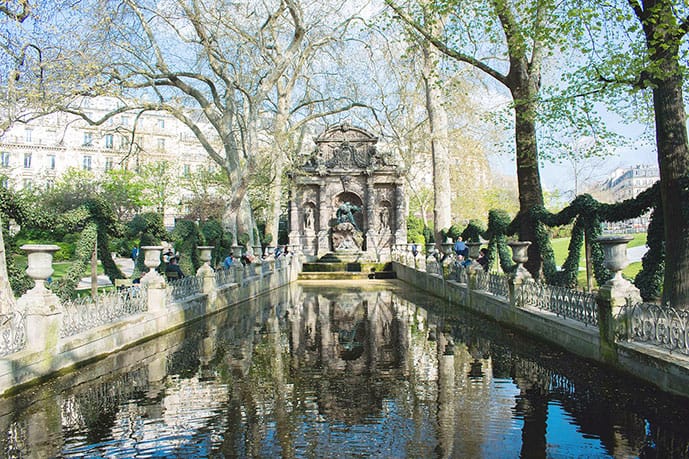 Take cooking classes
Paris is a city for food lovers.
The French take their time to create mouth-watering dishes, and the result is often exceptional.
So why not try your hand in a hands-on cooking class in Paris?
Reserve about 3 hours to have a unique cooking experience, make your own croissants, bake bread, macarons, or other French pastries.
Either way, you're sure to have a once in a lifetime experience by taking cooking classes in Paris.
Celebrate St. Patrick's Day
Celebrating St. Patrick's Day is an excellent thing to do in Paris in March.
Naturally, the celebrations and parties won't be the same as they would be in Dublin city. Still, you can certainly have lots of fun in the city.
The 6th arrondissement has the most Irish pubs, in case you would like some cold pints of Guinness.
Moreover, a few attractions are illuminated with a green light in the evening. It's so much fun!
Eat and drink
If there is one thing you can always do in Paris in March is to eat and drink well.
The city is full of excellent restaurants and cafes where you can have local bites.
For traditional French food, head over to Bistrot Paul Bert in the 11th arrondissement.
If you're looking for something cheap and good, Bouillon Pigalle is your best choice.
But for the traditional French crepes, Café Breizh serves delicious variations of this delicacy.
Last but definitely not least, Pink Mamma offers great views of Paris, as well as food, of course.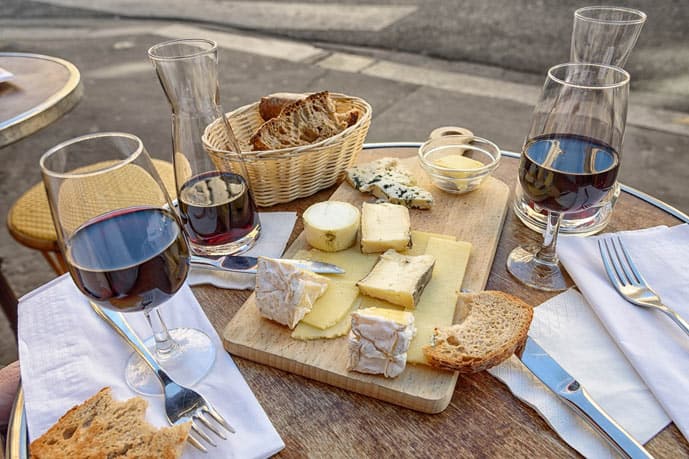 Go shopping in a flea market
The world's largest permanent flea market (with over 2,500 shops) is in the north of the city.
It is a functioning indoor and outdoor market that opened its doors in 1885 and has welcomed thousands of visitors since then.
In 2001, the market was considered a protected 'urban architecture landscape zone' due to its cultural importance and unique atmosphere.
The entrance is free of charge, and the place is massive – wear comfortable walking shoes.
Here's a map of the market.
Events in Paris in March
Here are some events in Paris that take place in March.
La Verticale de la Tour Eiffel
March 11th, 2020
Are you into marathons? What about ascending the Eiffel Tower? On this day, athletes ascend the 1,665 steps of the world's most famous landmark.
If you want to join, know that participation in the amateur race is drawn by lottery.
March 20th-23rd, 2020
The Salon du Livre is the most important book festival in France, and it includes conferences, talks, exhibitions, and everything in between.
For bookworms, this fair is a no-brainer.
March 13th-22nd, 2020
Since 1984, this annual event showcases the works of leading documentary filmmakers. This event happens in different locations in Paris, and it's an exciting place to learn more about French culture.
March 23rd, 2020
Celebrate the carnival in Paris! This parade began with the washerwomen along the River Seine in the 18th-century and remained to the present date.
Men are also welcome in this parade, though. All you have to bring is your party spirit. Check their website for the route.
Things to note when traveling to Paris in March
Be prepared for the unpredictable rainy weather.
Pack warm and lighter layers to cope with the weather swings.
"Fewer crowds" does not equal to "no crowds." It's Paris. There will always be loads of tourists, but far less than in summer months.
Paris travel resources
We want you to have an amazing time in Paris! And thinking of that, we also wrote other helpful resources.
For instance, we have a complete itinerary for 2 days in Paris, as well as 4 days in Paris.
If you would like to go on a day trip from Paris, know that there are other places beyond Versailles and Disneyland Paris.
As for the other months of the year, we have guides to visit Paris in April, May, June, July, August, September, October, November, December, January, and February.
That's it for today. Happy travels!
My best travel tips & resources:
Here're my all-time favorite travel tips & resources so that you can save money and plan your travel logistics hassle-free! For more travel tips, check out my complete guide on how to plan a trip to the Netherlands.
Saving money: Fly on offseason, winter (not Xmas or NYE), Tuesday, or Wednesday! According to experts, these are the cheapest days to fly.
Travel insurance: Before you leave for the Netherlands, make sure you have a valid travel insurance policy because accidents happen on the road. I have been paying for Safety Wing travel insurance for a little over a year now, and I happily recommend them to my family and friends.
Accommodation: I usually stay in mid-range comfy hotels or private rooms in hostels. These are the sites we use to book accommodation: Booking.com for hotels (excellent flexible cancellation policy) and Hostelworld for hostels (low deposit and easy cancellation).
Tours: I absolutely love booking guided tours with locals to get a history lesson while sight-seeing, especially food tours and walking tours! I book all of our tours using Viator and GetYourGuide.
Transportation: I use Google Maps to figure out how to get around a place using public transport. When I book a rental car, I always use RentalCars.com to find the best deal.
What to Pack: Here're the travel essentials I bring on every trip. I also have lots of packing guides!