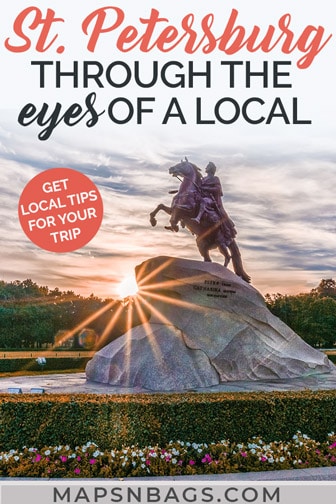 St. Petersburg, Russia is one of those cities that you have to see at least once in your life.
The world knows it as the Venice of the North thanks to its canals, marvelous architecture and more.
It's actually a UNESCO World Heritage Site which is remarkable, given that the city is just over 315 years old. St. Petersburg was built as a capital city and functioned as such from 1732 to the Revolution in 1918.
With many grand palaces, museums, theatres and a great restaurant scene, this city was meant for a cultural getaway that you will love.
For more interviews, check out our archives of the Through the Eyes of a Local series.
Could you please tell us a bit more about yourself? Where are you from and what do you do?
My name is Lesia and I am a Russian expat currently living in Amsterdam, The Netherlands.
I was born and lived several years in St. Petersburg but also spent a long time in Israel before returning to finish high school in my city of birth.
It is there that I finally started exploring the city and falling in love with St. Petersburg even more.
I have a travel blog called Dutch Wannabe and a thousand and one hobby besides that.
I'm addicted to reading fantasy books and will always be okay with spending an hour in a bookstore picking the shelves. That, and drinking 7 cups of tea per day (on average).
I also love taking pictures that I post every so often on my Instagram.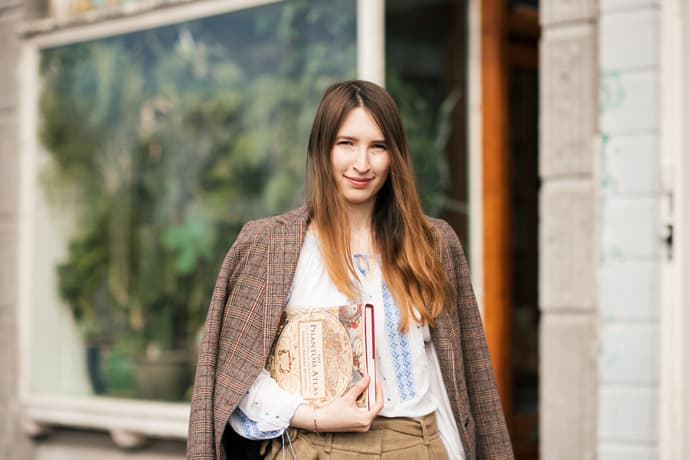 What do you like about St. Petersburg?
I appreciate St. Petersburg for always being alive 24/7. The stores are open all week long from 10:00 to 22:00 without fail and there are grocery stores that are open around the clock.
I also love how European the city feels, especially when it comes to the restaurant scene. Aside from that, there are many cultural events and festivals all year round because St. Petersburg citizens are very outgoing.
Which 3 places do you highly recommend paying a visit in the city?
The Hermitage museum is an absolute must. It's impossible to see everything in it even if you live there a hundred years but it doesn't mean you shouldn't try! While the queues can be daunting, buying a ticket online can save you a lot of hassle.
I do recommend taking advantage of St. Petersburg's theatres as well: the Swan Lake ballet is performed in at least three different theatres (Mariinsky, Alexandrinsky and Hermitage theatre).
And if you can't make that, there's the St. Petersburg Academic Philarmonia for amazing classical music.
My third recommendation is actually a day trip to one of the Palaces outside of the city. My first pick would be Peterhof with its beautiful fountains known as the Russian Versailles. The Amber Room in Catherine Palace of Tsarskoe Selo is the second.
Read next: London through the eyes of a local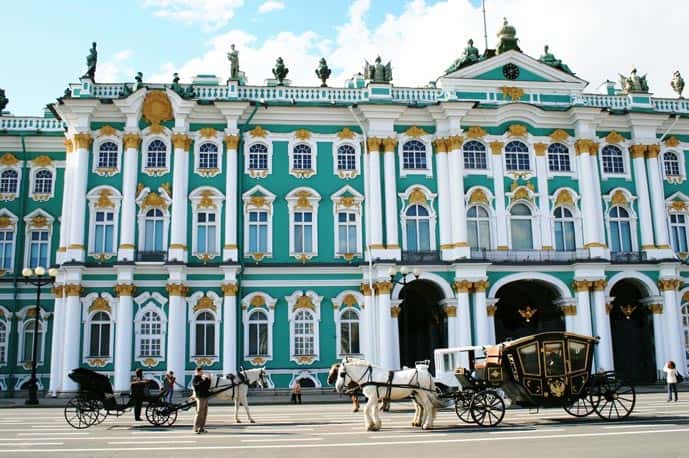 And which places should people avoid?
One place I would recommend being cautious around is Sennaya Square. It's a big part of the city center but there are a lot of pickpockets in the area so you have to be careful and mind your pockets.
Aside from that, another area is Kupchino which can be somewhat unsafe after dark but it's really far away from the city center so it's not likely to be on your radar.
What is the best way to get around St Petersburg? Is it easy to reach nearby cities?
The SPB metro system is your best way of covering large distances. The buses can be difficult to navigate as the stops aren't announced but there are a lot of metro stations and they will take you anywhere you wish to go.
There are several train stations as well to travel further, one of them is the Moskovsky station from which the trains depart for Moscow.
How travel-friendly is the city?
Navigation can be a problem because of the Cyrillic alphabet which means travelers would be much more comfortable if they spent a bit of time preparing.
Even so, Google Maps has accurate routes for public transport so if you get a wi-fi carrier, you'll be fine.
The airport is best reached by taxi, the rates for which aren't too high, and has public transport connections which I've never used as a local because you'd have to switch.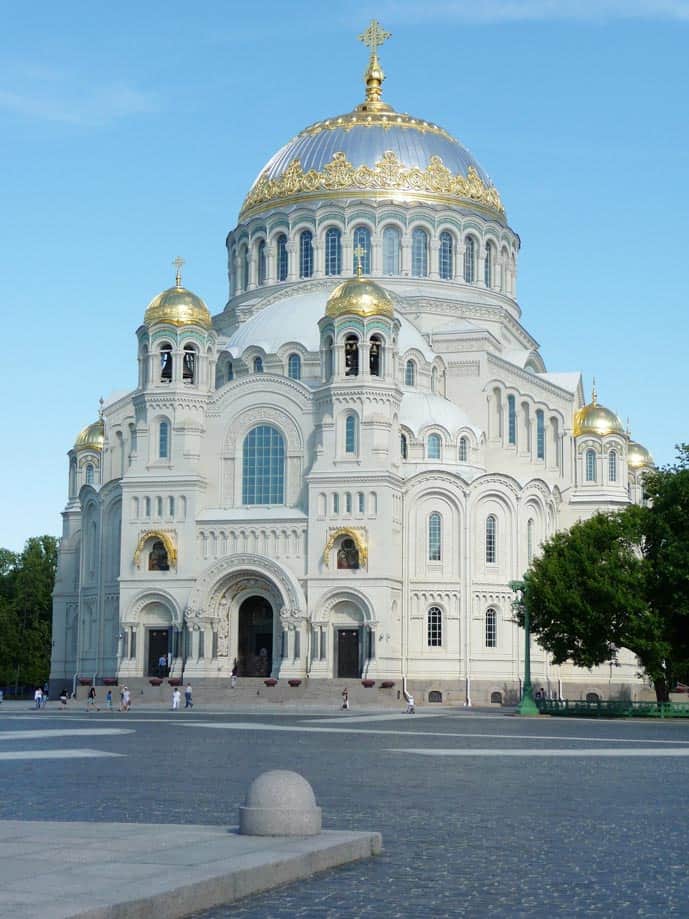 How safe is St. Petersburg?
The city is quite safe but don't leave your things unattended because once you lose them, you will never recover them.
Smart tourist rules apply here. The biggest mistake a tourist can make is to put all his belongings in the same place. Keep an eye on your backpacks and bags especially in crowded places on Nevsky, Griboedov canal and of course, the Hermitage.
Tourists are always really easy to notice, so take care of yourself and use an undercover hidden pocket: there's no reason to carry around large sums of money in your wallet.
Walking around the city center at night is quite safe as long as the area is lit and you're walking around the streets with other people.
I've never actually encountered pickpockets or robbers in my hometown but I wouldn't walk around with a camera hanging from my neck to minimize the risk. Simple precautions will make your trip so much better.
What is the most essential aspect of your culture?
The most characteristic aspects of Russian culture are probably hospitality, and generosity bordering on lavishness. Even if we are low on funds or resources, we treat our friends and guests like kings.
Aside from that, Russians can appear lazy and disorganized but they will stand up for what matters when the time is right.
Can you tell us where we can find the best view of the city?
You will enjoy one of the best views of the city from St. Isaac Cathedral's colonnade. It offers a 360-degree view of the Neva river and the city center. It is also open till late during summer so that you can enjoy the White Nights.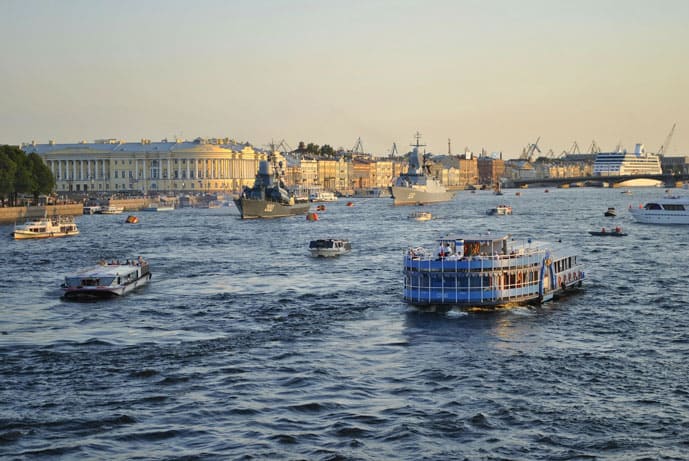 What is the most traditional dish in St Petersburg?
Singling out one dish is very difficult. Russia is well-known for pancakes with caviar, for example, but while we eat pancakes in abundance (we even have a Russian fast-food network 'Teremok' that serves every pancake combination imaginable), we do not eat caviar as much day-to-day.
Borscht soup is probably the most well-known Russian dish, while dumplings with sour cream are a part of our day-to-day life.
Could you recommend a local bar and a restaurant?
There are plenty of amazing bars on Rubinstein Street. One such place is "География" on Rubinstein St, 5. The name means "Geography" and most likely refers to the amazing variety of cocktails which are the main reason for my recommendation.
For local restaurants check out Мари Vanna on Mytninskaya embankment, 3. The restaurant serves Russian cuisine with "just like at home" vibes and is well-loved by the locals.
What is the biggest tourist trap of St. Petersburg?
I had a really hard time thinking of a tourist trap in St. Petersburg.
In the end, I guess I would say the souvenir shops in the center are the biggest tourist trap. If you want to save some money, skip the stalls and the souvenir stores. Instead, you can go into a bookstore such as the Bukvoed (Буквоед) to buy postcards and magnets.
Oh, and of course the costumed performers dressed like Tsar Peter and his wife. They usually hang out on The Palace Square and will offer to take a photo together. That would cost you money so skip it!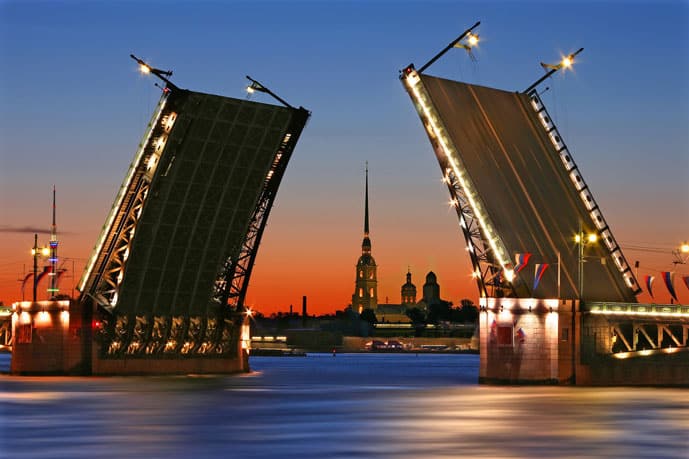 Can you tell us a memory that you have in this city?
I remember attending Scarlet Sails which is a festival night that happens every year in June. During that night only school graduates get tickets to the event and the whole Palace Square and the embankments are closed off to the public so that the graduates can celebrate.
There was a big concert with lots of people but the highlight for me was when the fireworks started on the Neva river and the Scarlet Sail ship appeared.
I remember a guy I didn't know offering to raise me on his shoulders so that I could see the ship better. It was a lovely moment.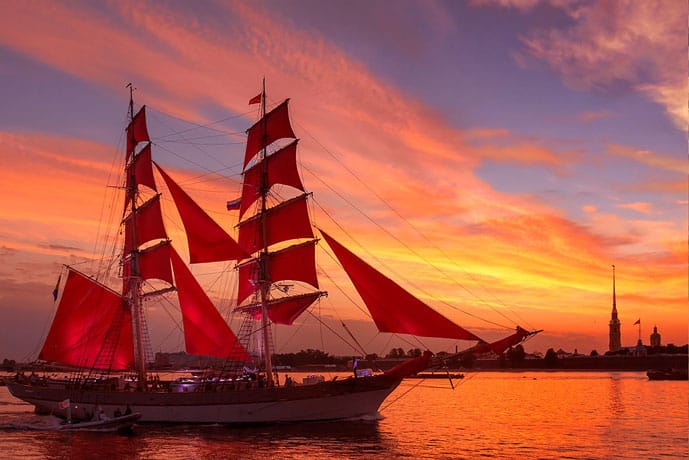 Could you describe the people of St. Petersburg?
St. Petersburg residents are considered to be intelligent, culture-oriented and well-read. We appreciate museums, art, and music. We like drawn-out conversations about the meaning of life.
And we complain about the weather a lot because it sucks. We actually have several words that are specific to St. Petersburg and are only used here.
There is also an unspoken rivalry between St. Petersburg citizens and Moskovites. We think of them as more pompous and stuck-up.
Also, St. Petersburg used to be the capital of Russia, so we might still be holding a grudge.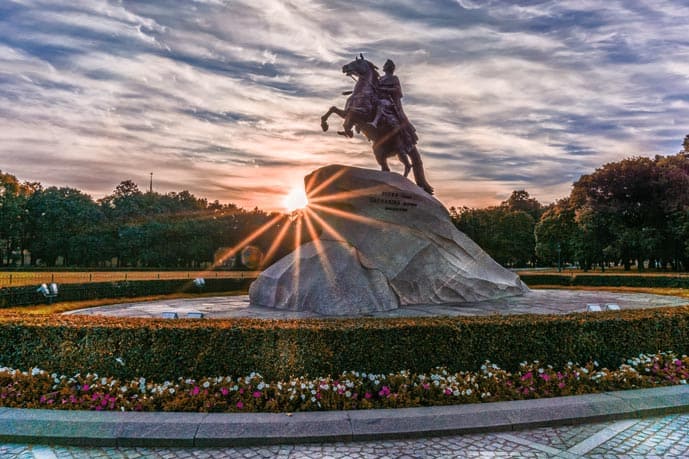 Tell us a fun fact about St. Petersburg.
Did you know that Tsar Peter The Great built St. Petersburg to connect Russia to Europe via the seas?
He was very fond of European architecture and loved Amsterdam's canals in particular. He loved them so much that he wished to recreate them in St. Petersburg as well, on Vasilievsky Island in particular.
He commissioned his right-hand Menshikov to build them but Menshikov was fond of pocketing state treasury funds and he made the canals too narrow and useless.
The swampy water that filled St. Petersburg was no good either, so in the end, the canals were removed. Luckily, many of the canals on the mainland still remain and a boat tour through them is definitely worth your time.
What piece of advice would you give to readers who want to visit your hometown?
If I were to name my top Russia travel tip, I would recommend coming during the White Nights period from the beginning of June to the beginning of July.
That time of year the sun stays up longest which can mean nighttime is very short and it's hardly ever pitch black.
Even if you can't make it during this time, don't come after September as autumn can be very rainy and moody. St. Petersburg is better discovered in the summertime.
Read next: Sibiu through the eyes of a local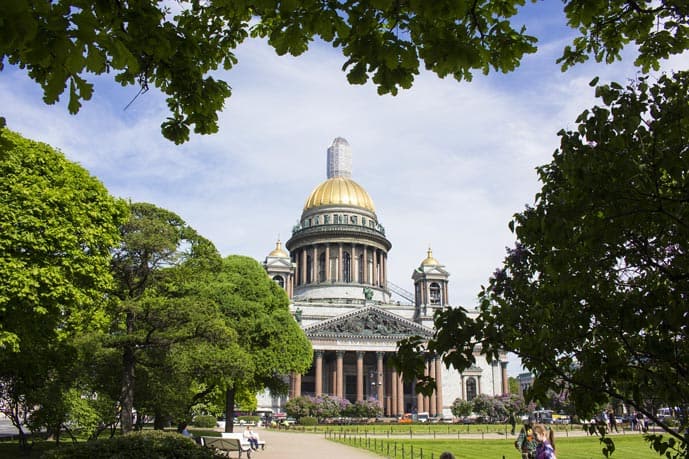 Is overtourism a problem in your city?
St. Petersburg is not that big of a touristic destination yet. Most of the tourists come with the Baltic cruise boats and stay only for a couple of days, which is a real pity because it creates a lot of queues and pressure for the tourists to see as much as possible.
But with a city with 5 million inhabitants, it's hardly possible to see everything in just a couple of days!
So come to enjoy St. Petersburg at your leisure and plan for at least a week, or better even, a bit longer than that. You won't get bored. But if you only have 3 days in St Petersburg or less, you can still see a lot.
What is the biggest misconception other countries have about your country?
The biggest misconception is probably that we have bears walking around everywhere and people are dancing with balalaikas.
When it comes to prejudices, there are plenty, but the real people are very down to earth, selfless and kind, ready to help a stranger out. So go in with no expectations and be pleasantly surprised!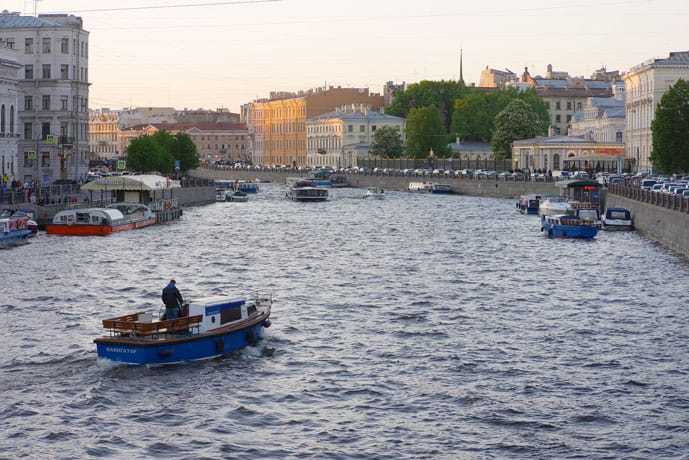 Can you tell us a book based on Russia?
I've been lucky enough to discover two great books set in Russia, although not in St. Petersburg. One of them is "A Gentleman in Moscow" by Amor Towles, which made it to Barack Obama's favorite list for 2017.
It is a beautiful fiction book that captured the spirit of life after the Revolution very well.
If you like fantasy, you might like "The Bear and the Nightingale" by Katherine Arden which is the first book in a trilogy. It is filled with Russian folklore and it's set in a small village in medieval Russia.
There are spirits and a brave heroine, and a good peek into how life might have been when the Russian Orthodox Church was coming into power.
Get to know Lesia
Lesia is the writer behind Dutch Wannabe travel blog. Born in St. Petersburg, Russia, she spent some of her teens in Israel, later moving back home.
After her move to Amsterdam, the Netherlands in 2016 she has decided to write about her discoveries. Her articles focus on culture breaks in Europe and the rest of the world and you will easily find an activity to suit your tastes.
Follow her on Instagram, Facebook, and Twitter.
Did you like this interview? Then pin it to your Pinterest board!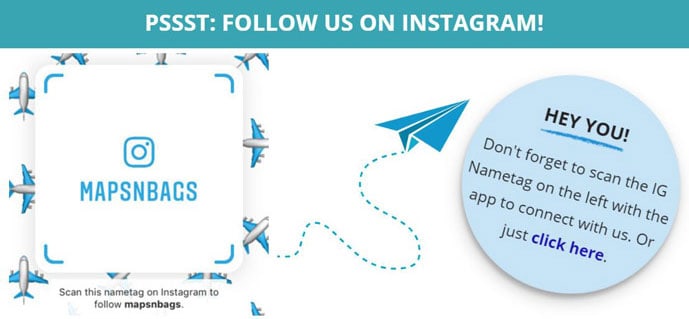 My best travel tips & resources:
Here're my all-time favorite travel tips & resources so that you can save money and plan your travel logistics hassle-free! For more travel tips, check out my complete guide on how to plan a trip to the Netherlands.
Saving money: Fly on offseason, winter (not Xmas or NYE), Tuesday, or Wednesday! According to experts, these are the cheapest days to fly.
Travel insurance: Before you leave for the Netherlands, make sure you have a valid travel insurance policy because accidents happen on the road. I have been paying for Safety Wing travel insurance for a little over a year now, and I happily recommend them to my family and friends.
Accommodation: I usually stay in mid-range comfy hotels or private rooms in hostels. These are the sites we use to book accommodation: Booking.com for hotels (excellent flexible cancellation policy) and Hostelworld for hostels (low deposit and easy cancellation).
Tours: I absolutely love booking guided tours with locals to get a history lesson while sight-seeing, especially food tours and walking tours! I book all of our tours using Viator and GetYourGuide.
Transportation: I use Google Maps to figure out how to get around a place using public transport. When I book a rental car, I always use RentalCars.com to find the best deal.
What to Pack: Here're the travel essentials I bring on every trip. I also have lots of packing guides!