Oh, Paris! There's no place like the city of lights, right? Or is it the City of Love?
Plenty of coffee shops, bookstores, and art, Paris, France, is actually an open-air museum. And as we planned our trip to the French capital, we felt inspired enough to look for some quotes about Paris.
After all, the city is so romantic and inspiring, and this a long-time habit of ours – Wherever we go, we search for quotes about the city. (Check out the 100 most inspiring travel quotes!)
Maybe it has something to do with that wanderlust inspiration we all have before traveling somewhere. We don't know it for sure, but famous quotes do give us a new angle to look at the city.
You either hate or love Paris, but we think you know in which group we fit in.
For instance, think about all the modern, shining store lights at the Champs Elysees getting blurred and turning into scary gargoyles spiking out of 14th-century Gothic construction.
The Champs Elysees and the Notre Dame are perfect examples of light and darkness in the city. And that's Paris, or at least the things you should see in your Paris itinerary, as you see many more examples like this as you walk around the city.
Paris Quotes
Many of the quotes below are from artistry people. Some of them are gentle, others harsh, and others are just romantic quotes about Paris. But they all have one thing in common – the love & hate relationship Paris inspires on people.
So, #24 and #28 are our favorite quotes for Paris, what about you?
Ah, if you're looking for funny travel puns or Paris captions, check out this post we wrote full of hilarious travel puns and Instagram captions.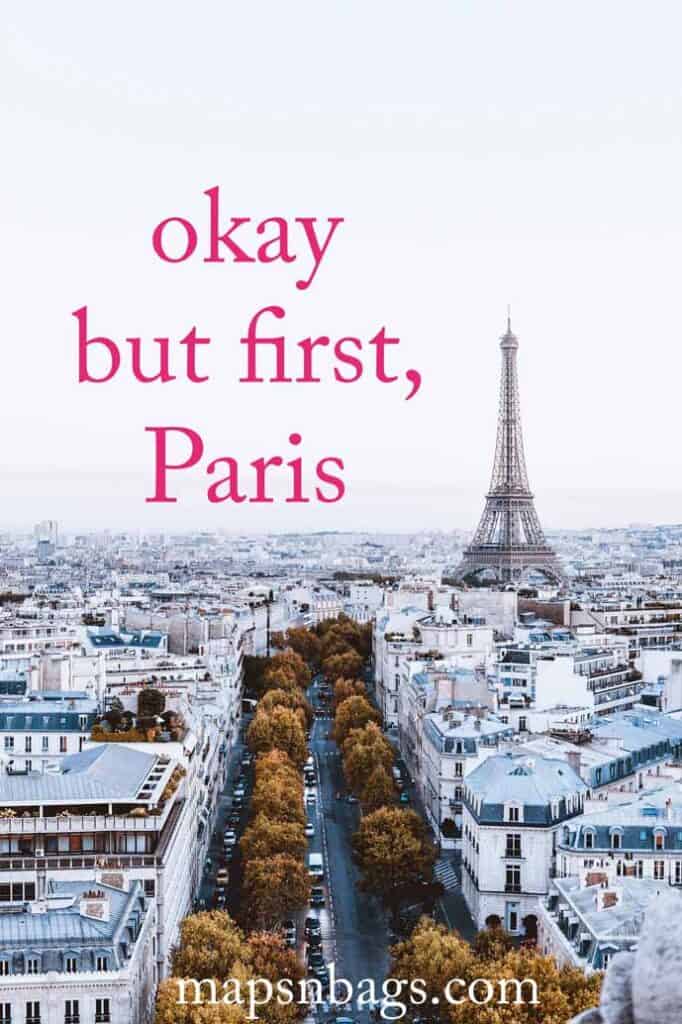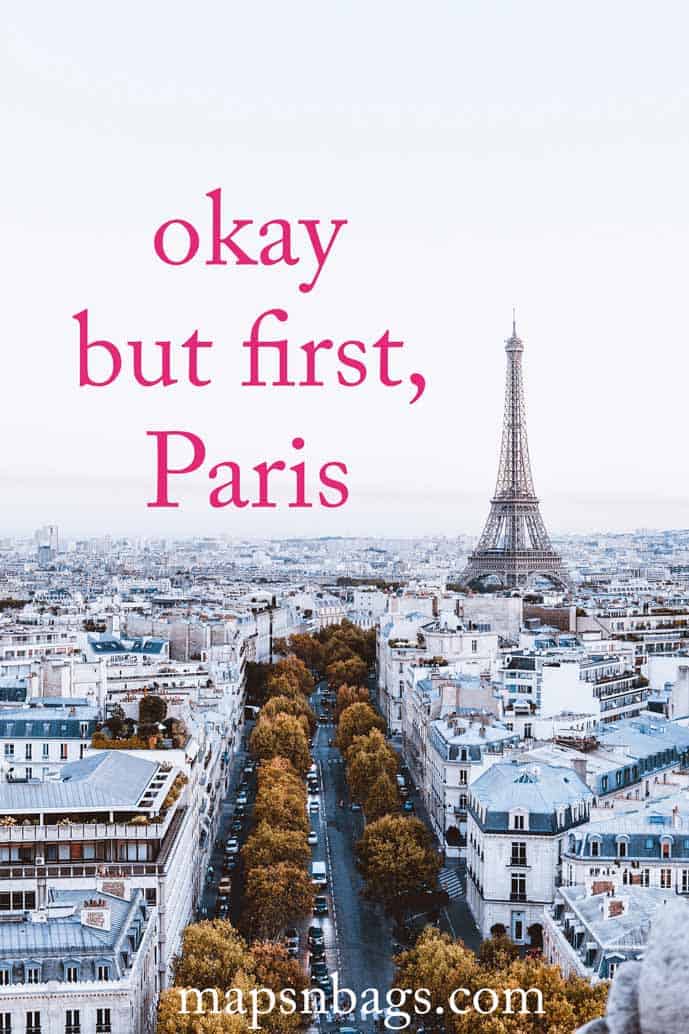 30 Inspiring Quotes About Paris
1. "Paris is always a good idea."
Audrey Hepburn, Sabrina
2. "If you are lucky enough to have lived in Paris as a young man, then wherever you go for the rest of your life, it stays with you, for Paris is a moveable feast."
Ernest Hemingway, A Moveable Feast
3. "Paris is the only city in the world that starving still considered art."
Carlos Ruiz Zafon, The Shadow of the Wind
4. "She wanted to die, but she also wanted to live in Paris."
Gustave Flaubert, Madame Bovary
5. "Cities have gender: London is a man, Paris is a woman, and New York City a well-adjusted transsexual."
Angela Carter
6. "When good Americans die, they go to Paris."
Oscar Wilde
7. "London is a riddle. Paris is an explanation."
Gilbert Keith Chesterton
Read next: 48 hours in Paris itinerary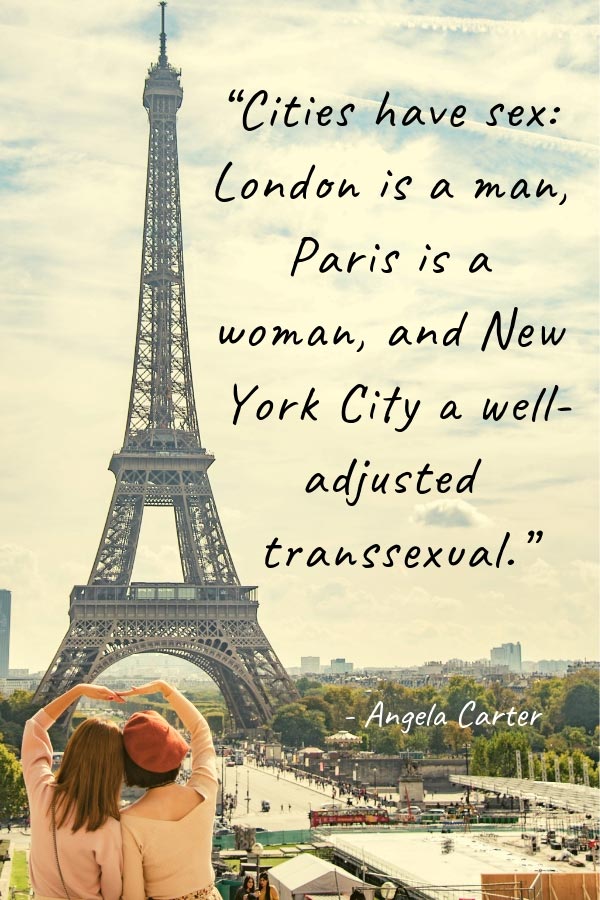 Read next: 4 perfect days in Paris
8. "In Paris, they just simply opened their eyes and stared when we spoke to them in French! We never did succeed in making those idiots understand their own language."
Mark Twain, The Innocents Abroad
9. "I'm not a complicated girl; she laughed, I just want to run away with you, rob a bank, fall in love and eat ice creams in Paris."
Michael Faudet
10. "London is satisfied, Paris is resigned, but New York is always hopeful. Always it believes that something good is about to come off, and it must hurry to meet it."
Dorothy Parker
11. "Oh, London is a man's town, there's power in the air;
And Paris is a woman's town, with flowers in her hair;
And it's sweet to dream in Venice, and it's great to study Rome;
But when it comes to living, there is no place like home."
Henry Van Dyke
12. "A walk about Paris will provide lessons in history, beauty, and in the point of Life.
Thomas Jefferson
13. "Paris is like a whore. From a distance she seems ravishing, you can't wait until you have her in your arms. And five minutes later you feel empty, disgusted with yourself. You feel tricked."
Henry Miller
14. "I should go to Paris and jump off of the Eiffel Tower. If I took the Concorde, I could be in my next life three hours earlier."
Woody Allen, Everyone Says I Love You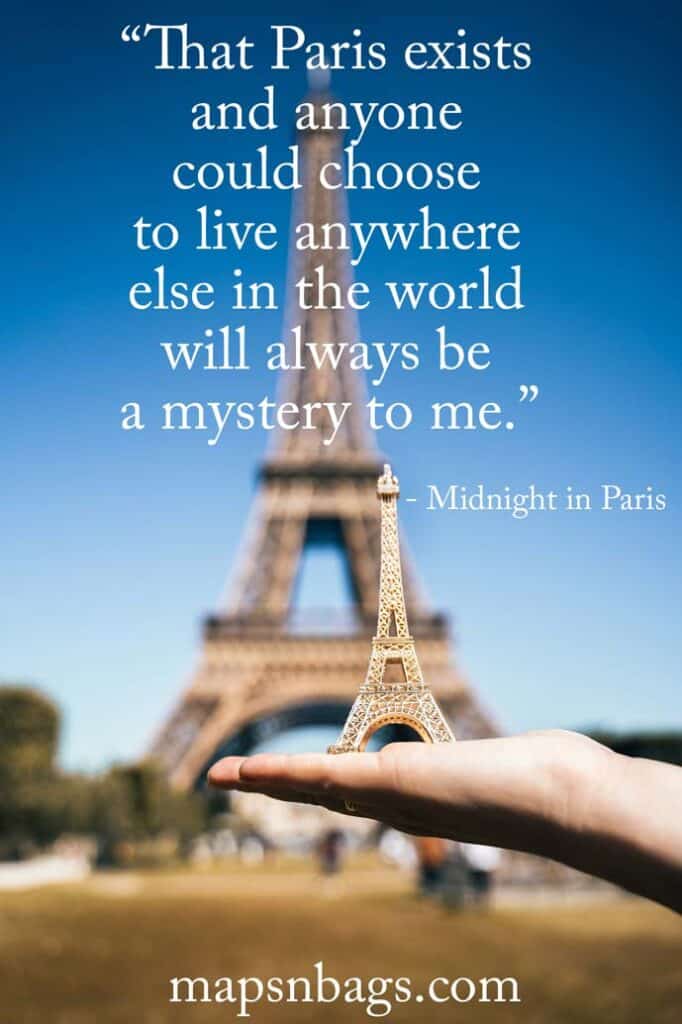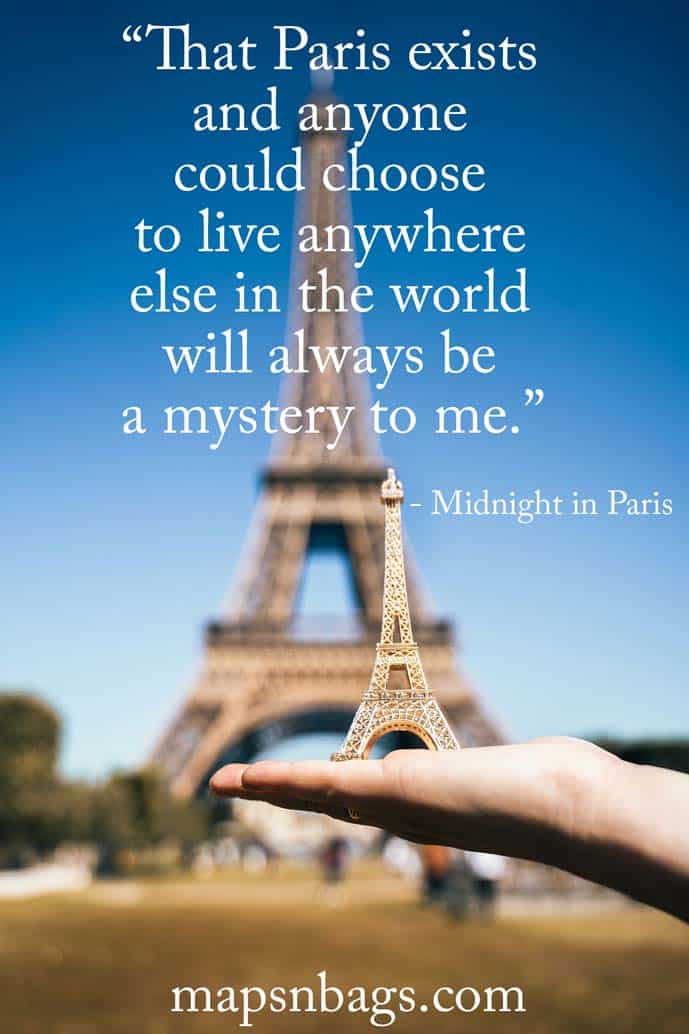 15. "There is but one Paris, and however hard living may be here, and if it became worse and harder even—the French air clears up the brain and does good—a world of good."
Vincent Van Gogh
16. "He who contemplates the depths of Paris is seized with vertigo.
Nothing is more fantastic. Nothing is more tragic.
Nothing is more sublime."
Victor Hugo
17. "I like The Eiffel Tower because it looks like steel and lace." (Pssst: We talk about a hotel with incredible views of Paris and the Eiffel Tower in this guide to where to stay in Paris!)
Natalie Lloyd
18. "I had forgotten how gently time passes in Paris. As lively as the city is, there's a stillness to it, a peace that lures you in. In Paris, with a glass of wine in your hand, you can just be."
Kristin Hannah, The Nightingale
19. "America is my country, and Paris is my home town."
Gertrude Stein
20. "To study in Paris is to be born in Paris!"
Victor Hugo, Les Misérables
21. "An artist has no home in Europe except in Paris."
Friedrich Nietzsche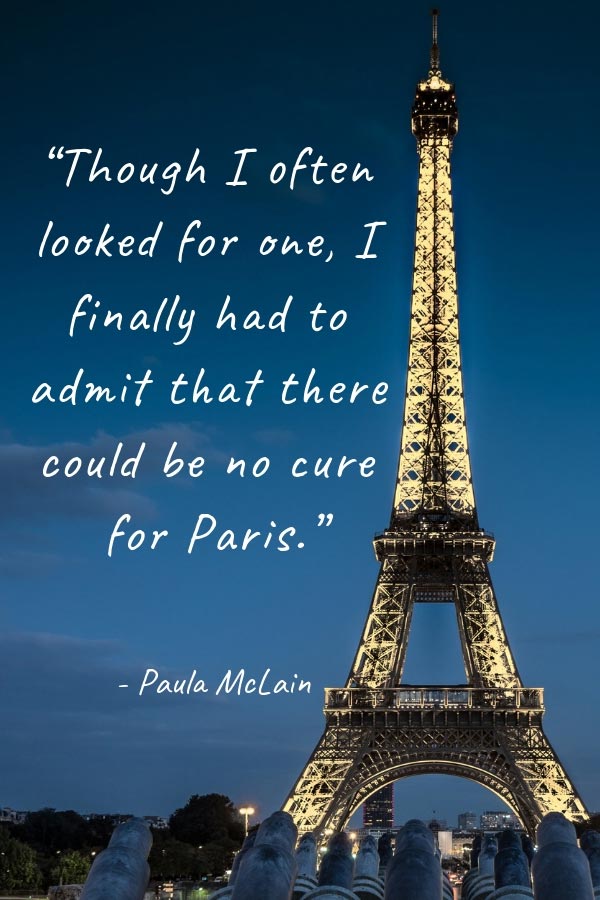 Read next: Best day trips from Paris
22. "Just add three letters to Paris, and you have paradise."
Jules Renard
23. "Though I often looked for one, I finally had to admit that there could be no cure for Paris."
Paula McLain, The Paris Wife
24. "Paris was a universe whole and entire unto herself, hollowed and fashioned by history; so she seemed in this age of Napoleon III with her towering buildings, her massive cathedrals, her grand boulevards, and ancient winding medieval streets–as vast and indestructible as nature itself.
All was embraced by her, by her volatile and enchanted populace thronging the galleries, the theaters, the cafes, giving birth over and over to genius and sanctity, philosophy and war, frivolity and the finest art; so it seemed that if all the world outside her were to sink into darkness, what was fine, what was beautiful, what was essential might there still come to its finest flower.
Even the majestic trees that graced and sheltered her streets were attuned to her–and the waters of the Seine, contained and beautiful as they wound through her heart; so that the earth on that spot, so shaped by blood and consciousness, had ceased to be the earth and had become Paris."
Anne Rice, Interview with the Vampire
Pssst: Organize your trip with our FREE travel planner! Subscribe to Maps 'N Bags newsletter and get access to our private library jam-packed with this and other freebies. Subscribe!
25. "Breathe Paris in. It nourishes the soul."
Victor Hugo
26. "The shopping, the food, the views! Paris is a city that entrances us all—and I'm no exception."
Michael Kors
27. "Paris is not a city; it's a world."
King Francis I
28. "That Paris exists and anyone could choose to live anywhere else in the world will always be a mystery to me."
Marion Cotillard, Midnight in Paris
29. "People wonder why so many writers come to live in Paris. I've been living ten years in Paris, and the answer seems simple to me: because it's the best place to pick ideas. Just like Italy, Spain.. or Iran are the best places to pick saffron. If you want to pick opium poppies, you go to Burma or South-East Asia. And if you want to pick novel ideas, you go to Paris."
Roman Payne, Crepuscule
30. "Whoever does not visit Paris regularly will never really be elegant."
Honoré de Balzac
Which of these famous quotes about Paris, France, did you like the most? Comment below! We'd love to hear from you! Also, if you know any other Paris quotes, please write them too!
Did you like this post? Then pin to your Inspirational Pinterest board!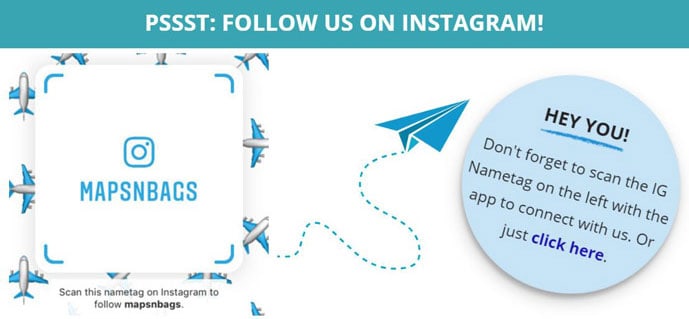 My best travel tips & resources:
Here're my all-time favorite travel tips & resources so that you can save money and plan your travel logistics hassle-free! For more travel tips, check out my complete guide on how to plan a trip to the Netherlands.
Saving money: Fly on offseason, winter (not Xmas or NYE), Tuesday, or Wednesday! According to experts, these are the cheapest days to fly.
Travel insurance: Before you leave for the Netherlands, make sure you have a valid travel insurance policy because accidents happen on the road. I have been paying for Safety Wing travel insurance for a little over a year now, and I happily recommend them to my family and friends.
Accommodation: I usually stay in mid-range comfy hotels or private rooms in hostels. These are the sites we use to book accommodation: Booking.com for hotels (excellent flexible cancellation policy) and Hostelworld for hostels (low deposit and easy cancellation).
Tours: I absolutely love booking guided tours with locals to get a history lesson while sight-seeing, especially food tours and walking tours! I book all of our tours using Viator and GetYourGuide.
Transportation: I use Google Maps to figure out how to get around a place using public transport. When I book a rental car, I always use RentalCars.com to find the best deal.
What to Pack: Here're the travel essentials I bring on every trip. I also have lots of packing guides!