Visiting Paris in April? Here, we have all the information you need to have a fantastic trip.
Crisp air, trees blooming, and fewer crowds, traveling to Paris in April certainly has many benefits.
In fact, this month is one of the best to travel to the French capital, but we will get to that.
For now, just know that spring in Paris is a magical time when the city is filled with beautiful (and colorful) streets.
Paris in April
In this article, we will talk about why going to Paris in April is worth the trip, accommodation, the weather, what to wear, the best places to visit, what to do, and even some events to attend.
Wanna more tips about Paris in April? Read on!
In today's post we'll talk about:
Why you must visit Paris in April
We could name plenty of reasons why you should visit Paris in April, but the continuously warm temperature seems like a good one for starters.
The flowers are blooming while the trees are slowly becoming full of green leaves again. It's finally spring in Paris.
April, together with October, are the best months to visit Paris because these months have a good balance between warm weather and fewer crowds.
It is not warm yet, though. The temperature is still relatively low, but definitely better than the temperature in Paris in March, for example.
Rainy days are a little more frequent than the previous month but not as many as they are in May. Tourists visiting Paris in May see the most rainfall in the year.
Either way, you don't need to worry about the rainfall in April, if you pack a good waterproof jacket.
Also, you will not get bored here. We can assure you that there are many things to do in Paris in April, both out and indoors.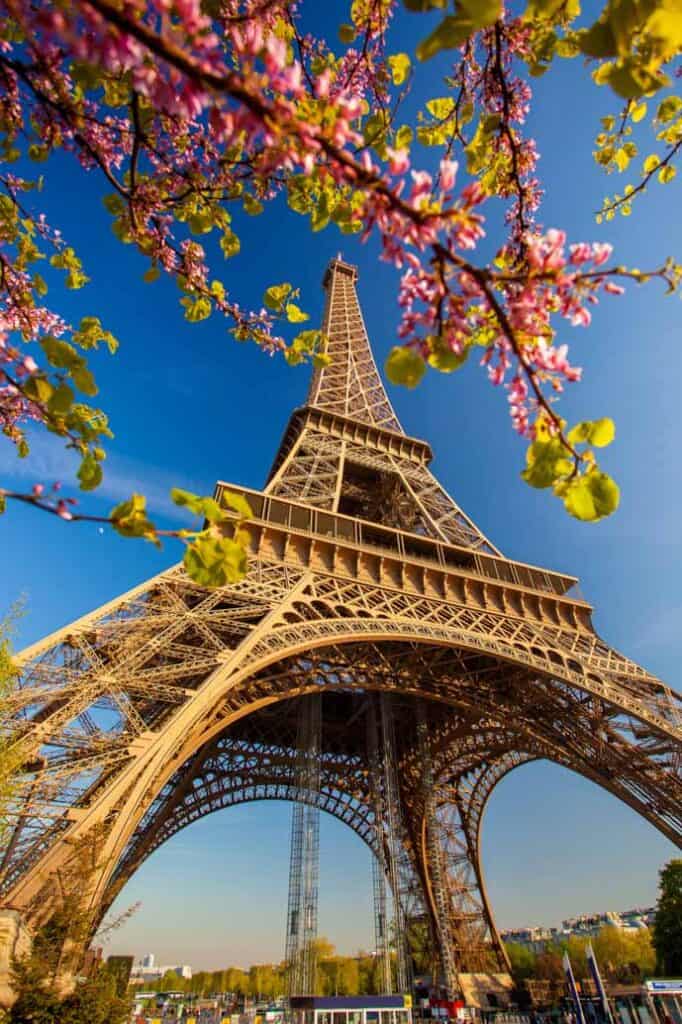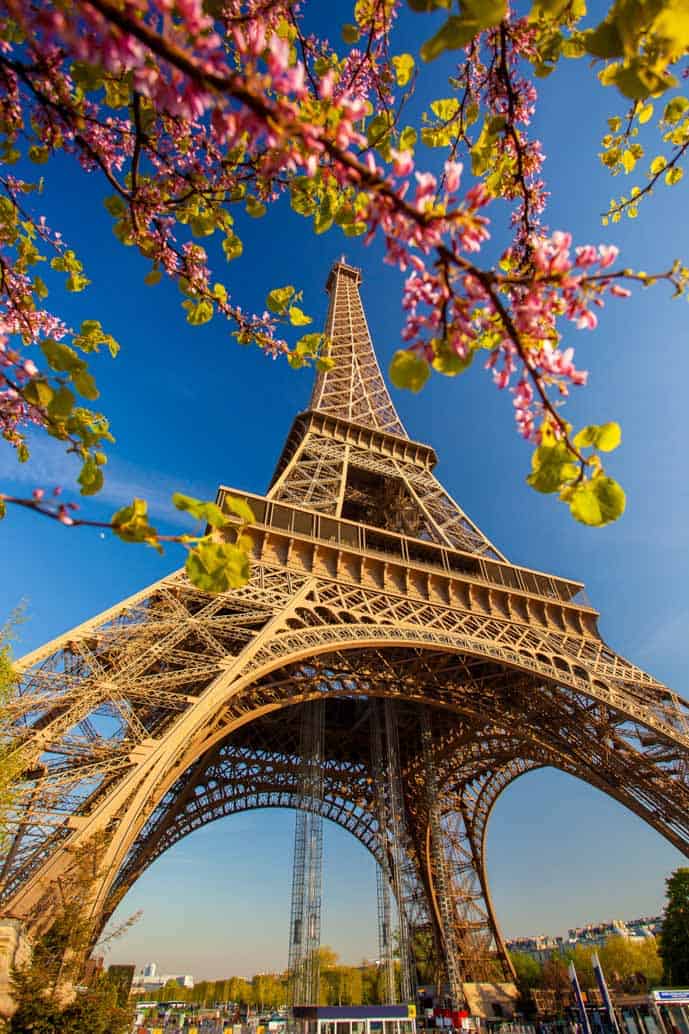 Where to stay in Paris in April
It can be a bit overwhelming to look for accommodation in Paris since there are so many options.
For that reason, we decided to give you the perfect location to stay based on this month's features.
For that reason, we decided to give you the perfect location to stay based on this month's features, but we also wrote a detailed review of the best places to stay in Paris.
In the Marais quarter, you'll find the Hotel Le Compostelle.
This pleasant hotel is near the Hôtel de Ville, which is Paris' city hall.
The town hall is a beautiful 19th-century neo-Renaissance-style building that makes an impressive backdrop to the spring flowers in the garden.
The building is surrounded by delicate white blossoming trees and pink magnolias. Perfect for romantic shots of the area.
Paris weather in April
The averages in April are slightly higher than March. Not only does it rain a little more but it also is warmer than the previous month. The sun is shining much more often, too.
As for the rainfall, Paris in April experiences, on average, 25mm–just a little more than in March.
On the other hand, April comes with lots of daily sunshine hours–around 5 to be more specific. For this region of Europe, that's definitely something we appreciate.
As for the temperature in Paris in April, it can rise considerably during the day. Allowing for pleasant walks along the Seine River or the city's parks. But know that it gets very chilly after sunset.
As you prepare to embark on your trip, keep in mind these are the average temperatures in Paris in April, as well as rainfall and sunshine hours:
Minimum temperature: 45°F (7°C)
Maximum temperature: 60°F (16°C)
Average day temperature: 51°F (11°C)
Average rainfall: 0.98in (25mm)
Average sunshine hours: Roughly five hours
Wind chill: The average hourly wind speed in Paris in April is decreasing during the month, decreasing from 10.6 miles per hour to 9.4 miles per hour over the month. Therefore, it can be quite windy in April, with a windchill making the apparent temperatures a bit lower, especially in the first half of the month.
Paris is a moveable feast.

One of our favorite Paris quotes
---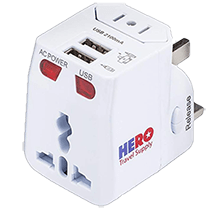 One of the most essential travel items you can buy is a universal travel adapter that works anywhere! It's a small investment for great benefits! The adapter we feature is lightweight, compact, and reliable – Always bring it with you!
---
What to wear in Paris in April
Layer up! Packing layers is still essential if you are visiting Paris in April as the city experiences a little of everything throughout the month–rain, sun, and wind.
Clothing: While packing for Paris in April, you will want to pick a thick skirt or dress you can wear with warm tights. Then, if you are lucky and the temperature is high enough for you, simply find a café where you can take off your tights and feel the sun warm on your skin.
Still, after sunset, you will want to put them back as the temperatures drop significantly. Also, you will want to pack a comfy cardigan to wear inside cafés and museums.
For outdoors, bring a warm waterproof jacket with you to wear on top of your cardigan.
Shoes: It goes without saying that comfy sneakers for the day should be in your Paris packing list. For the night, pack a pair of faux leather boots.
Accessories: Unless it is unusually cold for the time of the year, you will not need a beanie and gloves. However, we would advise you to pack a light scarf.
Also, be sure to pack a good anti-theft purse no matter where you go. Paris is full of pickpockets.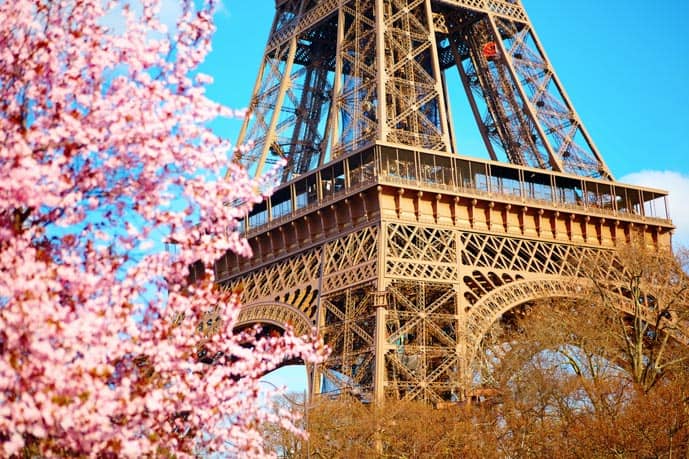 Paris in spring: Things to do in Paris in April
The city of love is jam-packed with exciting activities. While a simple walk through the streets of the town might be very inspiring, there are lots of engaging things to do in Paris in April.
Here, we will suggest a few ideas of what to do that we particularly enjoy during this period of the year.
Go on a cherry blossom and magnolia hunt
Spring in Paris is a magical time to explore the pink-hued streets and gardens. And for the creative photographers or Instagrammer, there are plenty of opportunities to snap beautiful photos throughout the city.
Obviously, the trees bloom at different times, starting from mid-March to Mid-April.
So plan ahead to see the flowers at their best.
Here are some of the locations where you can spot cherry blossoms in Paris:
Champ de Mars
Gabriel Pierné Square
Shakespeare and Co. bookstore
South facade of Notre-Dame
Petit Palais
Jardin des Plantes
If you were wondering what to see in Paris in April, you might want to photograph the cherry blossoms and magnolias. It is a fun activity.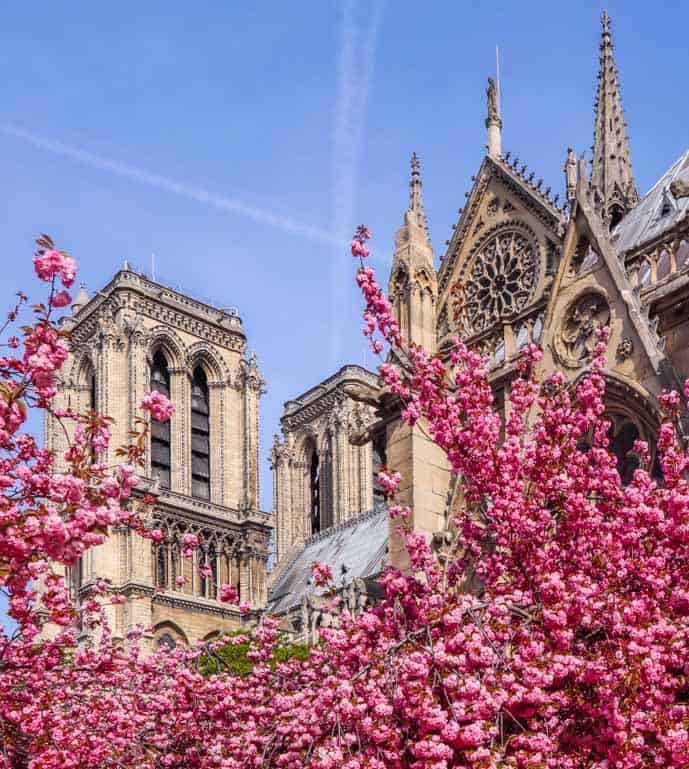 Stroll along the Seine River
Strolling along the Seine River is a delightful thing to do in Paris, no matter the season.
Not many cities in the world are so enjoyable even if you are doing nothing but strolling around.
So take your time to see the artists working along the river, marvel at historic buildings, photograph cherry blossoms, spot the pretty bridges of Paris, and who knows, go on a boat trip to see the city from a new perspective.
The Seine passes along some of the major tourist attractions in the city, like the Notre-Dame, Louvre Museum, Musée d'Orsay, and the Eiffel Tower, making a simple stroll in Paris everything but boring.
Enjoy a day at Disneyland Paris
Although a little cold, you might be lucky to have a bright and sunny day. Visiting Disneyland Paris in April is an excellent idea if you want to avoid the crowds that arrive in the warmer months.
But to really avoid the crowds, you will want to check in advance when Easter falls and avoid that weekend at all costs.
As you can imagine, families from the region or even from neighboring countries plan to visit the park this weekend. Therefore, it is almost certain that it will be crowded on that holiday.
Otherwise, buy your tickets and head over to Disneyland Paris for a fun day outdoors.
Either way, pack layers and waterproof shells to avoid any surprises. Maybe it's a good idea to pack a body warmer.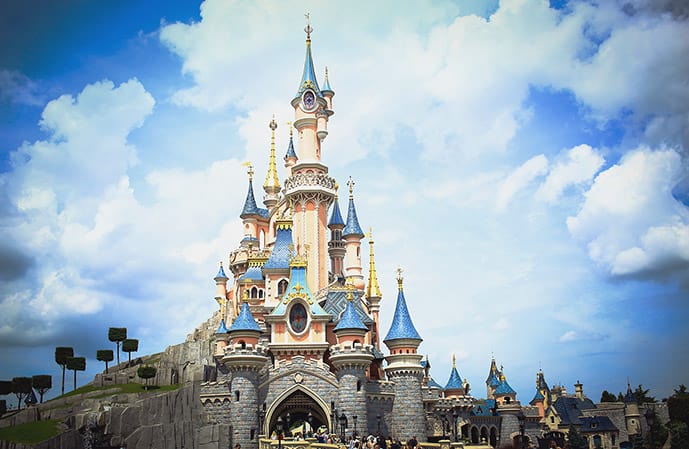 Discover the gardens at Versailles
While Versailles is rarely empty, arriving at opening hours to discover the beautiful gardens surrounding this royal palace is definitely worth your time.
The crisp air filling your lungs when you walk down the Grand Trianon is energizing. This is a day trip from Paris you can't afford to miss.
The Versailles gardens are not that flowery, though. You can certainly spot a few beds here and there, but the beauty of the garden is mostly due to the green design of 'hidden' copses with different themes inside.
If the weather is nice, it would be a good outing to see the grounds, and whatever flowers they've put out for spring should be blooming nicely.
There are some flower beds around, but their proportion to the overall grounds is small, only because the grounds of the estate are so vast!
Editor's note: From April through October, you can enjoy the Musical Fountains Shows and the Musical Gardens at Versailles.
Have a picnic in one of the city's parks and gardens
What could be a better way to enjoy the beginning of the spring in Paris than picnicking at the park?
Weather-permitting, of course.
Although we strongly believe it is improbable you experience only lousy weather during your vacation. Unless you are planning a short trip, something like 2 days in Paris.
Otherwise, you will probably see the sun shining over the historic buildings and green gardens of Paris.
Here are a few parks, other than Luxembourg Gardens, that you might like to visit:
Parc des Buttes-Chaumont
Parc de Belleville
Parc André Citroen
Bois de Vincennes
Jardin des Tuileries
Jardin des Plantes
Jardin Anne-Frank
Parc Floral de Paris
Take cooking classes
Paris is a city for food lovers.
The French take their time to create mouth-watering dishes, and the result is often exceptional.
So why not learn how to cook French delicacies in a hands-on cooking class in Paris?
You might not be a skilled cook, but you cannot deny this is a once-in-a-lifetime experience.
Reserve about 3 hours to participate in a unique cooking class, make your own croissants, bake bread, macarons, or other French pastries.
Either way, you're sure to have a once in a lifetime experience by taking cooking classes in Paris.
Go sightseeing
As said, April is one of the best times of the year to visit the French capital.
This month has a good balance between crowds and warm weather, which makes it perfect for visiting Paris' most touristy spots.
But don't think that it means you won't see tourists at all in Paris. Oh, no. We don't even think that's possible.
Paris is a city full of tourists 12 months per year. Still, April is perfect for joining some walking tours throughout the city, spot beautiful buildings, stroll around, and visit famous sites.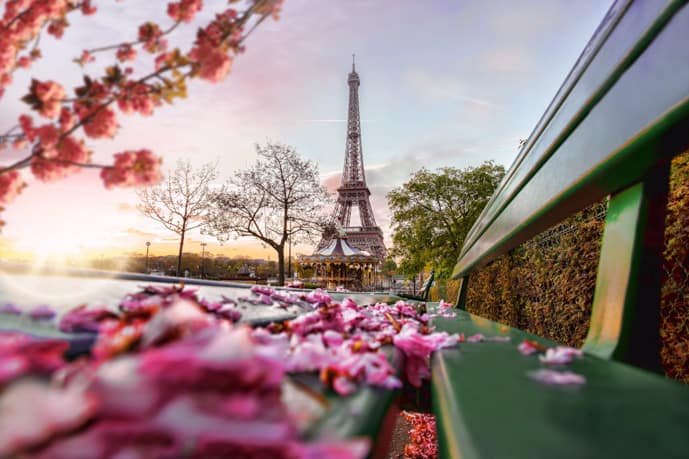 Run a marathon
If you are sportive and love running, why not join a marathon in Paris?
The Paris Marathon happens every year and starts at the Champs Elysées, and it finishes just before the Arc de Triomphe, passing by many landmarks in the city.
This marathon, like most, comprises 26mi (42km) of fun, challenge, and support.
If you want to participate, you will want to purchase your ticket way in advance as the Paris Marathon is very popular.
Take a river cruise
Cruising the River Seine is not only a delightful thing to do in Paris in April but also a very romantic one.
Weather-permitting, of course.
Although the temperature is still relatively fresh, the crisp air blowing through your hair, together with a view of the major sights in Paris and streets colored with spring hues, will make it worth every penny.
A River Seine cruise is without doubts one of the best things to do in Paris in the spring.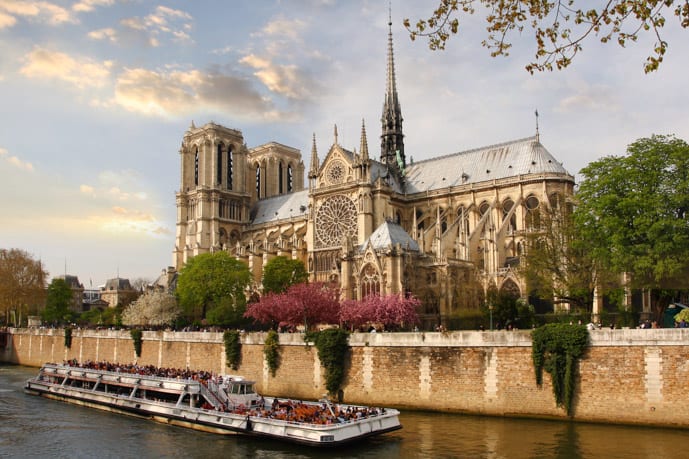 Enjoy the café culture
After a long winter, Parisians are eager to wander through the romantic streets of their city and enjoy life outdoors.
And besides the weather, April comes with another good surprise: you can finally sit out on a terrace without freezing.
Paris café culture is worldwide famous and rightly so because there is nothing more delightful than enjoying a good cup of coffee in a Parisian café or brasserie while people watching.
Events in Paris in April
Here are some of the events in Paris that take place in April.
March 27-May 24, 2020
In 957, the Abbey Saint-Antoine organized this event for the first time on the "Place du Trône," which later became known as the "Place de la Nation."
In 1965, La Foire du Trône took its current form in a new location on the Reuilly Lawn in the Bois de Vincennes park. Still, its long history makes it the oldest funfair in Europe.
Nowadays, a whopping five million people visit the fair every year. La Foire du Trône is a place every family visiting Paris should experience.
April 1-5, 2020
The PAD has an eclectic take on decorative arts and design from around the world as it creates a dialogue between modern and historical art in every edition.
This annual fair is a must for art and design aficionados, and it takes place at the Tuilerie Gardens.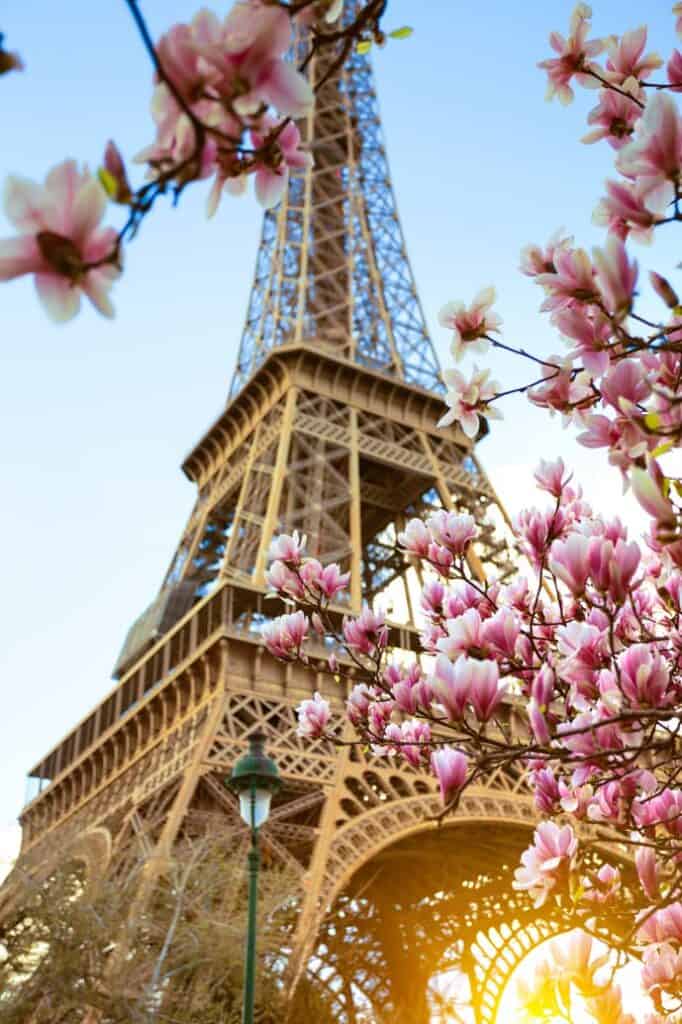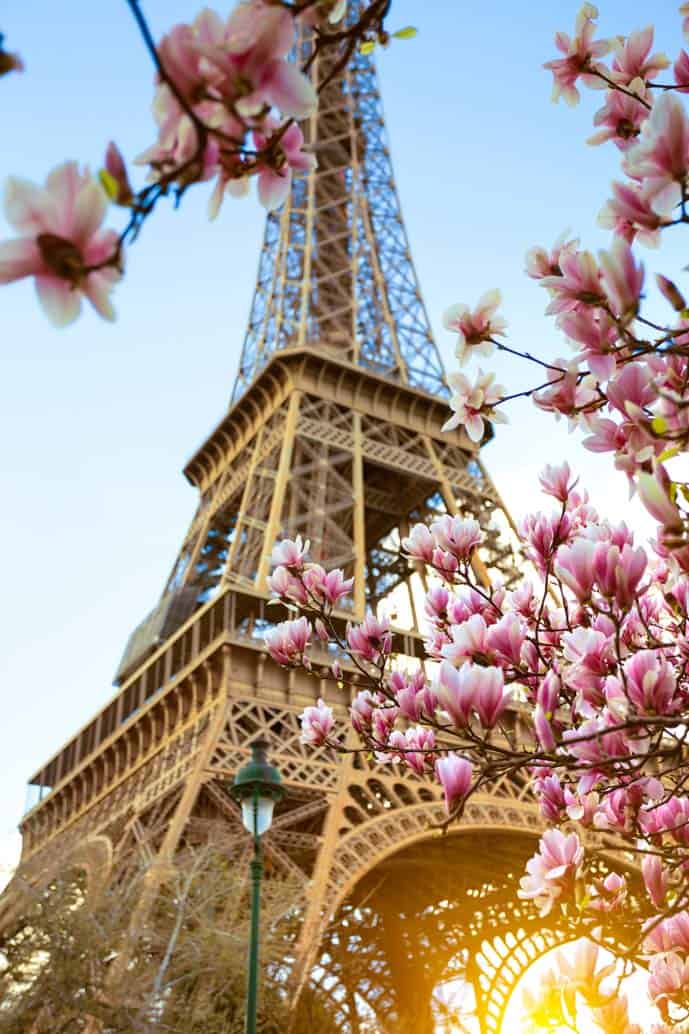 April 2-5, 2020
Every spring, Art Paris brings together about 150 galleries from 20 different countries around the globe.
Taking place at the Grand Palais, this massive event combines an exploration of European art from the post-war period to the present day with a cosmopolitan approach to art from other geographical horizons, such as Africa, Asia, Latin America, and the Middle East.
April 5, 2020
As said, the Paris Marathon takes over the streets of the city every year around April.
While the marathon itself is enjoyable, its route passes by plenty of beautiful sights.
Palais Garnier, Place de la Bastille, Château de Vincennes, Notre-Dame, Eiffel Tower, and Foundation Louis Vuitton are only a few of the sights you can spot along the way.
The finish couldn't be more dramatic–facing the Arc de Triomphe.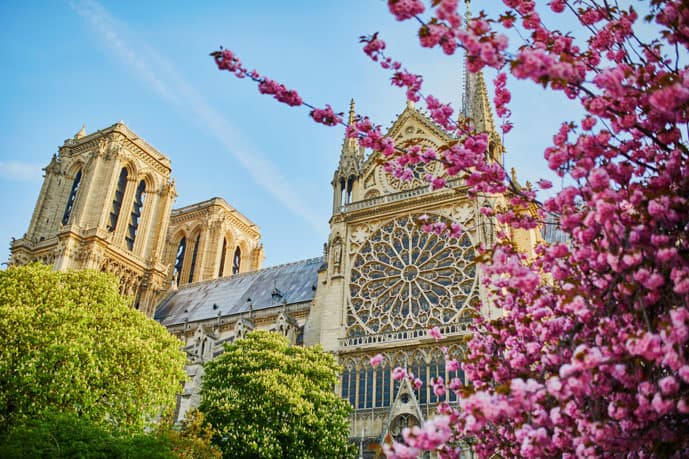 International Rare Book & Autograph Fair
April 24-26, 2020
Calling all bookworms! At this fair, you can find plenty of antique and rare books alongside unique prints, manuscripts, documents featuring some beautiful Parisian handwriting, and autographs too, of course.
The International Rare Book & Autograph Fair happens every year at the Grand Palais.
Tips for traveling to Paris in April
While there can be warmer days in Paris in April, the temperature drops a lot after sunset. Pack accordingly.
You will want to check the holidays and festivals calendar to avoid any surprises when planning your vacation.
April is the beginning of the festival season, and you will want to attend at least one of them.
Paris travel resources
We want you to have a fantastic vacation in Paris! To help you with that, we wrote plenty of resourceful guides.
As for itineraries, we have articles on both 2 days in Paris and 4 days in Paris. Both guides are complete and have all the information you need to have a lovely vacation.
As for the other months of the year, we have guides to visit Paris in May, June, July, August, September, October, November, December, January, February, and March.
That's it for today. Happy travels!
Did you like this post about Paris in April? Then save it to Pinterest or share it with a friend who might like it too.
My best travel tips & resources:
Here're my all-time favorite travel tips & resources so that you can save money and plan your travel logistics hassle-free! For more travel tips, check out my complete guide on how to plan a trip to the Netherlands.
Saving money: Fly on offseason, winter (not Xmas or NYE), Tuesday, or Wednesday! According to experts, these are the cheapest days to fly.
Travel insurance: Before you leave for the Netherlands, make sure you have a valid travel insurance policy because accidents happen on the road. I have been paying for Safety Wing travel insurance for a little over a year now, and I happily recommend them to my family and friends.
Accommodation: I usually stay in mid-range comfy hotels or private rooms in hostels. These are the sites we use to book accommodation: Booking.com for hotels (excellent flexible cancellation policy) and Hostelworld for hostels (low deposit and easy cancellation).
Tours: I absolutely love booking guided tours with locals to get a history lesson while sight-seeing, especially food tours and walking tours! I book all of our tours using Viator and GetYourGuide.
Transportation: I use Google Maps to figure out how to get around a place using public transport. When I book a rental car, I always use RentalCars.com to find the best deal.
What to Pack: Here're the travel essentials I bring on every trip. I also have lots of packing guides!